Four Nations Earn Pair of Olympic Berths on Friday
Friday, March 19, 2021 - 20:02 By Eric Olanowski
BUDAPEST, Hungary (March 19) --- Belarus, Bulgaria, Russia and Ukraine earned a pair of Tokyo Olympic berths, while Alina HRUSHYNA AKOBIIA (UKR) and Iryna KOLIADENKO (UKR) outscored their semifinal opponents 20-0 on Friday night at the European Olympic Qualifier.
Hrushyna Akobiia and Koliadenko were flawless en route to booking Ukrainian Olympic tickets at 57kg and 62kg, respectively.
Hrushyna Akobiia, the '20 European runner-up, scored 16 points and only surrendered one on her way to reaching the 57kg finals. She stopped two-time world medalist Emese BARKA (HUN), 6-1, then shot down Sara LINDBORG'S (SWE) hopes of booking Sweden's second ticket of the day to the Tokyo Olympic Games.
In her semifinals meeting with Lindborg, Hrushyna Akobiia scored four takedowns before sticking Lindborg to her back in the bout's closing seconds. She was inches away from booking the fall but time expired and she was awarded the 10-0 technical superiority victory.
She'll wrestle Bulgaria's Evelina NIKOLOVA for gold on Saturday night. The '15 world bronze medalist earned her nation's Tokyo berth with a 4-2 come-from-behind win over Bediha GUN (TUR). Nikolova and Gun traded takedowns, but the Bulgarian restored her lead with a late second-period takedown to gain the two-point advantage.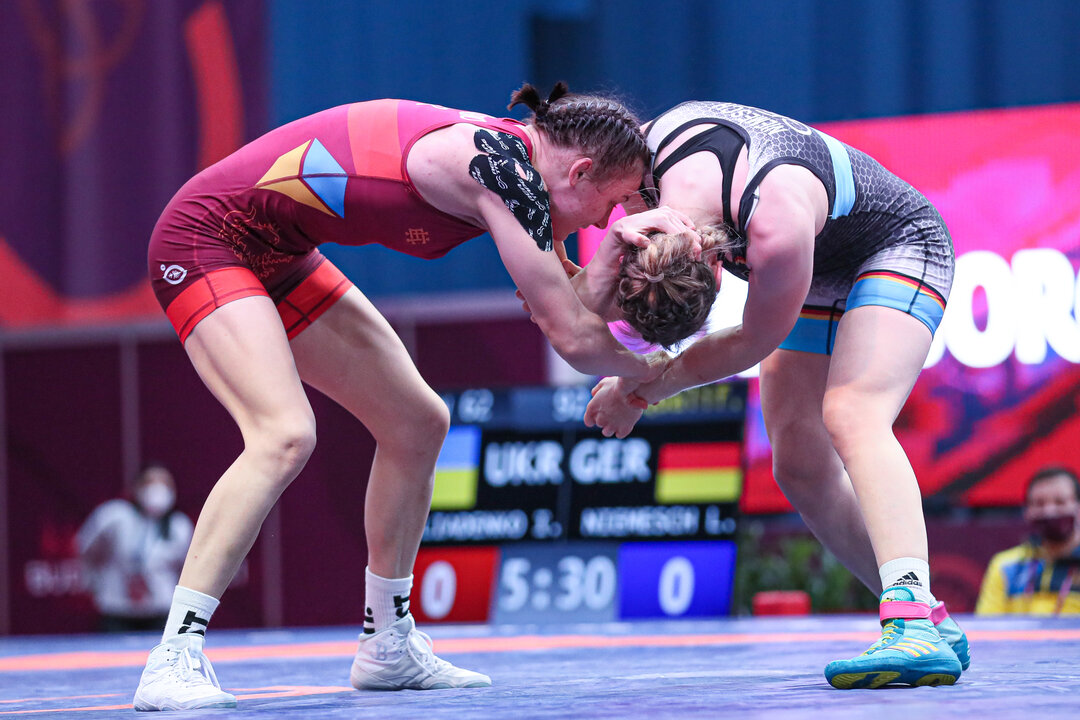 Iryna KOLIADENKO (UKR) snaps down her Geman opponent at the European Olympic Qualifier. (Photo: Kadir Caliskan)
Koliadenko was the second Ukrainian wrestler to score a perfect ten and earn an Olympic license. She barely broke a sweat in her semifinals match agast Mariana CHERDIVARA ESANU (MDA). She blew through the Moldovian wrestler, 10-0, in the first period and will compete tomorrow night for 62kg European OG Qualifier gold.
She'll square off with Latvia's now-three-time Olympian, Anastasija GRIGORJEVA (LAT). The 30-year-old and former European champion denied Elif YESILIRMAK's (TUR) attempt at becoming the first Turkish woman to reach three Olympic Games with a 4-4 come-from-behind victory.
Grigorjeva trailed 3-0 but capitalized on two second-period shot attempts and won, 4-4.
Belarus, Bulgaria and Russia also cemented a pair of Olympic spots through Friday night's semifinal winning performances.
Belarus' berths came from Vanesa KALADZINSKAYA (BLR) and Vasilisa MARZALIUK (BLR), who put on semifinal shows at 53kg and 76kg, respectively.
Kaladzinskaya, a two-time world champion, led Iulia LEORDA (MDA), 9-0, when she stopped wrestling after thinking she earned the 11-0 technical superiority win. She surrendered a reversal and a takedown but comfortably cruised to the 9-3 win.
She'll go toe-to-toe with Rio Olympic bronze medalist and fellow world champion Sofia MATTSSON (SWE) on Saturday night.
Mattsson seized Sweden's 53kg Olympic quota with a semifinal fall over Russia's Stalvira ORSHUSH.
Marzaliuk looked marvelous in her semifinals meeting against Mariya ORYASHKOVA (BUL). The '17 world finalist got to her double underhooks and the rest was history. She only needed just over two minutes to pick up the fall and move into the 76kg finals. 
Miglena SELISHKA (BUL) and the aforementioned Nikolova punched Bulgaria's pair of women's wrestling tickets to Tokyo with wins on Friday night.
Selishka fell behind 1-0 against Poland's 38-year-old Iwona MATKOWSKA but strung together two takedowns for the 4-1 victory. Evin DEMIRHAN (TUR), a two-time world medalist, awaits the European champion in the 50kg finals.
The 25-year-old had a minimal 1-0 lead over Julie SABATIE (FRA) after the first period but flew out of the gates in the second period with a head inside single, coupled with a gut wrench to extend to lead to 5-0. Although she shut it down with 30 seconds, she cried tears of joy with a 5-1 victory.
Khanum VELIEVA (RUS) was one of two Russian wrestlers who earn Olympic berths on Friday night. (Photo: Kadir Caliskan)
Russia was the final country that had a pair of semifinal winners on Friday night.
Heavy hitters Khanum VELIEVA (RUS) and Natalia VOROBEVA (RUS) were the ticket punchers that we'll wrestle for gold on Saturday night.
Velieva, the stone-cold 21-year-old, completely shut down fellow European champion Elis MANOLOVA (AZE) in their semifinals clash. The young Russian earned back-to-back one-point exchanges in the first period, then grabbed a pair of second-period takedowns to win, 6-0.
Velieva will wrestle 21-year-old Koumba LARROQUE (FRA) for 68kg gold.
Larroque, who became the ninth French woman to qualify for the Olympic Games, rocked Dalma CANEVA (ITA), 10-0, in the semifinals. The two-time world-medal winner scored three takedowns in the first period and closed out the match with a takedown and an exposure in the second period to claim the 11-0 shutout win.
Although it wasn't the ideal way you'd want to qualify, London Olympic champion Vorobeva snuck past Martina KUENZ (AUT), 2-1, thanks to a pair of inactivity calls. She'll wrestle the long and lengthy Marzaliuk for the 76kg crown on Saturday night.
The European Olympic Qualifiers resume on Saturday morning at 11:00 with Greco-Roman action taking center stage.
50kg
GOLD - Evin DEMIRHAN (TUR) vs. Miglena Georgieva SELISHKA (BUL)
SEMIFINAL - Miglena SELISHKA (BUL) df. Iwona Nina MATKOWSKA (POL), 4 – 1
SEMIFINAL - Evin DEMIRHAN (TUR) df. Julie SABATIE (FRA), 5-1
53kg
GOLD - Vanesa KALADZINSKAYA (BLR) vs. Sofia Magdalena MATTSSON (SWE)
SEMIFINAL - Sofia MATTSSON (SWE) df. Stalvira ORSHUSH (RUS), via fall
SEMIFINAL - Vanesa KALADZINSKAYA (BLR) df. Iulia LEORDA (MDA), 
57kg
GOLD - Evelina Georgieva NIKOLOVA (BUL) vs. Alina HRUSHYNA AKOBIIA (UKR)
SEMIFINAL - Alina HRUSHYNA AKOBIIA (UKR) df. Sara LINDBORG (SWE), 10-0
SEMIFINAL - Evelina NIKOLOVA (BUL) df. Bediha GUN (TUR), 4-2
62kg
GOLD - Iryna KOLIADENKO (UKR) vs. Anastasija GRIGORJEVA (LAT)
SEMIFINAL - Anastasija GRIGORJEVA (LAT) df. Elif Jale YESILIRMAK (TUR), 4-4
SEMIFINAL - Iryna KOLIADENKO (UKR) df. Mariana CHERDIVARA (MDA),10-0
68kg
GOLD - Koumba Selene Fanta LARROQUE (FRA) vs. Khanum VELIEVA (RUS)
SEMIFINAL - Khanum VELIEVA (RUS) df. Elis MANOLOVA (AZE), 6-0
SEMIFINAL - Koumba Selene Fanta LARROQUE (FRA) df. Dalma CANEVA (ITA), 11-0
76kg
GOLD - Vasilisa MARZALIUK (BLR) vs. Natalia VOROBEVA (RUS)
SEMIFINAL - Natalia VOROBEVA (RUS) df. Martina KUENZ (AUT), 2-1
SEMIFINAL - Vasilisa MARZALIUK (BLR) df. Mariya ORYASHKOVA (BUL), via fall