Four must-see matches at the #WrestleAcapulco Pan-Ams
Friday, April 29, 2022 - 09:03 By Olivia Lichti
ACAPULCO, Mexico (April 28) --- The upcoming Pan-American Championships (May 5-8) are set to play host to the continent's biggest women's wrestling stars. The crop of top-level talent heading to Mexico will feature a mix of veterans and rising stars, as two Olympic medalists, four returning champions and a pair of U23 world champions will try to stamp their names in the continental history books.
After seeing the entries, we broke down the four matches on the women's wrestling side of the competition that wrestling fans need to see in Acapulco.
53kg: Sam STEWART (CAN) vs Luisa VALVERDE MELENDRES (ECU)
Though Sam STEWART (CAN) came just short of qualifying for the 2020 Olympics, giving up a deciding takedown in the final seconds of the Last Chance Qualifier semis, she rebounded strong in Oslo last year, winning her first world medal in the Norwegian capital. Her impressive run to bronze was capped off with a beautiful inside trip directly to the pin over Khrystyna BEREZA (UKR). Stewart will look to win her first continental medal since her last appearance at Pan-Ams in 2016, where she took gold at 55kg.
The Canadian's primary challenger will be rival Luisa Elizabeth VALVERDE MELENDRES (ECU). The 31-year-old veteran owns an impressive seven Pan-Am medals, highlighted by a gold in 2020. Valverde also became an Olympian in Tokyo, where she beat world bronze medalist Maria Prevolaraki (GRE) in the opening round before ultimately falling in the quarterfinals. Like Stewart, Valverde attended the World Championships in Oslo last year, but fell just short of a medal, finishing in 5th place.
These two wiley veterans have faced each other in three exciting matches over the past two years, with the Ecuadoran leading the series 2-1. Valverde pinned Stewart at the 2020 Matteo Pellicone and defeated her 4-0 in the opening rounds of the Pan-Am Olympic Games Qualifier, though Stewart beat her dominantly for revenge in the bronze medal match. The next installment of this rivalry is a must-watch in Acapulco.
62kg: Ana GODINEZ GONZALEZ (CAN) vs Kayla MIRACLE (USA)
Wrestling fans have been treated to two matches between international stars Kayla Colleen Kiyoko MIRACLE (USA) and Ana Paula GODINEZ GONZALEZ (CAN) over the past two years, and the matchup has blossomed into an exciting rivalry. The first time the two faced each other, Miracle pulled away with a dominant 8-0 victory. The second time around, however, things were different: Godinez was able to close the gap, falling just short to Miracle in an intense 6-5 match.
Both these women have amassed some major credentials over the past two years- Miracle was a 2020 Olympian and went on to earn a world silver medal in Oslo, Norway, while Godinez picked up a U23 world title in Belgrade, Serbia. These women are undoubtedly both huge parts of the future of this weight class, and the exciting nature of their previous matches will make this a can't-miss bout should they cross paths.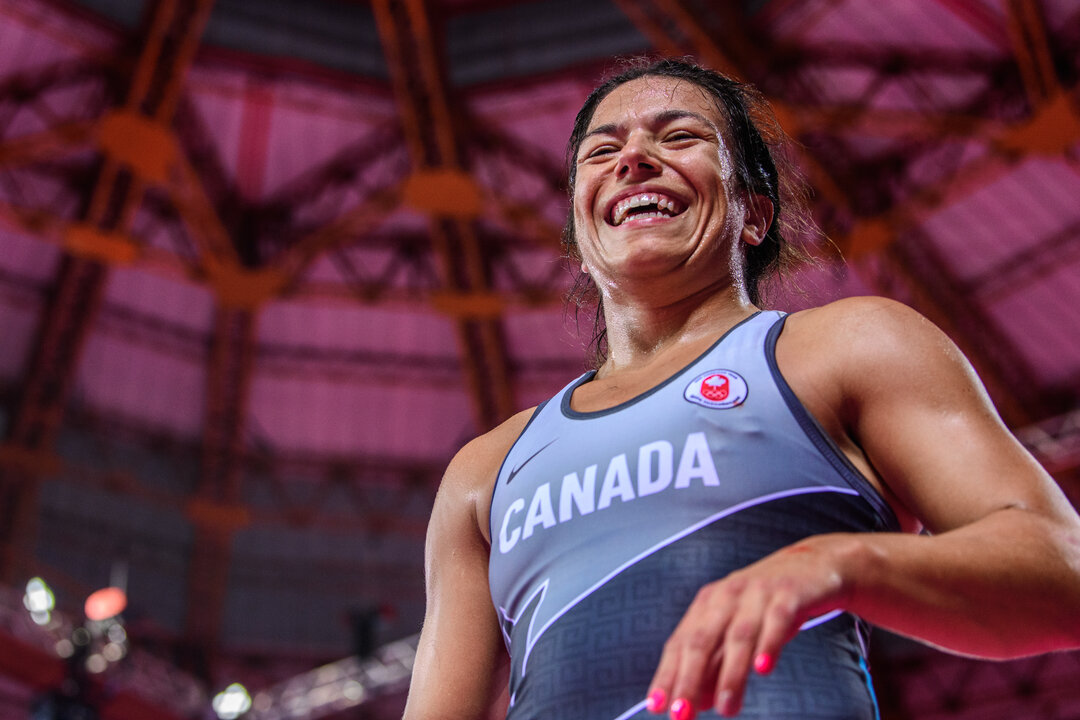 Justina DI STASIO (CAN) heads into Mexico looking to become a five-time Pan-Am champion. (Photo: Tony Rotundo)
76kg: Justina DI STASIO (CAN) vs Milaimys MARIN POTRILLE (CUB) vs Tatiana RENTERIA (COL)
Even without six-time world champion Adeline GRAY (USA) or 2016 Olympic champion Erica WIEBE (CAN), the 76kg division will arguably be the deepest weight class contested across all styles. It's headlined by 2018 72kg world champion Justina DI STASIO (CAN), who comes into this event as the on-paper favorite. Di Stasio has won four Pan-Am titles since 2015 and has long been a formidable competitor at heavyweight, though perhaps hasn't had as much of an opportunity to prove herself internationally with compatriot Erica Wiebe owning the world team spot for many years.
Di Stasio will be challenged by a host of young talents. One of the prime challengers is Colombia's Tatiana Renteria, who made a name for herself when she picked up a silver medal at the U23 World Championships in Belgrade, Serbia. She also owns a Junior Pan-Am title from 2019. Another youngster who's had ample success on the age-level scene is Cuba's Milaimys Marin Potrille. Marin debuted internationally in 2018, where she picked up a Cadet Pan-Am title and a Youth Olympic Games gold medal. She didn't slow down the following year, winning junior and U23 world titles at the young age of 18. Though Marin Potrille has yet to amass any senior-level success, this tournament will provide her with the opportunity to pick up some substantial wins.
Such is the depth of the heavyweight field that even beyond these competitors there's lots of credentialed women: keep an eye on Ecuador's Genesis Rosangela REASCO VALDEZ (ECU), who took silver at this event last year with an 11-0 victory over 2014 world silver medalist Aline SILVA (BRA). Also in attendance are Youth Olympic Games silver medallist Linda MACHUCA (ARG) and Junior Pan-Am silver medallist Diamond GUILFORD (USA). As always, 76 kilos will be the women's weight class to watch- make sure you don't miss any matchups between these top hammers.
55kg: Jacarra WINCHESTER (USA) vs Lucia YEPEZ GUZMAN (ECU)
2019 world champion Jacarra Gwenisha WINCHESTER (USA) will look to defend her 2021 continental title in Mexico this week. She's back up at her optimal weight class of 55kg after a fifth-place finish at the Olympic Games at 53kg and will be the on-paper favorite to win gold here. However, her absence at the 2021 Worlds in Oslo after failing to make the US National Team is significant, and it'll be interesting to see how she bounces back here- especially with a challenge like Lucia Yamileth YEPEZ GUZMAN (ECU).
Lucia Yepez broke out onto the senior international scene in 2021 after qualifying for the Olympics at 50kg at the Last Chance Qualifier in Bulgaria. She followed up that performance with a solid Olympic Games run, where she upset world medallist Valentina ISLAMOVA BRIK (KAZ) before ultimately falling to Yui SUSAKI (JPN) in the quarterfinals. She then bumped up to 53kg for the U23 World Championships in Serbia, where her dominant performance led her to become the first Ecuadorian woman to win a world title.
This will be Yepez's first senior Pan-Ams, and her debut at 55kg. Though she has shown great promise in the lower weight classes, this competition will be an important test to see if she can hold her own against a new crop of tough women. A matchup between proven veteran Winchester and rising star Yepez will be a must-see.
All the Pan-Am championship action starts next Thursday (May 5), live on www.uww.org.