Four Different Nations Close out ANOC World Beach Games With Gold Medals
Tuesday, October 15, 2019 - 20:58 By United World Wrestling Press
DOHA, Qatar (October 16) -- The medals continued to diversify at the ANOC World Beach Games as beach wrestlers from Georgia, Iran, Italy and Nigeria closed out the final day wrestling in Qatar with shiny gold medals draped around their necks. 
The first men's wrestler who impressed the energetic crowd on Katara Beach was Davit KHUTSISHVILI (GEO). The Georgian, with his pearly white smile that matched his tights, circled the sand with his nation's flag after downing Ibrahim YUSUBOV (AZE), 5-1, in the opening period of the 80kg finals.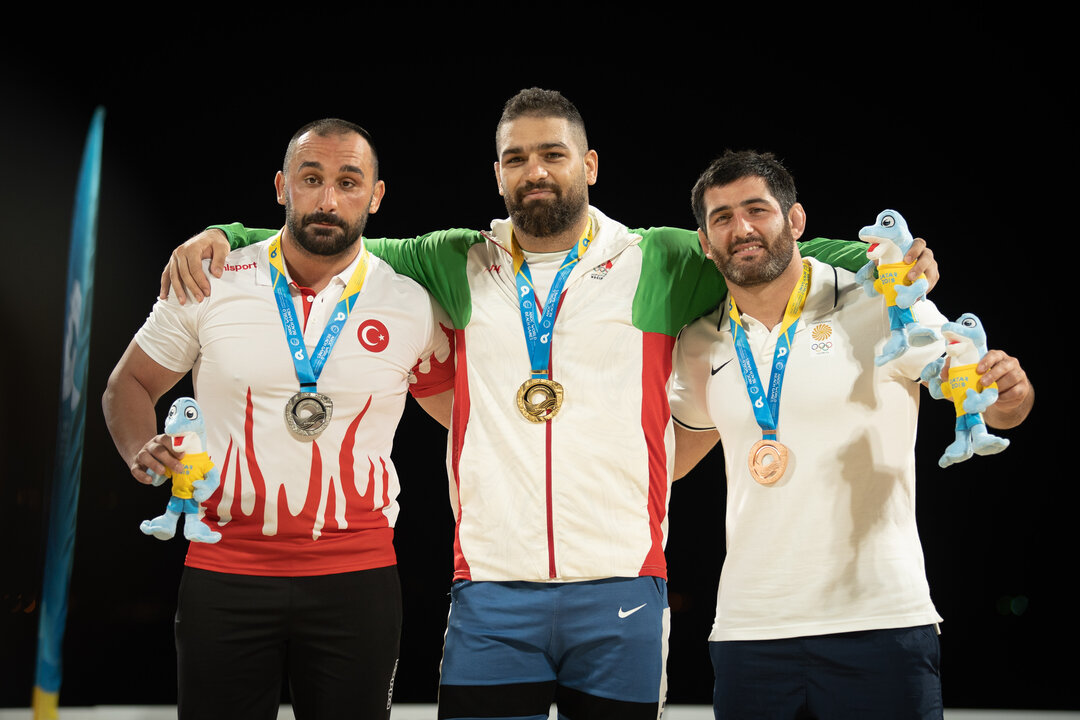 Pouya RAHMANI (IRI), the 90kg champion, is joined by the weight's other two medalists, Ufuk YILMAZ (TUR) and Mamuka KORDZAIA (GEO) (Photo: Theo Lowenstein) 
The second male gold medal of the day went to Iran's Pouya RAHMANI (IRI), who cruised to a 3-0 win over Ufuk YILMAZ (TUR) in the 90kg gold-medal match. His finals blanking of Yilmaz was the tattooed Iranian's fifth shutout win of the day. In group action, Rahmani outscored his four opponents 13-1, then earned his finals berth with a 3-0 shutout win over Oyan NAZARIANI (AZE). In total, Rahmani outscored his six ANOC World Beach Games opponents by an impressive 19-1 margin.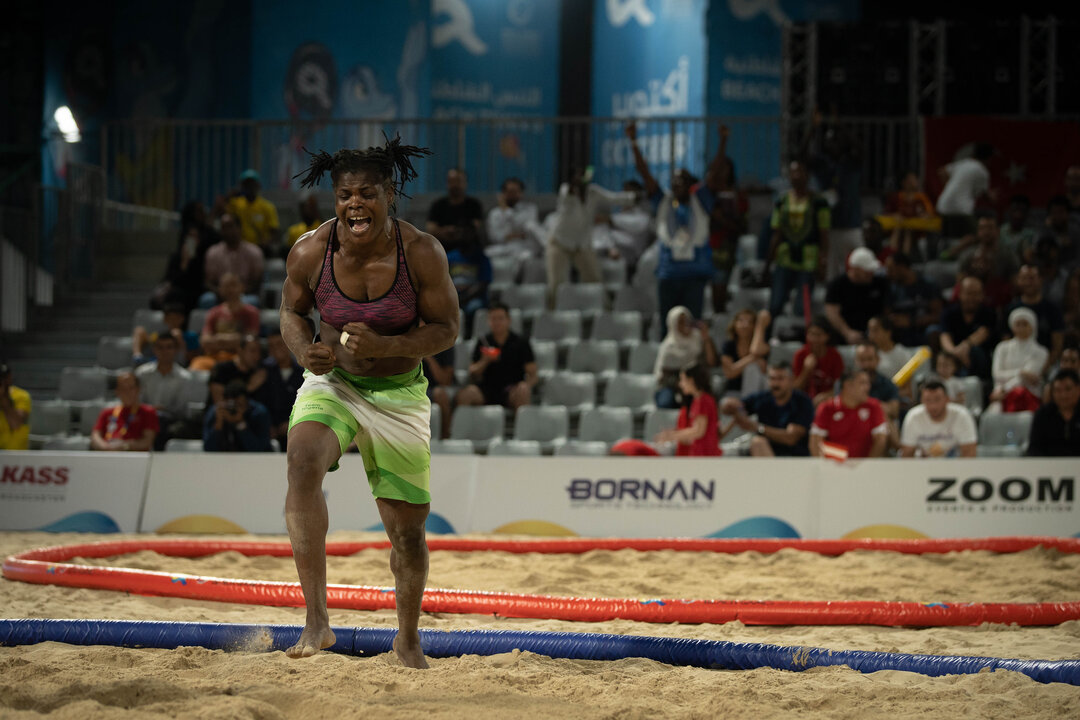 Blessing ONYEBUCH (NGR) celebrates after defeating Zsanett NEMETH (HUN) in the over 70kg finals. (Photo: Theo Lowenstein) 
On the women's side of the competition, Nigeria's Blessing ONYEBUCH scored an emotional 3-2 over fellow Nur-Sultan World Championships competitor, Zsanett NEMETH (HUN), in the over 70kg finals. The final women's wrestling champion was Francesca INDELICATO (ITA), who stood above second and third-place finishers, respectively, Mehlik OZTURK (TUR) and Shauna KEMP (USA), on the 60kg podium. 
The ANOC World Beach Games closed out the beach wrestling calendar year, but fans can continue to join the discussion around the rapidly growing sport by following @uwwbeachwrestling on Instagram and @uwwbeach on Twitter.
RESULTS
Men's Beach Wrestling
80kg 
GOLD - Davit KHUTSISHVILI (GEO) df. Ibrahim YUSUBOV (AZE), 5-1 
BRONZE – Vasyl MYKHAILOV (UKR) df. Sami UNAL (TUR), 3-0 
+90kg 
GOLD – Pouya RAHMANI (IRI) df. Ufuk YILMAZ (TUR), 3-0 
BRONZE - Mamuka KORDZAIA (GEO) df. Oyan NAZARIANI (AZE), 1-1
Women's Beach Wrestling
60kg
GOLD - Francesca INDELICATO (ITA) df. Mehlik OZTURK (TUR)
BRONZE - Shauna KEMP (USA) df. Kateryna ZHYDACHECSKA (ROU)
+70kg 
GOLD - Blessing ONYEBUCH (NGR) df. Zsanett NEMETH (HUN), 3-2 
BRONZE - Iryna PASICHNYK (UKR) df. Cataline AXENTE (ROU), 3-1