Exhausted Ibragimov Captures 2nd Straight Asian Title
Saturday, March 3, 2018 - 19:21 By Ken Marantz
It might not have been the longest minute of Magomed IBRAGIMOV's life. But he was sure glad to get through it, especially after the exhausted Uzbekistan star received the gold medal for his efforts.
Ibragimov expended every ounce of energy to hold on for a 5-3 victory over Mojtaba GOLEIJ (IRI) in the 97kg final as Uzbekistan came away with two golds on the first day of freestyle at the Asian Championships.
"I'm really satisfied because the Asian Championships is one of the most important tournaments for wrestlers," said Ibragimov, who now has back-to-back golds after winning last year in New Delhi.
Uzbekistan advanced four wrestlers into the five finals at Kozhomkul Sports Palace, but only Ikhtiyor NAVRUZOV (UZB) would join fellow Rio 2016 Olympic bronze medalist Ibragimov as a champion after taking the 70kg title--his first Asian gold after two silvers and a bronze.
KANG Kumsong (PRK) shed tears of joy after holding off Makhmudjon SHAVKATOV (UZB), 4-2, in the 57kg final, while Ezzatollah AKBARIZARINKOLAEI (IRI) built up a commanding 5-0 lead before Rashid KURBANOV (UZB) defaulted with a knee injury with 0:19 remaining in their 79kg gold-medal match.
The other gold at stake on the fifth day of competition went to five-time Asian medalist Daulet NIYAZBEKOV (KAZ), who clamped a front headlock in the second period on Daichi TAKATANI (JPN) and reeled off five consecutive rolls to win the 65kg gold with an 11-0 technical fall with 2:07 remaining.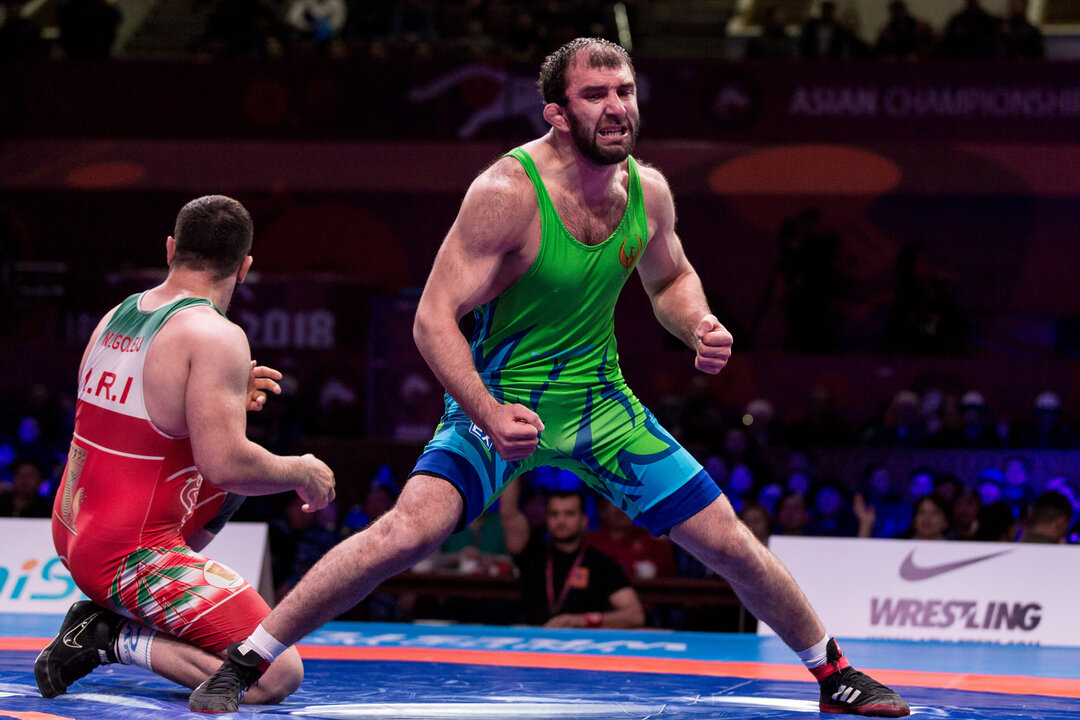 Magomed IBRAGIMOV (UZB) celebrates after winning the 97kg Asian championship. Photo by Max Rose-Fyne. 
In the final match of the night, Ibragimov jumped out to a 4-0 lead after one period on a step-out, an activity clock point and a takedown. But in the second period, Goleij, a 2017 world under-23 champion, went on the offensive.
The Iranian scored a takedown with :44 left, then forced a step-out with :13 remaining on the clock. A final takedown attempt came up just short as Ibragimov managed to barely remain on his feet.
The image of the night was the sight of Ibragimov collapsing to the mat and remaining prone as the referees reviewed an Iranian challenge of the final move, which was refused. After having his hand raised, he again dropped to the mat, where he stayed during the medal ceremony for the previous weight class.
"I wouldn't say it was the most, but it was one of the hardest minutes of my career,"  Ibragimov said after his own medal ceremony. "After the wrestling, I couldn't leave the mat and had to stay there. Only now do I feel pretty good. Before that, I was super tired."
Asked if the victory boosted his confidence for the World Championships, to be held in Budapest in October, Ibragimov replied, "I can't say that I feel confident because the performance depends on a couple of things, like luck and training. So if I train well and I feel lucky, maybe I will be able to get a medal. "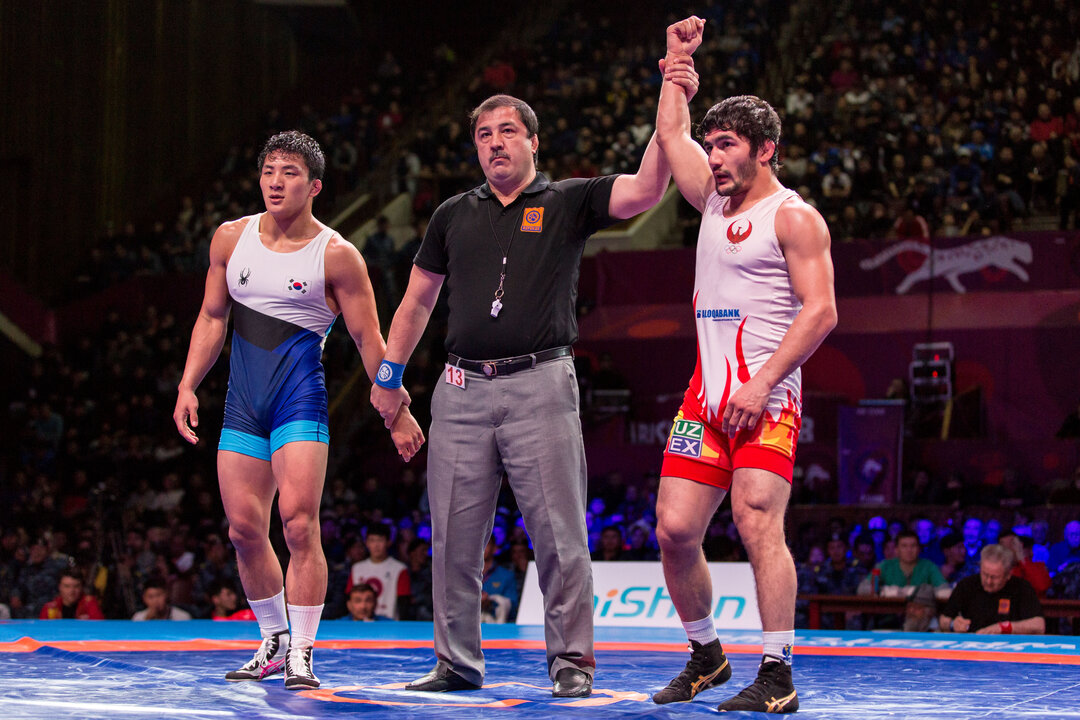 Ikhtiyor NAVRUZOV (UZB) gets his hand raised after winning the 70kg crown. Photo by Max Rose-Fyne.
For Navrusov, his main problem was contending with what he claims was oil on opponent LEE Seungbong (KOR), which made it difficult to get a grasp and apply moves. Navrusov came out a 3-0 winner, with two of his points coming with Lee on the activity clock and one on a head-butt penalty.
"I found that my opponent was oiled and he was sweaty, and I didn't want to take a risk," Navrusov said. "That's why I started to act passive. I just tried to keep my poise and I succeeded."
While it might not have been the performance he would have liked, Navrusov credited the victory to perseverance.
"I worked hard to reach this medal, and everybody actually deserves this medal, but the one who was stronger, the one who worked harder, is the one that won," he said.
Navrusov said that winning the gold in the neighboring country of Kyrgyzstan made it a bit more special.
"As we are neighbors and we are close, my relatives came and also my coach was supporting me," he said. "I felt as if I was back in Uzbekistan in my home country."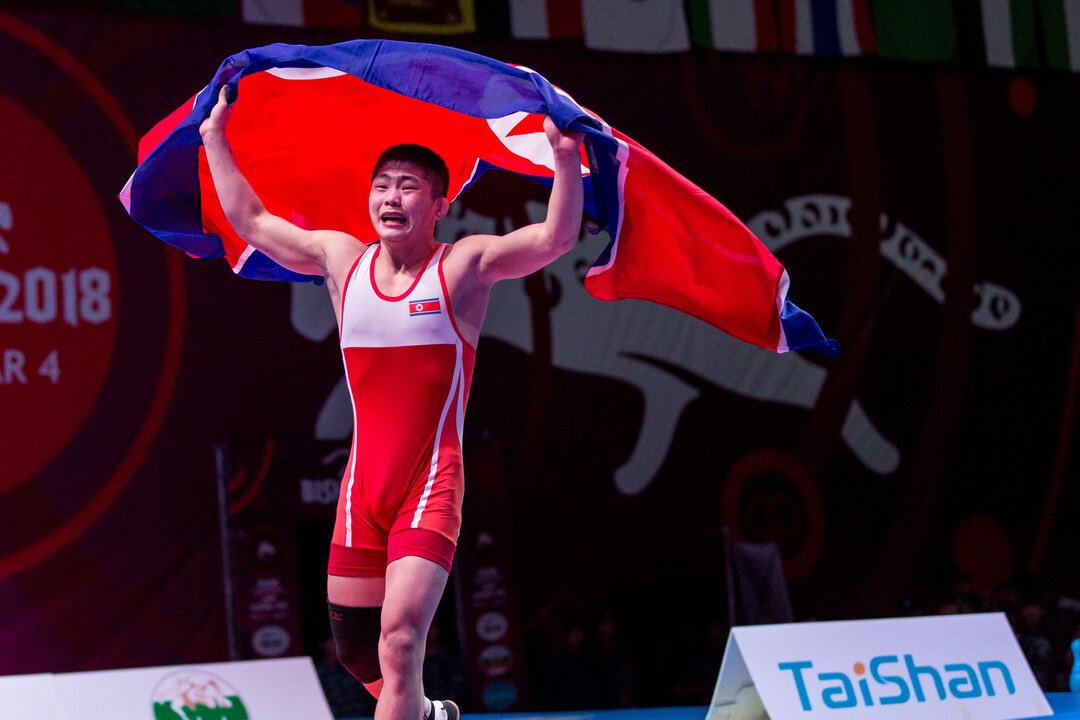 KANG Kumsong (PRK) gets emotional after winning the 57kg title. Photo by Max Rose-Fyne. 
In the 57kg final, Kang led 2-0 when Shavkatov got behind on a takedown attempt in the second period. But as he pressed to force a knee down, Kang reversed him to his back to make it 4-0.  Shavkatov scored two step-outs in the final 10 seconds, but it was too little, too late.
"I thought that one step by one step with mental spirit I cannot give up, however difficult it was," said Kang, who was so elated, he jumped to the top step of the podium when the bronze-medal winners were announced, and happily waved to the crowd.
"I was very confident this competition was mine. I will be the winner. That's how I will bring honor to my nation, my family."
Every Uzbekistan wrestler came away with a medal when Temurjon USMONOHUNOV (UZB) won a bronze at 65kg.
Japan captured three bronzes, while Kazakhstan and India had two each. Mongolia and South Korea each won one.
Freestyle
57kg (14 entries)
Gold - KANG Kumsong (PRK) df. Makhmudjon SHAVKATOV (UZB), 4-2
Bronze - Zhandos ISLMAILOV (KAZ) df. Nader HAJIAG HANIASAMAKOUSHI (IRI), 10-3
Bronze - Toshihiro HASEGAWA (JPN) df. SONG Hyeonsik (KOR) by TF, 10-0, 5:08
65kg (14 entries)
Gold - Daulet NIYAZBEKOV (KAZ) df. Daichi TAKATANI (JPN) by TF, 11-0, 2:07
Bronze - Temurjon USMONOHUNOV (UZB) df. KIM Kukgwang (PRK) by Fall, 0:11 (10-6)
Bronze - Bajrang BAJRANG (IND) df. Yones EMAMICHOGHAEI (IRI), 10-4
70kg (12 entries)
Gold - Ikhtiyor NAVRUZOV (UZB) df. LEE Seungbong (KOR), 3-0
Bronze - Kumar VINOD (IND) df. Elaman DOGDURBEK UULU (KGZ), 3x-3
Bronze - Meirzhan ASHIROV (KAZ) df. Byambadorj BAD ERDENE (MGL), 4-3
79kg (12 entries)
Gold - Ezzatollah AKBARIZARINKOLAEI (IRI) df. Rashid KURBANOV (UZB) by Default, 0:19 (5-0)
Bronze - Tsubasa ASAI (JPN) df. LEE Yunseok (KOR), 7-1
Bronze - Turbold GANBOLD (MGL) by Walkover
97kg (11 entries)
Gold - Magomed IBRAGIMOV (UZB) df. Mojtaba GOLEIJ (IRI), 5-3
Bronze - KIM Jaegang (KOR) df. Mamed IBRAGIMOV (KAZ) by TF, 11-0, 2:47
Bronze - Takeshi YAMAGUCHI (JPN) df. Aibek USUPOV (KGZ), 6-3