Evloev Leads Russian Trio to Finals, Lorincz Defeats Kim in London Finals Rematch
Saturday, October 27, 2018 - 15:57 By Andrew Hipps
BUDAPEST, Hungary (October 27) -- Musa EVLOEV (RUS) knocked off Olympic champion Artur ALEKSANYAN (ARM) on Saturday in the semifinals at 97kg to lead a Russian trio to the Greco-Roman finals at the World Championships in Budapest, Hungary. 
Russia's other two semifinal winners on Saturday were Aleksandr CHEKHIRKIN (77kg) and Sergey SEMENOV (130kg).
Evloev, a returning world silver medalist, scored first off a passivity before lifting Aleksanyan and scoring two points off a correct throw. The Armenian had a chance to get back in the match after scoring a point off a passivity, but was unable to score from par terre and Evloev held on for the victory. He will meet Kiril MILOV (BUL) in the gold-medal match at 97kg.
Milov shut out Mihail KAJALA (SRB) 3-0 in the other semifinal match at 97kg. It looked to be a fast start for Kajala as he was awarded a takedown and two-point gut wrench turn. However, the takedown was challenged and overturned, keeping the match scoreless. Milov scored first off a passivity before adding a takedown to lead 3-0 at the break. A scoreless second period gave Milov a three-point victory.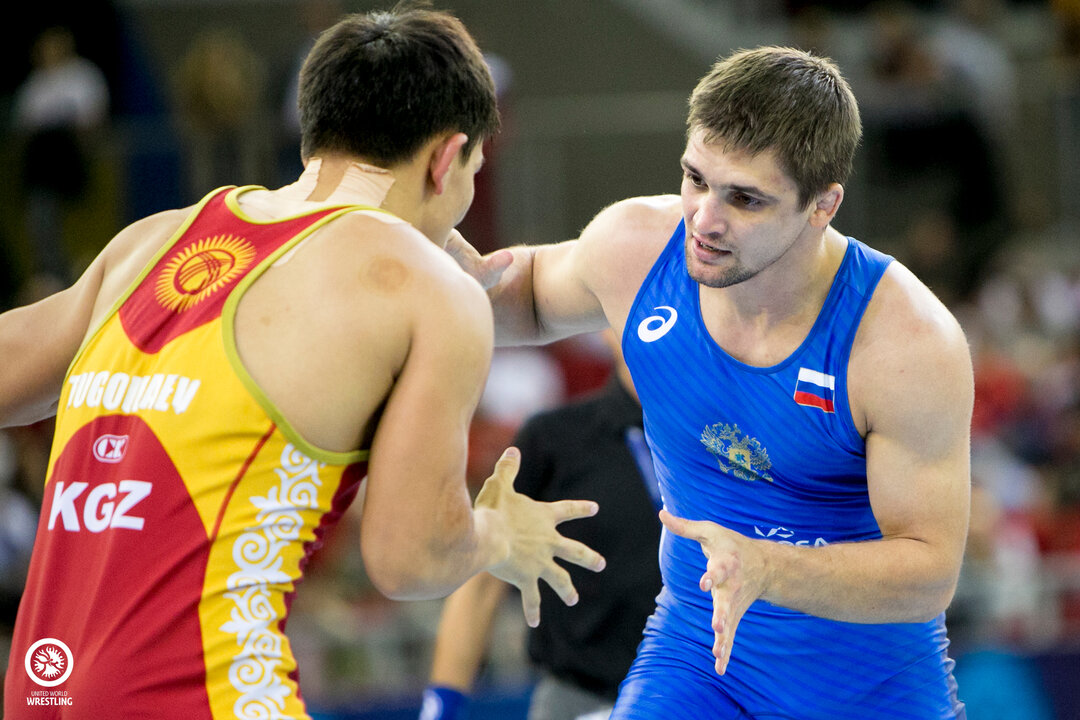 Chekhirkin rolled to the gold-medal match at 77kg with an 11-0 first-period technical fall over Alex KESSIDIS (SWE). The Russian was dominant from the start, scoring with a step out then a passivity to go up 2-0. Chekhirkin scored a takedown with 30 seconds left in the first period, then added another one a short time later, which he followed up with an exposure to close out the technical fall. Awaiting him in the gold-medal match at 77kg is a crowd favorite, returning world medalist Tamas LORINCZ (HUN).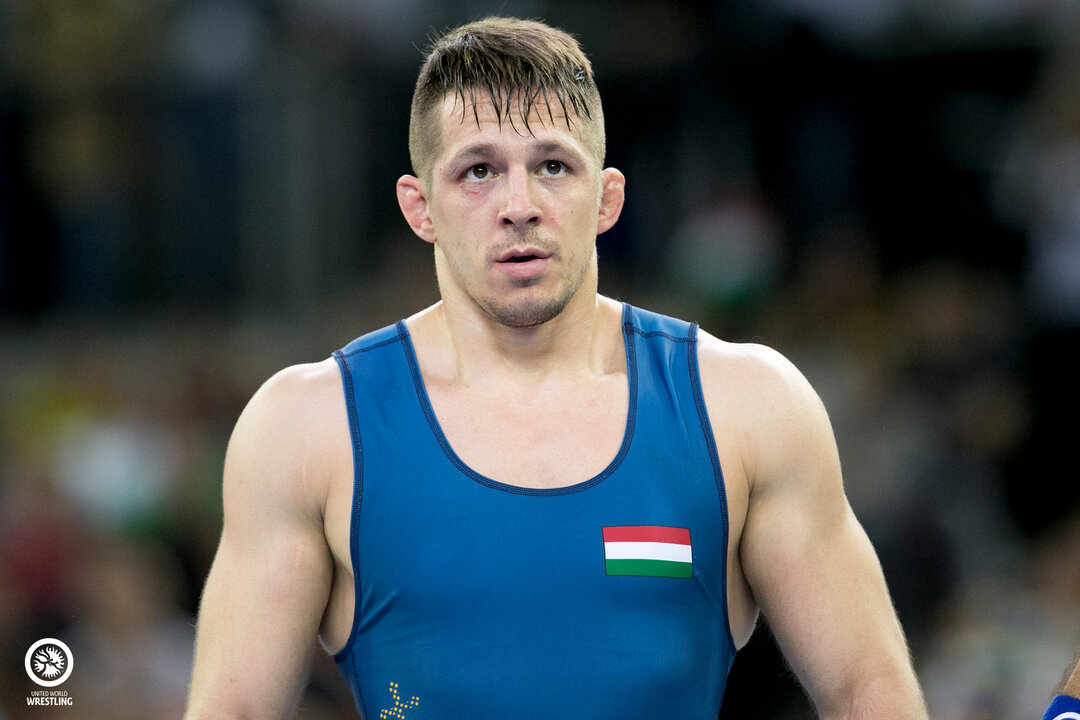 Lorincz topped 2012 Olympic champion Hyeonwoo KIM (KOR) 3-1 in a rematch of the 2012 Olympic gold-medal match. Lorincz led 1-0 at the break after scoring off a passivity. Kim took the lead in the second period on criteria, scoring a point off a passivity. But Lorincz was able to score a late point and another off a failed challenge to win by two.
Semenov became the third Russian to reach the gold-medal match as he topped two-time world champion Heiki NABI (EST) 2-0 at 130kg, scoring both of his points off passivity calls. Nabi had a win earlier in the day over three-time world champion Riza KAYAALP (Turk). He will meet Adam COON (USA) in the gold-medal match.
Coon has been on a roll in his first World Championship appearance, picking up four falls to reach the finals. The American faced Minseok KIM (KOR) in the semifinals. After taking a 3-0 lead, Coon used a body lock to throw Kim to his back and secure his fourth fall. 
Semifinal Results
Greco-Roman
77kg
Tamas LORINCZ (HUN) df. Hyeonwoo KIM (KOR) by VPO1, 3-1
Aleksandr CHEKHIRKIN (RUS) df. Alex KESSIDIS (SWE) by VSU, 11-0
97kg
Kiril Milenov MILOV (BUL) df. Mihail KAJALA (SRB) by VPO, 3-0
Musa EVLOEV (RUS) df. Artur ALEKSANYAN (ARM) by VPO1, 3-1
130kg
Sergey SEMENOV (RUS) df. Heiki NABI (EST) by VPO, 2-0
Adam COON (USA) df. Minseok KIM (KOR) by VFA, 7-0