European Championship Entries
Monday, February 3, 2020 - 12:24 By Eric Olanowski
*Updated entries are listed in bold.
ROME, Italy (February 3) --- The European Championships kick off February 10-16 in Rome, Italy, and there are seven reigning world champions and 16 returning European champions that highlight the list of 515 entries. 
Here are the returning world and European champions that'll be in action in Italy:
Freestyle 
2019 World Champions
61kg - Beka LOMTADZE (GEO)
97kg - Abdulrashid SADULAEV (RUS)
125kg - Geno PETRIASHVILI (GEO)
2019 European Champions
61kg - Arsen HARUTYUNYAN (ARM)
74kg - Frank CHAMIZO MARQUEZ (ITA)
97kg - Abdulrashid SADULAEV (RUS)
Women's Wrestling 

2019 World Champions
65kg  - Inna TRAZHUKOVA (RUS)
72kg - Natalia VOROBEVA (RUS)
2019 European Champions
50kg - Oksana LIVACH (UKR)
53kg - Stalvira ORSHUSH (RUS)
53kg - Iryna HUSYAK (UKR)
59kg - Bilyana Zhivkova DUDOVA (BUL)
62kg - Taybe Mustafa YUSEIN (BUL)
65kg - Elis MANOLOVA (AZE)
68kg - Alla CHERKASOVA (UKR)
72kg - Alina BEREZHNA STADNIK MAKHYNIA (UKR)
76kg - Yasemin ADAR (TUR)
Greco-Roman
2019 World Champions
55kg - Nugzari TSURTSUMIA (GEO)
130kg - Riza KAYAALP (TUR)
2019 European Champions
55kg - Vitalii KABALOEV (RUS)
63kg - Victor CIOBANU (MDA)
82kg - Rajbek Alvievich BISULTANOV (DEN)
130kg - Riza KAYAALP (TUR)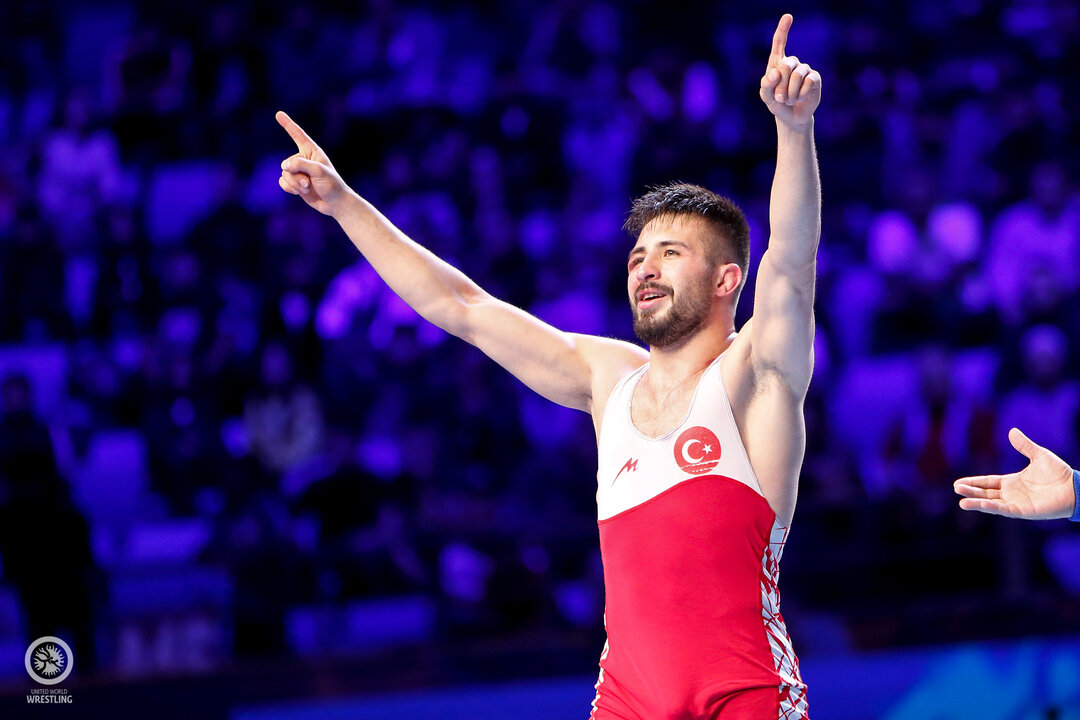 Reigning world silver medalist Suleyman ATLI (TUR) is registered at 57kg. (Photo: Gabor Martin)
Freestyle
57kg
Mihran JABURYAN (ARM)
Afgan KHASHALOV (AZE)
Dzimchyk RYNCHYNAU (BLR)
Georgi Valentinov VANGELOV (BUL)
Levan METREVELI VARTANOV (ESP)
Valentin DAMOUR (FRA)
Otari GOGAVA (GEO)
Horst Justin Junior LEHR (GER)
Ioannis MARTIDIS (GRE)
Givi DAVIDOVI (ITA)
Anatolii BURUIAN (MDA)
Andrei DUKOV (ROU)
Azamat TUSKAEV (RUS)
Stevan Andria MICIC (SRB)
Suleyman ATLI (TUR)
Taras MARKOVYCH (UKR)
61kg
Arsen HARUTYUNYAN (ARM)
Intigam VALIZADA (AZE)
Uladzislau KOIKA (BLR)
Vladimir DUBOV (BUL)
Anvar SUVINIITTY (FIN)
Beka LOMTADZE (GEO)
Viktor Viktorowitsch LYZEN (GER)
Georgios PILIDIS (GRE)
Daniel POPOV (ISR)
Simone Vincenzo PIRODDU (ITA)
Leomid COLESNIC (MDA)
Vladimir EGOROV (MKD)
Nikolai OKHLOPKOV (ROU)
Aleksandr BOGOMOEV (RUS)
Randy Adrian VOCK (SUI)
Hamza ALACA (TUR)
Ivan BILEICHUK (UKR)
65kg
Valodya FRANGULYAN (ARM)
Gabriel JANATSCH (AUT)
Ali RAHIMZADE (AZE)
Niurgun SKRIABIN (BLR)
Stefan Ganchev IVANOV (BUL)
Juan Pablo GONZALEZ CRESPO (ESP)
Marwane Ahmed YEZZA (FRA)
George Anthony RAMM (GBR)
Vladimer KHINCHEGASHVILI (GEO)
Niklas Dietmar DORN (GER)
Fotios PAPADAKIS (GRE)
Iszmail MUSZUKAJEV (HUN)
Abdellatif MANSOUR (ITA)
Maxim SACULTAN (MDA)
Nicolai GRAHMEZ (MDA)
Krzysztof BIENKOWSKI (POL)
George BUCUR (ROU)
Kurban SHIRAEV (RUS)
David HABAT (SLO)
Malik Michael AMINE (SMR)
Selahattin KILICSALLAYAN (TUR)
Erik ARUSHANIAN (UKR)
70kg
Eriglent PRIZRENI (ALB)
Gevorg MKHEYAN (ARM)
Aghahuseyn MUSTAFAYEV (AZE)
Viktar SERADA (BLR)
Mihail Iliev GEORGIEV (BUL)
Nicolae COJOCARU (GBR)
Mirza SKHULUKHIA (GEO)
Kevin Christopher HENKEL (GER)
Roman ASHARIN (HUN)
Gianluca TALAMO (ITA)
Alban SOPA (KOS)
Artem AUGA (LTU)
Mihail SAVA (MDA)
Fati VEJSELI (MKD)
Magomedmurad GADZHIEV (POL)
Israil KASUMOV (RUS)
Marc DIETSCHE (SUI)
Haydar YAVUZ (TUR)
Oleksii BORUTA (UKR)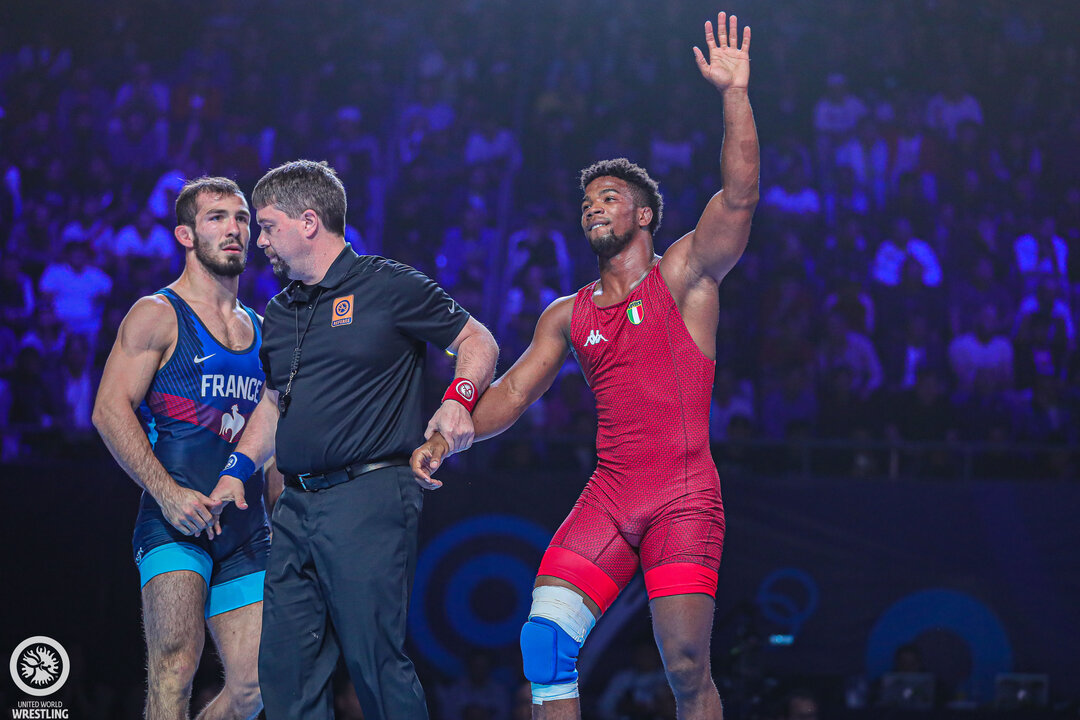 Frank CHAMIZO MARQUEZ (ITA), a two-time world champion, will look to win a European title in his home country of Rome. (Photo: Kadir Caliskan)
74kg
Hrayr ALIKHANYAN (ARM)
Khadzhimurad GADZHIYEV (AZE)
Andrei KARPACH (BLR)
Miroslav Stefanov KIROV (BUL)
Jonatan ALVAREZ DIAZ (ESP)
Aimar ANDRUSE (EST)
Charles André AFA (FRA)
Charlie James BOWLING (GBR)
Avtandil KENTCHADZE (GEO)
Kyrillos BINENMPAOUM (GRE)
Murad KURAMAGOMEDOV (HUN)
Mitchell Louis FINESILVER (ISR)
Frank CHAMIZO MARQUEZ (ITA)
Valentin BORZIN (MDA)
Patryk Krzysztof OLENCZYN (POL)
Zurab KAPRAEV (ROU)
Magomedrasul GAZIMAGOMEDOV (RUS)
Zaur EFENDIEV (SRB)
Jakub SYKORA (SVK)
Soner DEMIRTAS (TUR)
Denys PAVLOV (UKR)
79kg
Arman AVAGYAN (ARM)
Simon MARCHL (AUT)
Jabrayil HASANOV (AZE)
Mahamedkhabib KADZIMAHAMEDAU (BLR)
Dzhemal Rushen ALI (BUL)
Erik REINBOK (EST)
Saifedine ALEKMA (FRA)
Zurabi ERBOTSONASHVILI (GEO)
Alexandros TSANTIKIDIS (GRE)
Hanoc RACHAMIN (ISR)
Salvatore DIANA (ITA)
Andrius MAZEIKA (LTU)
Evgheni NEDEALCO (MDA)
Gheorghi PASCALOV (MDA)
Omaraskhab NAZHMUDINOV (ROU)
Magomed Eldarovitch RAMAZANOV (RUS)
Akhsarbek GULAEV (SVK)
Batuhan DEMIRCIN (TUR)
Vasyl MYKHAILOV (UKR)
86kg
Hovhannes MKHITARYAN (ARM)
Abubakr ABAKAROV (AZE)
Rasul TSIKHAYEU (BLR)
Akhmed Adamovitch MAGAMAEV (BUL)
Taimuraz FRIEV NASKIDAEVA (ESP)
Ville Tapani HEINO (FIN)
Akhmed AIBUEV (FRA)
Dato MARSAGISHVILI (GEO)
Lars SCHAEFLE (GER)
Georgios SAVVOULIDIS (GRE)
Mihaly NAGY (HUN)
Uri KALASHNIKOV (ISR)
Aron CANEVA (ITA)
Ivars SAMUSONOKS (LAT)
Piotr IANULOV (MDA)
Denis BALAUR (MDA)
Radoslaw MARCINKIEWICZ (POL)
Artur NAIFONOV (RUS)
Myles Nazem AMINE (SMR)
Stefan REICHMUTH (SUI)
Boris MAKOEV (SVK)
Fatih ERDIN (TUR)
Illia ARCHAIA (UKR)
92kg
Marzpet GALSTYAN (ARM)
Aslanbek ALBOROV (AZE)
Amarhajy MAHAMEDAU (BLR)
Irakli MTSITURI (GEO)
Angelos KOUKLARIS (GRE)
Bendeguz TOTH (HUN)
Simone IANNATTONI (ITA)
Edon SHALA (KOS)
Georgii RUBAEV (MDA)
Zbigniew Mateusz BARANOWSKI (POL)
Batyrbek TCAKULOV (RUS)
Samuel SCHERRER (SUI)
Suleyman KARADENIZ (TUR)
Roman RYCHKO (UKR)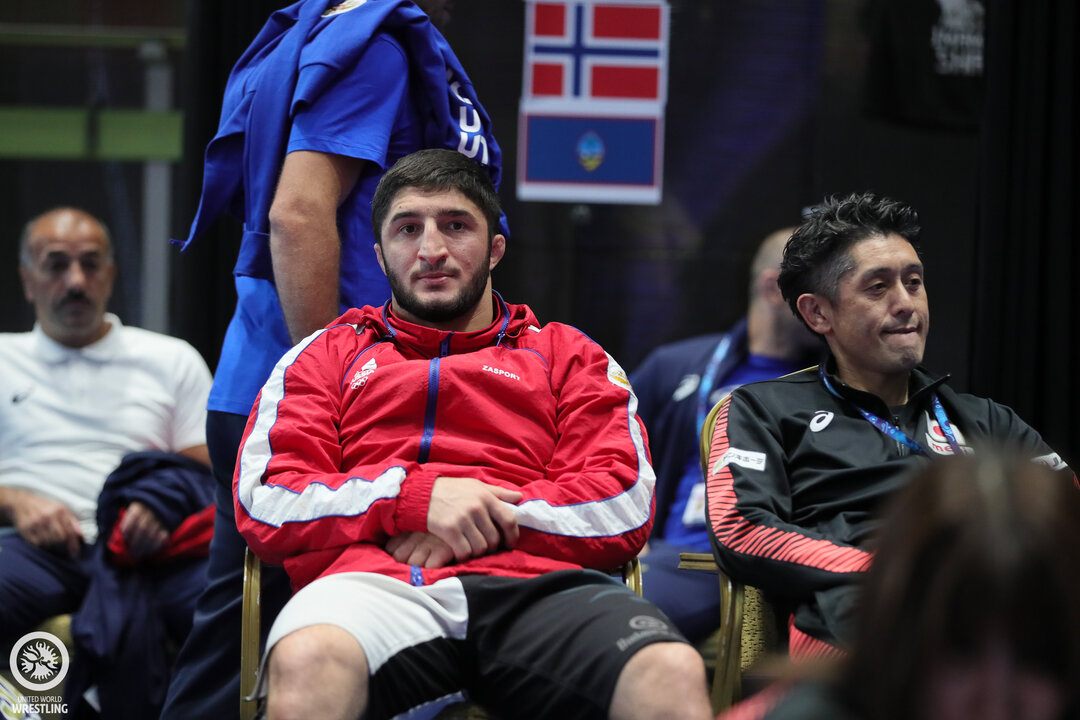 Wrestling's biggest star Abdulrashid SADULAEV (RUS) will wrestle at 97kg. (Photo: Kadir Caliskan)

97kg
Sargis HOVSEPYAN (ARM)
Nurmagomed GADZHIYEV (AZE)
Dzianis KHRAMIANKOU (BLR)
Georgi Genadiev DIMITROV (BUL)
Alejandro CANADA PANCORBO (ESP)
Elizbar ODIKADZE (GEO)
Gennadij CUDINOVIC (GER)
Christos PETRIDIS (GRE)
Pavel OLEJNYIK (HUN)
Abraham de Jesus CONYEDO RUANO (ITA)
Lukas KRASAUSKAS (LTU)
Nicolai CEBAN (MDA)
Magomedgadji Omardibirovich NUROV (MKD)
Radoslaw BARAN (POL)
Albert SARITOV (ROU)
Abdulrashid SADULAEV (RUS)
Ibrahim BOLUKBASI (TUR)
Murazi MCHEDLIDZE (UKR)
125kg
Paris KAREPI (ALB)
Levan BERIANIDZE (ARM)
Johannes LUDESCHER (AUT)
Jamaladdin MAGOMEDOV (AZE)
Elhad HUKIC (BIH)
Ibragim SAIDOV (BLR)
Jose CUBA VAZQUEZ (ESP)
Geno PETRIASHVILI (GEO)
Nick MATUHIN (GER)
Daniel LIGETI (HUN)
Ryan John MALO (ITA)
Egzon SHALA (KOS)
Alexandr ROMANOV (MDA)
Samhan JABRAILOV (MDA)
Boban DANOV (MKD)
Robert BARAN (POL)
Rares Daniel CHINTOAN (ROU)
Baldan TSYZHIPOV (RUS)
Tanju GEMICI (TUR)
Oleksandr KHOTSIANIVSKYI (UKR)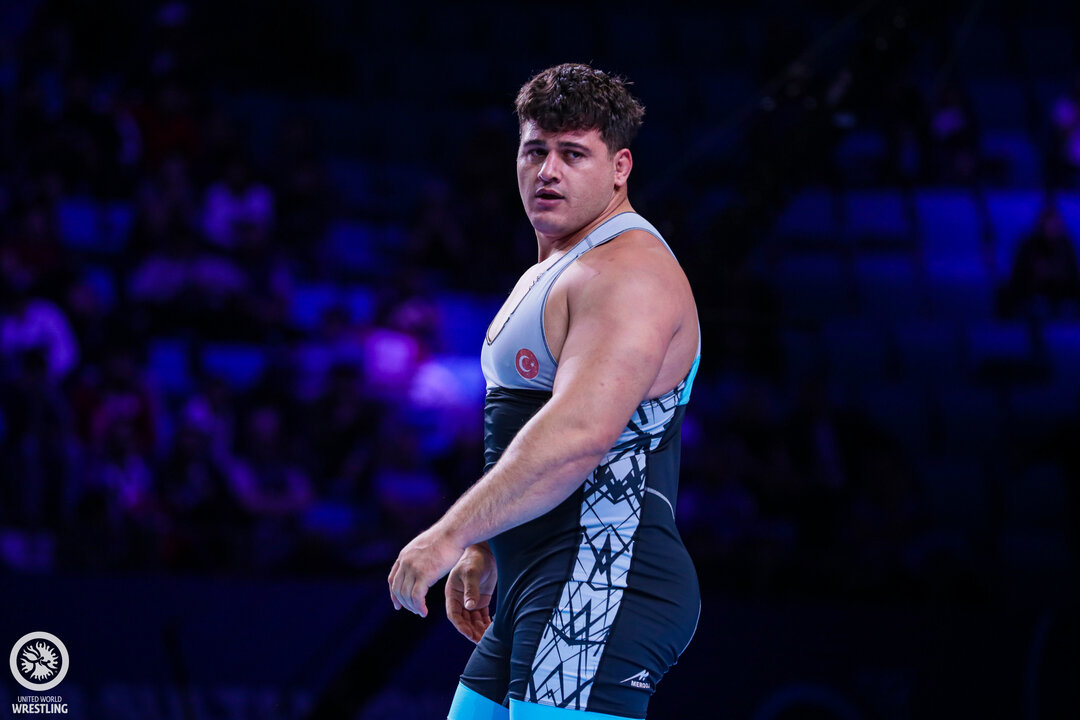 Riza KAYAALP (TUR) is one of two reigning Greco-Roman world champions that are set to compete in Rome. (Photo: Kadir Caliskan)
Greco-Roman
55kg
Rudik MKRTCHYAN (ARM)
Sargis GEVORGIZYAN (AUT)
Eldaniz AZIZLI (AZE)
Edmond Armen NAZARYAN (BUL)
Nugzari TSURTSUMIA (GEO)
Fabian Bernhard SCHMITT (GER)
Maksym VYSOTSKYI (ISR)
Giovanni FRENI (ITA)
Artium DELEANU (MDA)
Snorre Harsem LUND (NOR)
Florin TITA (ROU)
Vitalii KABALOEV (RUS)
Dogus AYAZCI (TUR)
Koriun SAHRADIAN (UKR)
60kg
Gevorg GHARIBYAN(ARM)
Murad BAZAROV(AZE)
Yahor BELIAK (BLR)
Avgustin Boyanov SPASOV (BUL)
Helary MAEGISALU (EST)
Juuso Aleksi LATVALA (FIN)
Amiran SHAVADZE (GEO)
Krisztian KECSKEMETI (HUN)
Jacopo SANDRON (ITA)
Przemyslaw PIATEKI (POL)
Teodor HORATAU (ROU)
Zhambolat LOKYAEV (RUS)
Dimitar Ivaylov SANDOV (SUI)
Kerem KAMAL (TUR)
Zhora ABOVIAN (UKR)
63kg
Sahak HOVHANNISYAN (ARM)
Taleh MAMMADOV (AZE)
Maksim NEHODA (BLR)
Rumen Boyanov SAVCHEV (BUL)
Levani KAVJARADZE (GEO)
Christos THEODORAKIS (GRE)
Erik TORBA (HUN)
Justas PETRAVICIUS (LTU)
Victor CIOBANU (MDA)
Stig-Andre BERGE (NOR)
Dawid KARECINSKI (POL)
Mihai Radu MIHUT (ROU)
Ibragim LABAZANOV (RUS)
Perica DIMITRIJEVIC (SRB)
Rahman BILICI (TUR)
Lenur TEMIROV (UKR)
67kg
Karen ASLANYAN (ARM)
Islambek DADOV (AZE)
Aliaksandr LIAVONCHYK (BLR)
Deyvid Tihomirov DIMITROV (BUL)
Danijel JANECIC (CRO)
Ott SAAR (EST)
Elmer Joakim MATTILA (FIN)
Yasin OZAY (FRA)
Giorgi SHOTADZE (GEO)
Witalis LAZOVSKI (GER)
Manrikos THEODORIDIS (GRE)
Krisztian Istvan VANCZA (HUN)
Ignazio SANFILIPPO (ITA)
Aleksandrs JURKJANS (LAT)
Kristupas SLEIVA (LTU)
Donior ISLAMOV (MDA)
Morten THORESEN (NOR)
Roman PACURKOWSKI (POL)
Nazir Rachidovitch ABDULLAEV (RUS)
Mate NEMES (SRB)
Andreas VETSCH (SUI)
Oskar Simon ERLANDSSON (SWE)
Enes BASAR (TUR)
Denys DEMYANKOV (UKR)
Aker AL OBAIDI (UWW)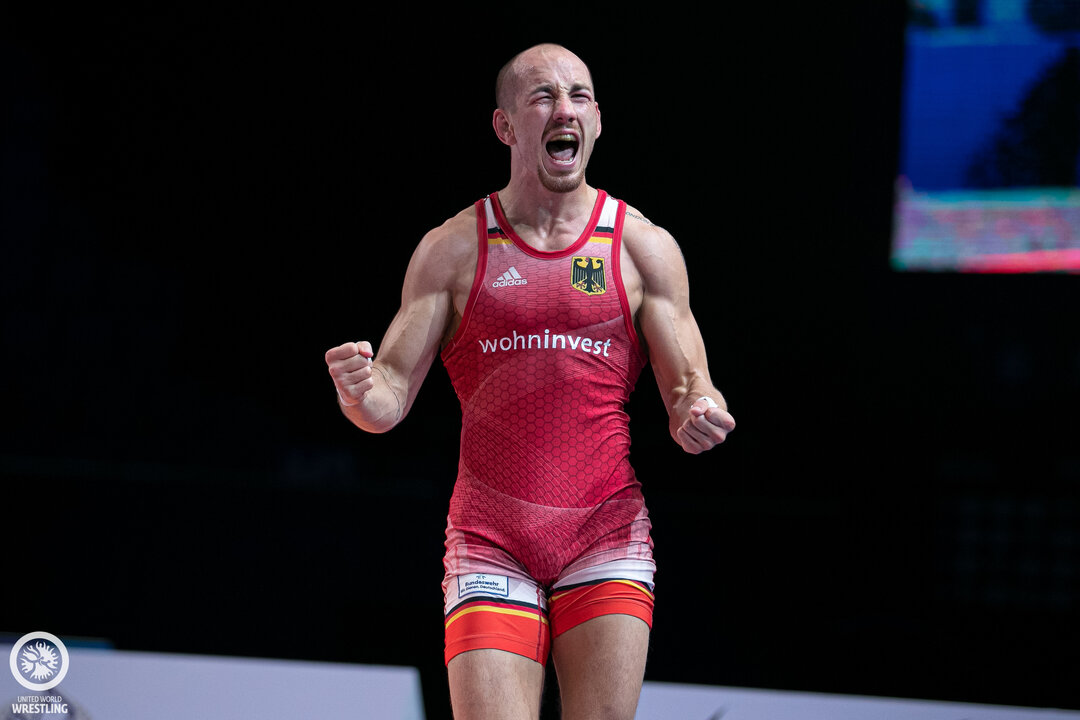 Frank STAEBLER(GER), a three-time world champion, will compete at the non-Olympic weight of 72kg. (Photo: Kadir Caliskan)
72kg
Malkhas AMOYAN (ARM)
Christoph BURGER (AUT)
Ulvu GANIZADE (AZE)
Agron SADIKAJ (BIH)
Yury KANKOU (BLR)
Stoyan Stoychev KUBATOV (BUL)
Dominik ETLINGER (CRO)
Mikko Petteri PELTOKANGAS (FIN)
Ibrahim Mahmoud Hamed Hassan GHANEM (FRA)
Iuri LOMADZE (GEO)
Frank STAEBLER (GER)
Petros MANOUILIDIS (GRE)
Robert Attila FRITSCH (HUN)
Riccardo GLAVE (ITA)
Anatolie POPOV (MDA)
Valentin PETIC (MDA)
Juan Sebastian AAK (NOR)
Mateusz Lucjan BERNATEK (POL)
Adam KURAK (RUS)
Davor STEFANEK (SRB)
Leos DRMOLA (SVK)
Selcuk CAN (TUR)
Andrii KULYK (UKR)
77kg
Karapet CHALYAN (ARM)
Sanan SULEYMANOV (AZE)
Pavel LIAKH (BLR)
Aik MNATSAKANIAN (BUL)
Pavel PUKLAVEC (CRO)
Oldrich VARGA (CZE)
Ranet KALJOLA (EST)
Tero Antero Matias HALMESMAEKI (FIN)
Evrik NIKOGHOSYAN (FRA)
Demuri KAVTARADZE (GEO)
Pascal EISELE (GER)
Georgios PREVOLARAKIS (GRE)
Zotlan LEVAI (HUN)
Roman ZHERNOVETSKI (ISR)
Matteo MAFFEZZOLI (ITA)
Paulius GALKINAS (LTU)
Daniel CATARAGA (MDA)
Alexandrin GUTU (MDA)
Marcel STERKENBURG (NED)
Per Anders KURE (NOR)
Edgar BABAYAN (POL)
Islam OPIEV (RUS)
Viktor NEMES (SRB)
Nicolas Peter CHRISTEN (SUI)
Denis HORVATH (SVK)
Alex Michel BJURBERG KESSIDIS (SWE)
Yunus Emre BASAR (TUR)
Volodymyr YAKOVLIEV (UKR)
82kg
Ruben GHARIBYAN (ARM)
Michael WAGNER (AUT)
Rafig HUSEYNOV (AZE)
Stanislau SHAFARENKA (BLR)
Daniel Tihomirov ALEKSANDROV (BUL)
Filip SACIC (CRO)
Rajbek Alvievich BISULTANOV (DEN)
Lasha GOBADZE (GEO)
Hannes WAGNER (GER)
Ilias PAGKALIDIS (GRE)
Laszlo SZABO (HUN)
Igor PETRISHIN (ISR)
Ciro RUSSO (ITA)
Mihail BRADU (MDA)
Tyrone STERKENBURG (NED)
Mateusz Lukasz WOLNY (POL)
Shamil Letkaevitch OZHAEV (RUS)
Bogdan KOURINNOI (SWE)
Burhan AKBUDAK (TUR)
Andrii ANTONIUK (UKR)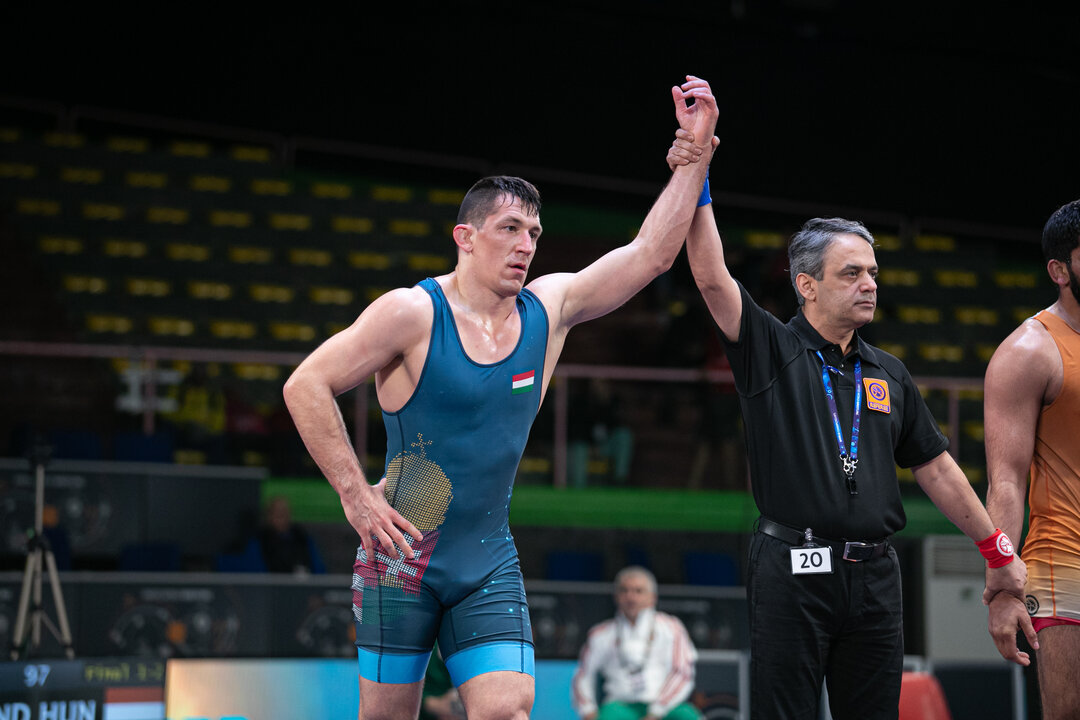 Viktor LORINCZ (HUN), Greco-Roman's "Wrestler of the Year" could gain the No. 1 ranking in the world with a win in Rome. He'll wrestle at 87kg. (Photo: Kadir Caliskan)
87kg
Maksim MANUKYAN (ARM)
Islam ABBASOV (AZE)
Kiryl MASKEVICH (BLR)
Tarek Mohamed ABDELSLAM SHEBLE MOHAMED (BUL)
Vjekoslav LUBURIC (CRO)
Petr NOVAK (CZE)
Jesus GASCA FRESNEDA (ESP)
Erik INT (EST)
Tornike DZAMASHVILI (GEO)
Viktor LORINCZ (HUN)
Mirco MINGUZZI (ITA)
Eividas STANKEVICIUS (LTU)
Arkadiusz Marcin KULYNYCZ (POL)
Aleksandr Andreevitch KOMAROV (RUS)
Nikolaj Georgiev DOBREV (SRB)
Zurabi DATUNASHVILI (SRB)
Ramon Rainer BETSCHART (SUI)
Emil SANDAHL (SWE)
Metehan BASAR (TUR)
Semen NOVIKOV (UKR)
97kg
Artur ALEKSANYAN (ARM)
Markus RAGGINGER (AUT)
Orkhan NURIYEV (AZE)
Dzmitry KAMINSKI (BLR)
Kiril Milenov MILOV (BUL)
Artur OMAROV (CZE)
Matti Elias KUOSMANEN (FIN)
Mélonin NOUMONVI (FRA)
Revazi NADAREISHVILI (GEO)
Anestis ZARIFES (GRE)
Alex Gergo SZOKE (HUN)
Nikoloz KAKHELASHVILI (ITA)
Vilius LAURINAITIS (LTU)
Tadeusz MICHALIK (POL)
Aleksandr GOLOVIN (RUS)
Mihail KAJAIA (SRB)
Damian VON EUW (SUI)
Cenk ILDEM (TUR)
Oleksandr SHYSHMAN (UKR)
130kg
David OVASAPYAN (ARM)
Sabah Saleh SHARIATI (AZE)
Pavel RUDAKOU (BLR)
Radoslav Plamenov GEORGIEV (BUL)
Stepan DAVID (CZE)
Arvi Martin SAVOLAINEN (FIN)
Levan ARABULI (GEO)
Jello KRAHMER (GER)
Adam VARGA (HUN)
El Mahdi ROCCARO (ITA)
Romas FRIDRIKAS (LTU)
Oskar MARVIK (NOR)
Rafal Andrzej KRAJEWSKI (POL)
Alin ALEXUC CIURARIU (ROU)
Zurabi GEDEKHAURI (RUS)
Riza KAYAALP (TUR)
Mykola KUCHMII (UKR)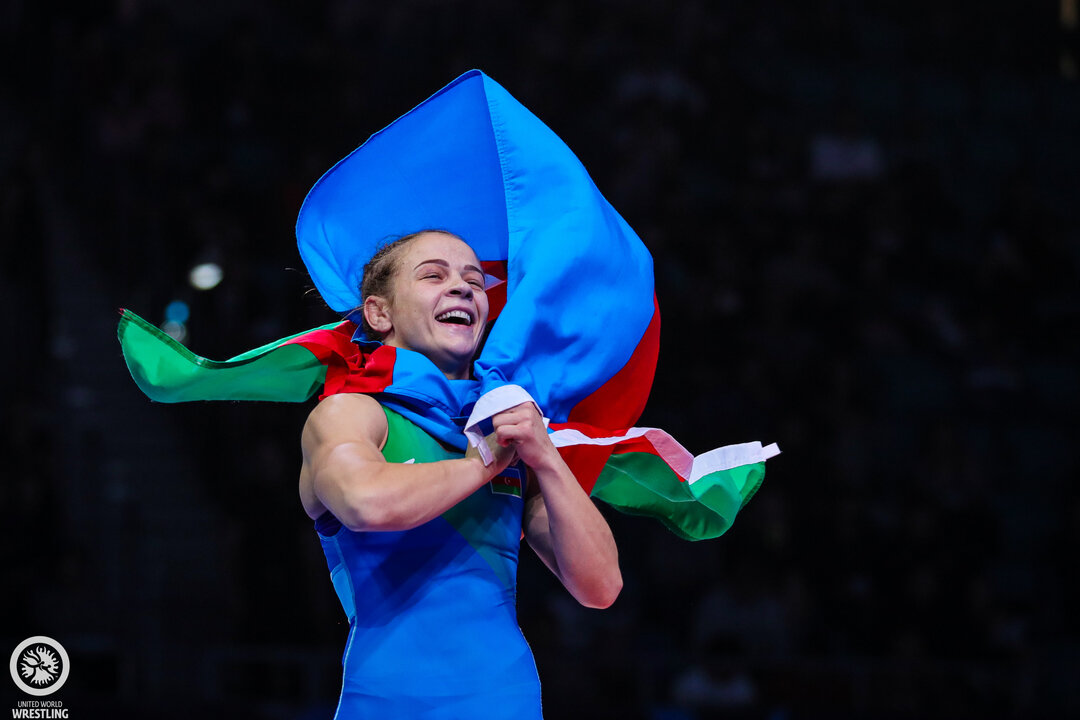 Mariya STADNIK (AZE), the No.1-ranked wrestler in the world at 50kg, is on a quest to win her tenth European gold medal (European Championships: Seven, European Games: Two). (Photo: Kadir Caliskan)
Women's Wrestling
50kg
Turkan NASIROVA (AZE)
Kseniya STANKEVICH (BLR)
Miglena Georgieva SELISHKA (BUL)
Aintzane GORRIA GONI (ESP)
Julie Martine SABATIE (FRA)
Emanuela LIUZZI (ITA)
Emilia CIRICU BUDEANU (MDA)
Maria LEORDA (MDA)
Ramona ERIKSEN (NOR)
Anna LUKASIAK (POL)
Emilia Alina VUC (ROU)
Milana DADASHEVA (RUS)
Evin DEMIRHAN (TUR)
Oksana LIVACH (UKR)
53kg
Tatyana VARANSOVA (AZE)
Vanesa KALADZINSKAYA (BLR)
Sezen Behchetova BELBEROVA (BUL)
Marina RUEDA FLORES (ESP)
Hilary Ysaline HONORINE (FRA)
Annika WENDLE (GER)
Maria PREVOLARAKI (GRE)
Mercedesz DENES (HUN)
Sara ETTAKI (ITA)
Violeta PONOMARJOVA (LAT)
Iulia LEORDA (MDA)
Jessica Cornelia Francisca BLASZKA (NED)
Silje Knutsen KIPPERNES (NOR)
Katarzyna KRAWCZYK (POL)
Suzanna Georgiana SEICARIU (ROU)
Stalvira ORSHUSH (RUS)
Zeynep YETGIL (TUR)
Iryna HUSYAK (UKR)
55kg
Evelina Georgieva NIKOLOVA (BUL)
Ellen RIESTERER (GER)
Ambra CAMPAGNA (ITA)
Mariana DRAGUTAN (MDA)
Alicja CZYZOWICZ (POL)
Andreea Beatrice ANA (ROU)
Olga KHOROSHAVTSEVA (RUS)
Sofia Magdalena MATTSSON (SWE)
Bediha GUN (TUR)
Solomiia VYNNYK (UKR)
57kg
Alyona KOLESNIK (AZE)
Iryna KURACHKINA (BLR)
Tanya Dobromirova TENEVA (BUL)
Lenka HOCKOVA MARTINAKOVA (CZE)
Maria Victoria BAEZ DILONE (ESP)
Mathilde Hélène RIVIERE (FRA)
Arianna CARIERI (ITA)
Grace Jacob BULLEN (NOR)
Magdalena Urszula GLODEK( POL)
Marina SIMONYAN (RUS)
Sara Johanna LINDBORG (SWE)
Mehlika OZTURK (TUR)
Alina AKOBIIA (UKR)
59kg
Elmira GAMBAROVA (AZE)
Yuliya PISARENKA (BLR)
Bilyana Zhivkova DUDOVA (BUL)
Laura MERTENS (GER)
Ramona GALAMBOS (HUN)
Teresa LUMIA (ITA)
Anastasia NICHITA (MDA)
Dominika Ewa KULWICKA (POL)
Liubov OVCHAROVA (RUS)
Elif YANIK (TUR)
Anhelina LYSAK (UKR)
Taybe YUSEIN (BUL), last year's European champion and world runner-up, will wrestle at 62kg. (Photo: Gabor Martin)
62kg
Tetiana OMELCHENKO (AZE)
Veranika IVANOVA (BLR)
Taybe YUSEIN (BUL)
Lydia PEREZ TOURINO (ESP)
Luisa Helga Gerda NIEMESCH (GER)
Marianna SASTIN (HUN)
Aurora CAMPAGN A(ITA)
Kornelija ZAICEVAITE (LTU)
Mariana CHERDIVARA ESANU (MDA)
Katarzyna MADROWSKA (POL)
Inna TRAZHUKOVA (RUS)
Elif Jale YESILIRMAK (TUR)
Yuliia TKACH OSTAPCHUK (UKR)
65kg
Elis MANOLOVA (AZE)
Yauheniya ANDREICHYKAVA (BLR)
Mimi Nikolova HRISTOVA (BUL)
Petra Maarit OLLI (FIN)
Gabriella SLEISZ (HUN)
Veronica BRASCHI (ITA)
Ramina MAMEDOVA (LAT)
Kriszta Tunde INCZE (ROU)
Mariia KUZNETSOVA (RUS)
Henna Katarina JOHANSSON (SWE)
Asli TUGCU (TUR)
Iryna KOLIADENKO (UKR)
68kg
IrIna  Petrovna NETREBA (AZE)
Hanna SADCHANKA (BLR)
Sofiya Hristova GEORGIEVA (BUL)
Adela HANZLICKOVA (CZE)
Koumba Selene Fanta LARROQUE (FRA)
Anna Carmen SCHELL (GER)
Ilana KRATYSH (ISR)
Dalma CANEVA (ITA)
Danute DOMIKAITYTE (LTU)
Agnieszka Jadwiga WIESZCZEK KORDUS (POL)
Khanum VELIEVA (RUS)
Kadriye AKSOY (TUR)
Alla CHERKASOVA (UKR)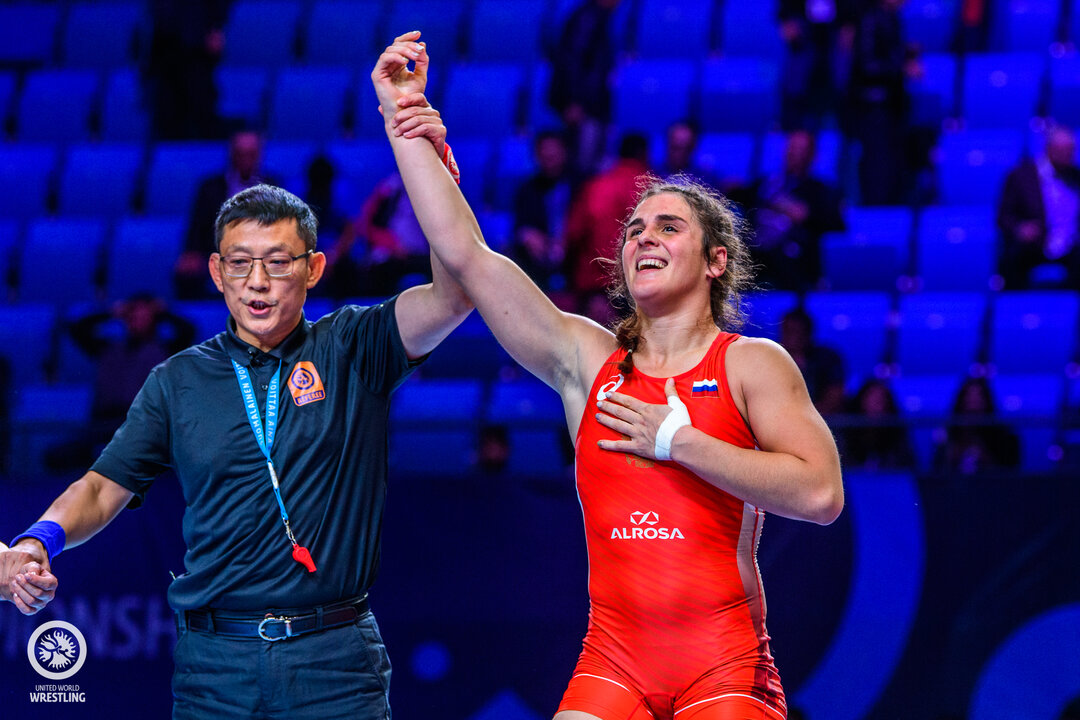 Reigning 72kg world champion Natalia VOROBEVA (RUS) will comete back down at the non-Olympic weight class after bumping up to 76kg for the Matteo Pellicone. (Photo: Tony Rotundo)
72kg
Anastasiya ZIMIANKOVA (BLR)
Kendra Augustine Jocelyne DACHER (FRA)
Maria SELMAIER (GER)
Enrica RINALD I(ITA)
Catalina AXENTE (ROU)
Natalia VOROBEVA (RUS)
Merve PUL (TUR)
Alina BEREZHNA STADNIK MAKHYNIA (UKR)
76kg
Martina KUENZ (AUT)
Sabira ALIYEVA (AZE)
Vasilisa MARZALIUK (BLR)
Mariya Gerginova ORYASHKOVA (BUL)
Pauline Denise LECARPENTIER (FRA)
Georgina Olwen NELTHORPE (GBR)
Aline ROTTER FOCKEN (GER)
Aikaterini Eirini PITSIAVA (GRE)
Zsanett NEMETH (HUN)
Eleni PJOLLAJ (ITA)
Kamile GAUCAITE (LTU)
Svetlana SAENKO (MDA)
Iselin Maria Moen SOLHEIM (NOR)
Kamila Czeslawa KULWICKA (POL)
Ekaterina BUKINA (RUS)
Yasemin ADAR (TUR)
Alla BELINSKA (UKR)
*Please note that entries are subject to change and are not official until 24 hours before the start of competition.