Emboldened Kawai knocks off Icho as Susaki shines again, Otoguro dealt stunning loss
Sunday, June 16, 2019 - 20:49 By Ken Marantz
TOKYO (June 17)---For the past six months, Risako KAWAI was haunted by the memory. Not so much of her well-publicized loss to fellow Rio Olympic champion Kaori ICHO, but of how she lacked the courage to be more aggressive. 
On Sunday, Kawai redeemed herself, and set up yet another showdown between the Japanese greats.
Kawai went on the attack throughout the women's 57kg final and came away with a well-earned 6-4 victory over Icho at the All-Japan Invitational Championships, setting up a playoff between the two for a place on Japan's team to the World Championships.
"Right after the match ended, I was really happy, but now I can look at it calmly," Kawai said. "There's another match I have to win, so I'll be back at practice as soon as I get home."
Among the other highlights in a thrilling final day of the four-day tournament known as the Meiji Cup, Yui SUSAKI kept alive her hopes of winning a third straight world gold by capturing the women's 50kg title, while fellow world champion Takuto OTOGURO was dealt a stunning defeat in the freestyle 65kg final.
Their mixed fortunes mean that both Susaki and Otoguro will have to earn their tickets to the World Championships in Kazakhstan in September with victories in the playoffs for Olympic weight classes set for July 6. 
Susaki was overjoyed to make the playoff, while Otoguro was understandably devastated that an extra hurdle was added to his path to Nur-Sultan 2019. 
The Meiji Cup serves as the second of the two national tournaments for selection to the World Championships, along with the All-Japan Championships (Emperor's Cup) in December. Winners of both tournaments automatically made the world team; different winners means a playoff to decide who gets the berth.
As the Japan federation also decreed that a medal at this year's World Championships would earn an automatic place at the 2020 Tokyo Olympics, the majority of top wrestlers funneled into the 18 Olympic divisions. With medals likely in most of the women's weight classes, the urgency to make the world team this year was palpable. 
Kawai, the Rio gold medalist at 63kg and world champion at 59kg, moved down to 57kg, which put her in direct confrontation with Icho, who returned after a post-Rio hiatus in an attempt to capture an unprecedented fifth straight Olympic gold. 
Icho got a leg up at the Emperor's Cup when she scored a takedown with 10 seconds left to edge Kawai 3-2 in the final. That came a day after Kawai won 2-1 in a preliminary round-robin group match that featured little action, but handed Icho her first loss to a Japanese opponent since 2001.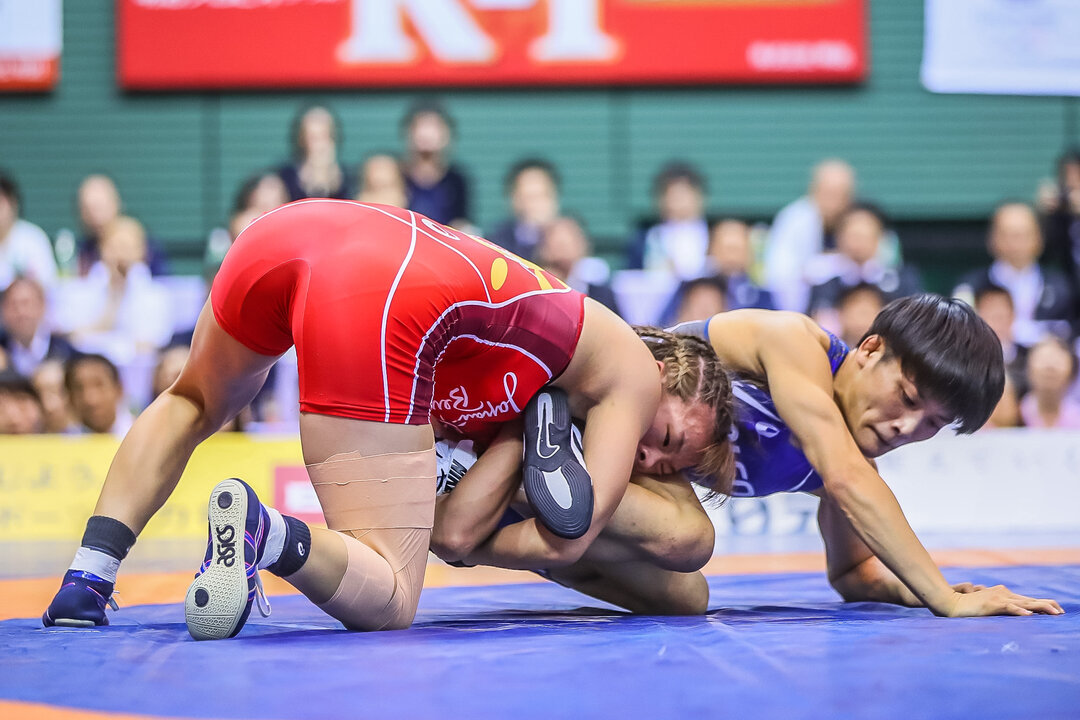 Risako KAWAI went on the attack throughout the women's 57kg final and came away with a well-earned 6-4 victory over Kaori ICHO at the All-Japan Invitational Championships. (Photo: Sachiko Hotaka)
With so much at stake this time, an emboldened Kawai was determined to muster the fortitude to be more aggressive. 
"Six months ago in December, I didn't have the courage to go on the attack," said Kawai, who earned the Meiji Cup as the tournament MVP. "Since that time, I anguished less over the fact that I lost and more about why I didn't wrestle the way I wanted to.  The big issue was the mental aspect. I feel I've grown from that standpoint."
Before a vocal crowd at Tokyo's Komazawa Gym and a national TV audience, Kawai gained the lone point of the first period with Icho on the activity clock. 
In the second period, Kawai came out firing, and after being stopped on one single-leg attempt, connected with another, which she immediately transitioned into an ankle roll for a 5-0 lead with two minutes to go.
Icho countered another takedown attempt and slipped behind for 2, then launched a rare attack of her own, which resulted in a step-out to cut the lead to 5-3 with 27 seconds left.
Icho put the pressure on and received a fleeing point with 2.5 seconds left, meaning she could win with a step-out. And she came close, bulldozing Kawai out, but not before time expired. An unsuccessful challenge gave Kawai her final point.
"In the first period, Kawai was superior, and that was a factor in my defeat," Icho said. "I need to set the pace so that the match can go the way I want, and not lose because she was more determined."
Kawai's desire is fueled by the prospect of competing at the Olympics with younger sister Yukako, the world silver medalist at 62kg who clinched her world team berth on Saturday. 
"My goal has never changed," Kawai said. "I chose this path so that my sister and I can go to the Olympics together. This time, of course I wanted to win, but even stronger was my feeling that I didn't want to have any regrets. I was determined to be aggressive and wrestle my style."
Icho, who was dealt an eye-opening loss at the Asian Championships in April and had to settle for the bronze, remained stoic after the defeat, already putting it behind her and looking ahead. 
"Looking ahead to the playoff, I'll reflect on what went wrong today and make the necessary changes," Icho said. "I don't have time to feel depressed."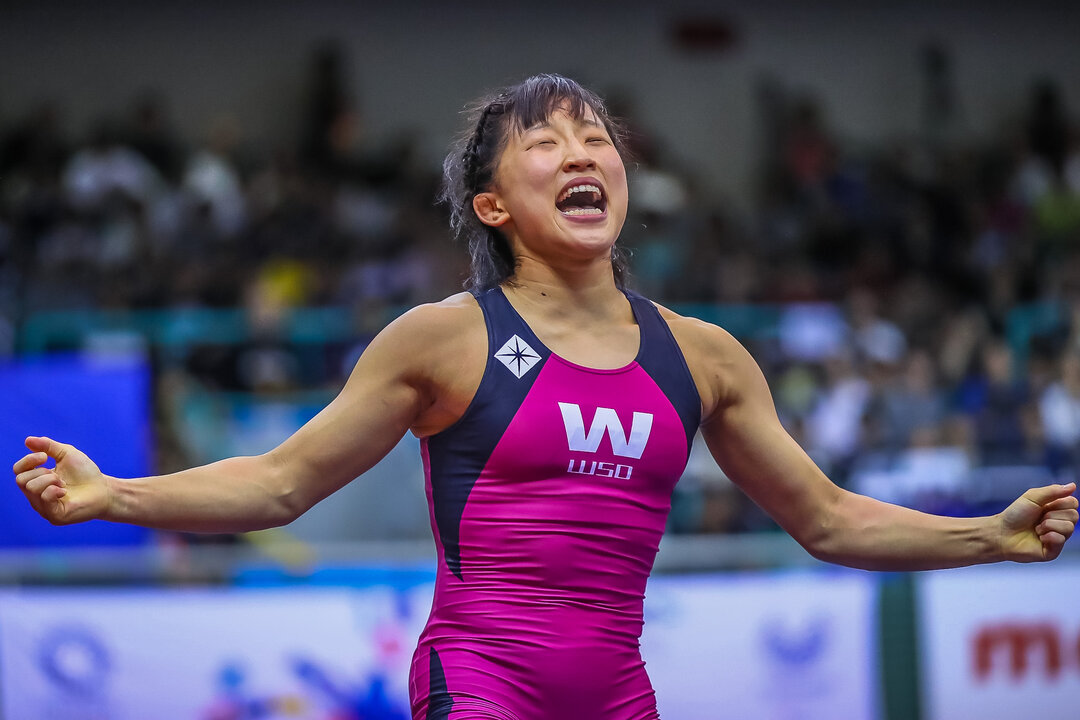 Yui SUSAKI kept alive her hopes of winning a third straight world gold by capturing the women's 50kg title against Rio 2016 champion Eri TOSAKA. (Photo: Sachiko Hotaka)
Susaki completes changing of lightweight guard
Susaki needed a miraculous, last-second win over Emperor's Cup champion Yuki IRIE in the quarterfinals on Saturday to stay alive in the race to Nur-Sultan. In the final, she needed no such drama in her first meeting with Rio 2016 champion Eri TOSAKA.
Susaki blitzed her predecessor as world champion with a 10-0 technical fall victory in just 1:36 to mark a symbolic changing of the guard for lightweight supremacy. 
"She was an athlete that I had always looked up to," said Susaki, who will have a rematch with Irie in the world team playoff. "After the Rio Olympics, that changed to wanting to beat her.
"I was very happy that the timing was right that I could face her here. I wanted to firmly defeat her and complete the generational change. That strong feeling led to this victory."
Susaki, who will turn 20 later this month, scored a quick takedown, then a second that she topped off with three consecutive ankle rolls for an 8-0 lead. The coup de grace came with a slick sweeping single leg and go-behind that ended the match.
"It was a total defeat, and a show of my current ability," said a tearful Tosaka, who had foot surgery after the Rio Olympics. "This last month I felt good and I thought I was definitely ready. To lose like this is really disappointing."
Otoguro, who had to overcome a knee problem in preparing for the tournament, looked shell-shocked after being decisively beaten in the 65kg final by world U23 champion Rei HIGUCHI, who muscled his way to a 15-5 technical fall in 5:23.
Otoguro missed the Asian Championships and World Cup due to his knee ailment and returned to practice only about a month ago. Depleted stamina appeared to affect him as Higuchi, who trailed 3-2 going into the second period, scored big points by fighting off Otoguro's lift attempts as he tried to counter Higuchi's deep tackles. 
A 4-point move with 25 seconds left all but settled the matter as Higuchi, the Rio 2016 silver medalist at 57kg, avenged losses to Otoguro in the semifinals at the Emperor's Cup and last year's Meiji Cup final.
For Otoguro, who became at 19 years 10 months the youngest male world champion in Japanese wrestling history when he won the gold at Budapest 2018, it was his first loss to a Japanese opponent since his second year of junior high school.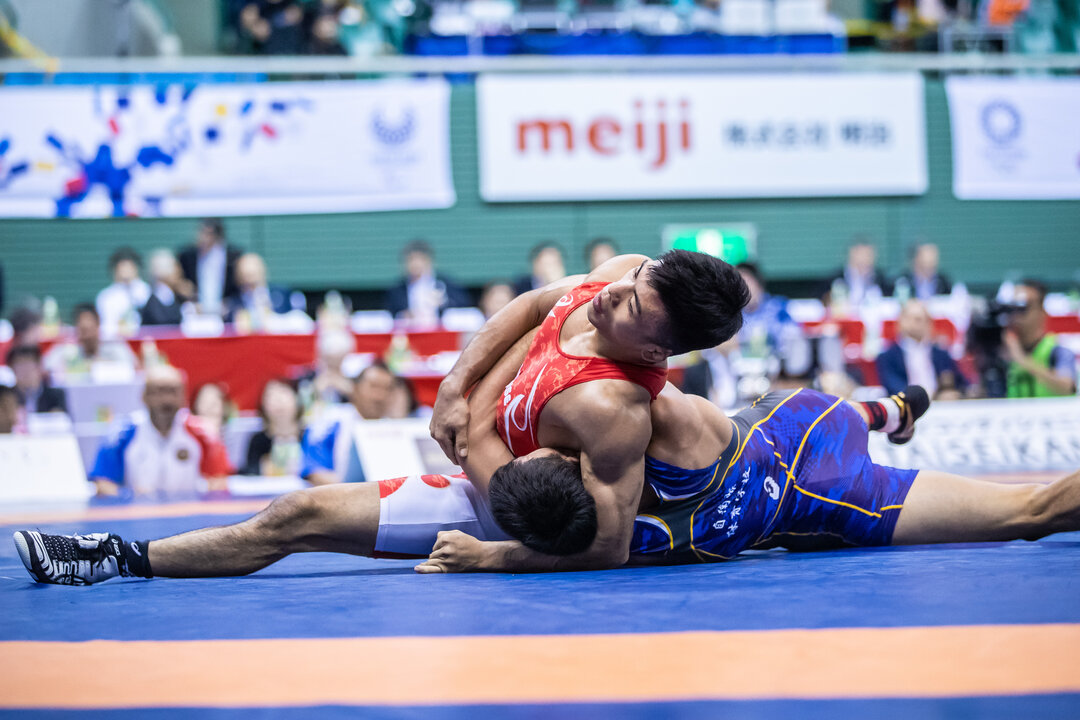 Kenichiro FUMITA forged a 4-1 victory against Shinobu OTA in the 60kg finals. (Photo: Sachiko Hotaka)
Fumita, Mukaida, Dosho earn world tickets
Kenichiro FUMITA, the 2017 world gold medalist, will get a chance to regain the world title after defeating long-time nemesis Shinobu OTA in the Greco-Roman 60kg final. 
Fumita fought off Ota's attempt at his patented front headlock roll while in the ground position, then was able to execute a gut wrench when it was his turn on top to forge a 4-1 victory. 
That was a repeat of the Emperor's Cup final, which Fumita won 7-2. Fumita now has a 6-4 lead in career meetings with Ota, the Rio 2016 silver medalist. 
"It went as I imagined, in which neither of us were able to score on our feet," Fumita said. "It would come down to the ground position. I didn't know which one of us would be on bottom first, but I knew he would use the front headlock, and I knew I had to roll him at least once. For both of those points to happen made the match go as I wanted."
Ota had a final chance to win when he forced Fumita to the edge. But Fumita walked a tightrope, then shrugged Ota past him to gain the step-out point. 
Ota said that with Fumita having a good chance of medaling in Nur-Sultan, he would consider moving up to 67kg in a bid to make Tokyo 2020. 
"Kenichiro will likely decide the matter, so I'll have to regroup and go for 67kg," Ota said. "I'm not saying the 67kg wrestler (Shogo Takahashi) won't clinch a berth, but I think the possibility is higher for 60kg. We'll see what happens.
"I haven't given up on my goal of winning a gold at the Tokyo Olympics. I know that some things will have to change."
There is still a path open for Ota to the World Championships. The Japan federation, wanting to ensure that top-level wrestlers are sent in the non-Olympic weights, announced that it will allow the runner-ups in the Olympic weights to enter the playoffs for the non-Olympic weights. Those playoffs are to be held July 21. 
That means, for example, Ota could attempt to make the team at, say 63kg. And if Takahashi does not medal in Nur-Sultan, Ota could still challenge for the right to enter the Olympic qualifiers at 67kg by winning the Emperor's Cup. 
Asked if he would take such a path, Ota said he did not even know about it, but would certainly consider it. Of course, if Fumita doesn't win a medal, then all bets are off and the competition at 60kg begins anew. 
"This only earns me the right to go," Fumita said. "This is not the final destination. There are many tough matches ahead. On the road to the Olympics, this is just a point along the way that I cleared, and that was my attitude in wanting to win the title."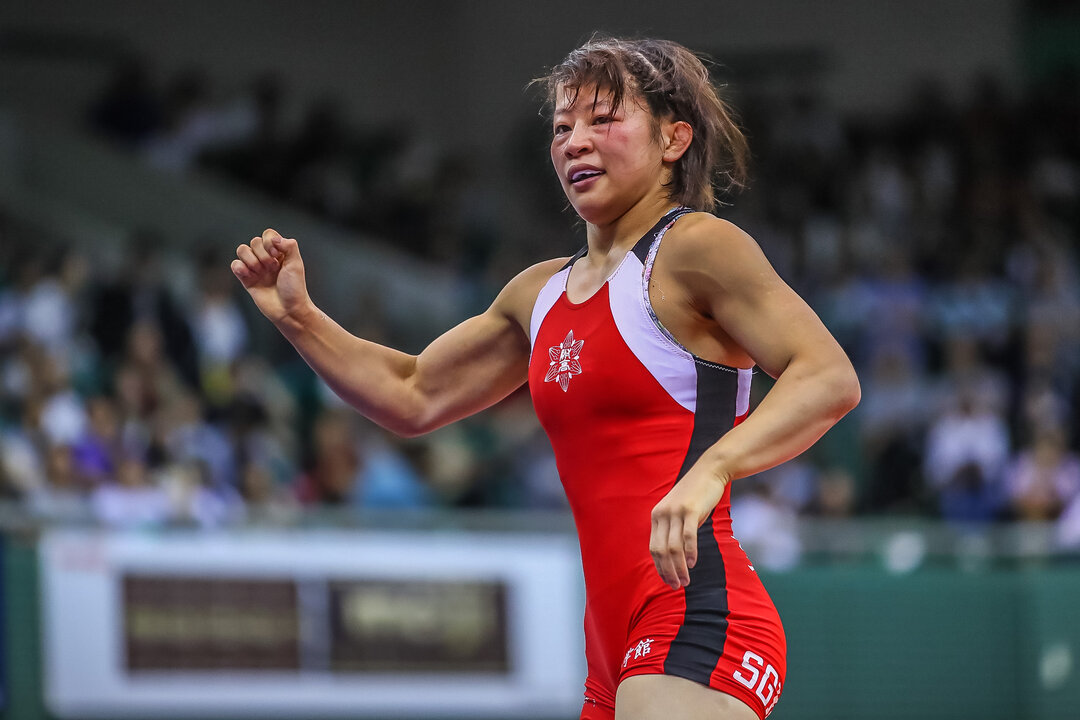 Mayu MUKAIDA defeated Haruna OKUNO, 2-1 in the 53kg finals. (Photo: Sachiko Hotaka)
In a high-profile final between reigning world champions, Mayu MUKAIDA clinched her place on the world team in the Olympic weight of 53kg with a tame 2-1 victory over that weight's world champion, Haruna OKUNO.
Mukaida, the world gold medalist at 55kg, gave up a point on the activity clock before scoring what would prove the decisive takedown late in the first period. She then held on to defeat Shigakkan University teammate Okuno for the ninth time in nine career meetings. 
In the women's 68kg final, Masako FURUICHI learned the perils of not staying in defensive mode to protect a late lead when Rio Olympic champion Sara DOSHO stopped her late tackle attempt, then spun behind for a takedown with 11 seconds left and a nail-biting 4-3 victory.
With her sixth career title at the Meiji Cup and first since 2017, Dosho secured a ticket back to the World Championships, where she will aim to regain the throne she abdicated last year after undergoing shoulder surgery.
Meanwhile, the tournament ended on a somewhat positive note for Irie, as she bounced back from her shocking loss to Susaki by winning a bronze medal at 50kg with an 8-3 win over Miho IGARASHI.
Not only that, but simultaneously on the other mat, younger sister Nanami IRIE also secured a bronze medal with a victory by fall over Momoka KADOYA in a third-place playoff at 53kg. 
"More than winning today, I wanted to work on fixing my mistakes," Yuki said, adding that she did not sneak a peek over at Namami's match.
The third and youngest Irie sister, Kumi, lost her bronze-medal match at 62kg on Saturday.
In the end, world team playoffs will be held in six Olympic weights barring injuries or other factors: freestyle 65kg, 74kg and 125kg; Greco-Roman 77kg; and women's 50kg and 57kg. 
Day 4 Results
Freestyle
65kg (11 entries)
Final - Rei HIGUCHI df. Takuto OTOGURO by TF, 15-5, 5:47 
3rd Place - Yujiro UENO df. Koki SHIMIZU, 8-1
3rd Place - Takuma TANIYAMA df. Shoya SHIMAE, 4-2
70kg (8 entries)
Final - Haruki SENO df. Kojiro SHIGA, 5-3 
3rd Place - Jin HARAGUCHI df. Yuta NAKAMURA, 4-3 
3rd Place – Kengo MATSUDA df. Shinnosuke SUWAMA, 3-2 
Greco-Roman
60kg (12 entries)
Final - Kenichiro FUMITA df. Shinobu OTA, 4-1
3rd Place - Hayanobu SHIMIZU df. Kiyoshi KAWAGUCHI by TF, 10-0, 1:50
3rd Place - Ayata SUZUKI df. Ryotaro SUZUKI by TF, 10-2, 5:51
72kg (12 entries)
Final - Nao KUSAKA df. Tomohiro INOUE by TF, 10-1, 3:24 
3rd Place - Keisei SHIMABUKURO df. Naoki KAWABE by TF, 8-0, 0:47
3rd Place - Takuya TOMIZUKA df. Ryoma HOJO by TF, 9-0, 1:40
82kg (9 entries)
Final - Yuya OKAJIMA df. Satoki MUKAI by TF, 9-0, 3:27
3rd Place - Masao TANAKA df. Yudai SASAKI by TF, 11-3, 4:04
3rd Place – Yoji KAWAMURA df. Tatsuya FUJII, 7-5 
Women's Wrestling 
50kg (12 entries)
Final - Yui SUSAKI df. Eri TOSAKA by TF, 10-0, 1:36
3rd Place - Yuki IRIE df. Miho IGARASHI, 8-3
3rd Place - Kika KAGATA df. Remina YOSHIMOTO, 5-2
53kg (11 entries)
Final - Mayu MUKAIDA df. Haruna OKUNO, 2-1
3rd Place - Ibuki TAMURA df. Yu MIYAHARA, 7-4
3rd Place - Nanami IRIE df. Momoka KADOYA by Fall, 2:31 (6-0)
57kg (7 entries)
Final - Risako KAWAI df. Kaori ICHO, 6-4
3rd Place - Sae NANJO df. Akie HANAI by TF, 10-0, 1:17 
68kg (6 entries)
Final - Sara DOSHO df. Masako FURUICHI, 4-3
3rd Place - Rio WATARI df. Chiaki SEKI by Def.