Edmond Nazaryan, Son of Two-Time Olympic Champ Armen Nazaryan, Wins European Title
Wednesday, June 19, 2019 - 18:50 By Eric Olanowski
FAENZA, Italy (June 19) -- Edmond NAZARYAN (BUL), the son of the three-time world and two-time Olympic champion Armen NAZARYAN (BUL), followed in his father's footsteps and won a European title on Wednesday night. Armen, the Atlanta and Sydney Olympic champion, was not only on hand to see his son win his second consecutive continental title, but he was in his corner and was able to lift Edmond off the mat with a hug after his title-winning efforts. Now, Edmond just needs five more golds to catch up to his father who won seven European titles during his storied career.
Through his four matches in Faenza, Nazaryan was only tested once on his road to the 51kg title. That test came against returning cadet European bronze medalist Nihad GULUZADE (AZE), who he edged 7-7 in the quarterfinals. Outside of his quarterfinals match with Guluzade, the Bulgarian blanked William Morten REENBERG (DEN), Armen HARUTYUNYAN (ARM), and his finals opponent Baris ERBEK (TUR) by a combined score of 23-0 en route to the gold. 
To repeat as European champion, Nazaryan picked up an early step-out, then tacked on an inactivity point leading Erbek, 2-0. With his Turkish opponent in the par terre position, Nazaryan circled out towards his opponent's head and locked up a front head pinch, and ended the match after scoring on three consecutive rolls.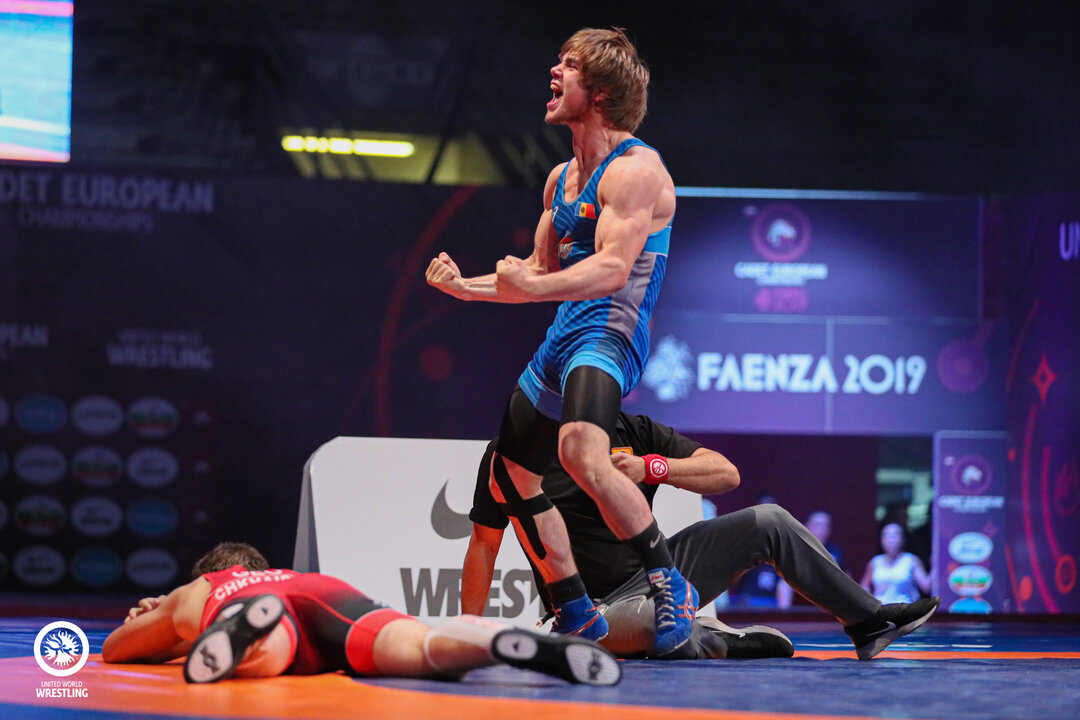 Alexandrin GUTU (MDA) only needed 34-seconds to pick up the fall in the 72kg finals. (Photo: Kadir Caliskan)
Meanwhile, Alexandrin GUTU (MDA) improved on his runner-up finish from last year with a 34-second fall in the 71kg finals. 
Gutu, the reigning world and Youth Olympic Games champion, was expected to take on reigning European champion Stepan STARODUBTSEV (RUS) in the finals, but that match took place earlier than expected. The pair of returning European finalists drew into the same side, and it was Gutu who exacted revenge on the man who handed him his only loss of 2018, scoring the 6-1 quarterfinal victory.
In the gold-medal match, Gutu only needed 34 seconds to pick up a fall against Data CHKHAIDZE (GEO). Early in the first period, Gutu hit a duck under, then transitioned to double under hooks and planted Chkhaidze on his back for the fall and earned his first European title since 2017 when he won the U15 European title in Belgrade, Serbia.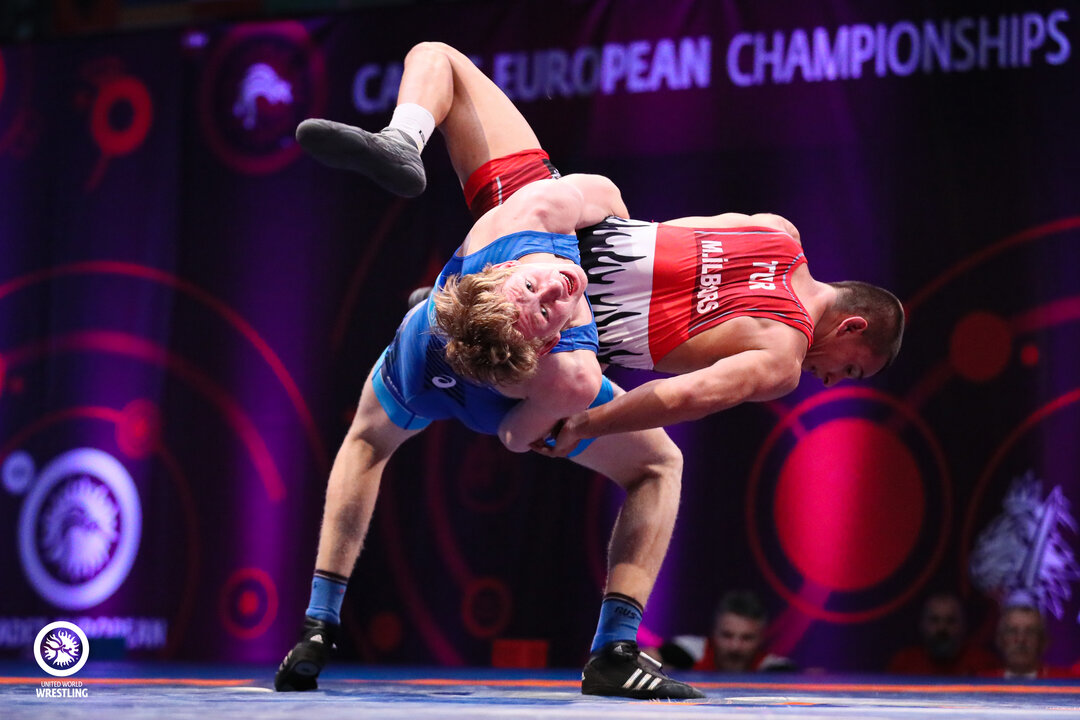 Maksim SKURATOV (RUS) was one of three Russian gold medalist who helped his country win the Cadet European team title. (Photo: Kadir Caliskan)
On the team side of the competition, the Russian Federation entered the third day of wrestling with a 23 point advantage over Azerbaijan and closed out the Cadet European Championships with 178 points and the team title. They medaled in eight weights and had three champions. 
Azerbaijan, who had a pair of Day 2 champs and another one on Day 3, held onto their second spot and finished with 135 points. In addition to their trio of champions, Azerbaijan also had a silver-medal winner and two bronze-medal finishers. 
Mate GOKADZE'S gold medal at 110kg helped push Georgia into the third spot with 117 points. Like Azerbaijan, Georgia also finished with a silver medalist and two bronzes. 
Women's wrestling takes center stage on Thursday. The Day 4 competition starts at 11:30 (local time) and can be followed live on www.unitedworldwrestling.org. 
Final  Greco-Roman Team Scores
GOLD – Russia (178 points)
SILVER – Azerbaijan (135 points)
BRONZE – Georgia (117 points)
Fourth – Turkey (108 points)
Fifth – Armenia (95 points)
48kg
GOLD - Farid SADIKHLI (AZE) df. Daniial AGAEV (RUS), 10-1 
BRONZE - Miroslav Mariov EMILOV (BUL) df. Kaspars BONDARENKO (LAT), 4-2 
BRONZE - Homeros ARAKELYAN (ARM) df. Rokas CEPAUSKAS (LTU), 9-0 
51kg
GOLD - Edmond NAZARYAN (BUL) df. Baris ERBEK (TUR), 8-0 
BRONZE - Armen HARUTYUNYAN (ARM) df. Nihad GULUZADE (AZE), 6-3 
BRONZE - Volodymyr VOITOVYCH (UKR) df. Kirill CHETKAREV (RUS), 8-7
60kg
GOLD - Maksim SKURATOV (RUS) df. Mert ILBARS (TUR), 11-0         
BRONZE - Artsiom KLITSUNOU (BLR) df. Rafet Selim RASHID (BUL), 5-1 
BRONZE - Nika BROLADZE (GEO) df. Arturs SESKENS (LAT), via fall
71kg 
GOLD - Alexandrin GUTU (MDA) df. Data CHKHAIDZE (GEO), via fall 
BRONZE - Allahverdi ALIYEV (AZE) df. Stepan STARODUBTSEV (RUS), 3-1 
BRONZE - Simon Christer BORKENHAGEN (SWE) df. Aliaksei PIAKHOTA (BLR), 7-0 
92kg
GOLD - Mate GOKADZE (GEO) df. Said MUSAEV (RUS), 8-0 
BRONZE - Mykhailo VYSHNYVETSKYI (UKR) df. Razmik KURDYAN (ARM), 12-1 
BRONZE - Omer AYGUL (TUR) df. Adolf BAZSO (HUN), 6-1