Davidovi Scores Miraculous Comeback; Seema Slides into Top-Four After Making Finals
Thursday, July 11, 2019 - 15:41 By Eric Olanowski
ISTANBUL, Turkey (July 11) --- Italy's eight-ranked Givi DAVIDOVI (ITA) trailed Mikyay NAIM (BUL) 8-1 in the 57kg semifinals, but scored eight unanswered points and inserted himself into the Yasar Dogu finals with a 9-8 come-from-behind-victory. 
Davidovi's opponent, Mikyay Naim, the 2017 U23 world runner-up, came out on fire in their semifinals match -- nearly ending the match after he commanded the 8-1 lead from three takedowns and a gut wrench. Naim's struck first with a shuck-by. In the same sequence, he quickly glued Davidovi's left arm to his hip and jumped into a left-side trapped arm gut wrench and had the 4-0 lead.  
The pair came back up to their feet, and after a short scramble, Naim somehow came out on top to score his second takedown of the bout -- giving him the 6-0 lead. 
Davidovi squirmed his way on top and got on the board with a reversal -- cutting Naim's lead to 6-1. With the five-point advantage, Naim used a single leg to score his third takedown of the bout. 
Trailing 8-1, Davidovi flipped on his offensive switch and scored four points from a double that transitioned into a leg lace. Down by four points with less than 20 seconds left in the final period, the Italian scored his second four-point sequence of the period. This time, Davidovi shot a desperation single leg which he coupled with a trapped arm gut. This gave him the 9-8 lead, and ultimately a spot in the 57kg finals where he'll meet Baris KAYA (TUR), who capped off his run to the finals with a dominating 12-0 performance over Abdelhak KHERBACHE (ALG). 
If Davidovi, the eighth-ranked wrestler in the world coming into the Yasar Dogu, wins gold tomorrow night, he'll collect 14 Ranking Series points and be ranked fifth in the world at 57kg. More importantly, this could potentially come into play if top-ranked reigning world champion Zaur UGUEV fails to make the Russian national team, or if No. 4 Nurislam SANAYEV (KAZ) doesn't return to 57kg. If either of these happens, Davidovi would receive a bump and would slide into the fourth seed in Nur-Sultan.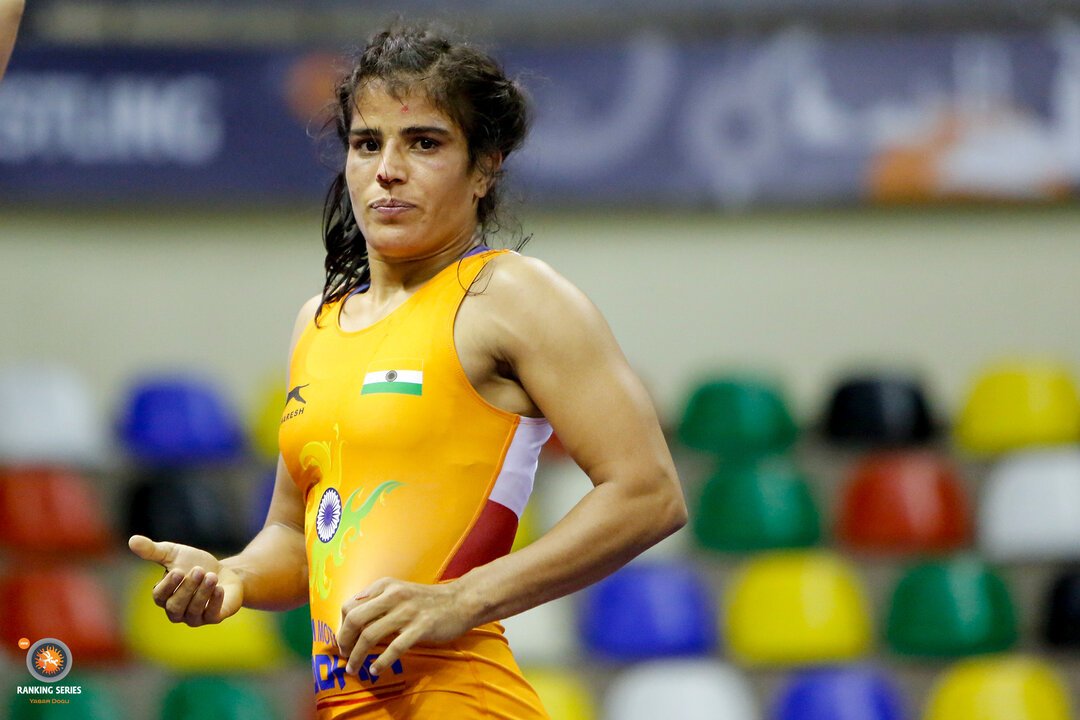 Seema SEEMA (IND) upset U23 world champion Evin DEMIRHAN (TUR), 3-1 and reached the 50kg finals. (Photo: Gabor Martin)
Meanwhile, in women's wrestling, India's Seema SEEMA (IND) scored the upset win over Evin DEMIRHAN (TUR) in the semifinals and will jump into the top-four of the 50kg world rankings. 
In their semifinals match, Seema shucked by the U23 world champion and scored the match's first takedown. The Indian wrestler conceded a step out point and took the 2-1 lead into the second period. She tacked on another takedown in the second period and closed out the match with the 3-1 victory.
She'll wrestle Valeriya CHEPSARAKOVA (RUS) in the 50kg finals. Chepsarakova trailed 1-0, but kept her hips up and caught Nadezhda SOKOLOVA (RUS) on her back. She scored the fall shortly after and moved into her second Ranking Series finals. She'll be looking for her first Ranking Series title since winning the 2018 Molgolia Open. 
The Day 2 finals begin at 17:30 (local time) and will be broadcasted live on www.unitedworldwrestling.org. 
Freestyle
57kg
GOLD - Baris KAYA (TUR) vs. Givi DAVIDOVI (ITA)
SEMIFINAL - Baris KAYA (TUR) df. Abdelhak KHERBACHE (ALG), 12-0 
SEMIFINAL - Givi DAVIDOVI (ITA) df. Mikyay Salim NAIM (BUL), 9-8 
61kg 
GOLD - Munir AKTAS (TUR) vs. Rahul AWARE (IND)
SEMIFINAL - Munir AKTAS (TUR) df. Cabbar DUYUM (TUR), 2-1 
SEMIFINAL - Rahul AWARE (IND) df. Utkarsh KALE (IND), 7-6 
70kg
GOLD - Murtazali MUSLIMOV (AZE) vs. Mihail Iliev GEORGIEV (BUL)
SEMIFINAL - Murtazali MUSLIMOV (AZE) Rajnesh RAJNEESH (IND), 6-0 
SEMIFINAL - Mihail Iliev GEORGIEV (BUL) df. Haydar YAVUZ (TUR), 2-2 
Women's Wrestling
50kg 
GOLD - Seema SEEMA (IND) vs. Valeriya CHEPSARAKOVA (RUS)
SEMIFINAL - Seema SEEMA (IND) df. Evin DEMIRHAN (TUR), 4-1 
SEMIFINAL - Valeriya CHEPSARAKOVA (RUS) df. Nadezhda SOKOLOVA (RUS), via fall 
53kg 
GOLD - Bediha GUN (TUR) vs. Zulfiya YAKHYAROVA (KAZ) 
SEMIFINAL - Zulfiya YAKHYAROVA (KAZ) vs. Marina SEDNEVA (KAZ), 3-1 
SEMIFINAL - Bediha GUN (TUR) df. Samantha STEWART (CAN), 10-0 
59kg
GOLD - Kumari MANJU (IND) vs. Katsiaryna HANCHAR YANUSHKEVICH (BLR)
SEMIFINAL -Kumari MANJU (IND) df. Gulnora TOSHPULATOVA (UZB), 4-1 
SEMIFINAL -Katsiaryna HANCHAR YANUSHKEVICH (BLR) df. Sara LINDBORG (SWE), 8-4
62kg
GOLD - Forrest MOLINARI (USA) df. Natalia FEDOSEEVA (RUS)
SEMIFINAL - Forrest MOLINARI (USA) df. Aina TEMIRTASSOVA (KAZ), 7-3
SEMIFINAL - Natalia FEDOSEEVA (RUS) df. Anna SHCHERBAKOVA (RUS), 4-3