Dake Dismantles Demirtas in Debut at 74kg; USA Wins Trio of Day Four Golds
Saturday, January 18, 2020 - 20:26 By Eric Olanowski
ROME, Italy (January 18) --- Kyle DAKE (USA) dismantled Soner DEMIRTAS (TUR) in his debut down at the Olympic weight of 74kg and joined two fellow Americans on their way to the top of the freestyle podium at the Matteo Pellicone.
Thomas GILMAN (USA) and Zahid VALENCIA (USA), who claimed gold at 57kg and 86kg, respectively, were the pair of other Americans who closed out the first Ranking Series event of the year with Day 4 golds.
Two-time 79kg world champion Kyle Dake's debut down at 74kg was a success in terms of his medal color, but as expected, there were a few wrinkles that he still needs to iron out. And although those weren't apparent in the finals, they were in the opening rounds. Dake said, "I'm a little disappointed in the earlier rounds, but I went out with a bang."
In his first three matches, Dake scored 18 points, yet he only scored two takedowns. "I was just slapping at the legs and I needed to recognize that sooner," said Dake."Kid Dynamite" made the right adjustments at the right time and went back to what worked for him in the past. "The first couple of matches I was just trying new stuff and it wasn't working so I went back to my old stuff." 
Dake's plan for the finals was to get back to that "old stuff," which meant he needed to, "Get through a guy. Go through him, go take him down, turn him, turn him, turn him and get off the mat." 
That's exactly what he did in the gold-medal match, as he demolished world and Olympic bronze medalist Soner Demirtas in 35 seconds. Dake led 7-0, 16 seconds into the first period, and after his Turkish opponent was hit with a fleeing-the-hold call, the American went back on top in par terre. A pair of gut wrenches less than 20 seconds laft gave Dake the 11-0 technical superiority victory and a second Ranking Series title.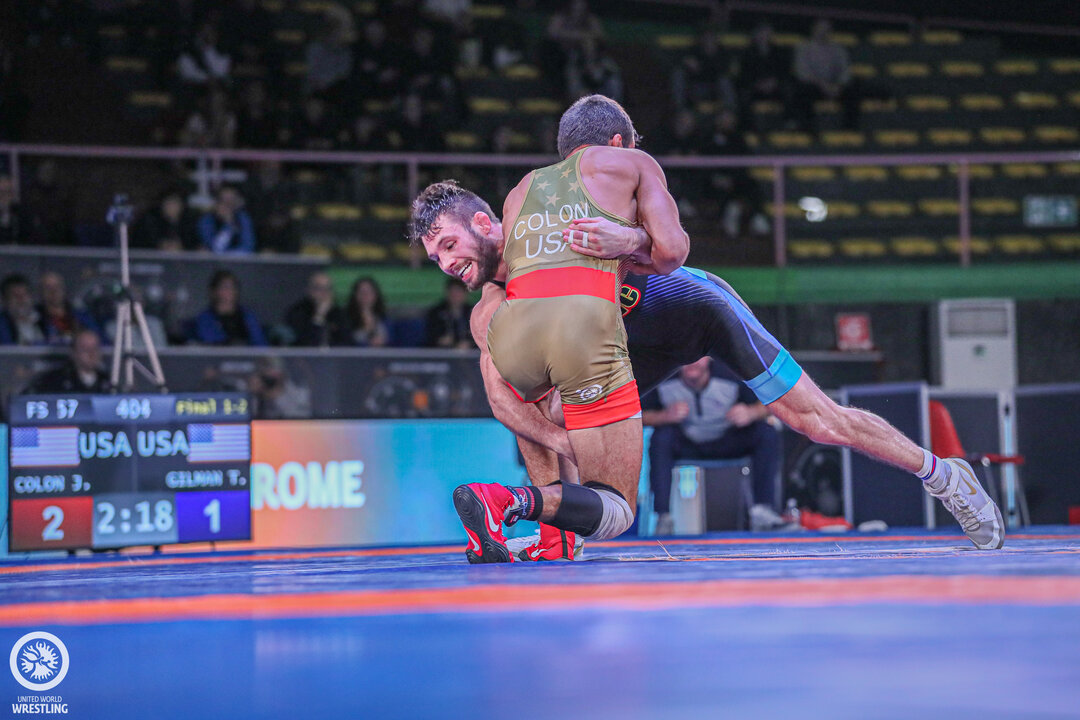 Thomas GILMAN (USA) defeated fellow American Joseph COLON (USA), 4-2, in the 57kg finals. (Photo: Kadir Caliskan)
Thomas Gilman was the first of two American's who were named champions after they defeated fellow countrymen in the finals.
The all-American final at 57kg featured the pair of past world medalists, Thomas Gilman and Joseph COLON (USA). 
"He was a tough opponent. I felt pretty strong out there. I'm starting to put things together and now is the time," said Gilman after winning the one-point battle. The 2018 world silver medalist scored first (inactivity point) but surrendered a takedown with 20 seconds left in the first period and trailed 2-1 heading into the closing frame. 
The message from Gilman's corner heading into the final three minutes was, "He's feeling it." Gilman said he agreed with what his corner was projecting, and that's when the match turned in his favor. "Once I started squeezing so much and faking and releasing, I started to feel him stumble a little bit." Gilman was able to secure a takedown late in the second period, which pushed him to a second Ranking Series title, 2-1. 
He's now headed to Krasnoyarsk, Russia, to compete in the Ivan Yariguin. 
When asked what adjustment he needs to be make before the trip to Siberia, Gilman said he doesn't believe much in adjusting and just needs to sleep. "When I'm tired, I need to sleep. When I'm awake, I need to be doing something. Get the sunlight in my eyes." 
It'll be his Gilman's second trip to the Ivan Yariguin. Last year, he finished in third place at 57kg.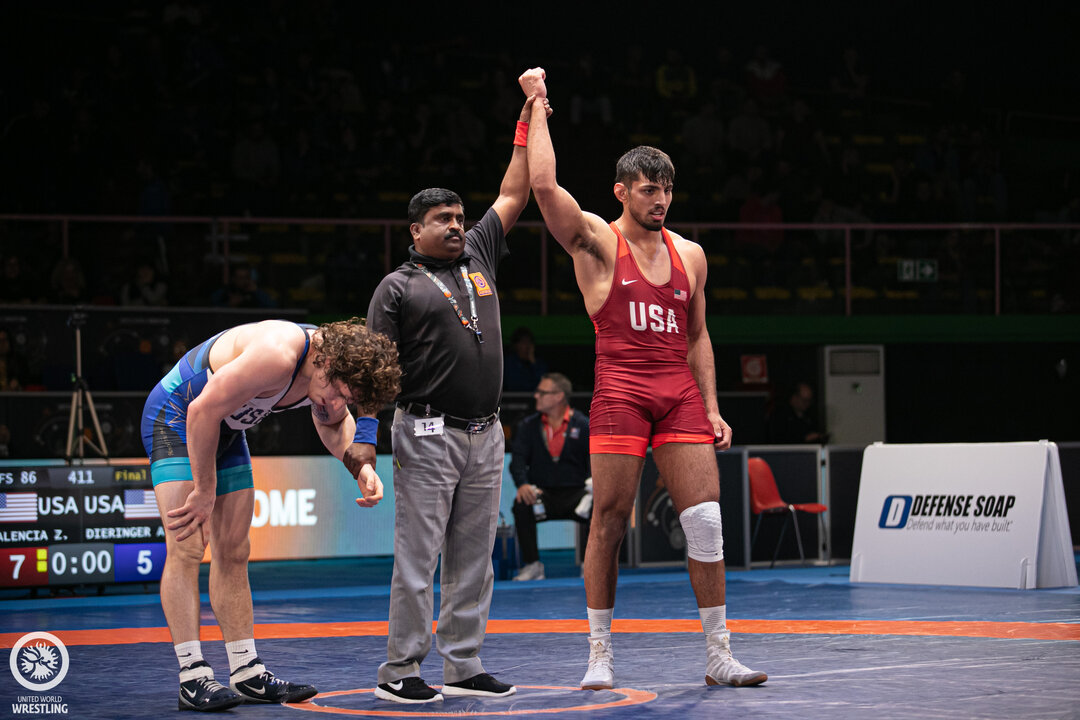 Zahid VALENCIA (USA) picked up a two-point victory over Alexander DIERINGER (USA) in the 86kg finals. (Photo: Kadir Caliskan)
At 86kg, Zahid VALENCIA (USA) went toe-to-toe with Alexander DIERINGER (USA), and snuck past his fellow American, 7-5, in the gold-medal bout. "It's pretty awesome. I got to wrestle some good guys, and that guy in the finals I'm going to be battling it out with for the next few years. We have the trials coming up, so that's a good win for me," said Valencia after his win.
Valencia now plans to return to Arizona State to compete on the college scene where he's looking to win a third consecutive NCAA title.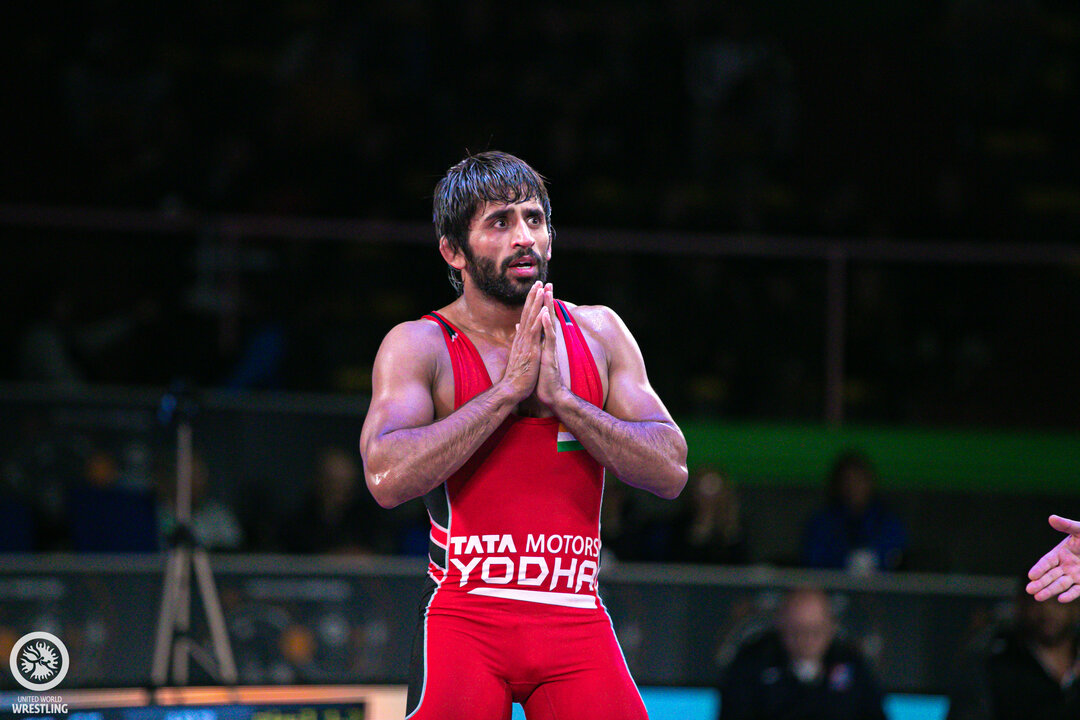 Bajrang BAJRANG (IND) scored his second win over Jordan OLIVER (USA) in a Ranking Series final and claimed the 65kg gold medal. (Photo: Kadir Caliskan)
Punia Wins Rematch Against Oliver, Grabs 65kg Gold; Ravi Wins Non-Olympic Gold at 61kg
Bajrang BAJRANG (IND) and Kumar RAVI (IND) handed India a pair of golds on the closing day of wrestling in Rome. Bajrang won the 65kg gold, while Ravi went 3-0 in the 61kg Nordic style bracket.
Bajrang defeated Jordan Michael OLIVER (USA) in a rematch of the 2019 Dan Kolov finals. And for a second time, it was the Indian superstar who won the 65kg Ranking Series title after falling behind 3-0 to Oliver.
In their first meeting, Bajrang fell behind 3-0 in the first period and stormed back to score 13 unanswered points in the second period. On Saturday, Bajrang surrendered three first-period points but scored a brutality point and a stepout before catching Oliver on his back for over two minutes with an exposure to win, 4-3.
"I am feeling very good. It's the first tournament of 2020 and I won gold. My progress is going up and up and I'm giving it my 100%," said Bajrang after downing Oliver.
The final gold of the tournament went to Kumar Ravi, who won the Nordic style bracket at 61kg with a 3-0 record.
57kg
GOLD - Thomas GILMAN (USA) df. Joseph COLON (USA), 4-3 
BRONZE - Minghu LIU (CHN) df. Daton FIX (USA), 3-2
BRONZE - Stevan Andria MICIC (SRB) df. Andrii YATSENKO (UKR), 5-2
61kg
GOLD – Kumar RAVI (IND)
SILVER – Nurislam SANAYEV (KAZ)
BRONZE – Alexandru CHIRTOACA (MDA)
65kg
GOLD - Bajrang BAJRANG (IND) vs. Jordan OLIVER (USA), 4-3 
BRONZE - Selahattin KILICSALLAYAN (TUR) df/. Erik ARUSHANIAN (UKR), 12-8
BRONZE - Zain Allen RETHERFORD (USA) df. Vasyl SHUPTAR (UKR), via fall 
74kg
GOLD - Kyle Douglas DAKE (USA) df. Soner DEMIRTAS (TUR), 11-0
BRONZE - Fazli ERYILMAZ (TUR) df. Azamat NURYKAU (BLR), 5-2 
BRONZE - Daniyar KAISANOV (KAZ) df. Franklin GOMEZ MATOS (PUR), 3-2 
86kg
GOLD - Zahid VALENCIA (USA) df. Alexander DIERINGER (USA), 7-5 
BRONZE - James Patrick DOWNEY III (USA) df. Illia ARCHAIA (UKR), 13-7 
BRONZE - Fatih ERDIN (TUR) df. William RAFFI (ITA), 10-0