Cuba's Potrille Upends Machuca; Five Nations Win Gold at YOG
Saturday, October 13, 2018 - 23:12 By Tim Foley
BUENOS AIRES (October 13) – The risers shook, and eardrums ached as Linda MACHUCA (ARG) made her walk to the mat Saturday night for her 73kg gold medal final. The local teen had gone 4-0 in early action and was wrestling for her nation's first gold on the mats.
Fans at the Asian Pavilion were swaying, dancing, clapping, howling – a moment of pure joy and anticipation for all those in attendance.
But just as enthusiastic as the teens clapping their red thunder sticks, Cuba's Milaimys MARIN POTRILLE (CUB) was stoic. Taller than Machuca, Potrille glided across the field of play and climbed to the top of the mat. The wrestlers shook hands and as the whistle blew Portrille launched a double leg for four points, landed in a pinning position and put an end to Machuca's storybook ending.
Though noticeably disappointed the Argentinian fans supported each wrestler as their name was announced, the hall filling with thunderous applause as Machuca left the mat, teary-eyed and head hanging. Machuca and Potrille's final was the capstone to a night filled with emotion.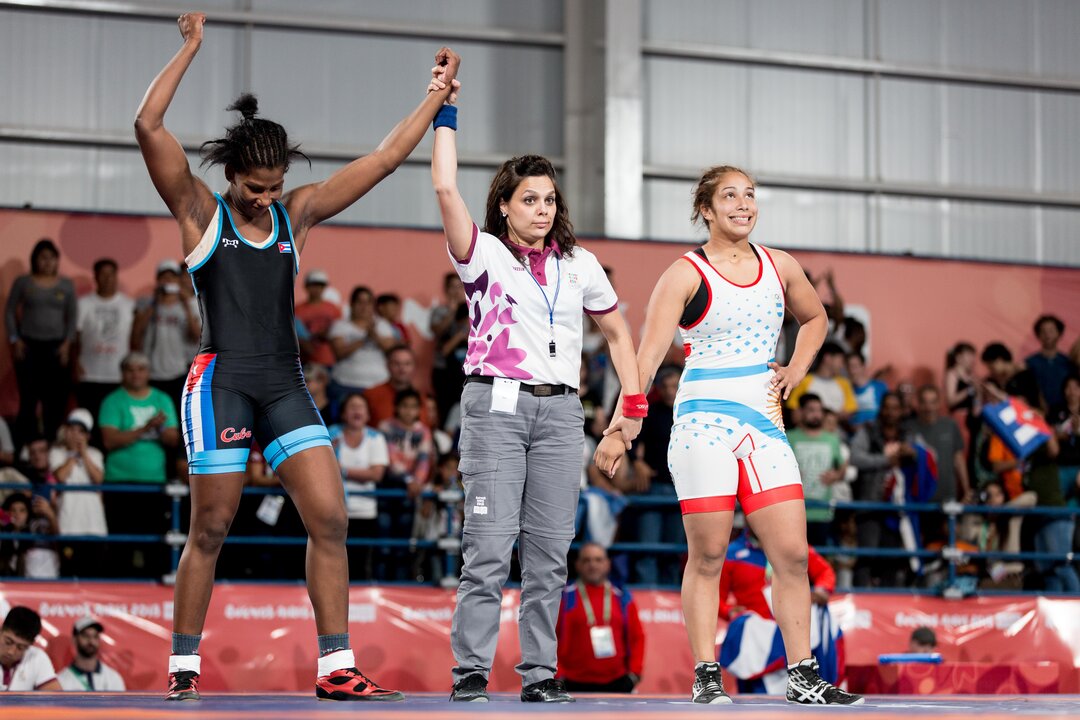 Milaimys MARIN POTRILLE (CUB) raises her hands moments after pinning Linda Marilina MACHUCA (ARG) in the 73kg finals (Photo: Max Rose-Fyne)

The evening's first gold medal final featured Emily SHILSON (USA) taking on a scrappy Simran SIMRAN (IND). The American opened up a large lead, but conceded six points late in the match, but managed to escape with the 11-6 win.
Stern-faced, Shilson seemed disappointed with her performance and was reluctant to grab her nation's flag to celebrate the victory. But she quickly relented and made the requisite lap around the mat - a fragile smile cracking through an otherwise resolute face of focus.
"I got sloppy at the end and didn't wrestle as sharp as I wanted," said Shilson when asked about her initial reaction. "It was a good experience though, because now I have things to go work on and I can clean up those mistakes and learn to stay on top."
"And I'm having the best time here," she added with a smile. With her win, Shilson became the United States' first-ever YOG gold medalist in wrestling.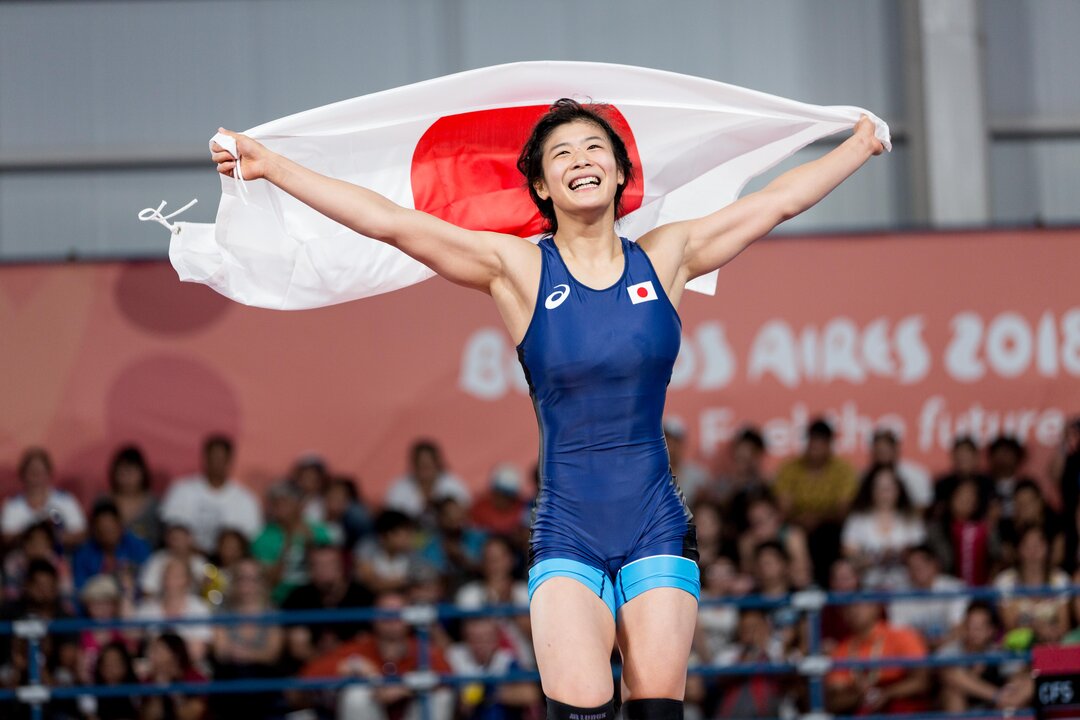 Nonoka OZAKI (JPN) celebrates after winning gold at 57kg over Anna Hella SZEL (HUN) by TF, 10-0 (Photo: Max Rose-Fyne)

Nonoka OZAKI (JPN), whose fanbase dressed in gi blue tops adorned with a large flag of Japan on their back, had no problem showing happiness after winning her final. Ozaki dominated Hungary's Anna Hella SZEL in final, working to a 10-0 technical superiority victory in the second period.
China's Xinru ZHOU (CHN) was workman like in winning her nation's first gold medal in wrestling. The rangy wrestler defeated Oksana CHUDYK (UKR) by TF, 10-0 in less than 30 seconds.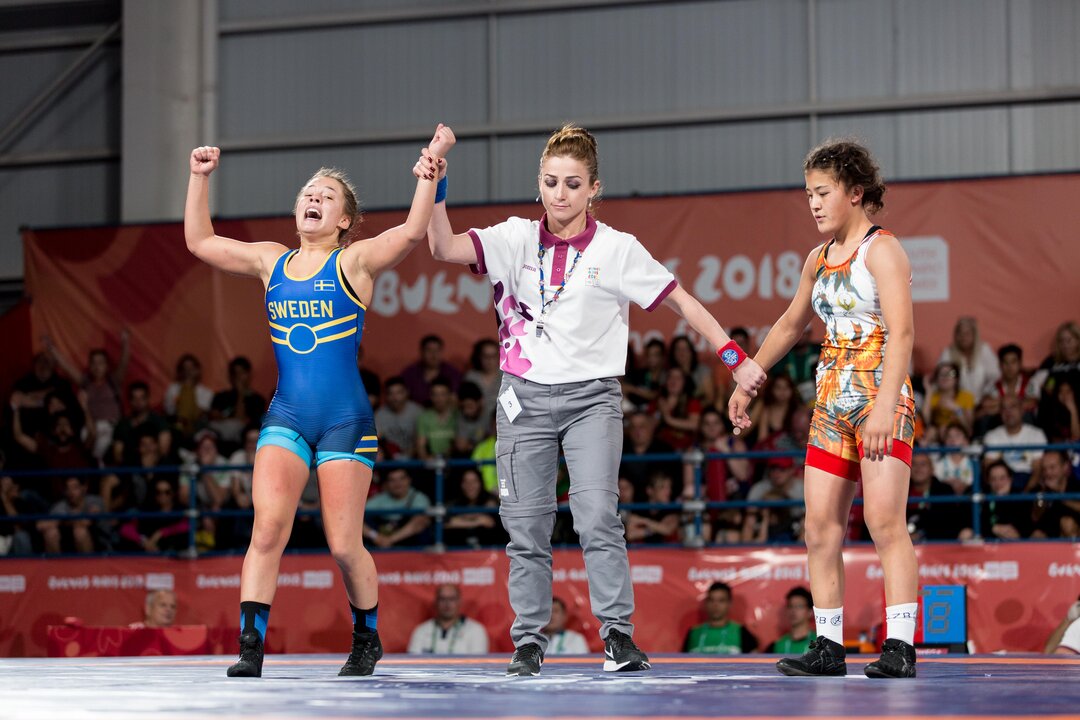 "This is the best moment of my life," said Emma MALMGREN (SWE) after winning the 49kg gold medal (Photo: Max Rose-Fyne)

Sweden's Emma MALMGREN (SWE) took the 49kg gold medal with a quick pin over Azerbaijan's Shokhida AKHMEDOVA (UZB). The diminutive Swede erupted in emotion on the mat, realizing that she'd won gold in dominant fashion.
"It feels so good because everybody is a high-class wrestler who comes here with the same goal of winning Olympic gold," said Malmgren. "I trained very herd and very tough. Wrestling is always about blood, sweat and tears, but I trained even harder and this was even more special."
"This is the best moment of my life."
Wrestling resumes tomorrow at 10am local/9am ET with men's freestyle and continues at 5pm local/4pm ET with the finals.
Women's Wrestling, 43kg

GOLD: Emily SHILSON (USA) df. Simran SIMRAN (IND), 11-6
BRONZE: Shahana NAZAROVA (AZE) df. Enkhzul BATBAATAR (MGL), 7-6
FIFTH: Justine Fanny VIGOUROUX (FRA) df. Maria LEORDA (MDA), 4-0
SEVENTH: Sara Gouda Farouk MAHMOUD (EGY) df. Heloisa Elena MARTINEZ (BRA) by TF, 10-0
NINTH: Christianah Tolulope OGUNSANYA (NGR) v. Ella Mae DERRY (NZL) via FORFEIT

Women's Freestyle, 49kg 

GOLD: Emma Jonna Denise MALMGREN (SWE) df. Shokhida AKHMEDOVA (UZB) by FALL
BRONZE: Natallia VARAKINA (BLR) df. Zineb ECH CHABKI (MAR) by TF, 12-1
FIFTH: Roza SZENTTAMASI (HUN) df. Tiare Lynn Masako Dizon IKEI (USA), 3-0
SEVENTH: Maria Jose MOSQUERA ROJAS (VEN) df. Paulina Jean DUENAS (GUM) by TF, 10-0
NINTH: Nilufar RAIMOVA (KAZ) df. Sopealai SIM (CAM), via forfeit

Women's Freestyle, 57kg

GOLD: Nonoka OZAKI (JPN) df. Anna Hella SZEL (HUN) by TF, 10-0
BRONZE: Anastasia BLAYVAS (GER) df.  Irina RINGACI (MDA), 6-3
FIFTH: Andrea LOPEZ MARTINEZ (MEX) df. Mayra Alejandra PARRA ALVAREZ (VEN), 7-0
SEVENTH: Hala Wael Imbabi AHMED (EGY) df. Mansi MANSI (IND) by FALL
NINTH: Kaetlyn Rae Okada QUINTANILLA (GUM) df. Lydia TOIDA (CMR), via forfeit

Women's Freestyle, 65kg

GOLD: Xinru ZHOU (CHN) v. Oksana CHUDYK (UKR) by TF, 10-0
BRONZE: Oyun Erdene TAMIR (MGL) v. Sunmisola Idowu BALOGUN (NGR) by TF, 15-4
FIFTH: Viktoria VESSO (EST) df. Amina Roxana CAPEZAN (ROU), 6-2
SEVENTH: Yetzis Camila RAMIREZ MARQUEZ (CUB) v. Zaineb SGHAIER (TUN)
NINTH: Sandra Elena ESCAMILLA MENCHACA (MEX) v. Natacha Véronique NABAINA (CMR)

Women's Freestyle, 73kg

GOLD: Milaimys MARIN POTRILLE (CUB) df. Linda Marilina MACHUCA (ARG) via FALL
BRONZE: Yuka KAGAMI (JPN) df. Kseniya DZIBUK (BLR), 8-0
FIFTH: Julia Hanna Ellinor FRIDLUND (SWE) v. Svetlana OKNAZAROVA (UZB) by FALL
SEVENTH: Khadija JLASSI (TUN) df. Anika Elizabeth WHITE (CAN) via FALL
NINTH: Vahide Nur GOK (TUR) v. Ioana Penina Nicole Uputaua LUDGATE (ASA) via Forfeit