Cuba and USA Set to Clash in #PanAm2018 Men's Freestyle Finals
Sunday, May 6, 2018 - 21:45 By Taylor Miller
Lima (May 6) – Cuba and the USA will have four head-to-head matchups in Sunday night's men's freestyle finals at the 2018 Pan American Championships in Lima, Peru. Overall, the U.S. put seven in the finals, while Cuba advanced five.
Finals at 74 kg, 86 kg, 97 kg and 125 kg will pit the nations against each other.
At 74 kg, Nazar KULCHYTSKYY (USA) will challenge 2012 Olympic bronze medalist and three-time World medalist Livan LOPEZ AZCUY (CUB) for the title. Both wrestlers teched their ways to the finals.
2018 Ivan Yarygin Memorial champion David TAYLOR (USA) is set to do battle with two-time defending Pan Am champion Yurieski TORREBLANCA QUERALTA (CUB).
In the semifinals, Torreblanca edged out Pedro Francisco CEBALLOS FUENTES (VEN), who finished fifth at the 2016 Olympic Games. Torreblanca took a 3-1 decision to earn his spot in the final.
Three-time Senior World bronze medalist Reineris SALAS PEREZ (CUB) put himself in position to wrestle for gold with decisive wins over opponents from Dominican Republic, Canada and Puerto Rico.
Advancing through the other side at 97 kg was Kyven GADSON (USA), who edged out a win on criteria over Jose DIAZ ROBERTTI (VEN), 3-3, in the semis.
The 125 kg final features 2017 World bronze medalist Nick GWAIZDOWSKI (USA) against two-time Pan American silver medalist Yudenny ALPAJON ESTEVEZ (CUB).  Neither wrestler gave up a point in the first half of the day. Gwiazdowski outscored his opponents, 22-0, and Alpajon outscored his competition, 15-0.
There were two semifinals, 57 kg and 65 kg, where the USA and Cuba matched up. They split the bouts.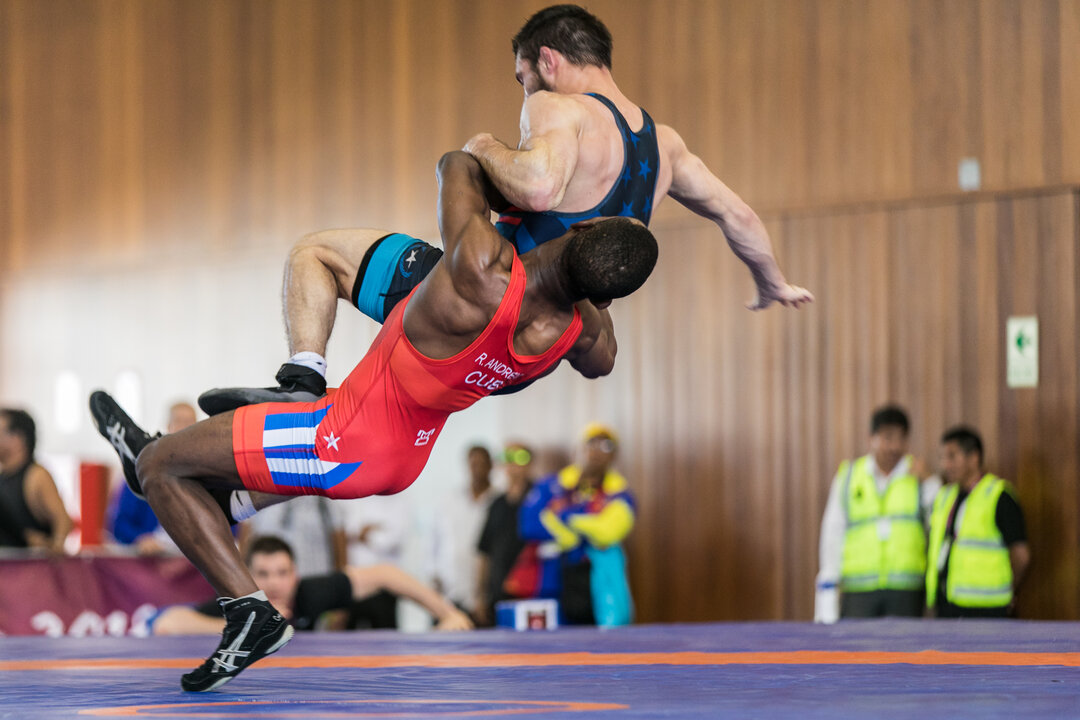 At 57 kg, U23 World champion Reineri ANDREU ORTEGA (CUB) advanced to the finals, after taking out 2017 Senior World silver medalist Thomas GILMAN (USA) in the semifinals with a 7-4 win.
In gold-medal match, Andreu will take on 2017 Junior Pan Am finalist Oscar Eduardo TIGREROS URBANO (COL).
2016 World champion Logan STIEBER (USA) emerged victorious from the 65 kg semifinal that pitted him against 2017 World bronze medalist Alejandro Enrique VALDES TOBIER (CUB). Stieber came back from a 7-0 deficit to lead Valdes, 10-9, with six seconds left when Valdes injury defaulted.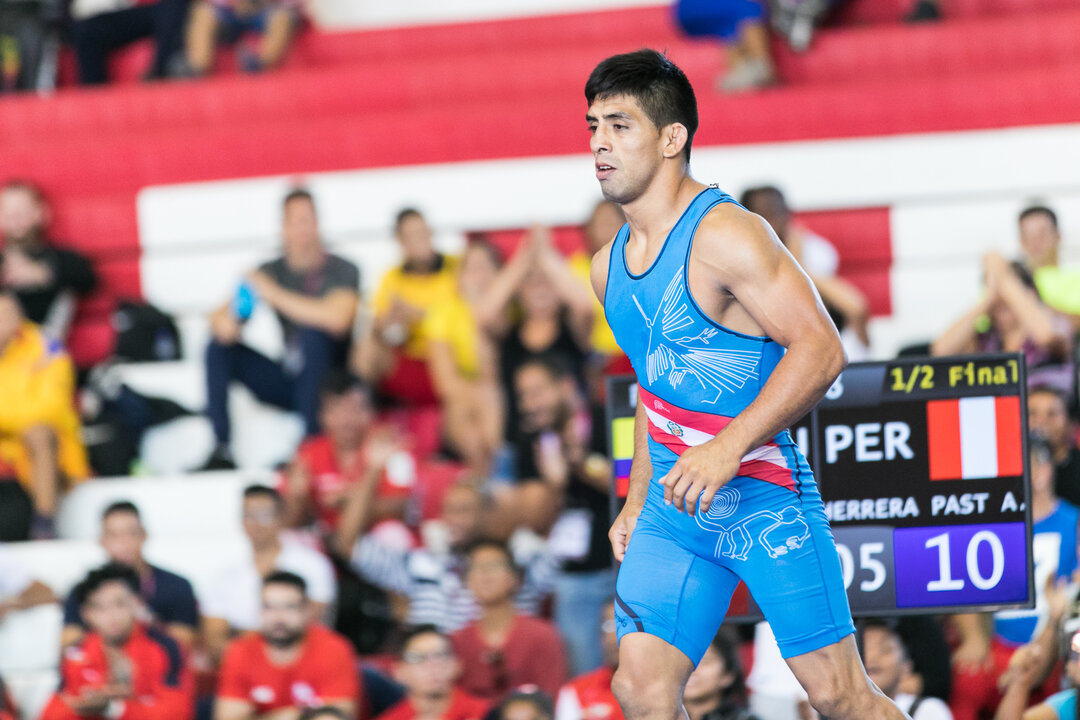 Stieber will take on Abel Gerald HERRERA PASTOR (PER), who teched his way to the finals, guaranteeing a medal for the host country.
Two others from the United States seek gold tonight, Joseph COLON (USA) at 61 kg and James GREEN (USA) at 70 kg. Both competed in six-man brackets that went through pool play before deciding semifinalists.
A 2017 World silver medalist and 2015 World bronze winner, Green is the only U.S. wrestler looking to defend his 2017 Pan Am title. He will face Hernan Dario GUZMAN IPUZ (COL), who he defeated earlier in the day with a 13-2 technical fall.
Colon will face Joshua BODNARCHUK (CAN), who he also defeated in the morning session, 11-1.
A slight change in the schedule sets tonight's finals for 6 p.m. ET live on unitedworldwrestling.org.
MEN'S FREESTYLE MATCHUPS
57 kg
GOLD - Oscar Eduardo TIGREROS URBANO (COL) vs. Reineri ANDREU ORTEGA (CUB)
BRONZE - Pedro Jesus MEJIAS RODRIGUEZ (VEN) vs. Thomas Patrick GILMAN (USA)
BRONZE – Victor Manuel BARRON CARDENAS (MEX) vs. Juan Rubelin RAMIREZ BELTRE (DOM)
61 kg
GOLD - Joseph Daniel COLON (USA) vs. Joshua BODNARCHUK (CAN)
BRONZE - Juan Antonio RODRIGUEZ JOVEL (ESA) vs. Alexis OLVERA MAGALLANES (MEX)
65 kg
GOLD - Abel Gerald HERRERA PASTOR (PER) vs. Logan Jeffery STIEBER (USA)
BRONZE - Michael Stanley David ASSELSTINE (CAN) vs. Alejandro Enrique VALDES TOBIER (CUB)
BRONZE – Albaro RUDESINDO CAMACHO (DOM) vs. Freddy Leonardo VERA FAJARDO (ECU
70 kg
GOLD - James Malcolm GREEN (USA) vs. Hernan Dario GUZMAN IPUZ (COL)
BRONZE - Marcos PEREIRA DE OLIVEIRA JUNIOR (BRA) vs. Alexander CHAVES (CAN)
74 kg
GOLD - Nazar KULCHYTSKYY (USA) vs. Livan LOPEZ AZCUY (CUB)
BRONZE - Jevon BALFOUR (CAN) vs. Nestor Joaquin TAFUR BARRIOS (COL)
BRONZE – Jorge Ivan LLANO (ARG) vs. Carlos Eduardo ROMERO MILLAQUEO (CHI)
86 kg
GOLD - Yurieski TORREBLANCA QUERALTA (CUB) vs. David Morris TAYLOR III (USA)
BRONZE - Julio Rafael RODRIGUEZ ROMERO (DOM) vs. Pool Edinson AMBROCIO GREIFO (PER)
BRONZE – Carlos Arturo IZQUIERDO MENDEZ (COL) vs. Pedro Francisco CEBALLOS FUENTES (VEN)
97 kg
GOLD - Kyven Ross GADSON (USA) vs. Reineris SALAS PEREZ (CUB)
BRONZE - Charles Zachary MERRILL (PUR) vs. Jordan STEEN (CAN)
BRONZE – Miguel Javier SANCHEZ GERALDO (MEX) vs. Jose Daniel DIAZ ROBERTTI (VEN)
125 kg
GOLD - Yudenny ALPAJON ESTEVEZ (CUB) vs. Nicholas Edward GWIAZDOWSKI (USA)
BRONZE - Catriel Pehuen MURIEL (ARG) vs. Carlos Jose FELIX GARCIA (DOM)
BRONZE - Jose Noel ERAZO HENRIQUEZ (ESA) vs. Korey JARVIS (CAN)