Complete Rosters Released for U23 World Championships
Thursday, November 8, 2018 - 14:45 By Eric Olanowski
BUCHAREST, Romania (November 8) - Over the next few days, United World Wrestling will be releasing the rosters for the 2018 U23 World Championships, which begins on Monday, November 12 at Bucharest's Polyvalent Hall. Greco-Roman wrestling will kick things off, followed by women's wrestling, with freestyle action closing out the championships. 
Click here for the full schedule. 
Freestyle
57kg    
Afgan KHASHALOV (AZE)
Darthe CAPELLAN (CAN)
Wanhao ZOU (CHN)
Reineri ANDREU ORTEGA (CUB)
Roberti DINGASHVILI (GEO)
Kumar RAVI (IND)
Alireza Nosratolah SARLAK (IRI)
Toshihiro HASEGAWA(JPN)
Rakhat KALZHAN (KAZ)
Almaz SMANBEKOV (KGZ)
Drilon SYLA (KOS)
Zanabazar ZANDANBUD (MGL)
Vladimir EGOROV (MKD)
Razvan Marian KOVACS (ROU)
Muslim SADULAEV (RUS)
Bekir SAHIN (TUR)
Taras MARKOVYCH (UKR)
Jack Michael MUELLER (USA)
Jahongirmirza TUROBOV (UZB)
61kg    
Ruslan GASIMOV (AZE)
Mikyay Salim NAIM (BUL)
Joshua BODNARCHUK(CAN)
Minghu LIU (CHN)
Teimuraz VANISHVILI (GEO)
Georgios PILIDIS (GRE)
Arun ARUN (IND)
Iman Mokhtar SADEGHIKOUKANDEH (IRI)
Yudai FUJITA (JPN)
Bauyrzhan TOREBEK (KAZ)
Ulukbek ZHOLDOSHBEKOV (KGZ)
Leomid COLESNIC (MDA)
Chinzorig TSERMAA (MGL)
Viktar SHMULIAI (POL)
Nikolai OKHLOPKOV (ROU)
Magomedrasul IDRISOV (RUS)
Ivan MOLNAR(SVK)
Ertugrul KAHVECI (TUR)
Petro BILEICHUK (UKR)
Sean Christian FAUSZ (USA)
Firdavs YARASHEV (UZB)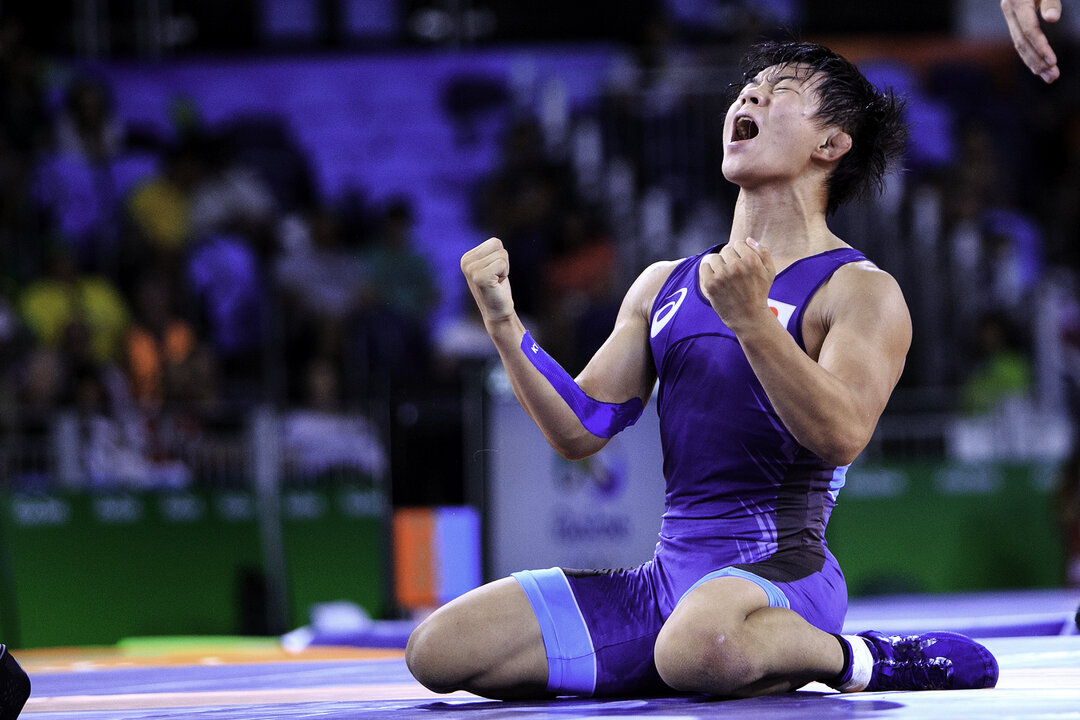 Olympic silver medalist Rei HIGUCHI (JPN) celebrates after making the Rio finals.  (Photo: Gabor Martin)
65kg    
Ali RAHIMZADE (AZE)
Dzianis MAKSIMAU (BLR)
Haji Mohamad ALI (BRN)
Dimitar IVANOV (BUL)
Dillon Emmanuel WILLIAMS (CAN)
Aly Ibrahim Abdelhamid ABDELHAMID (EGY)
Edemi BOLKVADZE (GEO)
Niklas Dietmar DORN (GER)
Roman ASHARIN (HUN)
Singh SURJEET(IND)
Morteza GHIASI CHEKA (IRI)
Rei HIGUCHI (JPN)
Ilyas ZHUMAY(KAZ)
Nurgazy ABDURAZAKOV (KGZ)
Vitalie BUNICI(MDA)
Maxim SACULTAN (MDA)
Tulga TUMUR OCHIR (MGL)
Patryk Krzysztof OLENCZYN (POL)
Stefan Ionut COMAN (ROU)
Islam DUDAEV(RUS)
Elbrus CHERTKOEV (SVK)
Utku DOGAN (TUR)
Andrii SVYRYD(UKR)
Colton James MCCRYSTAL (USA)
Temurjon USMONOHUNOV (UZB)
70kg    
Gevorg MKHEYAN (ARM)
Mikita SAUCHANKAU (BLR)
Mihail Iliev GEORGIEV (BUL)
Alexander CHAVES (CAN)
Amr Reda Ramadan HUSSEN(EGY)
Giorgi SULAVA (GEO)
Luis Isabel BARRIOS ROCHEZ (HON)
Csaba VIDA (HUN)
Naveen NAVEEN (IND)
Nima Hossein ESHFAGHIAMIRI (IRI)
Jintaro MOTOYAMA (JPN)
Aidyn TAZHIGALI (KAZ)
Islambek OROZBEKOV(KGZ)
Stefan TONU (MDA)
Temuulen ENKHTUYA (MGL)
Mateusz Dariusz KAMPIK (POL)
Zurab KAPRAEV (ROU)
David BAEV (RUS)
Akido Ansumana KONNEH (SLE)
Marc DIETSCHE (SUI)
Taimuraz SALKAZANOV (SVK)
Enes USLU (TUR)
Oleksii BORUTA (UKR)
Hayden Michael HIDLAY (USA)
Ramazon IBODOV (UZB)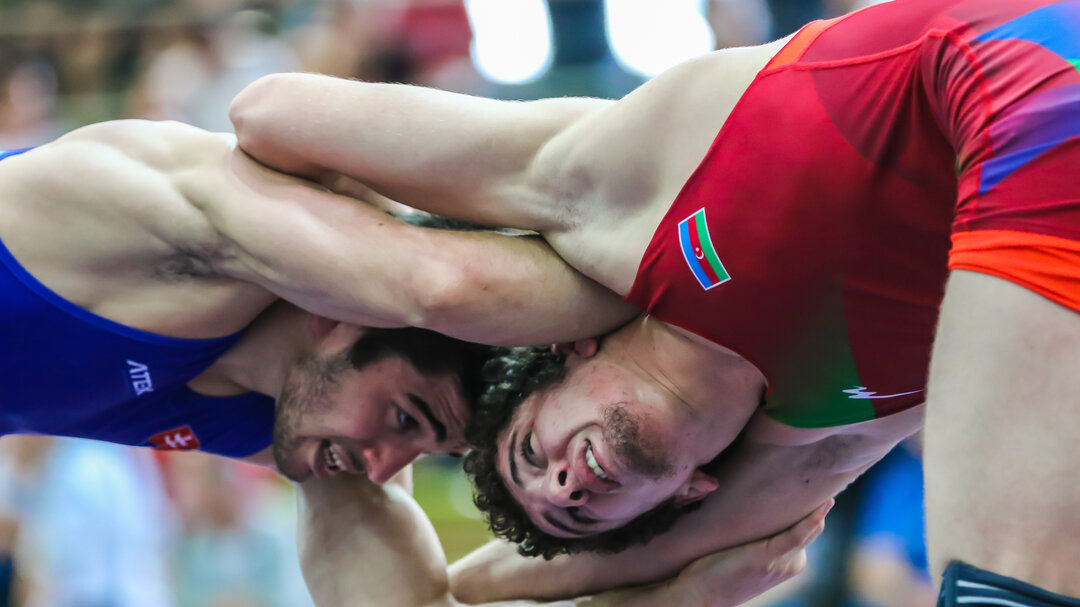 Returning U23 World finalist Akhsarbek GULAEV (SVK). (Photo by Max Rose-Fyne) 
74kg    
Andranik GABRIELYAN (ARM)
Ismail ABDULLAEV (AZE)
Aliaksandr HRYHAROVICH (BLR)
Miroslav Donchev HRISTOV (BUL)
Tyler William ROWE (CAN)
Avtandil KENTCHADZE (GEO)
Johann Christoph STEINFORTH (GER)
Konstantinos GKOTSIS (GRE)
Parveen MALIK (IND)
Navid Morad ZANGANEH (IRI)
Salvatore DIANA (ITA)
Yuto MIWA (JPN)
Alibek ABDIKASSYMOV (KAZ)
Bekzhan DZHAMBULOV (KGZ)
Alberts JURCENKO (LAT)
Andrius MAZEIKA (LTU)
Gheorghi PASCALOV (MDA)
Sumiyabazar ZANDANBUD (MGL)
Ogbonna Emmanuel JOHN (NGR)
Maxim VASILIOGLO (ROU)
Timur BIZHOEV (RUS)
Gasimu KARGBO (SLE) 
Akhsarbek GULAEV (SVK)
Muhammet AKDENIZ (TUR)
Denys PAVLOV (UKR)
Alexander Landon SMYTHE (USA)
Muhammadali MUKHTOROV (UZB)
79kg    
Ali KHUZHEIRY(BLR) 
Engin Rashid ISMAIL (BUL)
Aidan Ross MCKEAGE(CAN)
Johnny Just BUR (FRA)
Nika KENTCHADZE (GEO)
Gkeorgki MELETOV (GRE)
Peter NAGY (HUN)
Dinesh KUMAR (IND)
Mojtaba Yousefali ASGHARI OSMAVANDANI (IRI)
Yajuro YAMASAKI (JPN)
Yerkebulan TILEU (KAZ)
Tugs Erdene DENZENSHARAV(MGL)
Krzysztof Grzegorz SADOWIK(POL)
Omaraskhab NAZHMUDINOV( ROU)
Gadzhi NABIEV (RUS)
Dovletmyrat ORAZGYLYJOV (TKM)
Muhammet Lutfi KUCUKYILDIRIM (TUR)
Alfes DOLIDZE(UKR)
David Vincent MCFADDEN (USA)
Isa SHAPIEV (UZB)
Artur NAIFONOV (RUS) celebrates his 2018 European Championships victory by carrying the Russian flag around the mat. (Photo by Max Rose-Fyne) 
86kg    
Hovhannes MKHITARYAN (ARM)
Murad SULEYMANOV(AZE)
Raman CHYTADZE (BLR)
Alexander Robert MOORE (CAN)
Saba CHIKHRADZE (GEO)
Lars SCHAEFLE(GER)
Ilias KYDROS (GRE)
Uphar SHARMA (IND)
Kamran Ghorban GHASEMPOUR (IRI)
Gabriele DORO (ITA)
Taisei MATSUYUKI (JPN)
Yeskali DAULETKAZY (KAZ)
Andrian GROSUL (MDA)
Gankhuyag GANBAATAR (MGL)
Michal Jan BIELAWSKI (POL)
Mihai Nicolae PALAGHIA (ROU)
Artur NAIFONOV (RUS)
Arif OZEN (TUR)
Bohdan POPKOV (UKR)
Myles Najee MARTIN (USA) 
Javrail SHAPIEV (UZB)
92kg    
Shamil ZUBAIROV (AZE)
Artsiom RUDZIANOK (BLR)
Irakli MTSITURI (GEO)
Ilja MATUHIN  (GER)
Christos SAMARTSIDIS (GRE)
Bendeguz TOTH (HUN)
Sanjeet SANJEET (IND)
Hossein Lotfali SHAHBAZIGAZVAR (IRI)
Takashi ISHIGURO (JPN)
Iliskhan CHILAYEV (KAZ)
Altangerel CHINBAT (MGL)
Zoltan GERGEN (ROU)
Aslanbek SOTIEV (RUS)
Semih YAZICI (TUR)
Bohdan HRYTSAY (UKR)
Christian William BRUNNER (USA)
Azizbek SOLIEV (UZB)            
97kg    
Sargis HOVSEPYAN (ARM)
Nurmagomed GADZHIYEV (AZE)
Dzianis KHRAMIANKOU (BLR)
Nishan Preet Singh RANDHAWA (CAN)
Chaoqiang YANG (CHN)
Givi MATCHARASHVILI (GEO)
Erik Sven THIELE (GER)
Niazi IMPIS (GRE)
Karandeep Singh NAHAL (IND)
Ali Khalil SHABANIBENGAR (IRI)
Simone IANNATTONI (ITA)
Taira SONODA(JPN)
Bakdaulet ALMENTAY(KAZ)
Lukas KRASAUSKAS (LTU)
Odsuren BOLDBAATAR (MGL)
Rares POPESCU (ROU)
Martin ERASMUS (RSA)
Igor Alekseevitch OVSIANNIKOV (RUS)
Yunus Emre DEDE (TUR)
Magamed ZAKARIIEV(UKR)
Kollin Raymond MOORE (USA)
Bakhodir ASLONOV (UZB)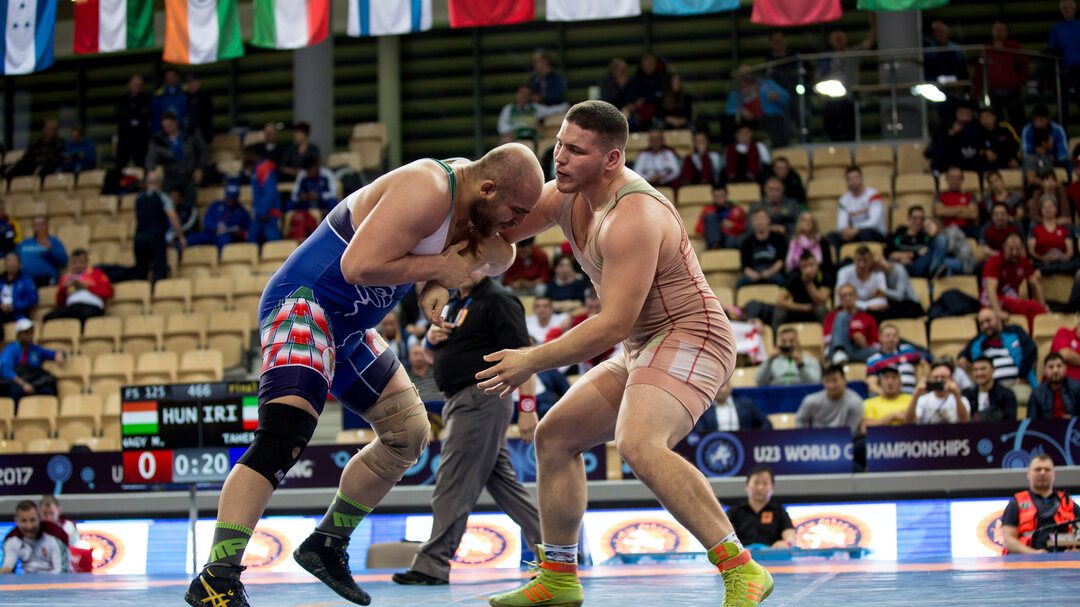 Amin TAHERI(IRI) last year's 125kg U23 world bronze medalist. (Photo by Max Rose-Fyne) 
125kg  
Vitali PIASNIAK (BLR)
Amarveer DHESI (CAN)
Er SONGBU (CHN)
Reagan Mbo MABUBA (COD)
Khaled Omr Zaki Mohamed ABDALLA (EGY)
Jere Tapani HEINO (FIN)
Rolandi ANDRIADZE (GEO)
Mihaly NAGY (HUN)
Abhijeet Chandrakant KATAKE (IND)
Amin Hossein TAHERI (IRI)
Yasuhiro YAMAMOTO(JPN)
Yusup BATIRMURZAEV (KAZ)
Samhan JABRAILOV (MDA)
Lkhagvagerel MUNKHTUR (MGL)
Kamil Tomasz KOSCIOLEK (POL)
Marian LUNGU (ROU)
Said Gamidovitch GAMIDOV  (RUS)
Georgii NOGAEV (SVK)
Huseyin Mehmet CIVELEK (TUR)
Oleksandr KOLDOVSKYI (UKR)
Youssif Ibrahim HEMIDA (USA)
Sardorbek KHOLMATOV (UZB)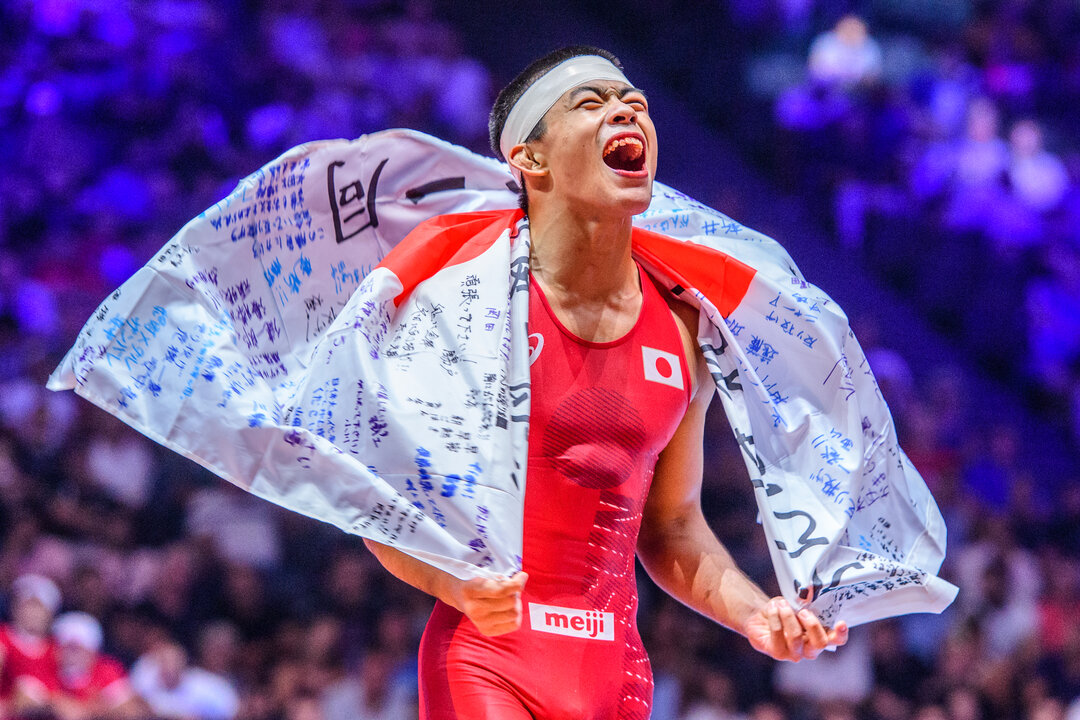 Kenichiro FUMITA (JPN), 2017 world champion. (Photo by Tony Rotundo)
Greco-Roman
55kg    
Norayr HAKHOYAN (ARM)
Nedyalko Petrov PETROV (BUL) 
Nugzari TSURTSUMIA(GEO)
Bence KOVACS (HUN)
Ravin RAVIN (IND)
Reza Kheirollah KHEDRI (IRI)
Shota OGAWA(JPN)
Amangali BEKBOLATOV (KAZ)
Balbai DORDOKOV (KGZ)
Florin TITA (ROU)
Vitalii KABALOEV (RUS)
Sebastian KOLOMPAR (SRB)
Dogus AYAZCI(TUR)
Vladyslav KOROSTELOV (UKR)
Dalton Duane DUFFIELD (USA)
Ilkhom BAKHROMOV(UZB)            
60kg 
Abdennour LAOUNI (ALG) 
Armen MELIKYAN (ARM)
Murad MAMMADOV (AZE)
Avgustin Boyanov SPASOV (BUL)
Libin DING (CHN)
Dicther Hans TORO CASTANEDA (COL)
Helary MAEGISALU (EST)
Dato CHKHARTISHVILI(GEO)
Christopher Josef KRAEMER (GER)
Erik TORBA (HUN)
Manish MANISH (IND)
Mehdi Seifollah MOHSEN NEJAD (IRI)
Jacopo SANDRON (ITA)
Kenichiro FUMITA (JPN)
Dastan ZARLYKHANOV (KAZ)
Rustam TEIISHOV (KGZ)
Justas PETRAVICIUS (LTU)
Przemyslaw PIATEK (POL)
Razvan ARNAUT (ROU)
Artur PETROSIAN (RUS)
Ardit FAZLJIJA(SWE)
Kerem KAMAL(TUR)
Viktor PETRYK(UKR)
Randon Drew MIRANDA (USA)
Islomjon BAKHRAMOV (UZB)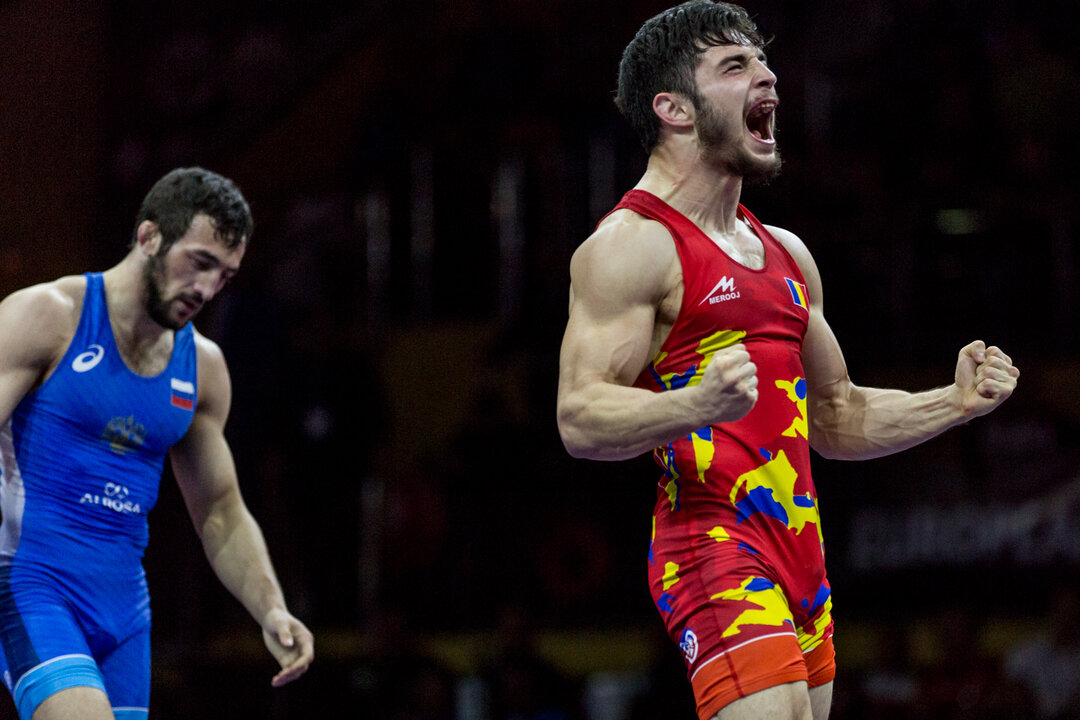 Mihai Radu MIHUT (ROU), 2018 European champion. (Photo by Max Rose-Fyne) 
63kg    
Slavik GALSTYAN (ARM)
Ramiz MAMMADOV (AZE)
Yahor BELIAK (BLR)
Hassan Hassan Ahmed MOHAMED (EGY)
Levani KAVJARADZE (GEO)
Marton JASZ (HUN)
Rajeet RAJEET(IND)
Meysam Karamali DALKHANI(IRI)
Katsuaki ENDO (JPN)
Tangirbergen NAURYZBAYEV (KAZ)
Tynar SHARSHENBEKOV (KGZ)
Alexandru BICIU (MDA)
Mihai Radu MIHUT (ROU)
Magomed Nazirovitch MAGOMEDOV (RUS)
Onur ATALAY (TUR)
Oleksandr HRUSHYN (UKR)
Travis Michael RICE (USA)
Turabek TIRKASHEV (UZB)            
67kg   
Karen ASLANYAN (ARM)
Karim JAFAROV (AZE)
Azamat TAKHOYEU (BLR)
Deyvid Tihomirov DIMITROV  (BUL)
Xin HUANG (CHN)
Mohamed Ibrahim Elsayed Ibrahi ELSAYED (EGY)
Alejandro Ruslan CONCEPCION CASTILLO (ESP)
Mikko Petteri PELTOKANGAS(FIN)
Joni KHETSURIANI (GEO)
Witalis LAZOVSKI (GER)
Otto LOSONCZI (HUN)
Ravinder RAVINDER (IND)
Hossein Nasrollah ASSADI KOLMATI  (IRI)
Ryo NAKAHASHI (JPN)
Meiirzhan SHERMAKHANBET (KAZ)
Nurmoldo ANARBEKOV (KGZ)
Aleksandrs JURKJANS(LAT)
Kristupas SLEIVA (LTU)
Valeriu TODEREAN (MDA)
Morten THORESEN (NOR)
Roman PACURKOWSKI (POL)
Alexandru SOLOMON(ROU)
Alen MIRZOIAN (RUS)
Sebastian NAD (SRB)
Murat FIRAT (TUR)
Serhii KOZUB (UKR)
Nolan Robert BAKER (USA)
Mirzobek RAKHMATOV (UZB)            
72kg    
Armen HAKOBYAN (ARM)
Islambek DADOV (AZE)
Ruslan AHAMALYIEU (BLR)
Aik MNATSAKANIAN (BUL)
Toni Tapio OJALA (FIN)
Ramaz ZOIDZE(GEO)
Tamas LEVAI (HUN)
Kumar AJAY (IND)
Ali Reizollah ARSALAN(IRI)
Muto SAWADA (JPN)
Kaharman KISSYMETOV (KAZ)
Nikita MASJUKS (LAT)
Vegard JOERGENSEN(NOR)
Adrian Ionut AGACHE(ROU)
Narek OGANIAN (RUS)
Foday JAYAH (SLE)
Aleksa ERSKI (SRB)
Denis HORVATH (SVK)
Cengiz ARSLAN (TUR)
Artur POLITAIEV (UKR)
Logan Edward KASS (USA)
Aram VARDANYAN (UZB)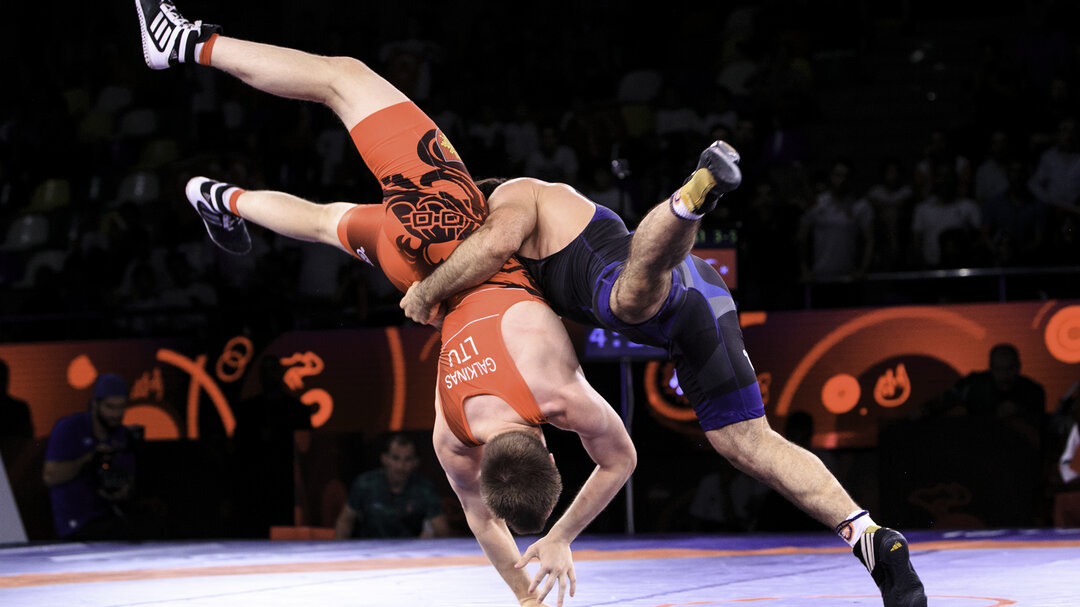 Reigning U23 world champion, Fatih CENGIZ (TUR). (Photo by Max Rose-Fyne) 
77kg    
Seryozha BERNETSYAN (ARM)
Shuai MAMEDAU (BLR)
Zahari Rosenov ZASHEV (BUL)
Antonio KAMENJASEVIC (CRO)
Rajbek Alvievich BISULTANOV (DEN)
Ahmed Ibrahim Gomaa HASSAN (EGY)
Matias Olavi Iisakki LIPASTI (FIN)
Bakuri GOGOLI (GEO)
Karan MOSEBACH (GER)
Zotlan LEVAI (HUN)
Sajan SAJAN (IND)
Seyedmohammad Seyedali CHOOBCHIAN LANGEROUDI (IRI)
Riccardo Vito ABBRESCIA (ITA)
Tamerlan SHADUKAYEV (KAZ)
Renat ILIAZ UULU (KGZ)
Paulius GALKINAS (LTU)
Daniel CATARAGA  (MDA)
Brage Haugmo RINGHEIM (NOR)
Krzysztof Marek NIKLAS (POL)
George Vlad MARIEA  (ROU)
Ismail SAIDKHASANOV (RUS)
Andrija Luka MALETIN (SRB)
Leos DRMOLA(SVK)
Khalid KERCHIYEV (SWE)
Daler REZA ZADE (TJK) 
Fatih CENGIZ (TUR)
Elmar NURALIIEV (UKR)
Jesse Alexander PORTER (USA)       
82kg    
Gegham TORGOMYAN (ARM)
Eltun VAZIRZADE (AZE)
Mikita KLIMOVICH (BLR)
Rosian Ognyanov DERMANSKI (BUL)
Haitao QIAN (CHN)
Filip SACIC (CRO)
Ahmed Hassan Aly Mahmoud AHMED (EGY)
Gela BOLKVADZE (GEO)
David LOSONCZI (HUN)
Sanjeet SANJEET (IND)
Mahdi Asgar EBRAHIMI (IRI)
Takahiro TSURUDA (JPN)
Yevgeniy POLIVADOV(KAZ)
Abdulaziz ASHYMBEKOV (KGZ)
Viorel BURDUJA (MDA)
Mihail BRADU(MDA)
Szymon SZYMONOWICZ (POL)
Nicu Samuel OJOG (ROU)
Vaag MARGARIAN (RUS)
Zarko DICKOV  (SRB)
Oskar Alexander Patrick JOHANSSON (SWE)
Sukhrob ABDULKHAEV (TJK)
Burhan AKBUDAK (TUR)
Yaroslav FILCHAKOV (UKR)
Carter Joseph NIELSEN (USA)
Jalgasbay BERDIMURATOV (UZB)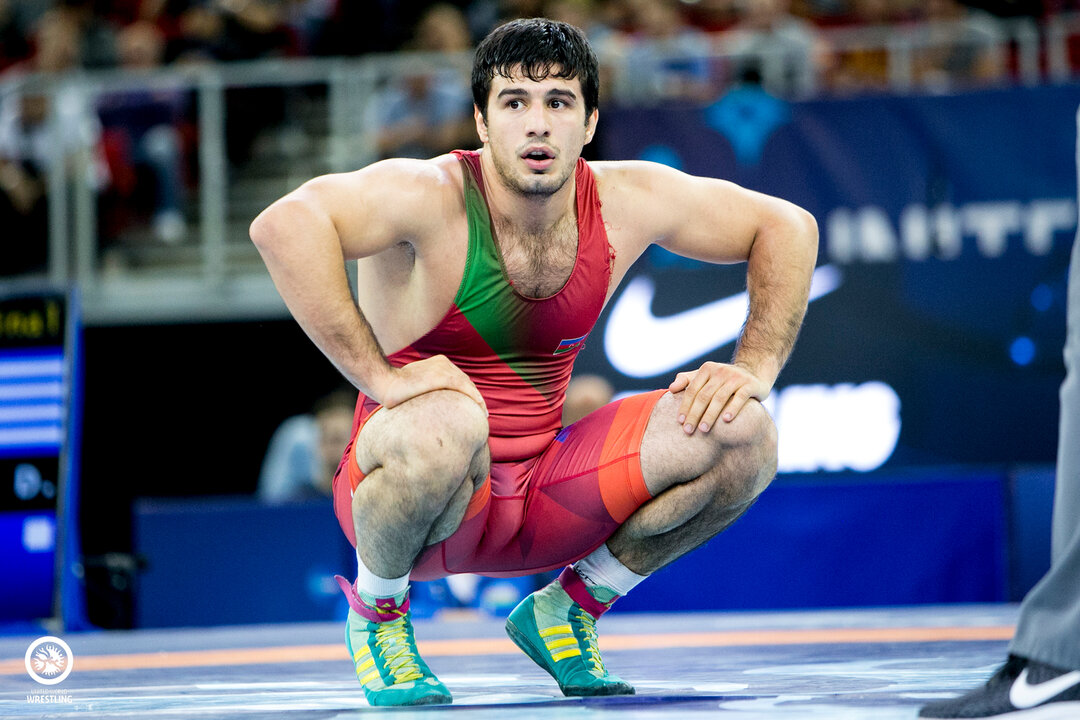 Reigning U23 world bronze medalist, Islam ABBASOV (AZE). (Photo by Max Rose-Fyne) 
87kg    
Bachir SID AZARA (ALG)
Islam ABBASOV (AZE)
Anton KURS (BLR)
Yoan Danielov DIMITROV (BUL)
Junjie NA (CHN)
Ivan HUKLEK (CRO)
Daniel GREGORICH HECHAVARRIA (CUB)
Mohamed Moustafa Ahmed Abdall METWALLY (EGY)
Toni Heikki Herman METSOMAEKI (FIN)
Khalis Salah Mohamed Ramadan GHILMANOU( FRA)
Gurami KHETSURIANI(GEO)
Bertalan PAPP(HUN)
Kumar SUNIL  (IND)
Mahdi Ebrahim FALLAHHAMIDABADI (IRI)
Kanta SHIOKAWA (JPN)
Elmar UKALI (KAZ)
Kalidin ASYKEEV (KGZ)
Martynas NEMSEVICIUS (LTU) 
Michal Andrzej DYBKA (POL)
Ionut Alexandru CARAS (ROU)
Gazi KHALILOV (RUS)
Boris PETRUSIC (SRB) 
Kristoffer Zakarias BERG (SWE)
Ali CENGIZ  (TUR)
Semen NOVIKOV (UKR)
George SIKES IV (USA)
97kg    
Orkhan NURIYEV (AZE)
Dzmitry KAMINSKI (BLR)
Simeon Srdzhan STANKOVICH (BUL)
Abudourexiti ALIMUJIANG (CHN)
Kevin BAUMANN (EST)
Matti Elias KUOSMANEN (FIN)
Giorgi MELIA (GEO)
Jan ZIRN (GER)
Anestis ZARIFES (GRE)
Kevin MEJIA CASTILLO(HON)
Zsolt TOEROEK (HUN)
Deepanshu DEEPANSHU (IND)
Ali Akbar HEIDARI (IRI)
Nikoloz KAKHELASHVILI (ITA)
Yuta NARA (JPN)
Olzhas SYRLYBAY (KAZ)
Uzur DZHUZUPBEKOV(KGZ)
Romas FRIDRIKAS (LTU)
Gerard Cyprian KURNICZAK (POL)
Cristian Teodor CHIRA(ROU)
Aleksandr GOLOVIN (RUS)
Dorde PESUT  (SRB)
Aslan KULIYEV(TKM)
Suleyman ERBAY (TUR)
Vladen KOZLIUK (UKR)
Tracy Gangelo HANCOCK (USA)
Temur Mirzo MAMAJANOV (UZB)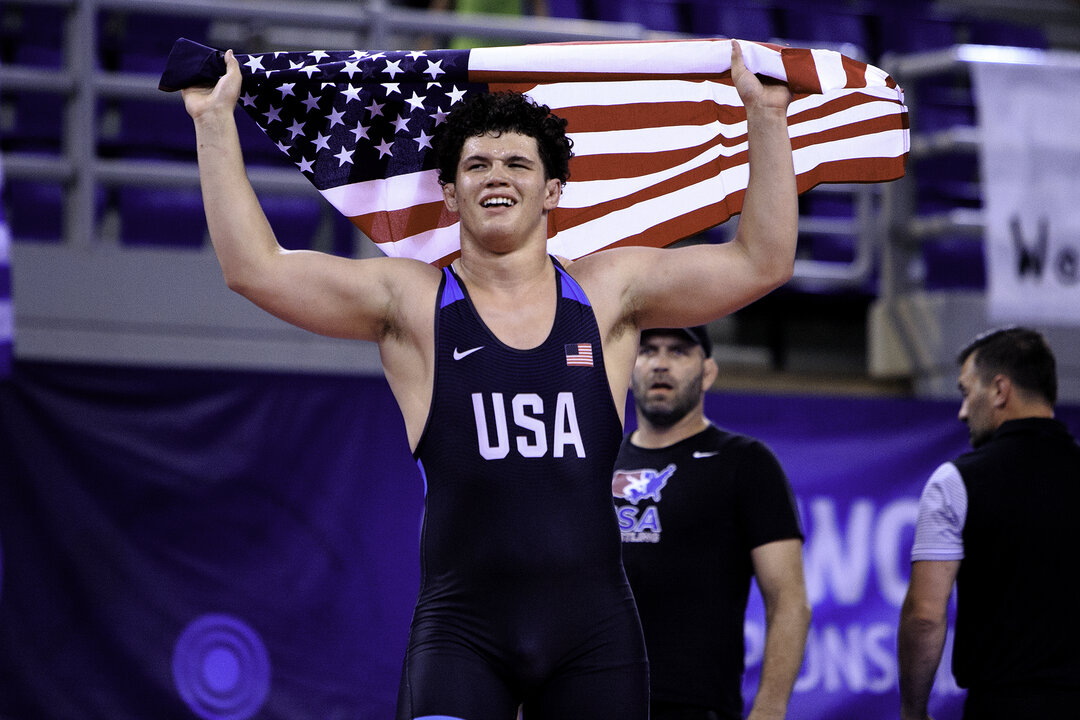 Cadet world champion and junior world silver medalist, Cohlton SCHULTZ (USA). (Photo by Max Rose-Fyne)
130kg  
Edgar KHACHATRYAN(ARM)
Artsiom SHUMSKI (BLR) 
Shuai KONG (CHN)
Ante MILKOVIC (CRO)
Abdellatif Mohamed Ahmed MOHAMED (EGY)
Artur VITITIN (EST)
Konsta Johannes MAEENPAEAE (FIN)
Zviadi PATARIDZE (GEO)
Jello KRAHMER (GER)
Ravi SHARMA(IND)
Aliakbar Hossein YOUSOFIAHMADCHALI (IRI)
Satoshi KAIZUKA (JPN) 
Mansur SHADUKAYEV(KAZ)
Oskar MARVIK(NOR)
Rafal Andrzej KRAJEWSKI (POL)
Lenard Istvan BEREI (ROU)
Nokhcho LABAZANOV(RUS)
Boban ZIVANOVIC (SRB)
Georgii NOGAEV (SVK)
Azmuddin VAKHOBOV (TJK)
Osman YILDIRIM (TUR)
Andrii VOZNIUK (UKR)
Cohlton Michael SCHULTZ (USA)
Daler RAKHMATOV (UZB)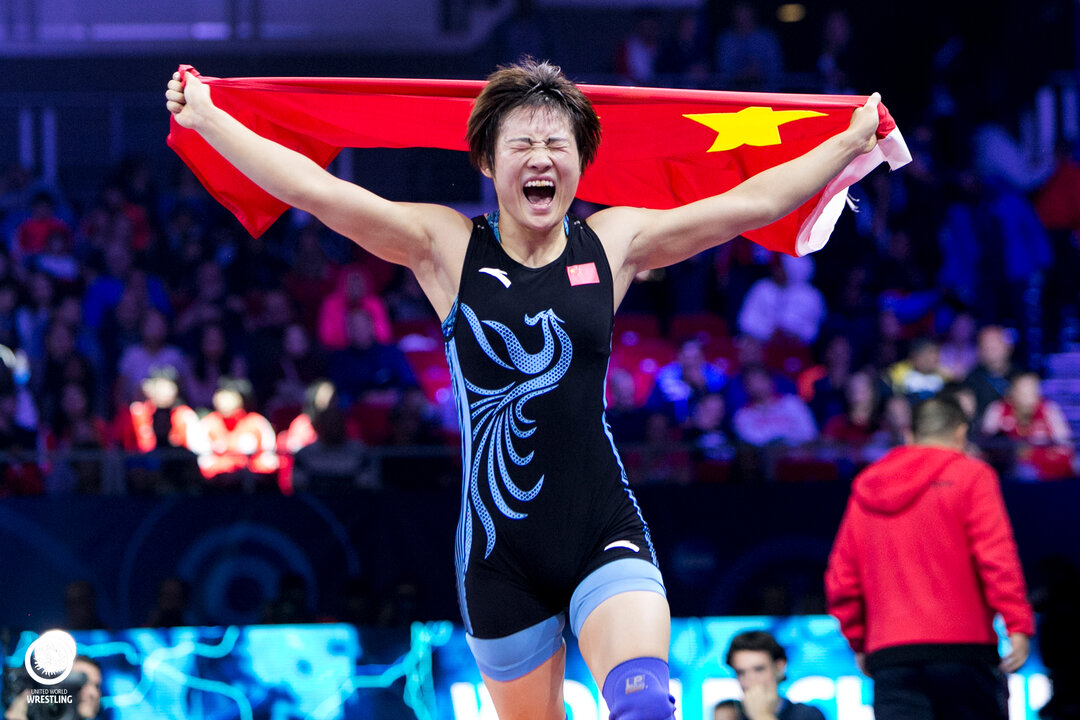 China's 2018 57kg world champion RONG Ningning is entered at 59kg. Photo by Max Rose-Fyne.
Women's Wrestling 
50kg    
Turkan NASIROVA (AZE)
Kseniya STANKEVICH (BLR)
Natassya LU (CAN)
Yuhong ZHONG (CHN)
Ainztane GORRIA GONI (ESP)
Lisa ERSEL (GER)
Bianka RECZI (HUN)
Divya TOMAR  (IND)
Miho IGARASHI (JPN)
Svetlana ANKICHEVA  (KAZ)
Namuuntsetseg TSOGT OCHIR (MGL)
Miesinnei Mercy GENESIS (NGR)
Dominika Karolina SZYNKOWSKA (POL)
Stefania Claudia PRICEPUTU (ROU)
Nadezhda SOKOLOVA(RUS)
Aynur ERGE (TUR)
Oksana LIVACH (UKR)
Cody Mae PFAU (USA)            
53kg    
Katsiaryna PICHKOUSKAYA (BLR)
Kremena Krasimirova PETROVA (BUL)
Kristina Katelyn MCLAREN (CAN)
Junling OUYANG (CHN)
Hilary Ysaline HONORINE (FRA)
Annika WENDLE (GER) 
Ankush ANKUSH (IND)
Momoka KADOYA (JPN)
Aigul NURALIM (KAZ)
Mariana DRAGUTAN (MDA)
Bolortuya BAT OCHIR(MGL)
Silje Knutsen KIPPERNES (NOR)
Katarzyna KAMINSKA (POL)
Andreea Beatrice ANA (ROU)
Milana DADASHEVA (RUS)
Zeynep YETGIL(TUR)
Khrystyna BEREZA (UKR)
Charlotte Michele FOWLER (USA)
Aktenge KEUNIMJAEVA (UZB)            
55kg    
Sviatlana LAMASHEVICH (BLR)
Chelsey Elizabeth SICARD (CAN)
Elena Heike BRUGGER(GER)
Ramona GALAMBOS (HUN)
Pinki PINKI (IND)
Saki IGARASHI(JPN)
Marina SEDNEVA (KAZ)
Bolor Erdene BAT ORSHIKH (MGL)
Suzanna Georgiana SEICARIU(ROU)
Marina SIMONYAN (RUS)
Mehlika OZTURK (TUR)
Khrystyna Zoryana DEMKO (UKR)
Dominique Olivia PARRISH (USA)
Shakhodat DJULLIBAEVA ((UZB)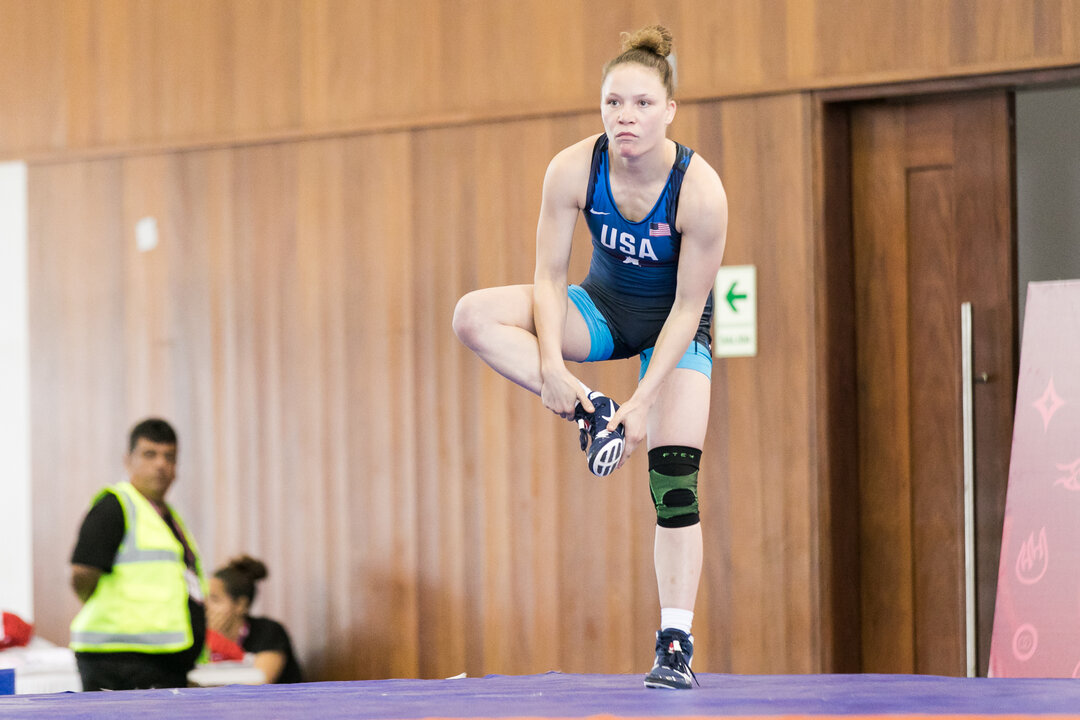 Last year's world bronze meadlist, Becka LEATHERS (USA). (Photo by Stephen Alvarado)
57kg    
Alyona KOLESNIK (AZE) 
Alexandria Rebekkah TOWN (CAN)
Qi ZHANG (CHN)
Graciela SANCHEZ DIAZ (ESP)
Tamara DOLLAK (HUN)
Neetu NEETU (IND)
Akie HANAI (JPN)
Altynay SATYLGAN (KAZ)
Tserenchimed SUKHEE (MGL)
Madalina Simona TUDOR (ROU)
Alexandra ANDREEVA(RUS)
Elif YANIK (TUR)
Alina AKOBIIA(UKR)
Becka Anne LEATHERS (USA)
Amina ALIMBETOVA (UZB)            
59kg    
Nade DRAGUNOVA (BLR)
Laurence BEAUREGARD (CAN)
Ningning RONG (CHN)
Anjali ANJALI (IND)
Yuzuru KUMANO (JPN)
Madina BAKBERGENOVA (KAZ)
Kornelija ZAICEVAITE (LTU)
Anastasia NICHITA (MDA)
Alejandra ROMERO BONILLA(MEX)
Narantsatsral NARMANDAKH(MGL)
Bisola MAKANJUOLA (NGR)
Grace Jacob BULLEN (NOR)
Katarzyna MADROWSKA (POL)
Denisa Iuliana FODOR(ROU)
Zelfira SADRADDINOVA (RUS)
Nuray KARADAG (TUR)
Olena KREMZER (UKR)
Abigail Elizabeth NETTE (USA)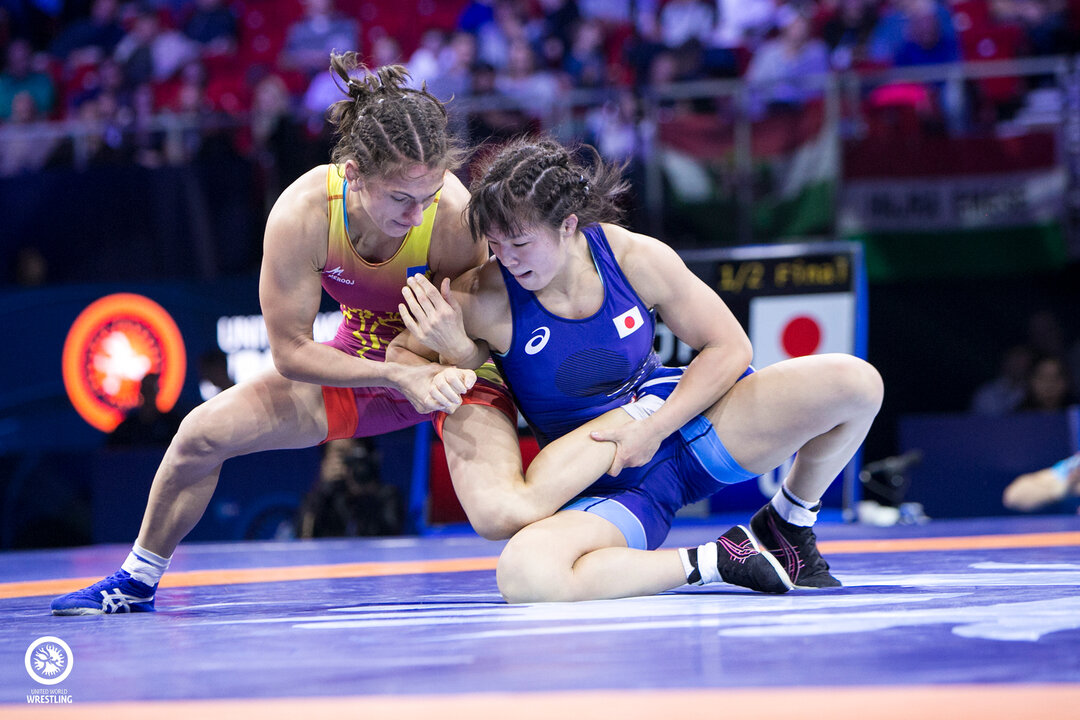 Yukako KAWA (JPN) is coming off a runner-up finish at the 2018 World Championships. (Photo by Max Rose-Fyne)
62kg
Kathrin MATHIS (AUT)
Krystsina SAZYKINA (BLR)
Braxton Rei STONE (CAN)
Lydia PEREZ TOURINO(ESP)
Luisa Helga Gerda NIEMESCH (GER)
Viktoria FELHO (HUN)
Devi POOJA (IND)
Aurora CAMPAGNA (ITA)
Yukako KAWA I(JPN)
Irina KUZNETSOVA (KAZ)
Gantuya ENKHBAT  (MGL)
Natalia Gizela KUBATY (POL)
Kriszta Tunde INCZE (ROU)
Tatiana SMOLIAK (RUS)
Maria JUHASZOVA (SVK)
Olivia Louise HENNINGSSON (SWE) 
Asli TUGCU (TUR)
Ilona PROKOPEVNIUK(UKR)
Kayla Colleen Kiyoko MIRACLE (USA)
Sakhipjamal ALEUATDINOVA(UZB)            
65kg    
Hanna SADCHANKA (BLR)
Sofiya Hristova GEORGIEVA (BUL)
Haley Ann Noelle HEFFEL (CAN)
Yumei ZHONG(CHN)
Luzie MANZKE(GER)
Reshma Anil MANE (IND)
Ayana GEMPEI(JPN)
Aina TEMIRTASSOVA  (KAZ)
Danute DOMIKAITYTE(LTU)
Bolortuya KHURELKHUU (MGL)
Adina Ionela IRIMIA (ROU)
Mariia KUZNETSOVA (RUS)
Amasallay JALLOH (SLE)
Moa Lena Maria NYGREN (SWE)
Asli DEMIR (TUR)
Iryna KOLIADENKO (UKR)
Forrest Ann MOLINARI (USA)
Bakhtigul BALTANIYAZOVA (UZB)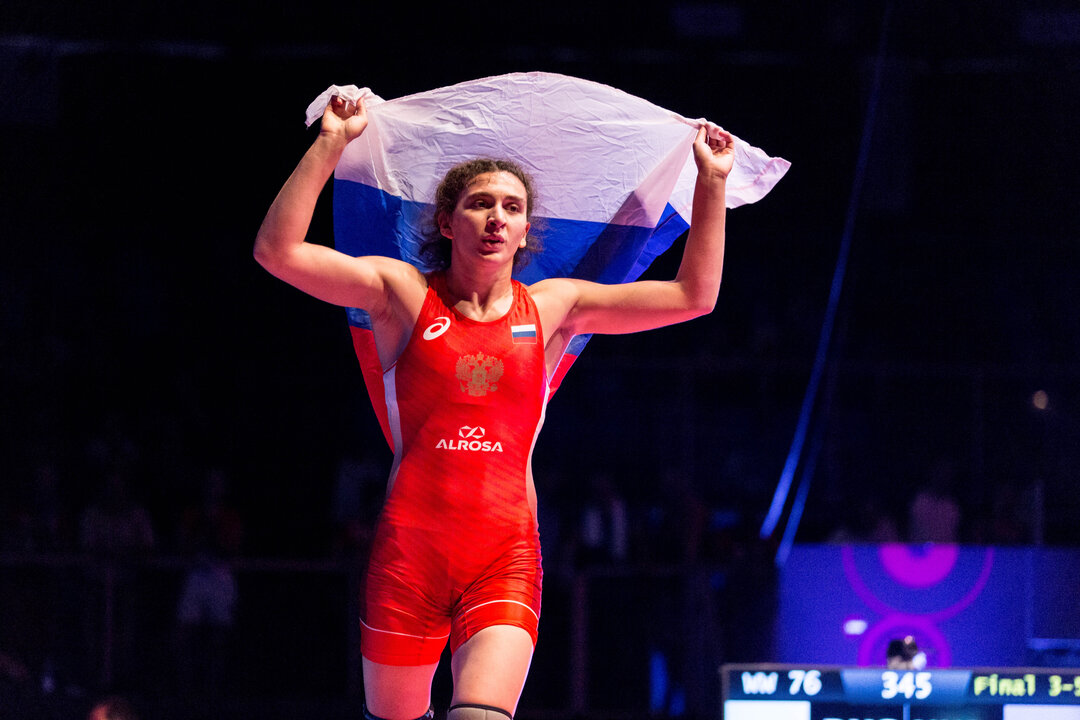 Four-time age-level (two cadet and two junior) world champion, Khanum VELIEVA (RUS). (Photo by Max Rose-Fyne) 
68kg    
Viktoria Ivanova BOBEVA (BUL)
Alexia Rose SHERLAND (CAN)
Chuying TANG(CHN)
Yudari SANCHEZ RODRIGUEZ (CUB)
Samar Amer Ibrahim HAMZA(EGY)
Nikoletta Renata SZMOLKA (HUN)
Suman SUMAN (IND)
Miwa MORIKAWA (JPN)
Valeriya GONCHAROVA (KAZ)
Khishigmaa MUNKHBAT (MGL)
Natalia Iwona STRZALKA (POL)
Ana Simona BUIBAR (ROU)
Khanum VELIEVA (RUS)
Beste ALTUG (TUR)
Alla BELINSKA(UKR)
Alexandria Junis GLAUDE (USA)
72kg    
Shauna Ailein KUEBECK (CAN)
Xiaoqian WANG (CHN)
Naina NAINA  (IND)
Enrica RINALDI (ITA)
Naruha MATSUYUKI (JPN)
Zhamila BAKBERGENOVA (KAZ)
Kamile GAUCAITE (LTU)
Nomin Erdene PURVEE (MGL)
Patrycja SPERKA (POL)
Alexandra Nicoleta ANGHEL (ROU)
Evgeniia ZAKHARCHENKO (RUS)
Buse TOSUN (TUR)
Romana VOVCHAK (UKR)
Rachel Ann WATTERS (USA)
Shakhribonu ELLIEVA  (UZB)
76kg    
Sabira ALIYEVA (AZE)
Gracelynn DOOGAN (CAN)
Paliha PALIHA(CHN)
Estefania del Jesus RAMIREZ PERDOMO (ESP)
Francy RAEDELT (GER)
Pooja POOJA (IND)
Yasuha MATSUYUKI  (JPN)
Gulmaral YERKEBAYEVA (KAZ)
Zagardulam NAIGALSUREN (MGL)
Iselin Maria Moen SOLHEIM (NOR)
Catalina AXENTE (ROU)
Daria SHISTEROVA (RUS)
Aysegul OZBEGE (TUR)
Anastasiia SHUSTOVA(UKR)
Korinahe Jacquia BULLOCK (USA)