Chamizo Wins Clash Against Gazimagomedov, Claims Fourth European Title
Sunday, February 16, 2020 - 20:36 By Eric Olanowski
ROME, Italy (February 16) --- Frank CHAMIZO (ITA) dramatically claimed his fourth European title in front of a friendly Italian crowd on Sunday. He scored the match-deciding takedown with under 25 seconds left to defeat fellow two-time world champion Magomedrasul GAZIMAGOMEDOV (RUS), 5-3. 
After winning his fourth European gold medal, Chamizo said this win was the sweetest because it was in front of his hometown Italian fans. "This (European title) is the best. It's in my home; It's the best," he said. "European people say Italy doesn't know about wrestling. Today, everyone was here to support me, and that's amazing. I want to say thank you to the Italian people for coming."
Chamizo entered the European Championships ranked No. 2 in the world, trailing reigning two-time world champion Zaurbek SIDAKOV (RUS) by 20 points. He grabbed the 22-point gold medal and is the new top-ranked wrestler in the world at 74kg. 
"I'm wrestling in Poland. It's a Ranking Series tournament and I want to come into (the Olympic Games) ranked No. 1," he said. 
In the finals, Chamizo scored an inactivity point in the first period, but conceded a left-sided single leg and fell behind 2-1. 
In the second period, the Italian superstar fought off a near-takedown on the edge, and luckily for him, the refs awarded Gazimagomedov the one-point stepout point and not the two-point takedown, putting the Russian in front, 3-1. Chamizo, who trailed by two points, snapped Gazimagomedov to the mat and spun behind, but the Russian kicked out and surrendered the stepout point.
Chamizo trailed 3-2 when he jammed Gazimagomedov's double-leg attempt with his heavy hips and spun behind for the match deciding takedown. "I knew he was coming. He needed to take my legs to win, he said. "If you want, you can come. I have a surprise for you."
But there was still time on the clock and Chamizo nearly threw the match away with 10 seconds left. 
He gave up a single leg and was one second away from giving up the stepout. Chamizo held Gazimagomedov off long enough to defend his European crown from last year and win his fourth continental title. "The outside people say the match is too close. But, when you know you've trained good, you can do whatever you want." 
After the award ceremony, Chamizo stated he believes that Gazimagomedov is a lot better than the man that beat him in last year's world finals, Zaurbek Sidakov. "(Sidakov) is a cool guy, and he's training good, but I think (Gazimagomedov) is much better than him," Chamizo said. "Look, (Sidakov and I) wrestled in 2018, and my training was about 50%. I didn't perform. It was the same thing in 2019. My knee and ankle weren't good. Right now, I'm good. But, where is (Sidakov)?"
 
After winning the Ivan Yariguin title, Gazimagomedov stated a similar opinion as Chamzio. He said, "In Russia, many understand that I will win against Sidakov, but perhaps we will not be allowed to meet on the mat because we don't have a very transparent selection system."
As it sits now, Sidakov is the top choice to represent Russia at the Olympic Games. But, Gazimagomedov's Yariguin win and European silver-medal finish further his case that he deserves at least a wrestle-off to show just how worthy of a competitor he is.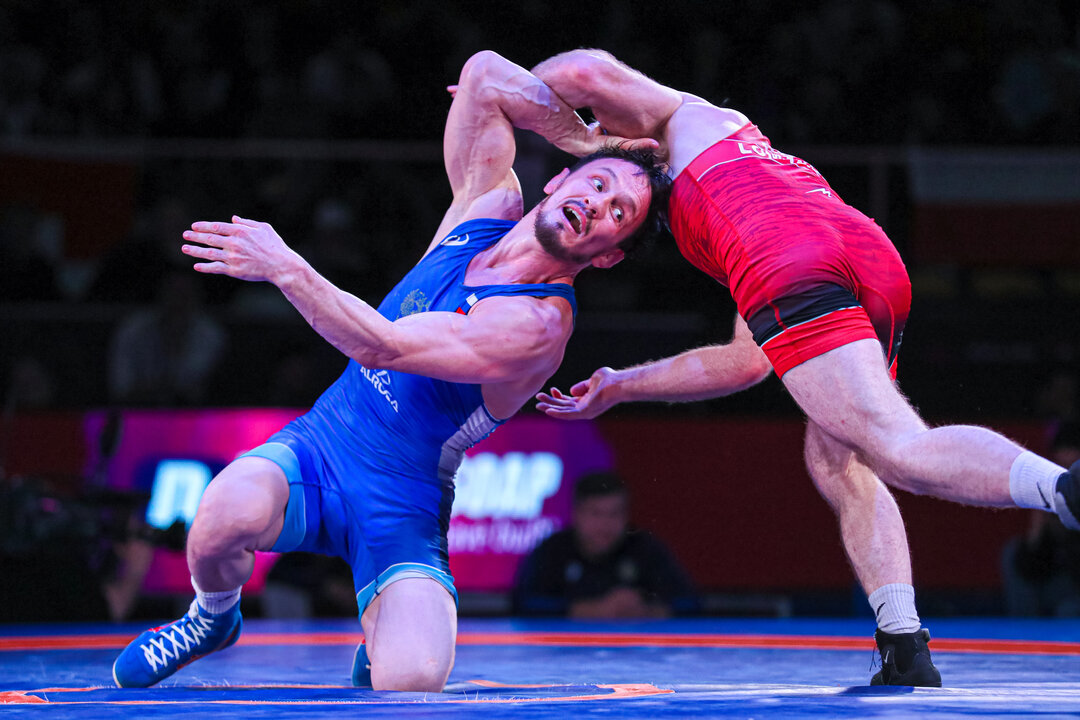 Aleksandr BOGOMOEV (RUS) attacks Beka LOMTADZE (GEO) in the 61kg European finals. (Photo: Kadir Caliskan)
Bogomoev and Naifonov Close out Team-Title Run for Russia 
Aleksandr BOGOMOEV (RUS) and Artur NAIFONOV (RUS) reeled in gold medals and helped the Russian Federation lock up the freestyle team title. Russia finished with 186 points, which was 70 points ahead of second-place Azerbaijan and 91 points ahead of third-place Georgia. 
Bogomoev defeated the reigning world champion and the returning European champion en route to the 61kg gold medal. His win on Sunday added Russia's dominating lightweight performance in which they won gold in the first three weight classes. 
Bogomoev joined lightweights Azamat TUSKAEV (RUS) and Kurban SHIRAEV (RUS), who won the 57kg and 65kg gold medals, respectively. 
Bogomoev scored a last-second takedown against returning European champion Arsen HARUTYUNYAN (ARM) and moved into the finals with the 5-5 criteria win. He closed his run to the non-Olympic weight gold medal with a one-point win over returning world champion Beka LOMTADZE (GEO). 
In the finals, Bogomoev commanded a convincing 3-0 lead midway through the second period. He scored an inactivity point, then capitalized on a high crotch while he was on the shot clock. He gave up a second-period takedown, which cut his lead to one point. Bogomoev fought off a flurry of Georgian attacks and won his second European title and first defeating Lomtadze in the 2015 European Games.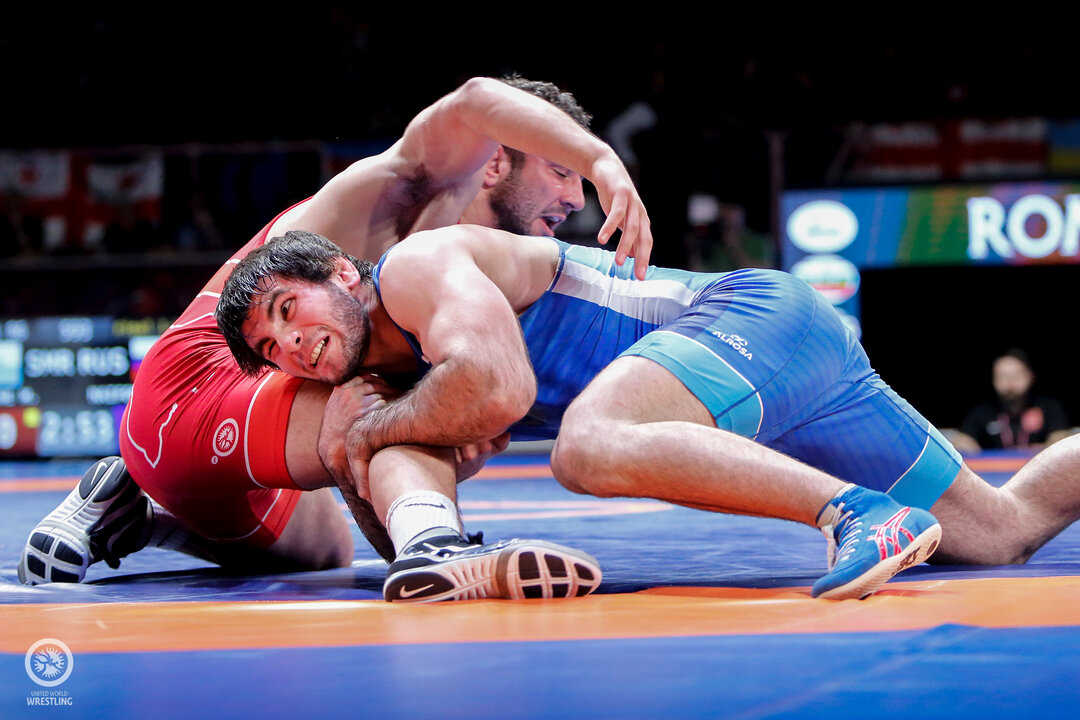 Artur NAIFONOV (RUS) finishes a shot on Myles AMINE (SMR) in the 86kg finals. (Photo: Gabor Martin)
Artur Naifonov was the second Russian of the day and fifth of the tournament to claim European gold. He stopped Myles AMINE (SMR) from becoming the first athlete from San Marino to ever win a European title with a 4-0 shutout win in the 86kg finals. 
In the gold-medal match, Naifonov scored three stepouts and an inactivity point and won his second European title and first since winning the 2018 crown in Dagestan, Russia.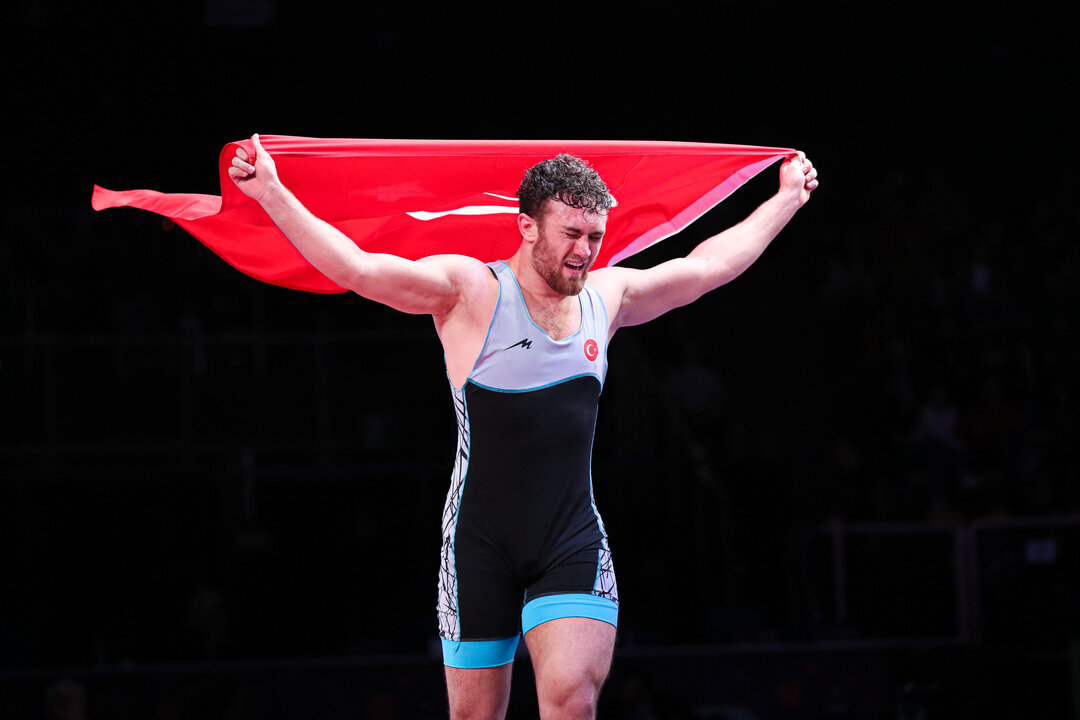 Suleyman KARADENIZ (TUR) carries the Turkish flag around the mat after defeating Samuel SCHERRER (SUI) in the 92kg finals. (Photo: Kadir Caliskan)
Karadeniz and Petriashvili Claim Final Two European Golds 
Suleyman KARADENIZ (TUR) and Geno PETRIASHVILI (GEO) claimed the final two golds of the European Championships. 
At 92kg, Karadeniz stopped Samuel SCHERRER (SUI) from ending Switzerland's 85-year freestyle continental gold-medal drought. 
Karadeniz snuck behind Scherrer and nearly scored the matches first takedown but ran out of real estate and collected the inactivity point. He picked up another stepout, then tacked on an inactivity point and claimed his first European title with a 3-0 shutout victory.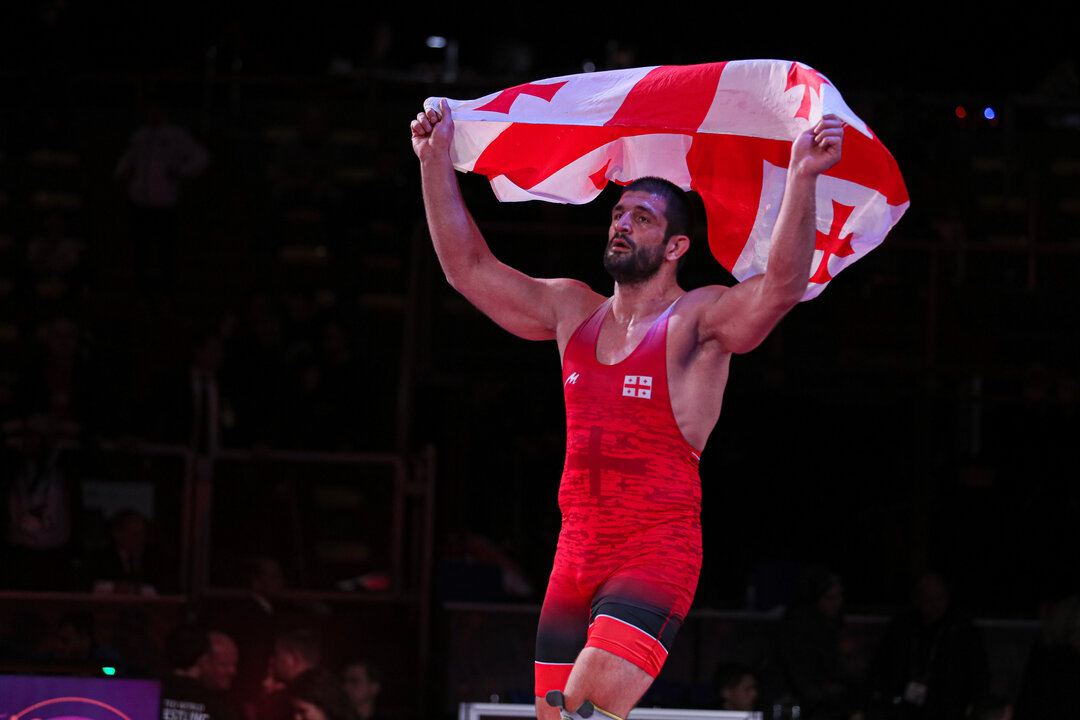 Geno PETRIASHVILI (GEO) won his second European title with an 11-0 win over Robert BARAN (POL) in the 125kg gold-medal match. (Photo: Kadir Caliskan)
Petriashvili stopped Robert BARAN (POL) for the second time in the European finals and won his second European title. The three-time world champion ended the match in the first period after scoring the 11-0 technical superiority victory. His 11 points came from a stepout, two takedowns and three gut wrenches.
RESULTS
61kg
GOLD - Aleksandr BOGOMOEV (RUS)Beka LOMTADZE (GEO), 3-2
BRONZE - Arsen HARUTYUNYAN (ARM) df. Georgios PILIDIS (GRE), via injury default 
BRONZE - Nikolai OKHLOPKOV (ROU) df. Intigam VALIZADA (AZE), 3-1 
74kg 
GOLD - Frank CHAMIZO (ITA) df. Magomedrasul GAZIMAGOMEDOV (RUS), 5-3 
BRONZE - Soner DEMIRTAS (TUR) df. Murad KURAMAGOMEDOV (HUN), 5-0 
BRONZE -  Avtandil KENTCHADZE (GEO) df. Miroslav KIROV (BUL), via fall 
86kg 
GOLD - Artur NAIFONOV (RUS) df. Myles Nazem AMINE (SMR), 4-0 
BRONZE - Boris MAKOEV (SVK) df. Akhmed Adamovitch MAGAMAEV (BUL), 6-5 
BRONZE - Rasul TSIKHAYEU (BLR) df. Lars SCHAEFLE (GER), 5-4 
92kg 
GOLD - Suleyman KARADENIZ (TUR) df. Samuel SCHERRER (SUI), 3-0 
BRONZE - Aslanbek ALBOROV (AZE) df. Irakli MTSITURI (GEO), 2-0 
BRONZE - Amarhajy MAHAMEDAU (BLR) df. Marzpet GALSTYAN (ARM), 7-0 
125kg 
GOLD - Geno PETRIASHVILI (GEO) df. Robert BARAN (POL), 11-0 
BRONZE - Levan BERIANIDZE (ARM) df. Jamaladdin MAGOMEDOV (AZE), 2-2  
BRONZE - Baldan TSYZHIPOV (RUS) df. Oleksandr KHOTSIANIVSKYI (UKR), 4-1