Chamizo Storms into FS Finals, Russia Advances 3
Wednesday, December 16, 2020 - 18:13 By United World Wrestling Press
BELGRADE, Serbia (December 16) -- Two-time world champion Frank CHAMIZO (ITA) stormed into the 74kg finals on the first day of freestyle competition at the Individual World Cup in Belgrade, Serbia.
The 28-year-old Chamizo, a 2016 Olympic bronze medalist, finished the day 4-0, capped off by a 10-0 technical superiority over Azamat NURYKAU (BLR) in the semifinals. After getting a pair of takedowns in the opening period, Chamizo blew the match open in the second period after a four-point takedown, which was challenged and upheld. He then finished the match with a step out. 
Chamizo will meet Razambek ZHAMALOV (RUS) in the 74kg final. Zhamalov moved into the 74kg final with a 5-0 shutout over Tajmuraz SALKAZANOV (SVK). The Russian scored his first three points off step outs before adding a two-point exposure late in the match off a desperation attempt by Salkazanov.
Zhamalov was one of four semifinal winners for Russia on Wednesday. Russia's other semifinal winners included Zavur UGUEV (57kg), Alikhan ZHABRAILOV (92kg) and Shamil SHARIPOV (125kg).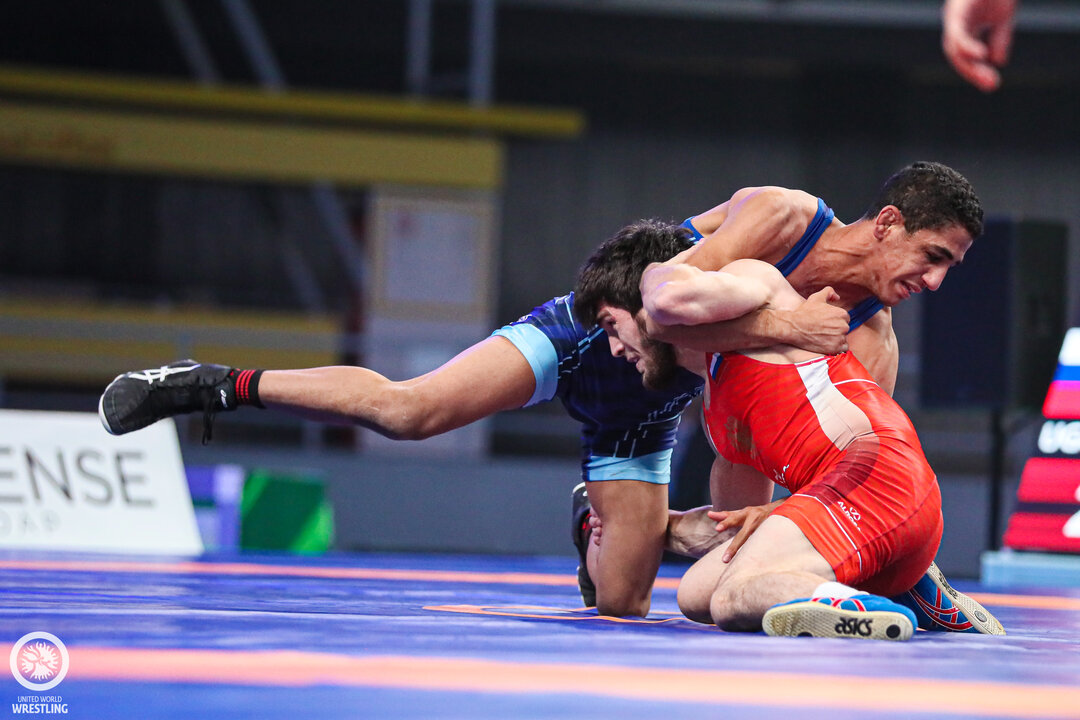 Two-time world champion Zavur UGUEV (RUS) advanced to the 57kg final (Photo: Kadir CALISKAN, UWW)

The two-time world champion Uguev earned his spot in the 57kg final with a fall over two-time cadet world champion Rahman AMOUZADKHALILI (IRI). The first period was competitive, with Uguev holding a 2-1 lead at the break. In the second period, Ugaev was able to expose Amouzadkhalili before getting the fall. He will face Arsen HARUTYUNYAN (ARM) in the 57kg final. The Armenian earned a 7-4 win over Stevan MICIC (SRB) in the semifinals. 
Zhabrailov was dominant in his 92kg semifinal, rolling to a 10-0 technical superiority over Arkadzi PAHASIAN (BLR). He quickly went up 6-0 after a takedown and a pair of gut wrenches. Zhabrailov ended the match with a takedown and two-point exposure. 


Georgii RUBAEV (MDA) came from behind to win in his semifinal at 92kg (Photo: Gabor MARTIN, UWW)

Georgii RUBAEV (MDA) won the other 92kg semifinal with a comeback victory over Gadzhimurad MAGOMEDSAIDOV (AZE). Magomedsaidov was in control for much of the match. He scored his first point off a passivity before getting a takedown to go up 3-0, which he took into the break. The Azerbaijani wrestler extended his lead to 5-0 in the second period after a takedown. The tide turned, however, in the second period when Rubaev countered an attack and threw Magomedsaidov for four points. The call was challenged and upheld, giving Rubaev the 5-5 criteria lead. He would then hold on for the victory.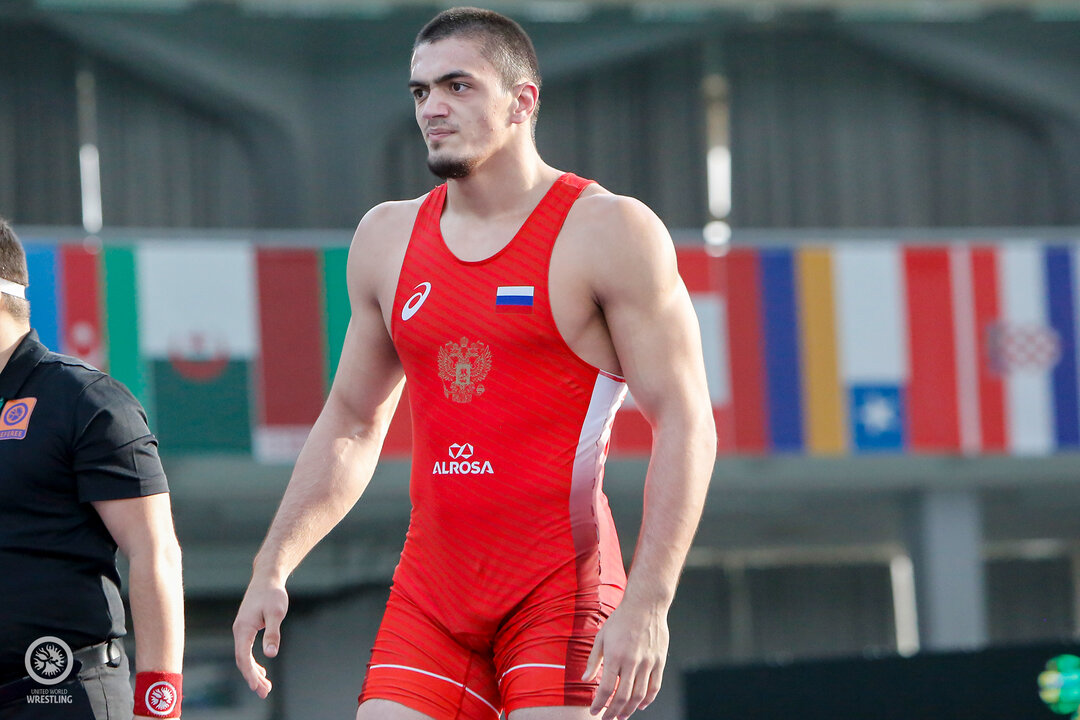 Shamil SHARIPOV (RUS) was dominant in his semifinal match at 125kg (Photo: Gabor MARTIN, UWW)

Russia's fourth semifinal winner, Sharipov, advanced to the gold-medal match with a 13-2 technical superiority over Dzianis KHRAMIANKOU (BLR). After going up 4-0 after the opening period, Sharipov added three more takedowns and a step out before ending the match with a gut wrench.  
Robert BARAN (POL) advanced to the 125kg final with a 6-0 shutout over Aiaal LAZAREV (KGZ). Baran held a narrow 1-0 lead before pulling away in the second period on the strength of a takedown, step out and two-point exposure off a crotch lift. 
At 70kg, Haydar YAVUZ (TUR) blanked Islambek OROZBEKOV (KGZ) 6-0 to reach the 70kg final. He will face Magomedmurad GADZHIEV (POL) for gold. GADZHIEV won by injury default over Chermen VALIEV (RUS) in his semifinal match.
Freestyle Semifinal Results
57kg
Zavur UGUEV (RUS) df. Rahman Mousa AMOUZADKHALILI (IRI) by VFA, 4-1
Arsen HARUTYUNYAN (ARM) df. Stevan Andria MICIC (SRB) by VPO1, 7-4
70kg
Magomedmurad GADZHIEV (POL) df. Chermen VALIEV (RUS) by VIN, 0-0
Haydar YAVUZ (TUR) df. Islambek OROZBEKOV (KGZ) by VPO, 6-0
74kg
Razambek ZHAMALOV (RUS) df. Tajmuraz Mairbekovic SALKAZANOV (SVK) by VPO, 5-0
Frank CHAMIZO MARQUEZ (ITA) df. Azamat NURYKAU (BLR) by VSU, 10-0
92kg
Alikhan ZHABRAILOV (RUS) df. Arkadzi PAHASIAN (BLR) by VSU, 10-0
Georgii RUBAEV (MDA) df. Gadzhimurad MAGOMEDSAIDOV (AZE) by VPO1, 5-5
125kg
Robert BARAN (POL) df. Aiaal LAZAREV (KGZ) by VPO, 6-0
Shamil SHARIPOV (RUS) df. Dzianis KHRAMIANKOU (BLR) by VSU1, 13-2