Cataraga Becomes First to Win Back-to-Back U23 World Titles
Tuesday, November 13, 2018 - 18:33 By Taylor Miller
Photo of Daniel CATARAGA (MDA) by Martin Gabor. 
BUCHAREST, Romania – Daniel CATARAGA (MDA) became the first two-time U23 World champion in history, winning the 77 kg weight class on Tuesday night at the U23 World Championships in Bucharest, Romania.
After winning the 2017 U23 World title at 71 kg, Cataraga bumped up to 77 kg to claim his second, putting together a solid tournament to do so.
In gold-medal match, Cataraga faced 2018 U23 European champion Rajbek Alvievich BISULTANOV (DEN).
The Moldova native threw up six quick points on the board before securing a fall and the crown in 2:45.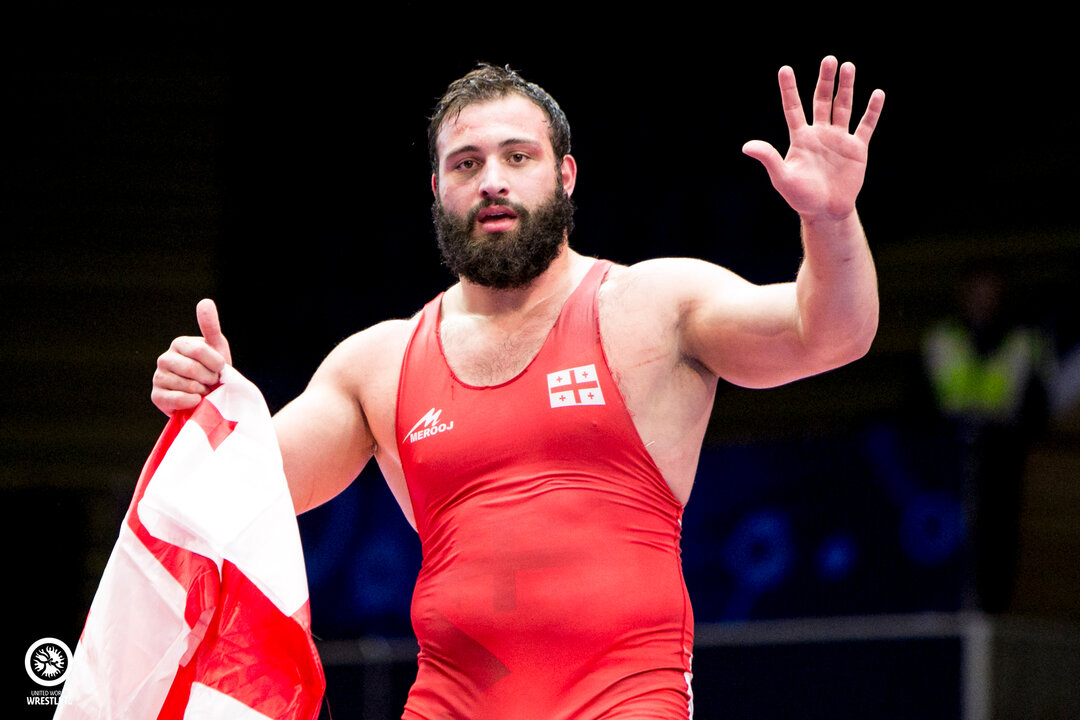 In the heavyweight finale, Zviadi PATARIDZE (GEO) battled back from a five-point deficit against Osman YILDIRIM (TUR) to win gold at 130 kg.
Yildirim led 5-0 at the break before Pataridze slowly chipped away at the lead, drawing a passivity, two caution-and-twos and a step out point to win his sixth age-group World championship.
In addition to his U23 World gold, Pataridze is a three-time Junior World champion and two-time Cadet World champion. Last year, Pataridze won silver at the U23 Worlds in Poland.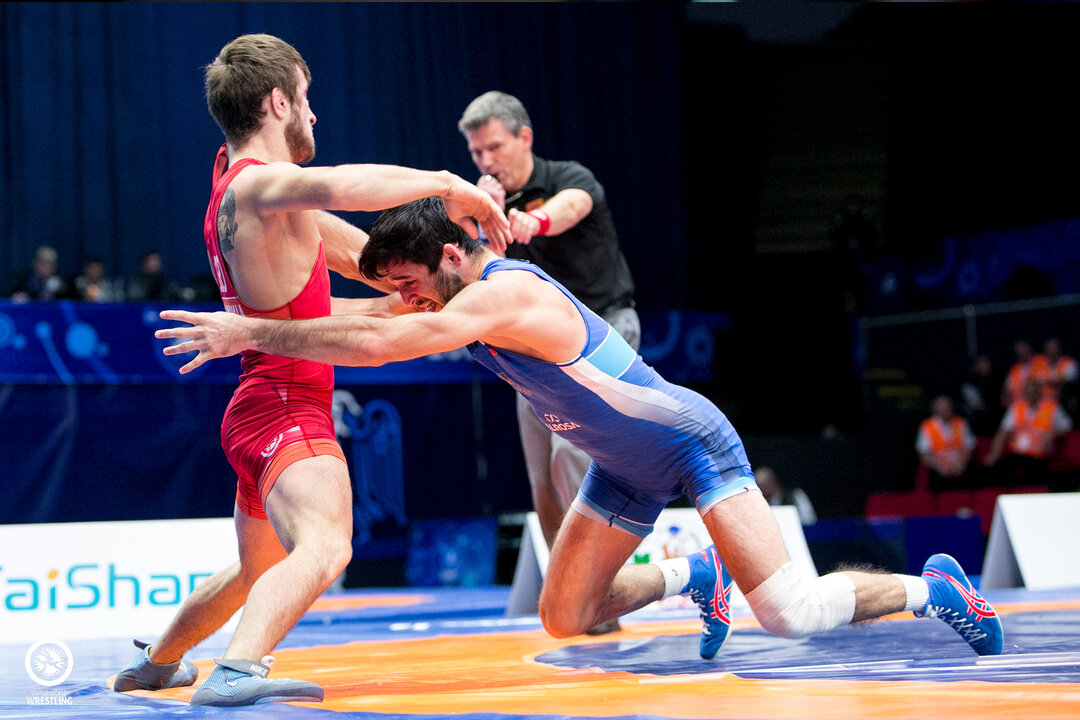 At 55 kg, Nugzari TSURTSUMIA (GEO), who won a Senior World bronze medal in Budapest, Hungary, just two weeks ago, topped the U23 World podium with a steady 3-2 win over 2018 Russia Nationals champion Vitalii KABALOEV (RUS).
Tsurtsumia scored all of his points in the first period and held off an aggressive Kabaloev in the second period for his first World title and second World medal of 2018.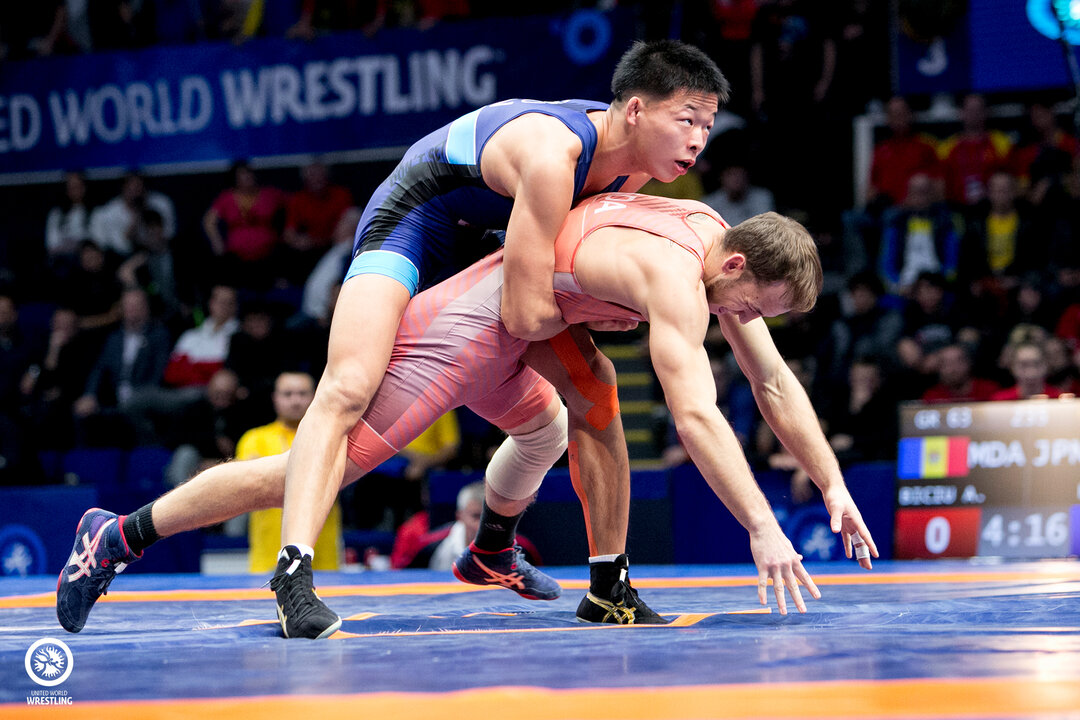 After taking 15th at Senior Worlds in Budapest, Katsuaki ENDO (JPN) dominated Alexandru BICIU (MDA) in the 63 kg finals, 8-0. Endo took advantage of a chance on top in par terre, where he scored five points after the initial passivity point. Endo closed out the match with a takedown late in the first period for the technical fall.
Semen NOVIKOV (UKR) claimed the 87 kg World title, besting 2018 Senior Pan American champion Daniel GRGEGORICH (CUB) with a 10-2 technical fall. Early in the second period, Novikov scored four points on a throw attempt from Gregorich, and moments later, the Ukrainian picked up a takedown to end the bout.
Finals results
Greco-Roman, 55 kg
GOLD – Nugzari TSURTSUMIA (GEO) dec. Vitalii KABALOEV (RUS), 3-2
BRONZE - Balbai DORDOKOV (KGZ) dec. Norayr HAKHOYAN (ARM), 7-3
BRONZE - Amangali BEKBOLATOV (KAZ) tech. fall Shota OGAWA (JPN), 8-0
Greco-Roman, 63 kg
GOLD – Katsuaki ENDO (JPN) df. Alexandru BICIU (MDA), 8-0
BRONZE – Mihai Radu MIHUT (ROU) df. Turabek TIRKASHEV (UZB), 11-2 
BRONZE – Oleksandr HRUSHYN (UKR) df. Meysam Karamali DALKHANI (IRI), 12-4
Greco-Roman, 77 kg
GOLD – Daniel CATARAGA (MDA) df. Rajbek Alvievich BISULTANOV (DEN), fall 2:45
BRONZE – Fatih CENGIZ (TUR) df. Khalid KERCHIYEV (SWE), 5-1  
BRONZE – Ismail SAIDKHASANOV (RUS) df. Sajan SAJAN (IND), 6-5  
Greco-Roman, 87 kg
GOLD – Semen NOVIKOV (UKR) df. Daniel GREGORICH (CUB), 10-2
BRONZE - Anton KURS (BLR) df. Gazi KHALILOV (RUS), 10-0
BRONZE - Islam ABBASOV (AZE) df. Mohamed METWALLY (EGY), 3-3
Greco-Roman, 130 kg
GOLD – Zviadi PATARIDZE (GEO) df. Osman YILDIRIM (TUR), 6-5
BRONZE - Abdellatif MOHAMED (EGY) df. Oskar MARVIK (NOR), 2-1
BRONZE – Aliakbar YOUSOFIAHMADCHALI (IRI) df. Konsta MAEENPAEAE (FIN), 5-0
Team standings (top-six)
1. Georgia – 58
2. Russia – 51
3. Ukraine – 46
4. Moldova - 45
5. Japan – 35
6. Turkey – 35