Carr Crushes Reigning World Champ Gadzhiyev; USA Puts Three into Wednesday Finals
Tuesday, August 13, 2019 - 16:17 By Eric Olanowski
TALLINN, Estonia (August 13) – David CARR (USA) crushed reigning junior world champion Khadzhimurad GADZHIYEV (AZE) in under a minute as the United States inserted three wrestlers into the Day 3 freestyle finals. Carr will be joined on Wednesday night by fellow Americans Lucas DAVISON (USA) and Mason Mark PARRIS (USA), who'll wrestle for gold at 92kg and 125kg, respectively. 
Carr cruised to a 10-0 win over reigning junior world champion Khadzhimurad Gadzhiyev after he transitioned into four laces from an early first-period low-level single leg takedown. "I knew that lace was coming. I knew that lace was coming," Carr repeatedly told his father as he headed back to the warm-up area. In his first world finals appearance, Carr will wrestle Jintaro MOTOYAMA (JPN), who moved past  BYAMBASUREN Bat-Erdene (MGL), 10-6 in the opposite 74kg semifinal. 
Lucas Davison and Mason Parris were the other two Americans who reached the Day 3 finals. Like Carr, both Davison and Parris ended their semifinal matches early to make their first trip to a world title bout.
Davison punched his ticket to the  finals with a fall over Mongolia's ENKHTUVSHIN Batmagnai in the semifinals. After a quick takedown, Davison dropped into a trio of leg laces and commanded the 8-0 lead. The American conceded a takedown and a gut -- which cut his lead to four points. While his Mongolian opponent was looking for a second turn, Davison planted him on his back and scored the fall to move into the finals against Alan BAGAEV (RUS), who bagged a 3-0 shutout win over Ertugrul AGCA (GER). 
The third American Day 3 finalist was Mason Parris, who pulverized Pasa KARABULUT (TUR), 13-2 in his 125kg semifinal bout. Parris will be paired with reigning cadet world champion Amir ZARE (IRI) in the gold-medal bout. Zare zipped pasted Alen KHUBULOV (RUS), 11-1 and will wrestle in his second consecutive age-level world gold-medal bout.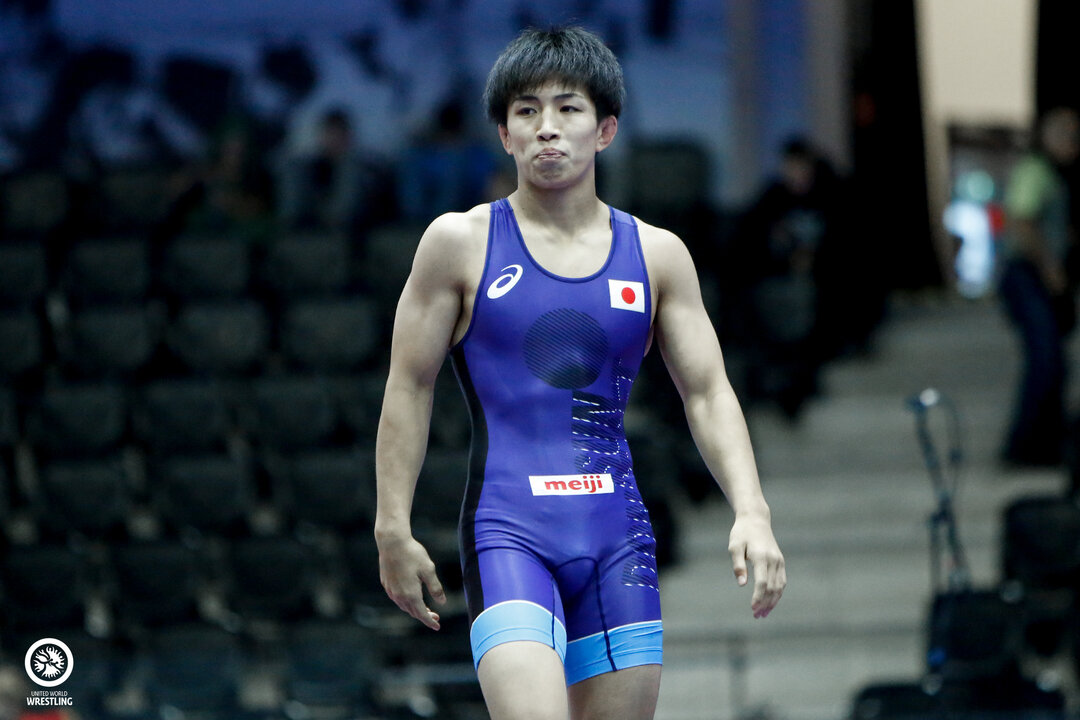 Kaiki YAMAGUCHI (JPN) will meet Andrii DZHELEP (UKR) in the 61kg finals after defeating Gabriel TAGG (USA), 12-2 in the semifinals. (Photo: Gabor Martin)
Meanwhile, Kaiki YAMAGUCHI (JPN) moved into the 61kg finals with a 12-2 throttling of Gabriel TAGG (USA). The match was relatively close (3-2) after the opening period, but the Japanese wrestler stockpiled points in the second period – ending the match with a takedown and a leg lace. He'll take on Ukraine's Andrii DZHELEP, who defeated Asgar MAMMADALIYEV (AZE), 11-5 in the other semifinal. 
The final gold medal bout to be determined on Tuesday night came at 86kg, where Alik SHEBZUKHOV (RUS) will meet India's senior-level world team representative Deepak PUNIA (IND). Shebzukhov squeaked out a 4-3 victory against Trent HIDLAY (USA), while Punia, a 2018 junior world silver medalist, picked up a 3-2 victory over Miriani MAISURADZE (GEO). 
The final session of freestyle wrestling begins on Wednesday night at 18:00 (local time) and will be broadcasted live on www.unitedworldwrestling.org.
RESULTS 
61kg
GOLD - Kaiki YAMAGUCHI (JPN) vs. Andrii DZHELEP (UKR)
SEMIFINAL - Kaiki YAMAGUCHI (JPN) df. Gabriel TAGG (USA), 12-2 
SEMIFINAL - Andrii DZHELEP (UKR) df. Asgar MAMMADALIYEV (AZE), 11-5
74kg
GOLD - Jintaro MOTOYAMA (JPN) vs. David CARR (USA)
SEMIFINAL - Jintaro MOTOYAMA (JPN) df. BYAMBASUREN Bat-Erdene (MGL), 10-0 
SEMIFINAL - David CARR (USA) df. Khadzhimurad GADZHIYEV (AZE), 10-0 
86kg 
GOLD - Deepak PUNIA (IND) vs. Alik SHEBZUKHOV (RUS) df
SEMIFINAL - Alik SHEBZUKHOV (RUS) df. Trent Niemond HIDLAY (USA), 4-3 
SEMIFINAL - Deepak PUNIA (IND) df. Miriani MAISURADZE (GEO), 3-2 
92kg
GOLD - Alan BAGAEV (RUS) vs. Lucas DAVISON (USA)
SEMIFINAL - Alan BAGAEV (RUS) df. Ertugrul AGCA (GER), 3-0 
SEMIFINAL - Lucas DAVISON (USA) df. Batmagnai ENKHTUVSHIN (MGL), via fall 
125kg
GOLD - Amir ZARE (IRI) vs. Mason Mark PARRIS (USA)
SEMIFINAL - Amir ZARE (IRI) df. Alen KHUBULOV (RUS), 11-1 
SEMIFINAL - Mason PARRIS (USA) df. Pasa KARABULUT (TUR), 13-2