Cadet Champ Kagami Strikes Blow Against Veteran Minagawa in Move Up to 76kg
Thursday, June 13, 2019 - 13:18 By Ken Marantz
TOKYO (June 13)---World cadet champion Yuka KAGAMI launched the first salvo in her bid to dethrone two-time world bronze medalist Hiroe MINAGAWA at 76kg, while Atsushi MATSUMOTO was dealt a setback in his attempt to move up to an Olympic weight class.
Kagami, coming off a gold-medal run at 72kg at the Asian Championships in April, defeated Minagawa 3-1 in their preliminary group match on the opening day of the All-Japan Invitational Championships, the second of the national qualifying tournaments for Japan's team to the World Championships known.
Kagami and Minagawa both advanced to the semifinals out of their three-woman group and could clash again in the final on Friday at the tournament known as the Meiji Cup at Tokyo's Komazawa Gym. 
"I knew that she wouldn't be an opponent who is easy to beat, so I trained really hard," Kagami said. "We just happened to meet in the first match. But I was prepared mentally and I think that was a factor in my win."
At 17, Kagami is 14 years Minagawa's junior, but showed no fear in scoring the winning takedown with 50 seconds left in their match. Both later defeated Rino Abe, the third wrestler in their group, to advance to the semifinals. 
In order to better prepare the wrestlers for the World Championships format, the Japan federation is running all weight classes over two days, even those with limited entries. 
Minagawa will face the winner of the other group, Yasuha MATSUYUKI, whom she beat 3-0 in the deciding round-robin bout for the title at the All-Japan Championships, known as the Emperor's Cup, in December.
Winners of the Emperor's Cup who take the gold at the Meiji Cup clinch a place on Japan's team to this year's World Championships in Kazakhstan. If the winners are different, they will meet in a playoff set for July 6.
There is added incentive for making the team to Nur-Sultan---the Japan Wrestling Federation has decreed that winning a medal there brings with it an automatic spot at the Tokyo 2020 Olympics, the ultimate goal for any Japanese wrestler. 
That has caused a scramble into the six Olympic weight classes for each style, bolstering those divisions while depleting the remainder. Kagami had won a watered-down 72kg class at the Emperor's Cup, but decided to move up to 76kg with the aim of appearing at Tokyo 2020.
Matsumoto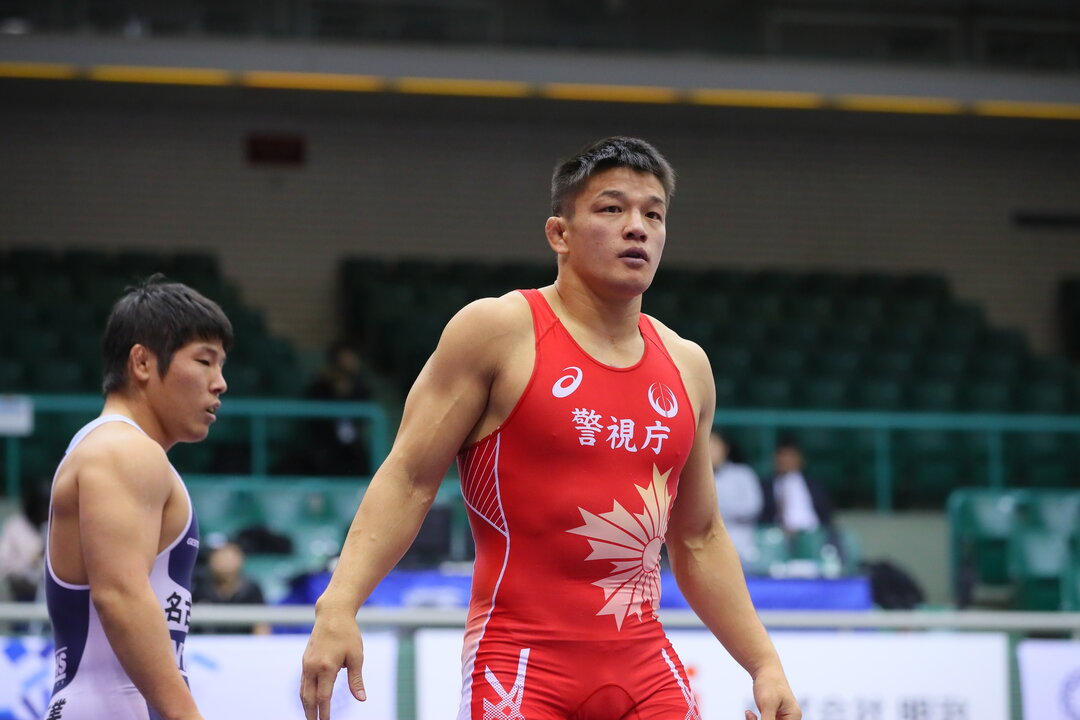 World bronze medalist Atsushi MATSUMOTO fell to Takeshi YAMAGUCHI, 4-2. (Photo: Sachiko Hotaka) 
Matsumoto, a world bronze medalist at freestyle 92kg, had the same idea when he decided to take a shot at the Olympic weight of 97kg. But that quest ended, for now, with a 4-2 loss to Takeshi YAMAGUCHI in the semifinals.
Matsumoto, who also won a bronze medal the Asian Championships in Xi'an, China, had a 2-0 lead, with both points coming on the activity clock. But Yamaguchi scored two takedowns in the final minute, the last coming as he fought off Matsumoto's counter-lift attempt.
"I scored on the activity clock, but didn't get any technical points, and that's how I lost," Matsumoto said. "There wasn't much I could do when I gave up the first takedown. But the fact that I couldn't come back, even with a pushout, showed more inferiority in strength."
Although he cut it close, Yamaguchi said the outcome was no surprise to him.
"The match went just as I imagined and I did what I had planned," Yamaguchi said. "From the start, Matsumoto is an opponent who goes on the attack. I didn't want to get stuck in his type of match, where we just lock up arms.
"In the second period, I was confident I could score. That's what I've been working on over the past six months. I knew I would get a chance for a single-leg tackle. I timed it well and when things got tense, I got in on it as I had planned."
To hone his technique, Yamaguchi, an Asian bronze medalist in 2015 and 2018, paid his own way to compete at the Mongolian Open in April, where he won the silver medal.
In the final, Yamaguchi will renew his rivalry with defending champion Naoya AKAGUMA, who beat him 2-1 for the title at the Emperor's Cup. A year ago, the two went to a playoff for the ticket to Budapest 2018, which Yamaguchi won 14-8 after trailing 6-2.
Despite the setback, Matsumoto is still eligible as Emperor's Cup champion to enter the playoff at 92kg for Nur-Sultan 2019. And the door to Tokyo 2020 is not sealed either, although a few more locks have been added that he would have to get through---a process predicated on either Akaguma or Yamaguchi failing to medal at Nur-Sultan.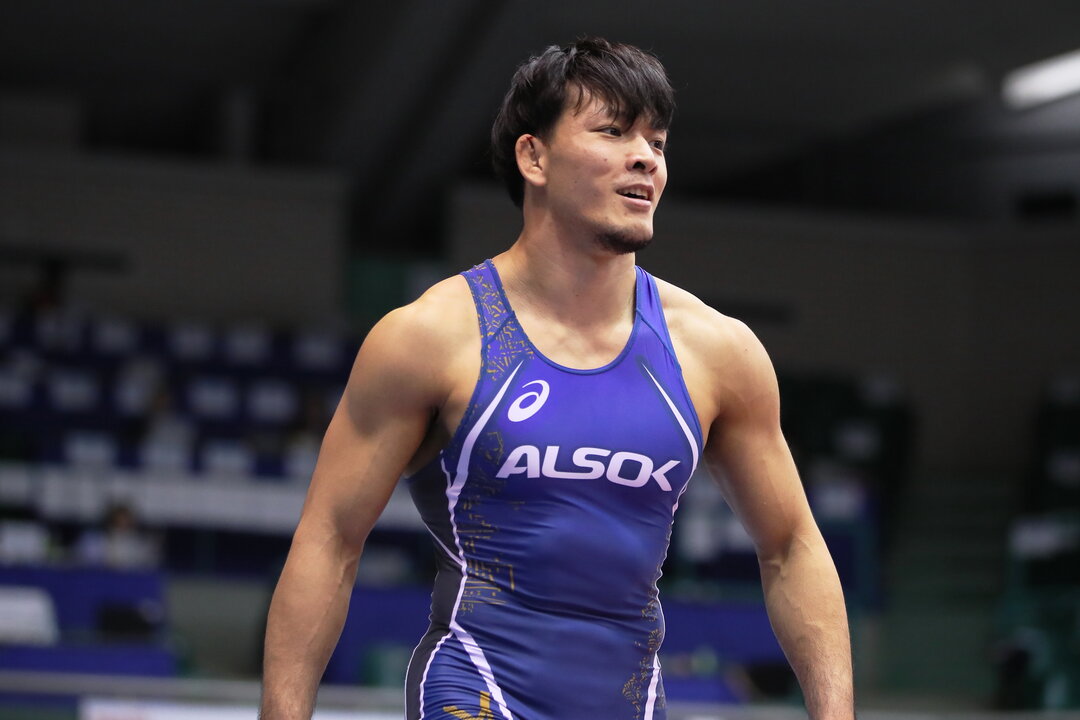 Sosuke TAKATANI is one win from earning a ticket to Nur-Sultan for the World Championships. (Photo: Sachiko Hotaka) 
Another top wrestler who is finding success after moving into an Olympic weight class is Sosuke TAKATANI, a former world 74kg silver medalist who is now at 86kg after spending a transition year at 79kg.
Takatani, who won the Emperor's Cup in his debut at 86kg, moved one win from earning a ticket to Nur-Sultan when he advanced to the final, where he will face 2017 champion Masao MATSUSAKA. 
After a technical fall victory in his opening match, Takatani scored a 10-2 win the semifinal over Hayato ISHIGURO, the 2018 world junior champion at 79kg. 
"This is my second tournament since moving up to 86kg," said Takatani, who also competed at the World Cup in March, where he beat the world silver medalist. "I won the last time, but I still go into the matches thinking of myself as the challenger. In tomorrow's final, I'll also go in as the challenger."
Matsusaka's semifinal victory over defending champion Shoto SHIRAI ended on a sad note. With Matsusaka leading 1-0 early in the second period, Shirai appeared to suffer a neck injury in a clash at the edge that caused him to default the match. As a precautionary measure, Shirai was taken off the mat on a stretcher and taken to a local hospital. 
Takatani did not yet know his final opponent when he was asked about his prospects.
"Both of them have been to the world championships and are strong wrestlers, and even as someone who has moved up a weight class, I was an Olympian and can hold my own," Takatani said. 
"I want to show that Sosuke Takatani can be a winner at any weight class and I'll do everything I can to win a medal at the world championships."
Competition got underway in three Olympic weights in Greco-Roman, and all three Emperor's Cup champions stayed on track to complete the national double.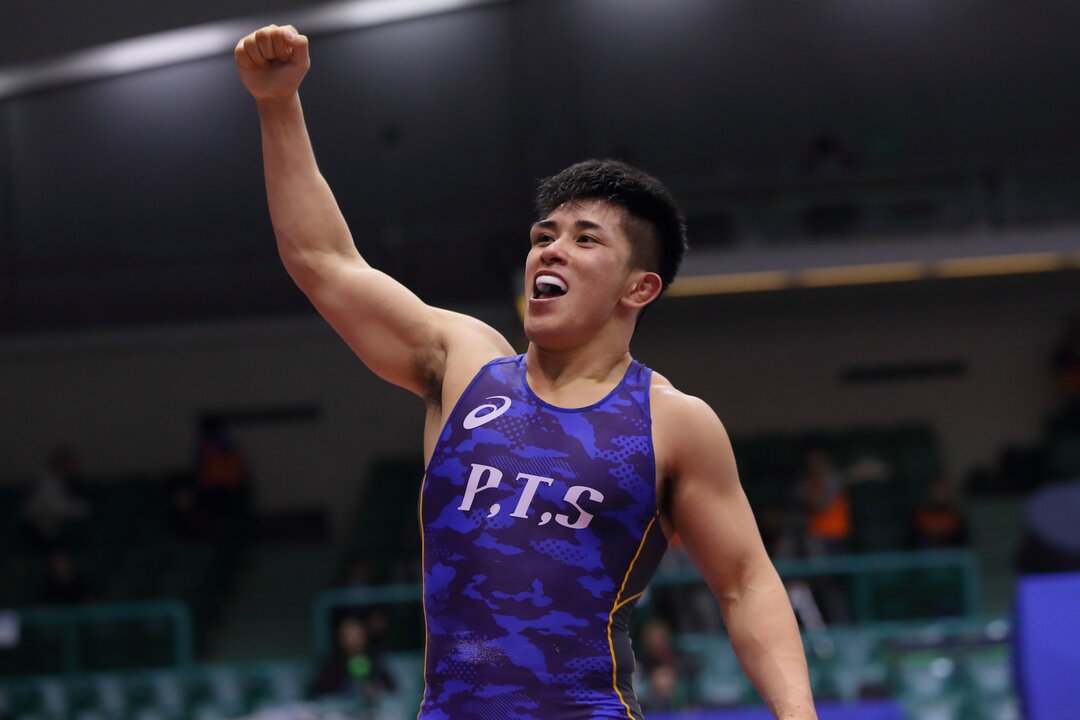 Naotsugu SHOJI will take on Shohei YABIKU in the 77kg finals. (Photo: Sachiko Hotaka) 
Naotsugu SHOJI squeezed into the 77kg final with a 4-4 semifinal win over Takeshi IZUMI, and will face two-time defending champion Shohei YABIKU, who avenged a loss at the Emperor's Cup to Kodai SAKURABA with a 5-2 win in the quarterfinals. 
Masato SUMI posted a pair of 7-0 victories in his group matches at 87kg to make the semifinals, while Yuta NARA, aiming for a fourth straight Meiji Cup title, cruised into the 97kg final with back-to-back technical fall victories. 
Day 1 Results
Freestyle
79kg (4 entries)
Round-robin (through 2 rounds)
1. Yudai TAKANASHI (2-0); 2. Yuto IZUTSU (1-1); 3. Komei KAWABATA (1-1); 4. Toshiki AKACHI (0-2).
86kg (12 entries)
Semifinals
Sosuke TAKATANI df. Hayato ISHIGURO, 10-2
Masao MATSUSAKA df. Shota SHIRAI, by Injury Def., 2:04 (1-0)
97kg (12 entries)
Semifinals
Naoya AKAGUMA df. Keiwan YOSHIDA, 5-2
Takeshi YAMAGUCHI df. Atsushi MATSUMOTO, 4-2
125kg (12 entries)
Semifinals
Taiki YAMAMOTO df. Nobuyoshi ARAKIDA, 3-2
Katsutoshi NAKAZAWA df. Tetsuya TANAKA, 2-1
Greco-Roman
63kg (9 entries)
Semifinals
Yoshiki YAMADA df. Naoki GODA by TF, 8-0, :44
Ichito TOKUHIGA df. Masaki ISHIKAWA by TF, 10-0, 1:43
77kg (11 entries)
Semifinals
Naotsugu SHOJI df. Takeshi IZUMI, 4-4
Shohei YABIKU df. Shoma YAMASAKI by TF, 9-0, 1:43
87kg (7 entries)
Semifinal Pairings
Takahiro TSURUDA vs Ryota NASUKAWA
Masato SUMI vs Kanta SHIOKAWA
97kg (9 entries)Semifinals
Yuta NARA df. Naoki MATSUMOTO by TF, 10-0, 2:41
Masaaki SHIKIYA df. Taichi OKA by TF, 9-0, 3:32
Women's Wrestling 
55kg (6 entries)
Semifinal Pairings
Saki IGARASHI vs Mizuki ISHIMORI
Kana HIGASHIKAWA vs Hikari HIGUCHI
59kg (6 entries)
Semifinal Pairings
Kiwa IWASAWA vs Sena NAGAMOTO
Yumeka TANABE vs Ayami SUGIYAMA
65kg (5 entries)
Round-Robin (through 3 rounds)
1. Mei SUZUKI (2-0); 2. Miki KAWAUCHI (2-0); 3. Yuki KIMURA (1-2); 4. Saki KAWAUCHI (1-1) and Misuzu ENAMOTO (1-2)
76kg (6 entries)
Semifinal Pairings
Yuka KAGAMI vs Miki SAITO
Yasuha MATSUYUKI vs Hiroe MINAGAWA