Burroughs and Chamizo Set to Clash in Yasar Dogu Finals, Alborov Beats Two Olympic Champs on Road to Finals
Friday, July 27, 2018 - 18:42 By Eric Olanowski
ISTANBUL, Turkey (July 27) - The second installment of Jordan BURROUGHS (USA) and Frank CHAZMIO (ITA) is scheduled for tomorrow's 74kg Yasar Dogu finals after both wrestlers finished the opening day with three solid performances apiece.

This time around, expect the conditions to be a little more conducive to wrestling, as they will compete indoors at the Bağcılar Olympic Sport Hall on a dry mat.

The two superstars who combine for ten world and Olympic medals met outdoors in May's highly anticipated Beat the Streets finale, now known as "Slip Gate," due to lack of footing which stemmed from the condensation build up on the mat.

In that Beat the Streets match-up, Burroughs "slipped" past Chamizo and scored the 6-5 come-from-behind victory.

Chamizo, the two-time world champion, and Rio Olympic bronze medalist commanded the 4-0 lead after a pair of first-period takedowns from a slide-by and a counter-offensive high-crotch. But, with short time remaining in the opening period, Burroughs, the London Olympic champion picked up his first two points and closed the Italian wrestlers lead to 4-2.

The second period belonged to America's four-time world champion, as he capped off the match by blasting through Chamizo with his patented double leg, ultimately winning the bout, 6-5.

After the match, both wrestlers admitted that the mat conditions were not ideal and caused a lot of issues.  Burroughs ended  the interview by looking at Chamzio and saying "Go back down to 70kg."
In addition to Burroughs, fellow American's Thomas GILMAN (USA) and David Morris TAYLOR (USA) made the finals in their respective weight classes.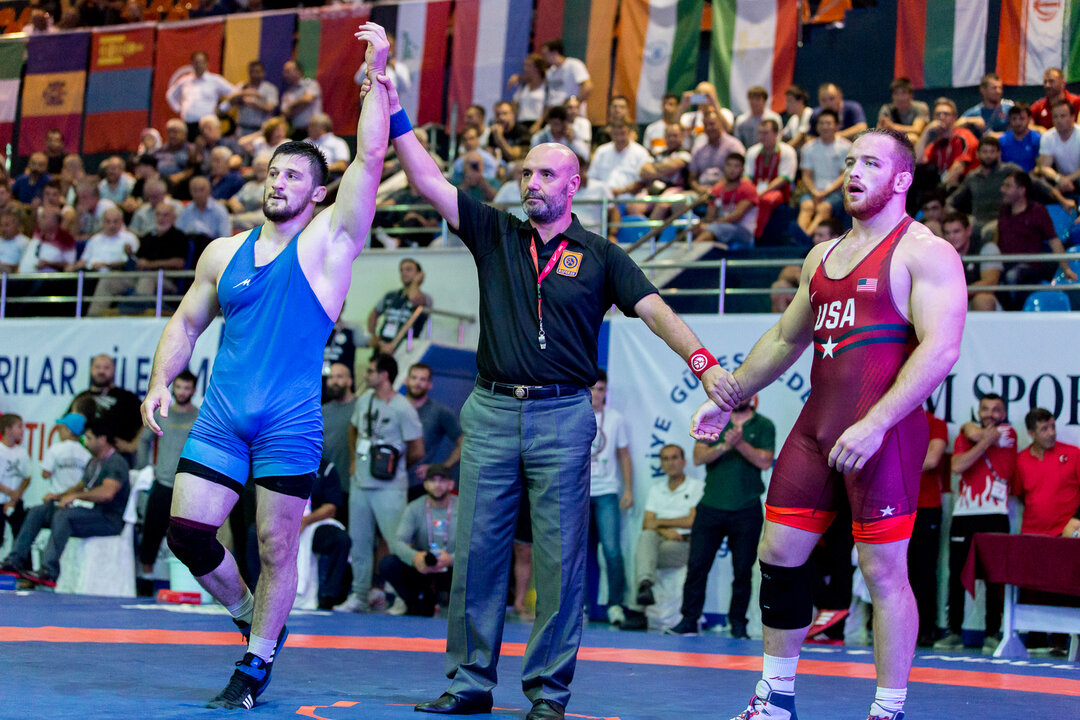 Aslanbek ALBOROV (AZE) defeated two Olympic champions on his way to the 97kg gold-medal bout. (Photo by Max Rose Fyne)
Meanwhile, Aslanbek ALBOROV (AZE), the 2017 world bronze medalist went 3-0 and beat a 2017 European champion and two Olympic champions on his way to making the 97kg finals.

Alborov opened his day against fellow countryman, Sharif SHARIFOV (AZE) who is a two-time Olympic medalist, winning the gold in London and bronze in Rio.

The 2017 world bronze medalist came out on top 1-0 in a match-up that likely determined who is going to represent Azerbaijan in October at the 2018 World Championships in Budapest.

Alborov continued his run into the quarterfinals, picking up the dominant 9-2 win over 2017 European Champion, Riza YILDIRIM (TUR).

Moving to the semifinals, Alborov avenged his 2017 World Championship semifinals loss to 2016 Rio Olympic champion, Kyle Frederick SNYDER (USA), picking up the 3-3 win on criteria. 
In the gold-medal bout, Alborov will wrestle U23 world champion and Asian runner-up, Mojtaba GOLEIJ (IRI). 
The finals are scheduled to take place on Saturday at 5:30 PM local time.  
RESULTS 
Freestyle 
57kg 
GOLD -  Thomas GILMAN (USA) vs. Dzmichyk RYNCHYNAU (BLR) 
BRONZE - Winner 251 vs. Taras MARKOVYCH (UKR) 
BRONZE - Winner 252 vs. Vicky VICKY (IND) 
65kg
GOLD -  Ali RAHIMZADA (AZE) vs. Mehran NASIRIAFRACHALI (IRI) 
BRONZE - Winner 253 vs. Daulet NIYAZBEKOV (KAZ) 
BRONZE - Winner 186 vs. Hassan MORADGHOLIEI (IRI) 
74kg
GOLD - Jordan BURROUGHS (USA) vs. Frank CHAMIZO MARQUEZ (ITA) 
BRONZE - Winner 185 vs. Saeid DADASHPOURKERIKALAEI (IRI) 
BRONZE - Winner 233 vs. Bolat SAKAYEV (KAZ) 
86kg
GOLD - David Morris TAYLOR (USA) vs. Murad SULEYMANOV (AZE) 
BRONZE - Winner 214 vs. Ahmet BILICI (TUR) 
BRONZE - Winner 232 vs. Fatih ERDIN (TUR) 
97kg
GOLD -  Aslanbek ALBOROV (AZE) vs. Mojtaba GOLEIJ (IRI) 
BRONZE - Winner 235 vs. Valerii ANDRIITSEV (UKR) 
BRONZE - Winner 215 vs. Kyle Frederick SNYDER (USA) 
Women's Wrestling 
50kg 
GOLD - Sarra HAMDI (TUN) vs. Oksana LIVACH (UKR) 
BRONZE - Winner 254 vs. Semkiv ILONA (UKR) 
BRONZE - Georgina Suzana SEICARIU (ROU) vs. Ciricu EMILIA (MDA) 
55kg
GOLD -  Pinki PINKI (IND) vs. Olga SHNAIDER (UKR) 
BRONZE - Siwar BOUSETTA (TUN) vs. Nurufe NURUFE (TUR) 
59kg
GOLD - Sofiia BODNAR (UKR) vs. Olena KREMZER (UKR) 
BRONZE -  Yuliya PISARENKA (BLR) vs. Sangeeta BALALI (IND) 
65kg 
GOLD - Netreba IRYNA (AZE) vs. Ilona PROKOPEVNIUK (UKR) 
BRONZE -  Mariia ILCHYSHYN (UKR) vs. Elis MANOLOVA (AZE) 
BRONZE - Winner 213 vs. Geeta GEETA (IND) 
72kg 
Round 3 -  Rajni RAJNI (IND) vs. Beste ALTUG (TUR)