Bullen Gets Revenge to Win U23 World Championship
Thursday, November 15, 2018 - 21:20 By Taylor Miller
BUCHAREST, Romania – Grace BULLEN (NOR) stunned 2018 Senior World champion Ningning RONG (CHN) in the final seconds of the 59 kg gold match of the 2018 U23 World Championships in Bucharest, Romania.
"I'm so thrilled. The last two days have been really amazing with how I've technically done in the matches and not only using my physical strength all the time," Bullen said. "[Beating Rong] means more than winning gold. If I had faced her earlier in the bracket and won that way, I think it would feel as amazing as it does right now."
Two weeks ago, Bullen and Rong met up in the 57 kg semifinals of the Senior World Championships in Budapest, Hungary, with Rong taking a 12-2 win. This time, Bullen came out on top.
Down 2-1 with 12 seconds left, Rong had Bullen's leg in the air and the Norweigan whipped her opponent to her back for four points to steal the match, 5-2, and bring the crowd to its feet in the exciting finish.
In addition to her World crown, Bullen now owns a 2014 Cadet World gold, 2014 Youth Olympic Games gold and a 2017 Junior World bronze.
Making history for her country was Yudari SANCHEZ RODRIGUEZ (CUB), who became the first World champion in women's freestyle in any age group for Cuba.
Sanchez, a 2017 Junior World silver medalist and 2017 U23 World bronze medalist, won the crown at 68 kg, taking out Miwa MORIKAWA (JPN). Morikawa is a 2018 Junior World bronze medalist and 2016 Cadet World silver winner.
The Cuban shut down Morikawa's offense and produced a 6-2 decision for the gold medal.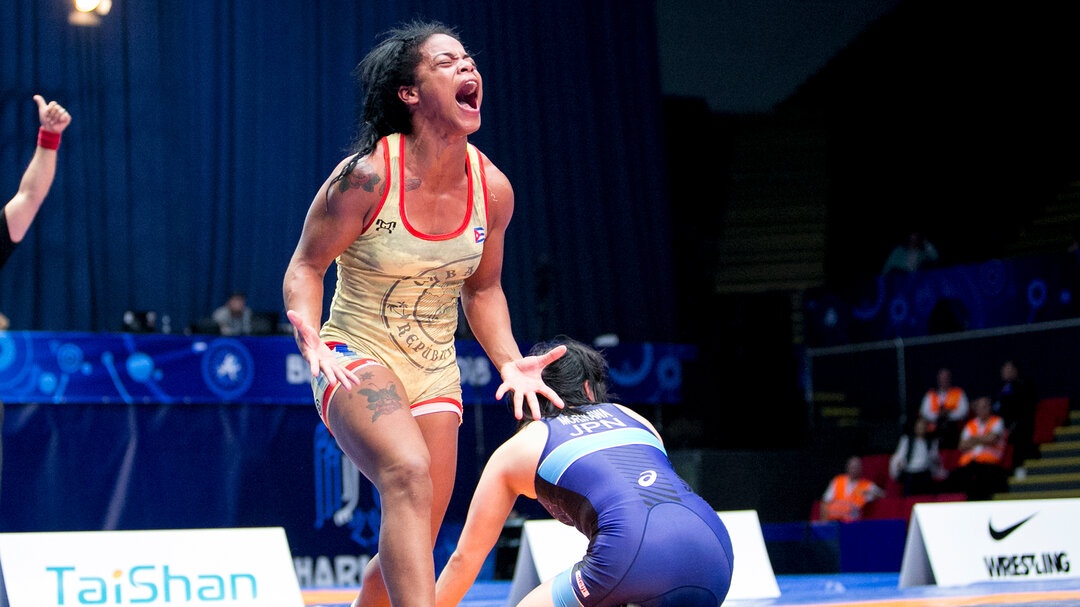 Japan won a pair of World titles on Thursday night.
At 50 kg, Miho IGARASHI (JPN) won her second-consecutive U23 World title, rolling past 2011 Cadet World champion Nadezhda SOKOLOVA (RUS) with a 10-0 win.
Miho adds another gold medal to her already impressive resume. She is now a two-time U23 World champion, two-time Junior World champion and 2014 Cadet World champion.
Sokolova earned her fifth World medal, finishing with silver.
Following in her sister's footsteps, Saki IGARASHI (JPN) won Japan's second gold medal of the night, defeating 2018 China Open bronze winner Junling OUYANG (CHN) in the 55 kg finals with an 11-1 technical fall.
The win is Saki's second World championship of the year as she won the Junior World title in Trnava, Slovakia, in September. Saki is also a 2015 Cadet World silver medalist.
Earlier in the night, Japan pushed four other wrestlers into tomorrow's finals.
Closing out the night was a dominant performance from Paliha PALIHA (CHN), who shut out Aysegul OZBEGE (TUR) with an 11-0 technical fall for the U23 World title at 76 kg.
Finals results
50 kg
GOLD – Miho IGARASHI (JPN) df. Nadezhda SOKOLOVA (RUS), 10-0
BRONZE – Namuuntsetseg TSOGT OCHIR (MGL) df. Turkan NASIROVA (AZE), 10-0
BRONZE – Stefania Claudia PRICEPUTU (ROU) df. Lisa ERSEL (GER), 2-1
55 kg
GOLD – Saki IGARASHI (JPN) df. Junling OUYANG (CHN), 11-1
BRONZE – Marina SEDNEVA (KAZ) df. Marina SIMONYAN (RUS), fall
BRONZE – Elena BRUGGER (GER) df. Dominique PARRISH (USA), 14-3
59 kg
GOLD – Grace BULLEN (NOR) df. Ningning RONG (CHN), 5-2
BRONZE – Yuzuru KUMANO (JPN) df. Katarzyna MADROWSKA (POL), fall
BRONZE – Olena KREMZER (UKR) df. Alejandra ROMERO BONILLA (MEX), 7-2
68 kg
GOLD – Yudari SANCHEZ RODRIGUEZ (CUB) df. Miwa MORIKAWA (JPN), 6-2
BRONZE – Alexandria GLAUDE (USA) df. Khishigmaa MUNKHBAT (MGL), 7-5
BRONZE – Khanum VELIEVA (RUS) df. Chuying TANG (CHN), 2-0
76 kg
GOLD – Paliha PALIHA (CHN) df. Aysegul OZBEGE (TUR), 11-0
BRONZE – Gulmaral YERKEBAYEVA (KAZ) df. Catalina AXENTE (ROU), 9-0
BRONZE – Korinahe Jacquia BULLOCK (USA) df. Gracelynn DOOGAN (CAN), 4-1
Semifinal results
53 kg
Momoka KADOYA (JPN) df. Andreea Beatrice ANA (ROU), fall
Milana DADASHEVA (RUS) df. Khrystyna BEREZA (UKR), fall
57 kg
Alexandria Rebekkah TOWN (CAN) df. Tserenchimed SUKHEE (MGL), 15-3
Akie HANAI (JPN) df. Qi ZHANG (CHN), 6-2
62 kg
Yukako KAWAI (JPN) df. Kriszta Tunde INCZE (ROU), 11-0
Ilona PROKOPEVNIUK (UKR) df. Luisa NIEMESCH (GER), 11-0
65 kg
Elis MANOLOVA (AZE) df. Moa Lena Maria NYGREN (SWE), 8-4
Ayana GEMPEI (JPN) df. Iryna KOLIADENKO (UKR), 13-0
72 kg
Alexandra Nicoleta ANGHEL (ROU) df. Xiaoqian WANG (CHN), 5-3
Buse TOSUN (TUR) df. Zhamila BAKBERGENOVA (KAZ), fall
Team standings
1. Japan – 91
2. China – 75
3. Russia – 57
4. USA – 48
5. Kazakhstan – 36