Bulgaria's Reigning World and Euro Champ Yusein Headlines Friday Night's Finals
Thursday, April 11, 2019 - 20:08 By Eric Olanowski
BUCHAREST, Romania (April 10) - Taybe YUSEIN (BUL) was one of two reigning world and European champion that competed on the fourth day of wrestling at the European Championships, but the Bulgarian was the only double defending champion who made it to Friday night's finals. The second, Petra OLLI (FIN), was upset in the semifinals and will compete for a bronze medal on Friday night. 
In the 62kg semifinals, top-ranked returning world and European champion Yusein stuck two-time European bronze medalist Tetiana OMELCHENKO (AZE) in just 43 seconds, locking up her second consecutive trip to the European finals. 
Yusein will wrestle Aurora CAMPAGNA (ITA), who's finals birth is a vast improvement on her ninth-place finish from a year ago. In her semifinals match, Campagna outlasted Sweden's 2017 U23 world bronze medalist Moa NYGREN (SWE) in a nail biter, reaching the gold-medal bout with a 4-3 victory.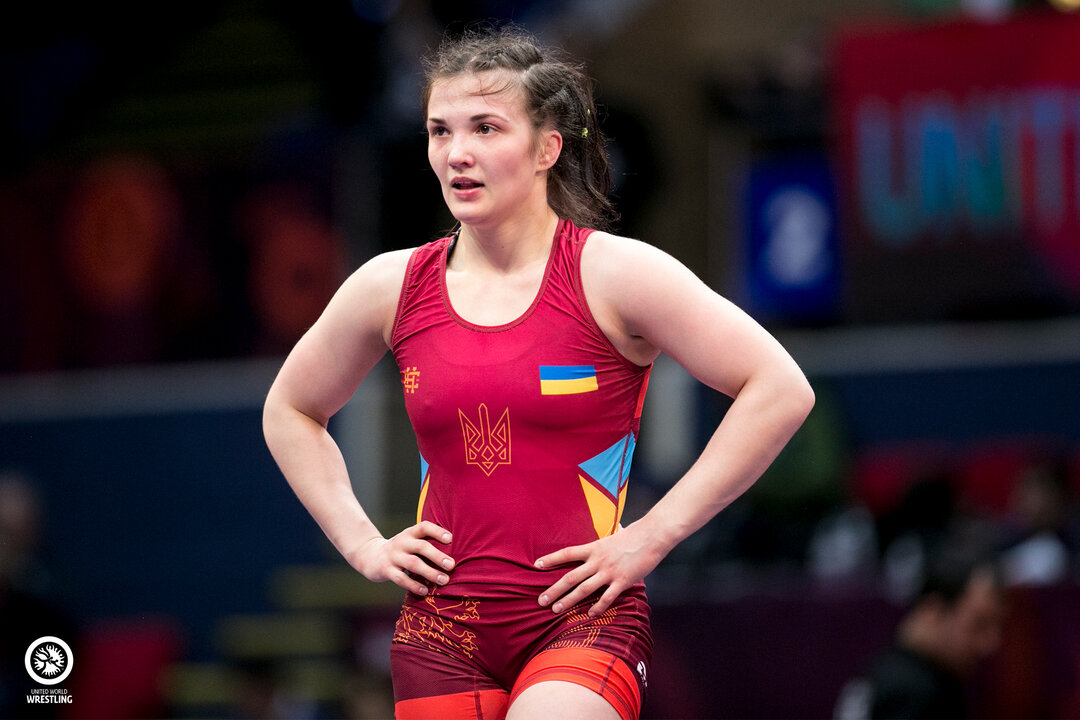 Tetyana KIT was one of three Ukrainian wrestlers who will compete on Friday night for a gold medal. (Photo: Gabro Martin)

Meanwhile, Ukraine, who sits in the lead after claiming three gold medals on Day 4 added three more finalists to their overall total, bringing the gold-medal participant total to six. 
Their three potential champions are Lilya HORISHNA, Tetyana KIT and Alina BEREZHNA STADNIK MAKHYNIA (UKR), who'll wrestle for the gold medals at 53kg,  57kg, and 72kg respectively.
At 53kg, two-time U23 European champion Lilya Horshna halted Jessica BLASZKA (NED) from the becoming first-ever women's wrestling European finalist from the Netherlands with a 6-1 victory. 
Horshna will wrestle Russia's returning European champion Stalvira ORSHUSH (RUS), who defeated 2017 world champion and No. 17-ranked Vanesa KALADZINSKAYA (BLR) at the European championships. Last year, Orshush beat Valadzinskaya in the finals, and this year, it was in the semifinals, where she picked up the 2-2 criteria win. 
In the semifinals at 57kg, Kit was down 6-4 as time expired against Anastasia NICHITA (MDA), but a late successful Ukrainian challenge gave Kit the 6-6 win on criteria. 
She'll wrestle Hungary's fifth-ranked Emese BARKA (HUN). Barka came out on top of her semifinals match against reigning European silver medalist Mimi Nikolova HRISTOVA (BUL), 11-3.  The Holland wrestler ended the opening three minutes with a 5-0 lead, and tacked on six additional points, inserting herself into the continental finals with the eight-point win.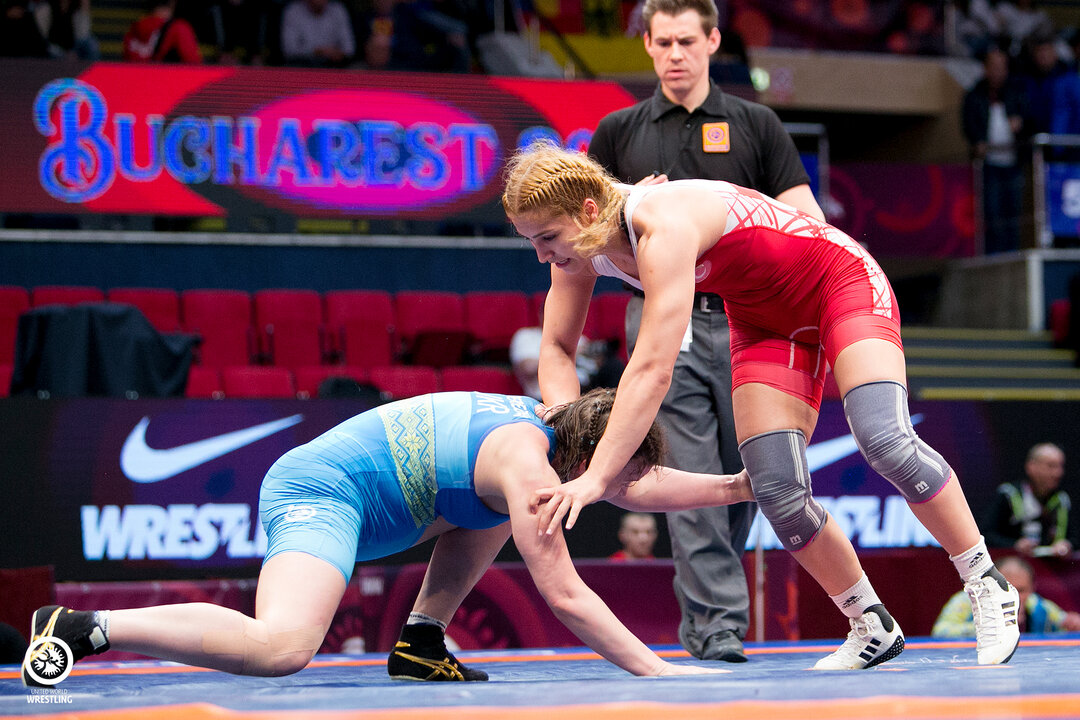 Alina BEREZHNA STADNIK MAKHYNIA (UKR) will wrestle for a European gold medal for the fourth time in her career. She's walked away with a gold medal twice. (Photo: Martin Gabor) 
In the 72kg semifinals, two-time champion Alina Berezhna Stadnik glued returning European bronze medalist Alexandra Nicoleta ANGHEL (ROU) back to the mat for the fall and will wrestle for a gold medal in the European Championships for the fifth time in her career. 
The Ukranian wrestler will take on Anna Carmen SCHELL (GER), who was up 7-4 on No. 15 Tatiana KOLESNIKOVA MOROZOVA (RUS) when she picked up the fall.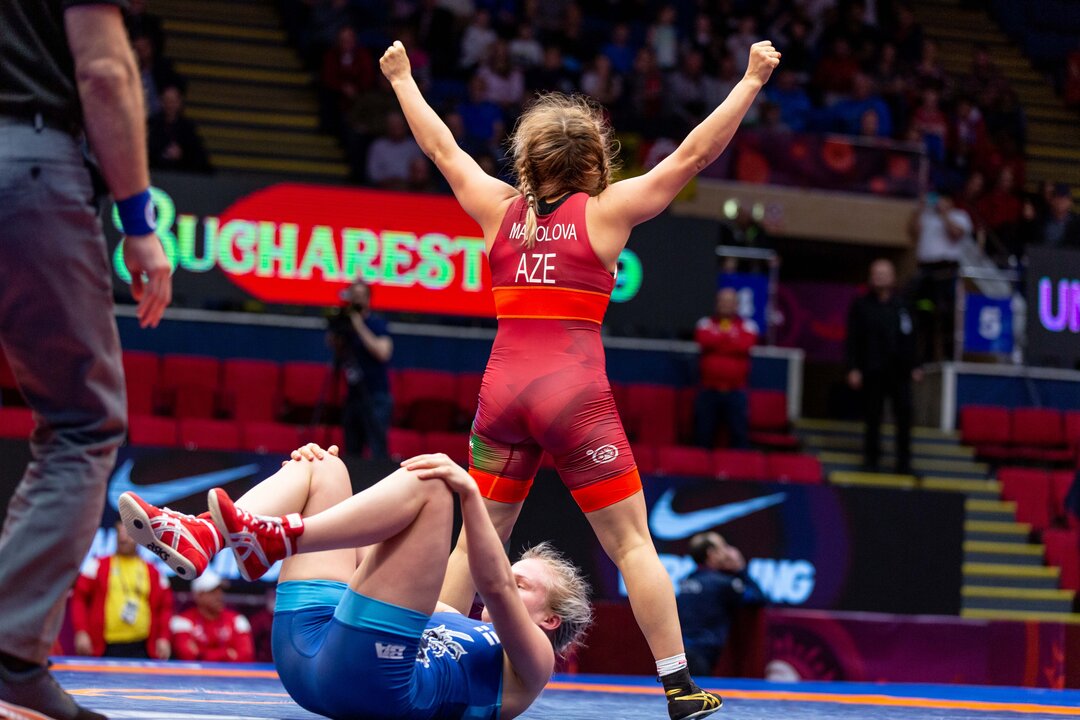 Elis MANOLOVA (AZE) pinned defending world and European champion Petra Maarit OLLI (FIN) to reach the finals. (Photo: Gabor Martin)
The last finals match up that was settled was at 65kg.
Romania's Kriszta INCZE outlasted reigning two-time U23 European champion Mariia KUZNETSOVA (RUS), 3-2, and will take on Azerbaijan's Elis MANOLOVA for the 65kg gold medal. Manolova stuck returning world and European champion Petra Maarit OLLI (FIN) in the semifinals and earned her second consecutive trip to the European finals. 
The Day 5 finals begin on Friday at 18:00 (local time) and can be followed at www.unitedworldwrestling.org.
RESULTS
53kg
GOLD -Stalvira ORSHUSH (RUS) vs. Lilya HORISHNA (UKR)
SEMIFINAL - Stalvira ORSHUSH (RUS) df. Vanesa KALADZINSKAYA (BLR), 2-2 
SEMIFINAL - Lilya HORISHNA (UKR) df. Jessica Cornelia Francisca BLASZKA (NED), 6-1
57kg 
GOLD - Tetyana KIT (UKR) vs. Emese BARKA (HUN)
SEMIFINAL - Tetyana KIT (UKR) df. Anastasia NICHITA (MDA), 6-6
SEMIFINAL - Emese BARKA (HUN) df. Mimi Nikolova HRISTOVA (BUL), 11-3 
62kg
GOLD - Aurora CAMPAGNA (ITA) vs. Taybe Mustafa YUSEIN (BUL)
SEMIFINAL - Aurora CAMPAGNA (ITA) df. Moa Lena Maria NYGREN (SWE) 
SEMIFINAL - Taybe Mustafa YUSEIN (BUL) df. Tetiana OMELCHENKO (AZE), via fall 
65kg
GOLD - Kriszta Tunde INCZE (ROU) vs. Elis MANOLOVA (AZE)
SEMIFINAL - Kriszta Tunde INCZE (ROU) df. Mariia KUZNETSOVA (RUS), 4-3 
SEMIFINAL - Elis MANOLOVA (AZE) df. Petra Maarit OLLI (FIN), via fall 
72kg
GOLD - Anna Carmen SCHELL (GER) vs. Alina BEREZHNA STADNIK MAKHYNIA (UKR)
SEMIFINAL - Anna Carmen SCHELL (GER) df. Tatiana KOLESNIKOVA MOROZOVA (RUS) 
SEMIFINAL - Alina BEREZHNA STADNIK MAKHYNIA (UKR) df. Alexandra Nicoleta ANGHEL (ROU)