Bakir Bullies His Way to Second Consecutive European Title
Tuesday, June 4, 2019 - 19:20 By Eric Olanowski
PONTEVEDRA, Spain (June 4) – When you talk about unstoppable Turkish forces competing in the heavyweight division, you often hear names like Yasemin ADAR, Taha AKGUL, or Riza KAYAALP, all of which hold either world or Olympic titles. A name that soon may be added to that list of unstoppable Turkish greats could be Muhammet BAKIR (TUR). Though he doesn't quite have the resume to stack up to those other Turkish superstars, Bakir, the son of 2001 European runner-up Fatih BAKIR (TUR), is well on his way to adding his name into those discussions. 
Bakir, who holds an undefeated international record, just added a second consecutive European title to his resume and did so without surrendering a single point. En route to his 130kg Junior European title, Bakir outscored his four opponents 24-0, including a 4-0 shutout win in the gold-medal bout against Russia's Osman SHADOV. He also blanked cadet world bronze medalist Tomasz Jacek WAWRZYNCZYK (POL), along with Robinzon ESADZE (GEO) and Dariusz VITEK (HUN). 
Dating back to last year when Bakir won a world and European title at the cadet level, he's compiled a 13-0 record and shutout 11 of those opponents. Maybe more impressive, Bakir has outscored his world and continental championship opponents 83-4.  
The next time Bakir is expected to compete will be the Junior World Championships in Tallinn, Estonia (July 12-18).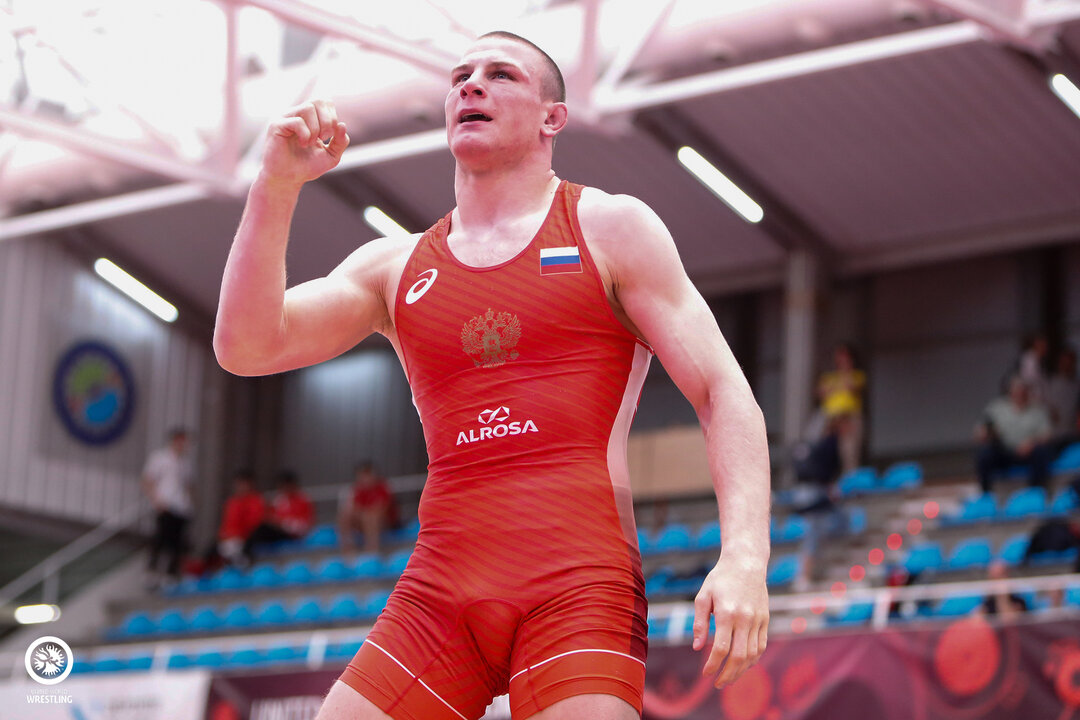 Ilia ERMOLENKO (RUS) ended the 87kg gold-medal match after 68 seconds of wrestling. (Photo: Gabor Martin) 
Russia Leads Georgia by 17 Heading into Final Day of Greco-Roman 
The Russian Federation (100 points) heads into the final day of the Greco-Roman competition at the Junior European Championships with a 17-point lead over second place Georgia (83 points). 
Russia medaled in all five weights on the second day of wrestling but fell short in three of their four gold-medal bouts. Their lone champion came at 87kg where Ilia ERMOLENKO (RUS) only need 68 seconds to put away David LOSONCZI (HUN) with a takedown and four consecutive gut wrenches. 
Russia's three silver-medal winners were Anvar ALLAKHIAROV, Khamid ISAEV, and Osman Shadov, who dropped the 55kg, 77kg, and 130kg gold-medal bouts, respectively. Their bronze-medal finisher was Adam GAUZHAEV who stuck Gytis KULEVICIUS (LTU) in the 63kg third-place match.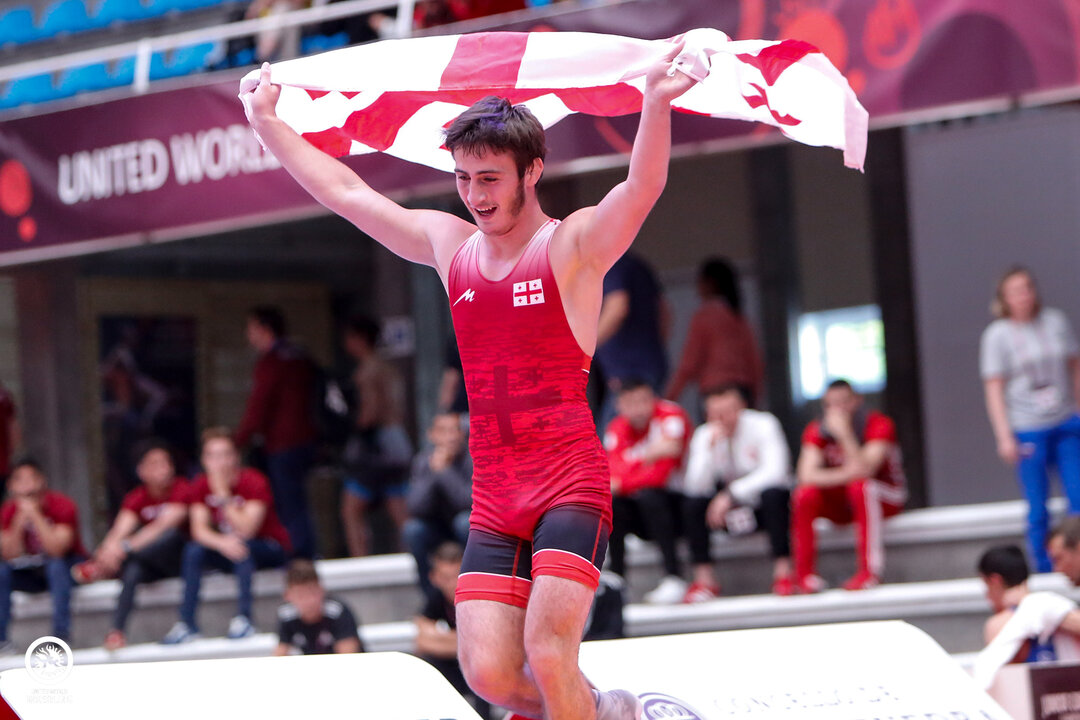 Pridon ABULADZE (GEO) scored seven unanswered points to steal the 55kg title from Anvar ALLAKHIAROV (RUS). (Photo: Gabor Martin)
Abuladze Scored Seven Unanswered to win 55kg Title 
Georgian coaches, towing their nation's flag, poured onto the mat as time expired after Pridon ABULADZE scored seven unanswered points to stun Anvar Allakhiarov, 7-6 in the 55kg gold-medal bout. 
Abuladze trailed 6-0 but put together an impressive 7-0 run to steal the gold medal from his Russian opponent. 
Early in the first period, Abuladze, who was working off a left side underhook, allowed Allakhiarov to limp arm out and sneak behind for the 2-0 lead. Abuladze's Russian opponent quickly jumped to a trapped arm gut wrench and extended his lead to 4-0. Abuladze conceded a second opening-period takedown, a slick misdirection duck under, and trailed 6-0. 
Before the whistle sounded to end the first period, Abuladze got on the board with an exposure and a step out. After being down by six points, Abuladze only trailed by three points heading into the final three minutes. 
The match-deciding points came from a four-point arm spin in the second period, giving Abuladze the one-point advantage and ultimately the 55kg gold medal.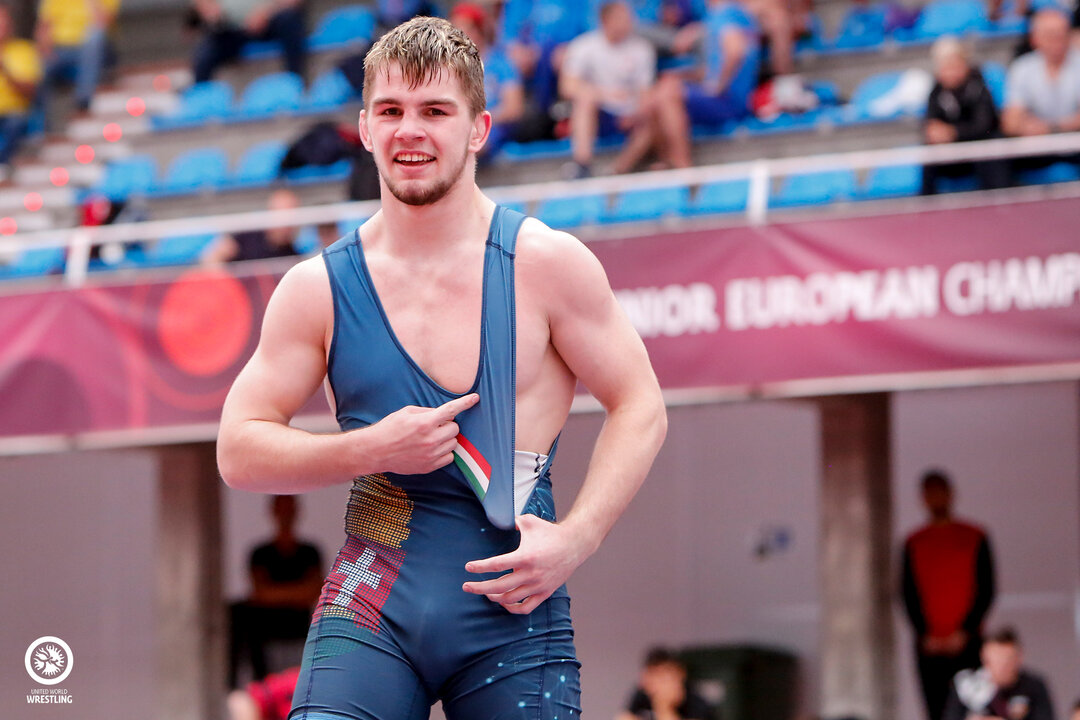 U23 world bronze-medal finisher won his first international gold medal with a 4-1 victory over Khamid ISAEV in the 77kg finals. (Photo: Gabor Martin)
Levai Wins 77kg Gold, His First International Title 
Tamas LEVAI's (HUN) resume is littered with top-three placements, and it may be hard to believe, but none have been gold-medal finishes. He's a U23 world bronze-medal finisher, a multiple time European bronze medal finish, and now, Levai's a junior European champion. 
Levai reached the top of the podium for the first time of his international career with a dominant 4-1 win over Russia's Khamid ISAEV (RUS) in the 77kg finals. His Tuesday night win capped off arguably the most impressive and dominant runs to a 2019 Greco-Roman junior European title. To win his gold medal, Levai went 5-0, only surrendered one point and combined to outscore his five opponents 38-1.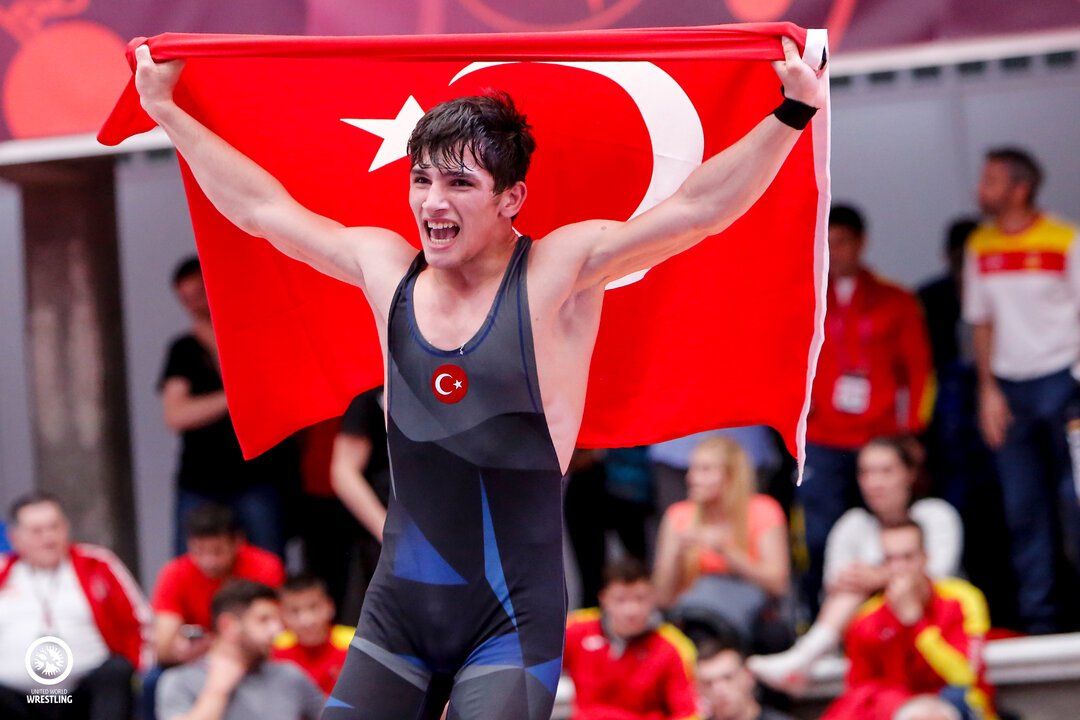 Abdullah TOPRAK (TUR) overpowered Leri ABULADZE (GEO) in the 63kg gold-medal bout, 8-2. (Photo: Gabor Martin)
Toprak Torches Abuladze to Win 63kg Title 
Abdullah TOPRAK (TUR) torched Leri ABULADZE (GEO) in the 63kg finals, scoring the overpowering 8-2 win. 
The Turkish wrestler scored a step out and inactivity point in the first period and carried a 2-0 lead into the closing three minutes. To start the second period, Toprak found himself back peddling and tried to throw his Georgian opponent, but instead gave up two points and trailed 2-2 on criteria. In the second period, Torpak poured on the points, scoring two stepouts, and a tornado-like arm spin to win the gold medal, 8-2. 
Team Scores (After Day 2)
GOLD - Russia (100 points)
SILVER - Georgia (83 points)
BRONZE - Turkey (66 points)
Fourth - Hungary (60 points)
Fifth - Belarus (50 points)
55kg 
GOLD - Pridon ABULADZE (GEO) df. Anvar ALLAKHIAROV (RUS), 7-6 
BRONZE - Artium DELEANU (MDA) df. Vladyslav KUZKO (UKR), 6-0
BRONZE - Zaur ALIYEV (AZE) df. Gevorg SUKIASYAN (ARM), 3-1 
63kg 
GOLD - Abdullah TOPRAK (TUR) df. Leri ABULADZE (GEO), 8-2 
BRONZE - Aliaksandr PECHURENKA (BLR) df. Hrachya POGHOSYAN (ARM), 9-0 
BRONZE - Adam GAUZHAEV (RUS) df. Gytis KULEVICIUS (LTU), via fall 
77kg 
GOLD - Tamas LEVAI (HUN) df. Khamid ISAEV (RUS), 4-1 
BRONZE - Mikita KAZAKOU (BLR) df. Dmytro VASETSKYI (UKR), 11-6 
BRONZE - Nika SHERBAKOVI (GEO) df. Arminas LYGNUGARIS (LTU), 3-1 
87kg 
GOLD - Ilia ERMOLENKO (RUS) df. David LOSONCZI (HUN), 8-0 
BRONZE - Ihar YARASHEVICH (BLR) df. Jacob Edward LOGAARD (SWE), 7-1  
BRONZE - Giorgi KATSANASHVILI (GEO) df. Michal Andrzej DYBKA (POL), 8-4 
130kg 
GOLD - Muhammet BAKIR (TUR) df. Osman SHADOV (RUS), 4-1
BRONZE - Dariusz Attila VITEK (HUN) df. Tomasz WAWRZYNCZYK (POL), 10-1 
BRONZE - Nikola MILATOVIC (NOR) df. Raman ULASAU (BLR), 3-2