Bacsi Leads Hungary to Three German Grand Prix Golds
Friday, August 24, 2018 - 14:07 By Eric Olanowski
DORTMUND, Germany (August 23) - With only 56 calendar days left until the 2018 World Championships kick off in Budapest, Hungary, most countries have either finalized or are in the final stages of completing their World Championship rosters. 
Considering the number of Hungarian hammers that were entered into last weekend's Grand Prix of Germany, one can only imagine that Hungary is still looking to cement their rosters and has plans of using this tournament as one of the final deciding factors for their Greco-Roman squad. 
Overall, Hungary had three of the possible ten champions. Most importantly, in two of those weight classes, wrestlers from Hungary met each other for the gold medal.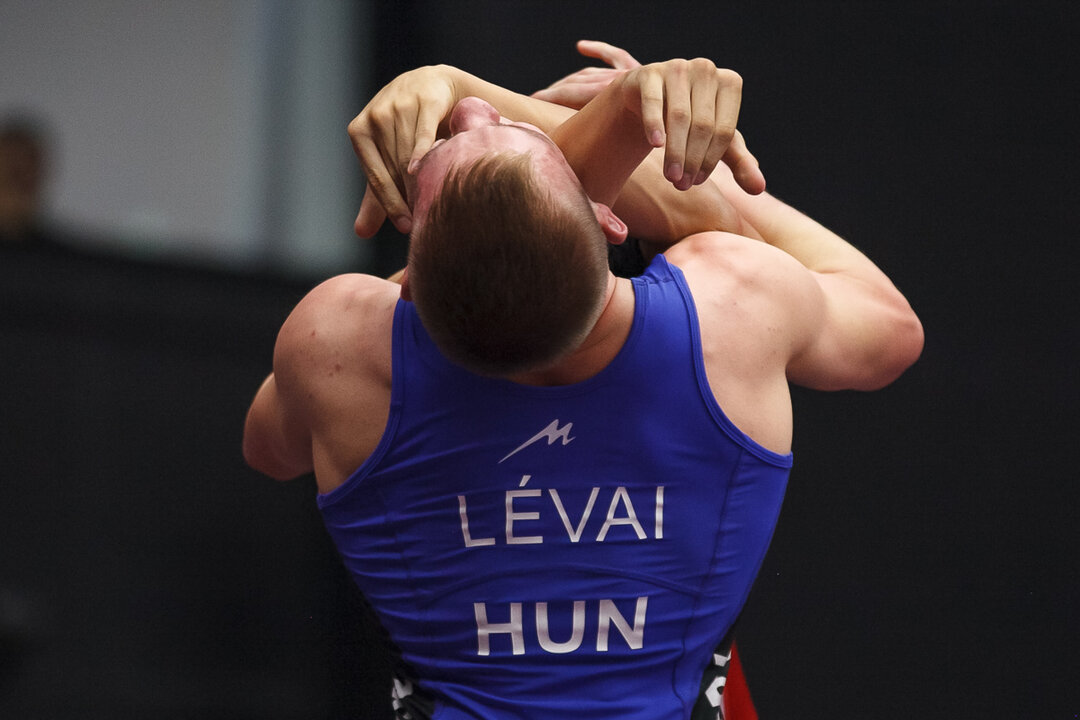 Zoltan LEVAI (HUN) stuns 12-time World Team member, Tamas LORINCZ (HUN), 1-1 in the 77kg finals. (Photo by Martin Gabor) 
The first all-Hungary final was at 77kg where Zoltan LEVAI (HUN) knocked off three-time world and Olympic medalist, Tamas LORINCZ (HUN), 1-1 for the gold medal. 
If Hungary was to select Levai over Lorincz, this would be the first time Tamas has missed out on making a World or Olympic team since stepping onto the senior level in 2006. 
The second all-Hungary final was at 82kg where 2014 world champion Peter BACSI (HUN) snuck past Laszlo SZABO (HUN), 3-1. 
The third and final Hungarian gold medal went to Eric TORBA (HUN), who defeated American Dalton ROBERT (USA) in the 60kg finals, 8-2. 
Also of note, two-time world champion Frank STABLER (GER) pulled out of the 72kg finals bout after making his return to the mat for the first time since winning his second world title. Stabler, who recently became a father was facing an upper-body injury that sidelined him for the better part of 2018. The reasoning for Stabler pulling out of the gold-medal bout is yet to be known. 
RESULT
55kg 
GOLD - Nugzar TSURTSUMIA (GEO)
SILVER – Dogus AYAZCI (TUR)
BRONZE – Fabian SCHMITT (GER)
60kg 
GOLD - Erik TORBA (HUN)
SILVER – Dalton ROBERTS (USA) 
BRONZE - Maksim KAZHARSKY (BLR)
BRONZE - Ardit FAZLJIJA (SWE)
63kg 
GOLD - Abdolmohammad DADDY (IRI)
SILVER – Dmytro TSYMBALIUK (UKR)
BRONZE – Onur ATALAY (TUR)
BRONZE – Soslan DAUROV (BLR)
67kg 
GOLD – Gevorg SAHAKYAN (POL)
SILVER – Fredrik BJERREHUUS (DEN)
BRONZE – Mateusz BERNATEK (POL)
BRONZE – Levan KAVIARADZE  (GEO)
72kg
GOLD – Toni OJALA  (FIN)
SILVER – Frank STABLER  (GER)
BRONZE – Daniel SOINI  (SWE)
BRONZE – Pavel LIAKH  (BLR)
77kg
GOLD – Zoltan LEVAI  (HUN)
SILVER – Tamas LORINCZ  (HUN)
BRONZE – Yunus EMRE BAZAAR  (TUR)
BRONZE – Durtro PYSHKOV  (UKR)
82kg
GOLD – Peter BACSI  (HUN)
SILVER – Laszlo SZABO  (HUN)
BRONZE – Yaroslav FILEHAKOV  (UKR)
BRONZE – Roland BLACK  (GER)
87kg  
GOLD – Denis KUDLA  (GER)
SILVER – Amer HRUSTANOVIC  (AUT)
BRONZE – Ali CENGIZ(TUR)
BRONZE – Viktor LORINCZ (HUN)
97kg  
GOLD – Suleiman DEMIRCI  (TUR)
SILVER – Zsolt TOROK (HUN)
BRONZE - Melonin NOUMONVI (FRA)
BRONZE – Giorgi MELIA (GEO)
130kg  
GOLD – Jacobi KAJAIA (GEO)
SILVER – Mantas KNYSTAUTAS (LTU)
BRONZE – Oleksandr CHERNETSKY (UKR)
BRONZE – Heiki NABI(EST)