Asian Championships women's wrestling storylines
Friday, March 31, 2023 - 08:23 By Taylor GREGORIO
ASTANA, Kazakhstan (March 31) -- Come April 9, the continental tournament season will be underway with the Asian Championships in Astana, Kazakhstan.
Seeds, which will be released later next week, were determined by performances at the 2022 World Championships and this year's two Ranking Series events. This tournament will also serve as seeding criteria for the 2023 World Championships in Serbia.
Plenty of stars fighting for the crown, including seven Olympic medalists and five past world champions, will be at the Asian Championships. All the action from Kazakhstan can be followed live on uww.org or on the UWW app.
Here are the storylines to keep an eye on in women's wrestling:
Bakbergenova twins seek repeat
In 2022, twin sisters Madina BAKBERGENOVA (KAZ) and Zhamila BAKBERGENOVA (KAZ) won the Asian championships, taking out big competition to top the podium. At 68kg, Madina took out then-reigning world champion and Tokyo Olympic bronze medalist Meerim ZHUMANAZAROVA (KGZ) in the gold-medal bout.
For the 72kg title, Zhamila defeated newcomer Sumire NIIKURA (JPN), who went on to win bronze medals at the U20 and U23 World Championships later. This year, the Bakbergenovas return in hopes of doing it again. Zhamila, a two-time World silver medalist, seeks her third overall Senior Asian title, while Madina aims for the second.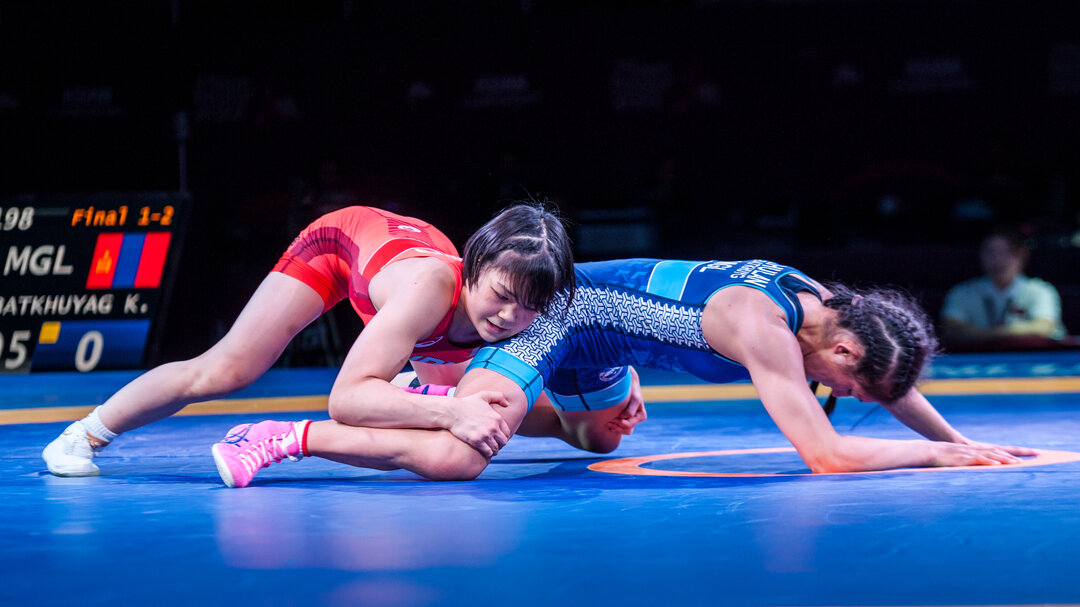 Akari FUJINAMI (JPN) is one of the six returning Asian champions. (Photo: UWW / Bayrem Ben Mrad)
Six returning champions
In addition to the Bakbergenova sisters, four other 2022 Asian champions will be in Astana next weekend. Japan will bring three returning champs in Remina YOSHIMOTO (JPN) at 50kg, Akari FUJINAMI (JPN) at 53kg and Nonoka OZAKI (JPN) at 62kg. Yoshimoto and Fujinami each earned World gold in 2021, and Ozaki claimed Senior, U23 and U20 World gold last year.
Representing Kyrgyzstan, Aiperi MEDET KYZY (KGZ) is registered at 76kg. She won her first Asian title in 2022, fresh off a bronze-medal performance at the '21 World Championships.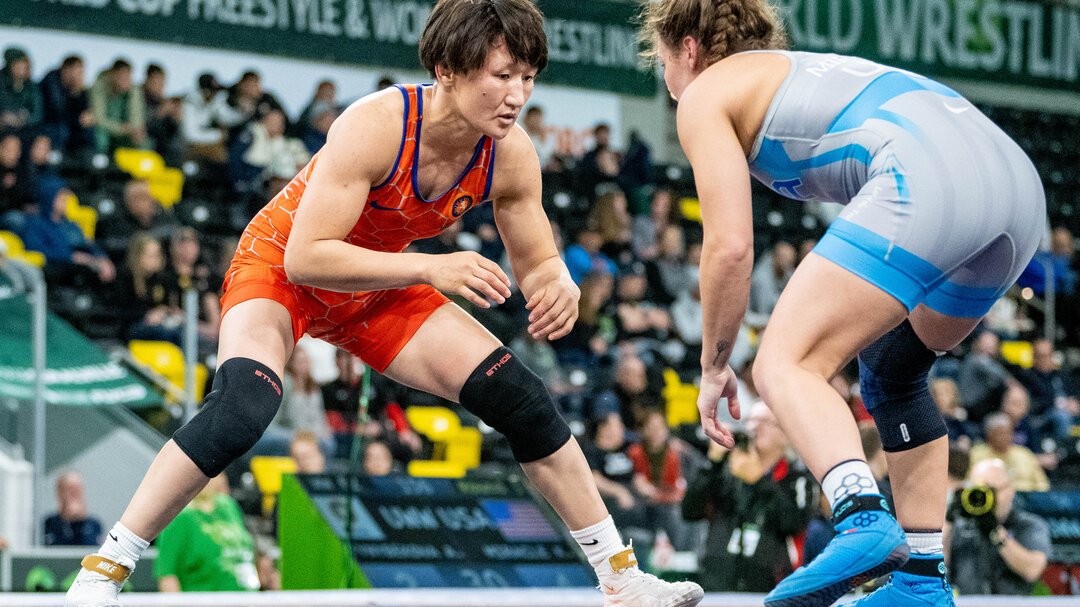 Aisuluu TYNYBEKOVA (KGZ) is a Tokyo Olympic silver medalist. (Photo: UWW /  Ginnie Coleman)
Seven Olympic medalists highlight field
This year's field features seven Olympic medalists across all weights with two silver medalists and five bronze winners.
Leading the group is Tokyo Olympics runner-up Aisuluu TYNYBEKOVA (KGZ), who will compete at 62kg. Tynybekova has a loaded resume with 2019 and 2021 World titles, a 2017 world bronze and four Asian gold medals.
Also an Olympic runner-up is Qianyu PANG (CHN) at 55kg, who won her medal in Tokyo. A two-time World bronze medalist, Pang seeks her second-career Asian title. Her first came in 2016.
The Olympic bronze medalists expected to wrestle include Bolortuya BAT OCHIR (MGL) at 53kg, Zhumanazarova, Qian ZHOU (CHN) and Yelena SHALYGINA (KAZ) at 68kg and Elmira SYZDYKOVA (KAZ) at 76kg.
Weight to watch: 68kg
If you haven't noticed yet, the 68kg weight is FULL of talent. A quick breakdown: Bakbergenova comes in as the returning continental champ; Shalygina and Zhumanazarova own Olympic bronze medals; and Feng ZHOU (CHN) and Ami ISHII (JPN) bring World medals to the field.
Feng has held the weight for China for several years and brings a wealth of experience to Astana. Her presence will keep the competition on their toes. She has a 2015 silver and a 2018 bronze at the World Championships.
If Bakbergenova is not entered, Kazakhstan will go with Shalygina, a 2008 Olympic medalist. She has three World medals from 2007, 2009 and 2010. She's in the midst of a comeback to wrestling after taking an international hiatus from 2012-2022.
Rounding out the group, Zhumanazarova won gold at Oslo 2021, and Ishii claimed silver in her World Championships debut last September.