Amine Makes History by Qualifying San Marino for Tokyo 2020 by Making 86kg Semis
Saturday, September 21, 2019 - 10:10 By Ken Marantz
NUR-SULTAN, Kazakhstan (Sept. 21)--- Having become San Marino's first wrestler in history to qualify for the Olympic Games, Myles AMINE (SMR) certainly achieved his goal of making his grandfather back in the small European enclave proud. 
Amine, who was born and raised in the U.S. state of Michigan and holds dual citizenship, clinched a place in the Tokyo 2020 Olympics for San Marino in freestyle 86kg when he advanced to the semifinals on Day 8 of the World Championships.
"It just feels incredible," Amine said. "I know the amount of work I put in, year-round these past few years….I decided my goal was to get to the Olympics here. At first, I went to the European Championships and I had a pretty good tournament, breakout, but I knew I had a lot of work to do. I put all that work in the summer, and it paid off."
The 22-year-old Amine who finished ninth at the European Championships in April, defeated Ahmed DUDAROV (GER) 4-2 in the quarterfinals to set up a monster task to earn a place in the finals. 
His semifinal opponent will be 2017 world and 2016 Olympic champion Hassan YAZDANI (IRI), who bulldozed his way into the last four with a technical fall and two falls. Amine looks forward to the challenge.
"I live for this kind of stuff," he said. "To wrestle these guys that I look up to at a point in time. Even now, I still watch a lot of his technique and study him. To be able to go up and compete against a guy like that, that's a dream of mine. I'm stoked."
Amine's run nearly got derailed in the previous round, when he literally scored a takedown off a counter in the last second for a 5-2 victory over 2014 world silver medalist Sosuke TAKATANI (JPN)
"I don't know what happened there," Amine said with a smile. "I kind of just took a bad shot and he got in. I honestly thought it would be a miracle to win that match. 
Amine, who is part of the group of wrestlers in Nur-Sultan with dual citizenship who trained at the University of Michigan under Russian legend Sergey BELAGLAZOV, said growing up in the United States and competing in the folkstyle paid off that situation. 
"I'm really good in those scramble positions," he said. "Wrestling in the United States you learn to scramble really well and it came up big. It's the reason why I'm going to the Olympics."
Competing for San Marino, a country with a population of 33,000 completely surrounded by Italy, certainly can be a conversation starter for Amine, who takes great pride in his heritage. 
"I don't think most people know what San Marino is," he said. "It's my heritage and my grandpa is really proud to be from there and talks about it all the time. I just talked to him last night and told him I'd try to make him proud. For this to happen, it's surreal."
The other semifinal at 86kg will pit Stefan REICHMUTH (SUI) against Deepak PUNIA (IND), the recently crowned world junior champion.
The day session featured qualification rounds in the final four freestyle weights, with those advancing to the semifinals clinching berths for their country at Tokyo 2020.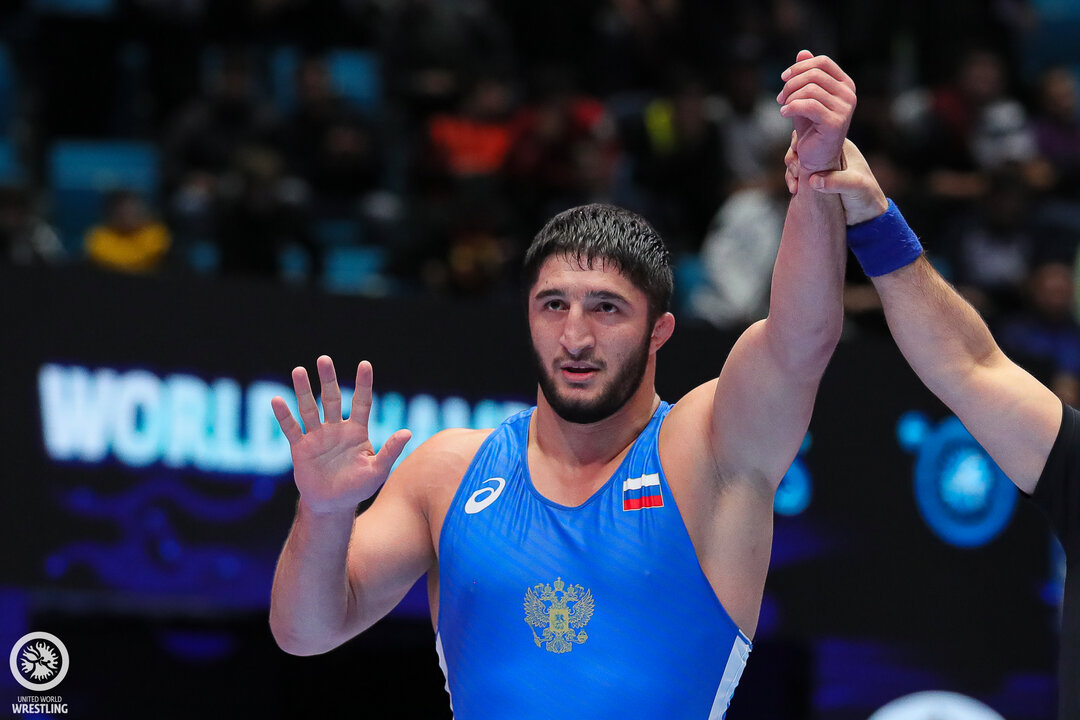 Abdulrashid SADULAEV (RUS) and Kyle SNYDER (USA) both made it to the semifinals and are one match away from wrestling for the 97kg for the third consecutive year. (Photo: Kadir Caliskan)
The highly-anticipated showdown between 97kg titans Abdulrashid SADULAEV (RUS) and Kyle SNYDER (USA) remained on course as the two advanced to the semifinals in separate brackets. 
Sadulaev, winner over Snyder in last year's world final in Budapest, will face Alisher YERGALI (KAZ), while Snyder faces a stiff test in European champion and Rio 2016 bronze medalist Sharif SHARIFOV (AZE). 
In the quarterfinals, Snyder fell behind against Magomed IBRAGIMOV (UZB) before getting into gear and storming to a 13-3 technical fall. Sadulaev, who won by technical fall in his opening match, knocked off Magomedgadji NUROV (MKD) 6-0.
Defending champion Kyle DAKE (USA) advanced to the semifinals of the non-Olympic 79kg division, gaining a stepout and a takedown over the final minute to secure a 5-1 victory over Gadzhi NABIEV (RUS). 
He will face Rashid KURBANOV (UZB), while the other semifinal will be a clash between Taimuraz SALKAZANOV (SVK) vs Jabrayil HASANOV (AZE)
In the non-Olympic 61kg class, Behnam EHSANPOOR (IRI) emerged from a wild-and-wooly encounter with Akhmednabi GVARTZATILOV (AZE) with a 13-12 victory, and will face Magomedrasul IDRISOV (RUS) for a place in the final.
Gvartzatilov had handily ousted defending champion and top seed Yowlys BONNE RODRIGUES (CUB) 7-0.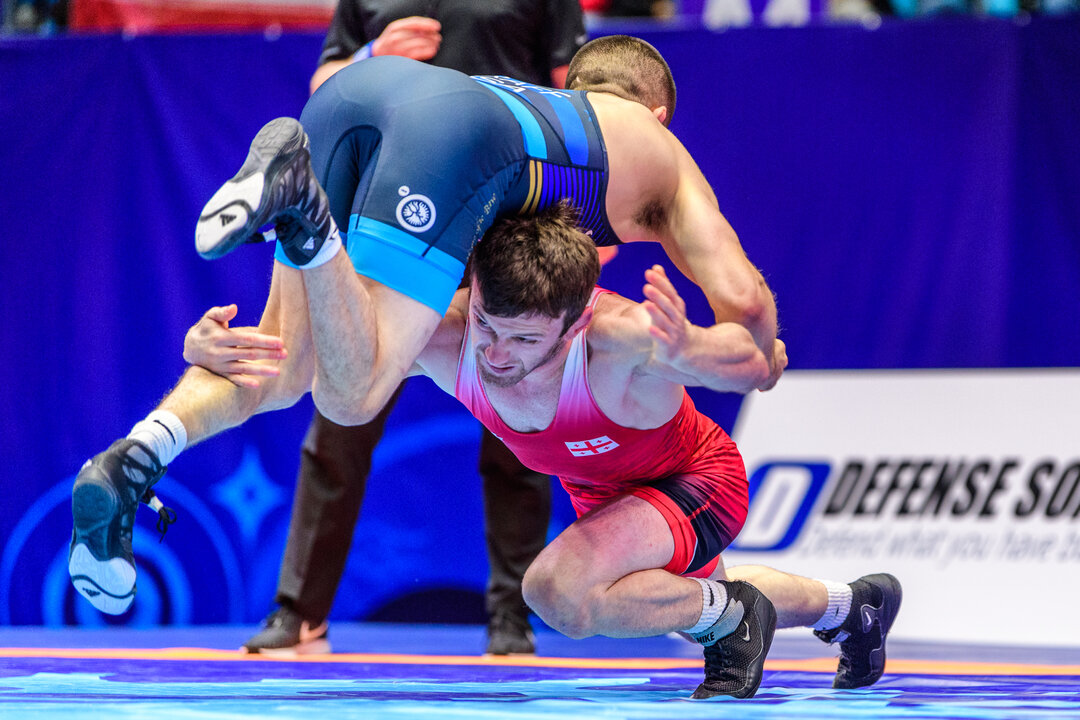 Beka LOMTADZE (GEO) will square off with Rahul AWARE (IND) in the 61kg semifinals. (Photo: Tony Rotundo)
The other semifinal will be a clash between 2016 world silver medalist Beka LOMTADZE (GEO) and Asian bronze medalist Rahul AWARE (IND). Aware prevailed 10-7 in a back-and-forth quarterfinal over Rassul KALIYEV (KAZ). 
In the repechage rounds to fill the bronze-medal matches in the four weight classes that started competition on Friday, Mao OKUI (JPN) secured a place for the host country at Tokyo 2020 at 74kg when he scored a takedown and two rolls in the last 30 seconds to defeat Kamil RYBICKI (POL) 6-2.
Okui, who defeated 2017 world 70kg bronze medalist Yuhi FUJINAMI (JPN) to make the Japanese team to Nur-Sultan, will face a tall task in his bid to win a bronze medal, which would have further ramifications for the 2018 world university silver medalist
A victory would clinch the Olympic spot for himself without further domestic qualifying, according to Japan federation criteria. His opponent in the third-place playoff? Four-time world champion Jordan BURROUGHS (USA), who will be aiming for his seventh world medal overall. 
At 70kg, Nicolae COJOCARU (GBR) will try to give his country its first-ever men's world medal when he faces Yones EMAMICHOGHAEI (IRI). The Romanian-born Cojocaru defeated Joshua RILEY (AUS) by fall in the repechage. 
Two wrestlers from the host country earned chances to add to its medal haul when Daniyar KAISANOV (KAZ) advanced at 74kg and Nurgali NURGAIPULY (KAZ) at 92kg. 
Badzha KHUTABA (SYR) assured he would have the highest finish in freestyle in Syrian history when he advanced at 125kg. He will look to become the first medalist when he faces Oleksandr KHOTSIANIVSKYI (UKR).
Day 8 Pairings
Freestyle
61kg (25 entries)
Semifinal – Behnam EHSANPOOR (IRI) vs Magomedrasul IDRISOV (RUS) 
Semifinal – Beka LOMTADZE (GEO) vs Rahul AWARE (IND)
70kg (30 entries)
Gold – David BAEZ (RUS) vs Nurkozha KAIPANOV (KAZ) 
Bronze –Zurabi IAKOBISHVILI (GEO) vs Magomedmurad GADZHIEV (POL)
Bronze – Nicolae COJOCARU (GBR) vs Yones EMAMICHOGHAEI (IRI) 
74kg (39 entries)
Gold – Frank CHAMIZO (ITA) vs Zaurbek SIDAKOV (RUS) 
Bronze –Daniyar KAISANOV (KAZ) vs Zelimkhan KHADJIEV (FRA)
Bronze – Mai OKUI (JPN) vs Jordan BURROUGHS (USA) 
79kg (23 entries)
Semifinal – Kyle DAKE (USA) vs Rashid KURBANOV (UZB) 
Semifinal – Taimuraz SALKAZANOV (SVK) vs Jabrayil HASANOV (AZE)
86kg (43 entries)
Semifinal – Stefan REICHMUTH (SUI) vs Deepak PUNIA (IND) 
Semifinal – Hassan YAZDANI (IRI) vs Myles AMINE (SMR)
92kg (18 entries)
Gold – J'den COX (USA) vs Alireza KARAMIMACHIANI (IRI)  
Bronze –Nurgali NURGAIPULY (KAZ) vs Irakli MTSITURI (GEO)
Bronze – Georgii RUBAEV (MDA) vs Alikhan ZHABRAILOV (RUS) 
97kg (26 entries)
Semifinal – Kyle SNYDER (USA) vs Sharif SHARIFOV (AZE) 
Semifinal – Alisher YERGALI (KAZ) vs Abdulrashid SADULAEV (RUS)
125kg (28 entries)
Gold – Geno PETRAIASHIVILI (GEO) vs Taha AKGAL (TUR) 
Bronze –Badzha KHUTABA (SYR) vs Oleksandr KHOTSIANIVSKYI (UKR)
Bronze – Khasanboy RAKHIMOV (UZB) vs DENG Zhiwei (CHN)