African Championship Preview
Tuesday, February 4, 2020 - 21:45 By Eric Olanowski
ALGER, Algeria (February 6) --- African stars Odunayo ADEKUOROYE (NGR), Mohamed ELSAYED (EGY), Ahmed MOHAMED (EGY) and Blessing OBORUDUDU (NGR) enter the African Championships poised to improve their top-five rankings.
Adekuoroye jumped RONG Ningning (CHN) and is ranked second in the world at 57kg. The Nigerian superstar trails three-time world champion and 2016 Olympic champion Risako KAWAI (JPN) by 17 points. 
But Adekuoroye, a three-time world medalist, can overthrow Kawai for the world's top-ranking if she's able to claim her fifth consecutive crown. A gold in Alger will be worth 18 points, which would catapult Adekuoroye into the No. 1 spot, one point ahead of the Japanese wrestler before the Asian Championships.
Adekuoroye is favored to win the five-woman 57kg bracket. But, undoubtedly, Adekuoroye's biggest threat is Eman EBRAHIM (EGY), who she defeated in last year's All African Games finals.
Ebrahim, the defending African champion at 59kg, is ranked 12th in the world and will make her descent down to 57kg for a run at the Tokyo Olympic Games.
Mohamed El Sayed enters the African Championships ranked fifth in the world at 67kg and is five points from leaping into the top-three of the rankings. He's on a quest to win his fourth African championship crown in his last five tries. 
The two-time U23 world champion will earn 18 Ranking Series points if he caps off the 2020 African Championships with another title. He'd move into the third spot of the rankings before the European Championships kick-off. 
According to the 67kg early entries for the European Championships, fourth-ranked Mate NEMES (SRB) is the only European wrestler that's ranked higher than El Sayed that'll wrestle at the continental championships. Nazir ABDULLAEV (RUS) will replace No. 2 Artem SURKOV (RUS) and Witalis LAZOVSKI (GER) will take No. 3 Frank STAEBLER'S (GER) starting spot.
The absence of Surkov and Staebler presents El Sayed with an opportunity to be ranked no lower than fourth heading into the final Ranking Series event, the Poland Open. But first, he'll have to get through his most dangerous opponent, Radhwen TARHOUNI (TUN), who was last year's 63kg African runner-up.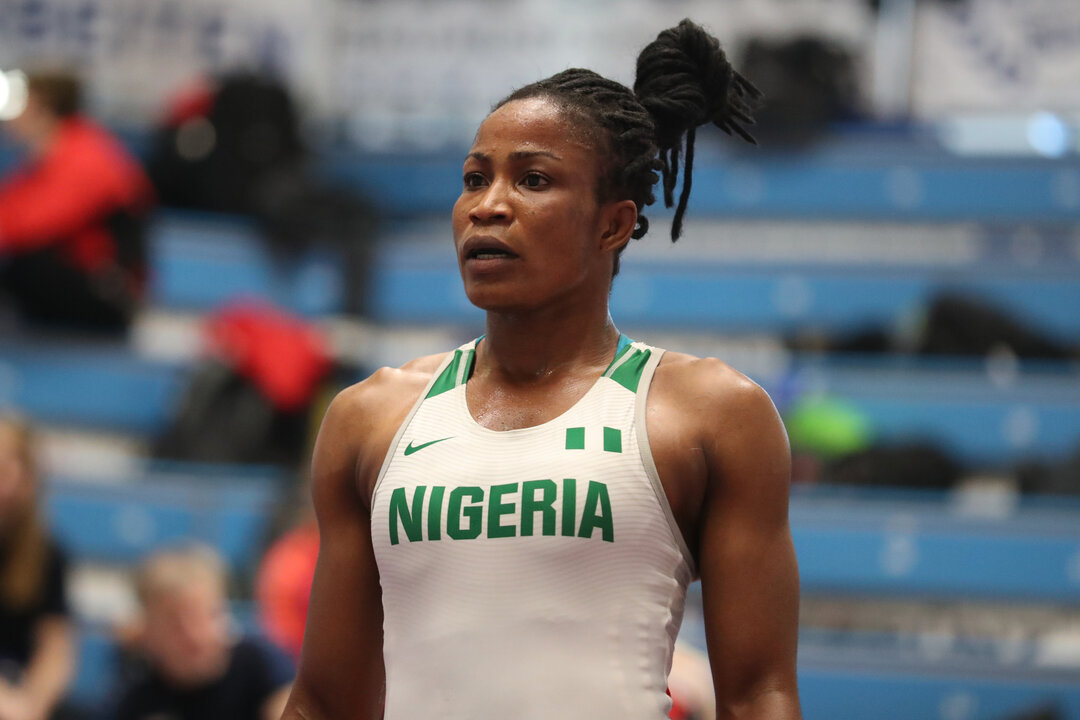 Blessing OBORUDUDU (NGR) could pass Jenny FRANSSON (SWE) for the No. 2 spot if she wins the 68kg title in Alger. (Photo: Kadir Caliskan)
At 68kg, Blessing Oborududu is ranked third in the world and sits ten points away from surpassing Jenny FRANSSON (SWE) for the No. 2 spot in the women's wrestling rankings. A tenth African title will be worth 18 points and will boost Oborududu into the second spot, eight points ahead of Fransson. 
Mona AHMED (EGY) and Anta SAMBOU (SEN) are in charge of stopping Oborududu in her quest to reach double-digit African titles. But that'll be easier said than done. Oborududu hasn't lost at the African Championships since her first continental appearance in 2009.
Ahmed won a silver medal at last year's African Championships, but that was at 76kg. She's dropping down two weight classes to try to improve on that silver-medal finish. 
Sambou fell to Obordudu in their last three meetings. Sambou dropped her finals matches against the Nigerian at last year's All African Championships and also fell to Obordudu in the previous two African Championship finals.
At 130kg, Abdellatif Mohamed enters the African Championships ranked third in the world with 30 Ranking Series points. He's positioned eight points behind Oscar PINO HINDS (CUB) but will gain the ten-point lead over the Cuban world runner-up if he claims gold in the five-person bracket in Alger. 
Hichem KOUCHIT (ALG) and Amine GUENNICHI (TUN) are the top-two candidates who have a shot at stopping Mohamed from winning a fifth African title. Mohamed downed Kouchit, 8-0, in their fifth-round meeting at last year's African Championships, and bested Guennichi in last year's All African Games finals.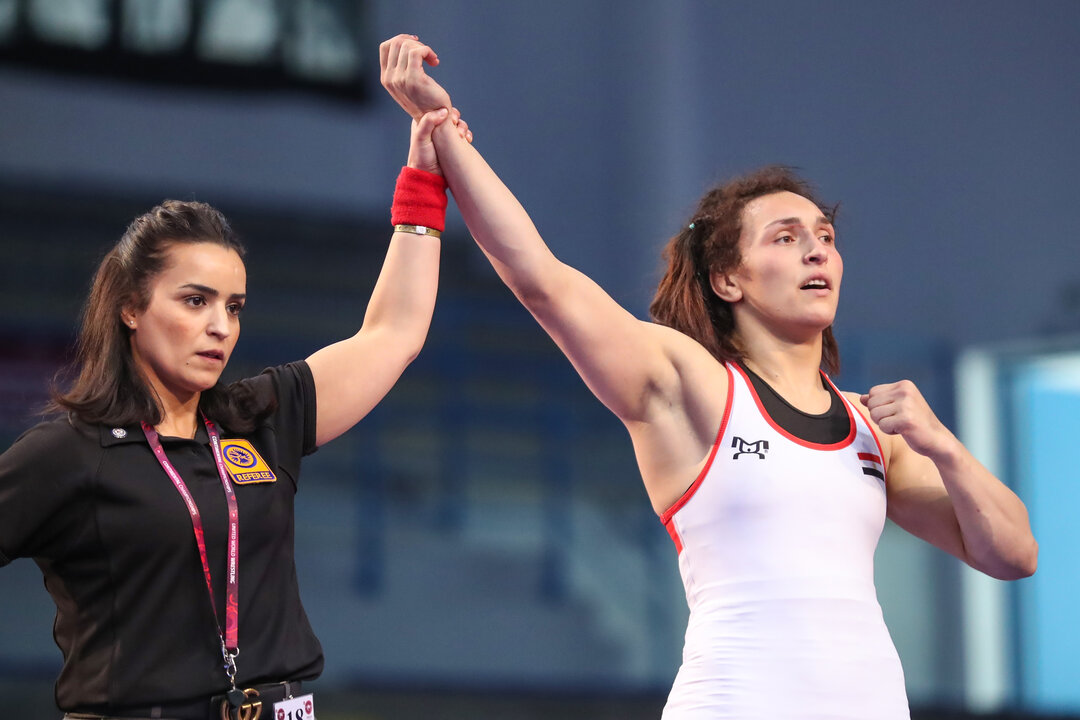 Samar HAMZA (EGY) is bumping up to 76kg after splitting time in 2019 at 68kg and 72kg. (Photo: Kadir Caliskan)
Three Weights to Feature Two Returning Champs
57kg (WW), 74kg (FS) and 76kg (WW) feature a pair of reigning African champions entered into the same weight -- with one winner switching weight classes to challenge the defending 2019 champion. 
As previously mentioned, reigning 59kg champion Eman Ebrahim is dropping down to 57kg to challenge Adekuoroye. 
Samar HAMZA (EGY) is returning to the Olympic weight of 76kg to try to halt Blessing ONYEBUCHI (NGR) from winning a second consecutive 76kg title. Hamza split time in 2019 between 68kg and 72kg.  Hamza's cut down to 68kg proved to be too much to handle, so she was left with no other option but to move back up to 76kg.
Hamza's move to 76kg reinvigorates her rivalry with Onyebuchi that dates back to 2016. The Egyptian scored the come-from-behind fall against Onyebuchi in their 2016 African Championship semifinals match, which ultimately led to her winning one of her three continental titles. Hamza won their latest meeting, too.  She grabbed a one-point victory in the pair's 9-8 shootout match at the 2018 African Championships.
On a side note, Hamza's African record remains unblemished in her five trips to the African Championships. She's a two-time junior African champion and three-time senior African gold medalist.
In freestyle, Amr HUSSEN (EGY) will make his ascent up to 74kg and try to avenge multiple losses suffered at the hands of three-time African champion Ogbonna Emmanuel JOHN (NGR). 
Most recently, Hussen fell to John 2-2 on criteria in the 2018 African finals. The Egyptian wrestler also fell to the Nigerian in the 2017 African Championships. That 9-8 quarterfinals loss in 2017 led to Hussen finishing with a bronze medal, while John reached the top of the podium.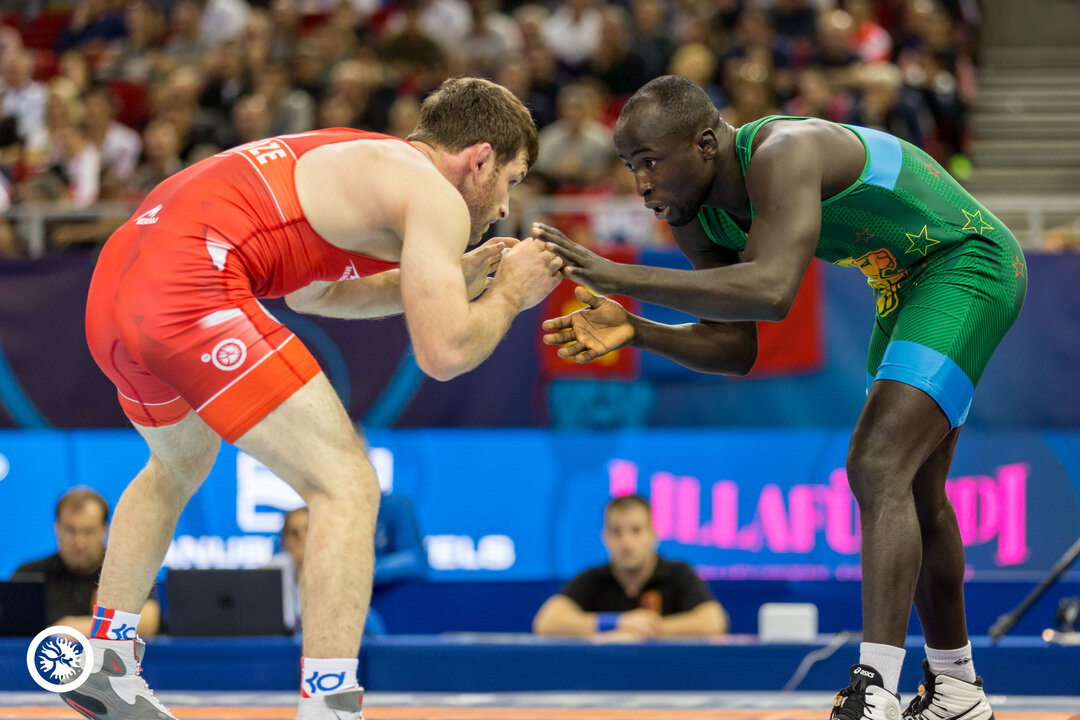 Adama DIATTA (SEN) is in search of his tenth African title. (Photo: Max Rose-Fyne)
Diatta Chasing African Title Number Ten 
Adama DIATTA (SEN) is on a quest to claim his tenth African Championship title. He won his first of nine titles 13 years ago, at the 2007 African Championships. He captured three consecutive African gold medals from 2007-'09, before dropping to a silver and a bronze-medal finish at the 2010 and '11 African Championships, respectively. Diatta added six African crowns to his resume since that loss in 2011 and is awaiting title number ten. 
But for Diatta to reach double digits will be extremely tough. He's bumping up to 65kg for the second time in his career. He appeared at 65kg at last year's All African Games and finished in eighth place. 
The favorite at the weight is returning 65kg African champion, Mbunde CUMBA MBALI (GBS).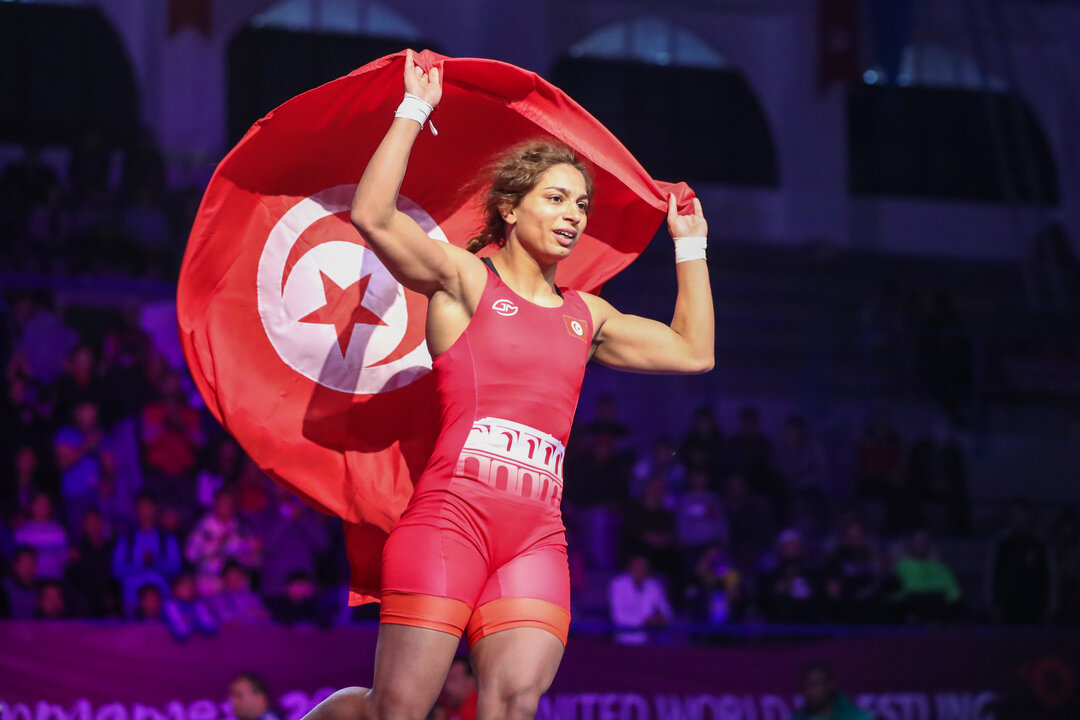 Marwa AMRI (TUN), a Rio Olympic bronze medalist, is one of nine returning women's wrestling African champions. (Photo: Kadir Caliskan)
23 of 30 Gold Medalists Returning 
There are 23 of last year's 30 champions that are returning to the African Championships looking to defend their 2019 crowns. Women's wrestling has nine returning winners; freestyle has eight and Greco-Roman is set to feature six wrestlers looking to win a second consecutive title.
Women's Wrestling: 
50kg - Miesinnei GENESIS (NGR)
55kg - Faten HAMMAMI (TUN)
57kg - No. 2 Odunayo Folasade ADEKUOROYE (NGR)
57kg - No. 12 Eman Essam Guda EBRAHIM (Ranked at 59kg) (EGY)
62kg - Marwa AMRI (TUN)
68kg - No. 3 Blessing OBORUDUDU (NGR)
72kg - Sunmisola Idowu BALOGUN (NGR)
76kg - Samar Amer Ibrahim HAMZA (EGY)
76kg - Blessing Joy ONYEBUCHI (NGR)
Freestyle: 
57kg - Abdelhak KHERBACHE    (ALG)
65kg - Mbunde CUMBA MBALI (GBS)
74kg - Amr Reda HUSSEN (EGY)
74kg - Ogbonna JOHN (NGR)
79kg - Ayoub BARRAJ    (TUN)
86kg - Sabri MNASRIYA (TUN)
92kg - Mohamed ABDALLA (EGY)
97kg - Mohamed SAADAOUI (TUN)
Greco-Roman: 
55kg - Abdelkarim FERGAT (ALG)
60kg - Haithem MAHMOUD (EGY)
67kg - No. 5 Mohamed ELSAYED (EGY)
72kg - Tarek Aziz BENAISSA (ALG)
97kg - Adem BOUDJEMLINE (ALG)
130kg - Abdellatif MOHAMED (EGY)
SENIOR AFRICAN CHAMPIONSHIP SCHEDULE
Friday (February 7)
14:00 - Technical conference – all SENIOR teams
Saturday (February 8)
8:30 - Medical examination and Weigh-in WW – GR / SENIOR
10:30 - Qualification rounds and repechage WW – GR / SENIOR
17: 00 - Finals WW – GR / SENIOR
Sunday (February 9)
8:30 - Medical examination and Weigh-in FS / SENIOR
10:30 - Qualification rounds FS / SENIOR
17:00 - Finals FS / SENIOR