African Championship Entries
Monday, January 27, 2020 - 18:22 By Eric Olanowski
ALGER, Algeria (January 27) ---The African Championships kick-off February 04-09 in Alger, Algeria, and 23 of last year's 30 champions return to action looking to defend their crowns. 
Second-ranked Odunayo ADEKUOROYE headlines a group of nine women's wrestling returning champions. 
Adama DIATTA (SEN), the man in search of African title number ten, highlights a list of freestyle stars that includes eight reigning gold-medal winners.
Egypt's pair of top-five-ranked wrestlers Mohamed ELSAYED (EGY) and Abdellatif MOHAMED (EGY) are two of the six Greco-Roman wrestlers who are looking to win a second consecutive title.
The African Championships begin next Tuesday (February 4) at 10:30 local time and can be followed live on www.unitedworldwrestling.org. 
Women's Wrestling
50kg
Ibtissem DOUDOU (ALG)
Nadine NDAYISHIMIYE (BDI)
Nde Caroline YAPI (CIV)
Nada Medani Ashour Abdalla MOHAMED (EGY)
Debora Valeria TURE (GBS)
Fatiha SAHMANI (MAR)
Miesinnei Mercy GENESIS (NGR)
Nahamie SAMBOU (SEN)
Sarra HAMDI (TUN)
53kg
Kheira Chaimaa YAHIAOUI (ALG)
Joseph Emilienne ESSOMBE TIAKO (CMR)
Kholod Ahmed Allam AHMED (EGY)
Elisa Emma Patricia RASOANANTENAINA NOMENJANAHARY (MAD)
Bose SAMUEL (NGR)
Chaima RAOUAFI (TUN)
55kg
Lamia CHEMLAL (ALG)
Faten Ramadan Shamndy AHMED (EGY)
Esther Omolayo KOLAWOLE (NGR)
Dorssaf GHARSSI (TUN)
Faten HAMMAMI (TUN)
57kg
Cheima CHEBILA (ALG)
Eman Essam Guda EBRAHIM (EGY)
Fatoumata Yarie CAMARA (GUI)
Odunayo Folasade ADEKUOROYE (NGR)
Siwar BOUSETTA (TUN)
59kg
Rayane HOUFAF (ALG)
Fatma Ramadan Gomaa Ahmed ELKELINY (EGY)
Bisola MAKANJUOLA (NGR)
Siwar LOUATI BEN ALI (TUN)
Khouloud EL OUNI (TUN)
62kg
Kenza ISMAIL (ALG)
Berthe Emilienne ETANE NGOLLE (CMR)
Amina Kamal Elsebaee IBRAHIM (EGY)
Winrose ALIVISA (KEN)
Aminat Oluwafunmilayo ADENIYI (NGR)
Marwa AMRI (TUN)
65kg
Amel HAMMICHE(ALG)
Donia Mohamed Abdelgawwad ABOUZEID(EGY)
Hannah Amuchechi RUEBEN(NGR)
Lilia MEJRI(TUN)
68kg
Drifa AREZKI (ALG)
Mona Reda Abdelkhalek AHMED (EGY)
Blessing OBORUDUDU (NGR)
Anta SAMBOU (SEN)
Rihem AYARI (TUN)
72kg
Melissa SALHI (ALG)
Ornella Terancia Oswaldie SEREBOUSSO (CAF)
Eman Hany Hefny MOHAMED (EGY)
Sunmisola Idowu BALOGUN (NGR)
Zaineb SGHAIER (TUN)
76kg
Tassadit AMER (ALG)
Yvette ZIE (BUR)
Amy YOUIN (CIV)
Samar Amer Ibrahim HAMZA (EGY)
Blessing Joy ONYEBUCHI (NGR)
Nour JELJELI (TUN)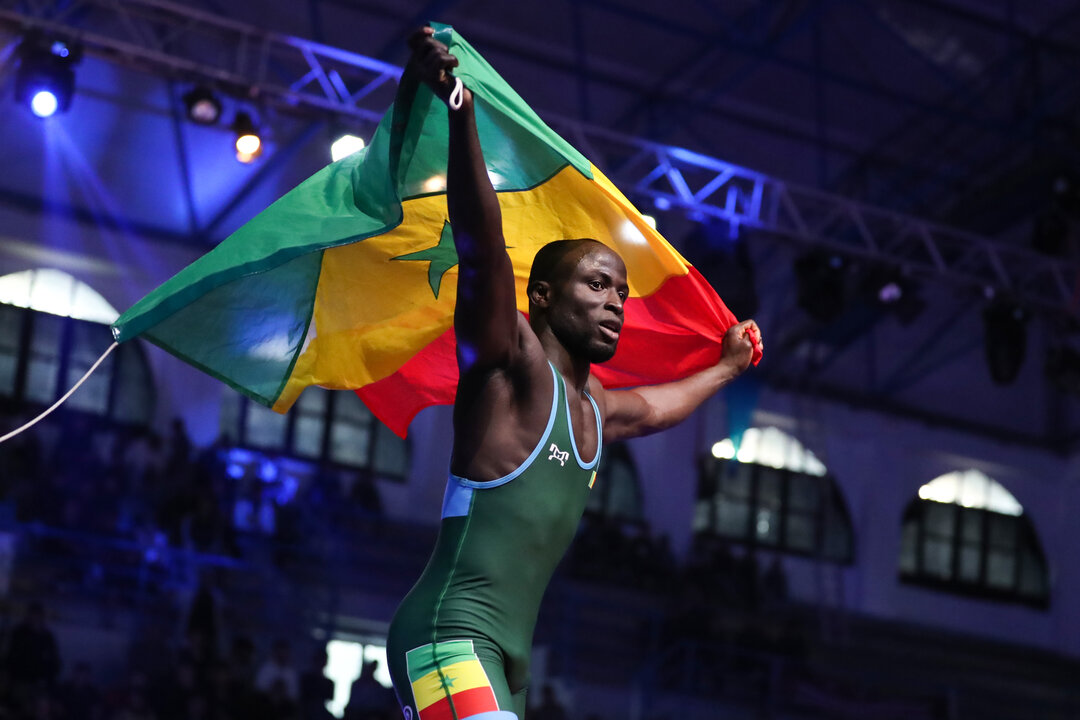 Adama DIATTA (SEN) is looking to win his tenth African title since 2007. (Photo: Max Rose-Fyne)
Freestyle
57kg
Abdelhak KHERBACHE (ALG)
Jean-Claude NDAYIZEYE (BDI)
Gamal Abdelnaser Hanafy MOHAMED (EGY)
Diamantino IUNA FAFE (GBS)
Mohamed Ismaele CAMARA (GUI)
Soufiane KABIL (MAR)
Ebikewenimo WELSON (NGR)
Jakobo Tanki TAU (RSA)
Fathi Mohammed Yagoub Nasir NASIR (SUD)
61kg
Abdelghani BENATALLAH (ALG)
Oussama LARIBI (ALG)
Rosian Ronald NGUIGAZA (CAF)
Christ Emmanuel NDRI (CIV)
Yousef Mohamed Yousef EISSA (EGY)
Fisayo KOLAWOLE (NGR)
Hermanus Nicolaas VAN DEN BERG (RSA)
Habib Mohamed El Tegani AHMED (SUD)
Dhia Eddine BAALOUCHI (TUN)
65kg
Amar LAISSAOUI (ALG)
Maxime Anicet Nazaire SIALO MAKAKE (CAF)
Fathi Tarek Fathi Attia ISMAIL (EGY)
Mbunde CUMBA MBALI (GBS)
Faly Hery Sedra RANDRIANANTOANDRO (MAD)
Otmane EL BAHJA (MAR)
Amas DANIEL (NGR)
Reynhardt LOUW (RSA)
Adama DIATTA (SEN)
Fakhireldin Antar Obaid SORIEN (SUD)
Farouk JELASSI (TUN)
70kg
Ibrahim MOKHTARI (ALG)
Lionel Patrick NGBO BAMBOU ASSANA (CAF)
Ahmed Mohamed Elsayed ELMADBOH (EGY)
Abubakar ALHASSAN (GHA)
Sampson CLACKSON (NGR)
Haithem DAKHLAOUI (TUN)
74kg
Ishak BOUKHORS (ALG)
Baki TCHANI (BEN)
Djibrine Garba NGAMBONGO (CAF)
Mahamad Mansour IDRISS (CAF)
Amr Reda Ramadan HUSSEN (EGY)
Augusto MIDANA (GBS)
Mathayo Matonya MAHABILA (KEN)
Mohamed CHAKIR (MAR)
Ogbonna Emmanuel JOHN (NGR)
Jaundre VAN RIEL (RSA)
Jean Bernard Diadia DIATTA (SEN)
Mohamed SESAY (SLE)
Maher GHANMI (TUN)
79kg
Mohammed BOUDRAA (ALG)
Saifeldin Shokry Mohamed Mahmoud ELKOUMY (EGY)
Foday KARGBO (SLE)
Ali Abdelwahab Osman BAKHET (SUD)
Ayoub BARRAJ (TUN)
86kg
Fateh BENFERDJALLAH (ALG)
Amoussou Nicolas CAKPO (BEN)
Nziga We Dieu Beni ZOZO (CAF)
Ulrich Elyse MANOUAN (CIV)
Khaled Masoud Ismail ELMOATAMADAWI (EGY)
Bedopassa BUASSAT DJONDE (GBS)
Roman MANITRA RAHARISON (MAD)
Oussama REGANI (MAR)
Ekerekeme AGIOMOR (NGR)
Zander GERINGER (RSA)
Blaise DIATTA (SEN)
Guma Babiker Adam BASHIR (SUD)
Sabri MNASRIYA (TUN)
92kg
Mohammed FARDJ (ALG)
Mohamed Abdalla Abdelmoneim ABDALLA (EGY)
Rachid OURIBI (MAR)
Mohamed Saifeldoula Mohamed MOHAMEDAIN (SUD)
Imed KADDIDI (TUN)
97kg
Oualid BOUAZIZI (ALG)
Hosam Mohamed Mostafa MERGHANY (EGY)
Fahd NAJI (MAR)
Angula Matheus SHIKONGO (NAM)
Soso TAMARAU (NGR)
Martin ERASMUS (RSA)
Mohamed SAADAOUI (TUN)
Amir ALAWAD (UWW)
125kg
Djahid BERRAHAL (ALG)
Diaaeldin Kamal Gouda ABDELMOTTALEB (EGY)
Anas LAMKABBER (MAR)
Johannes Jacobus KRIEL (RSA)
Thiacka FAYE (SEN)
Abdelmoneim ADOULI (TUN)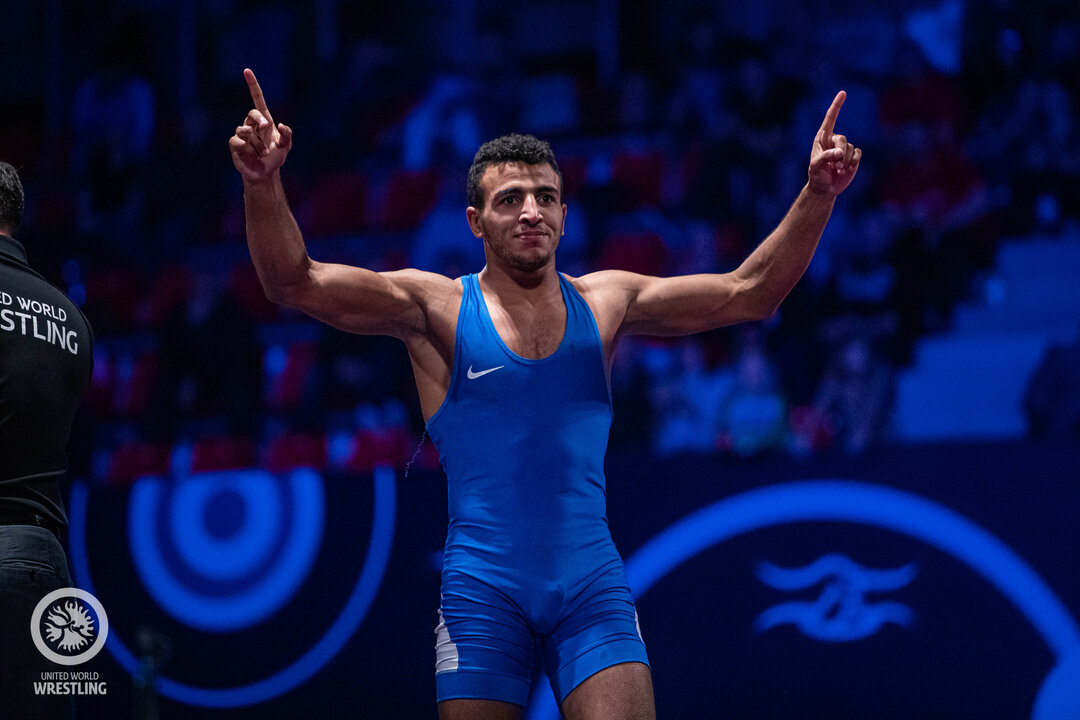 Two-time U23 world champion Mohamed ELSAYED (EGY) is the headline Greco-Roman athlete entered in the African Championships. He's ranked No. 5 in the world at 67kg. (Photo: Sachiko Hotaka)
Greco-Roman
55kg
Abdelkarim FERGAT (ALG)
Youssef Mohamed Harbi THABET (EGY)
Romio Ricardo GOLIATH (NAM)
Dhia Eddine BAALOUCHI (TUN)
60kg
Abdennour LAOUNI (ALG)
Haithem Mahmoud Ahmed Fahmy MAHMOUD (EGY)
Abderrazak ROUINBI (MAR)
Ikechukwu Valentine ROBINSON (NGR)
Mehdi DHEKER (TUN)
63kg
Abdeldjebar DJEBBARI (ALG)
Mostafa Hassan Abdelaal MOHAMED (EGY)
Hamed Moustapha TCHOUFON (RSA)
Fakhireldin Antar Obaid SORIEN (SUD)
67kg
Ishak GHAIOU (ALG)
Abdelmalek MERABET (ALG)
Mohamed Ibrahim Elsayed Ibrahi ELSAYED (EGY)
Mouad LACHKAR (MAR)
Alfred Ebilade PARKISTAN (NGR)
Gert Cornelius Johannes COETZEE (RSA)
Radhwen TARHOUNI (TUN)
72kg
Tarek Aziz BENAISSA (ALG)
Abouhalima Mohamed Elsaid ABOUHALIMA (EGY)
Mohamed SESAY (SLE)
Lamjed MAAFI (TUN)
77kg
Abd Elkrim OUAKALI (ALG)
Wael Hamdy Mohamed ABDELRAHMAN (EGY)
Aziz BOUALEM (MAR)
Emmanuel Chinonso NWORIE (NGR)
Richard FERREIRA (RSA)
Foday KARGBO (SLE)
Ibrahim Mohamed Bashir AHMED (SUD)
Mohamed Aziz LANDOLSI (TUN)
82kg
Fadi ROUABAH (ALG)
Chawki DOULACHE (ALG)
Mohamed Mahmoud Elsayed Ahmed SELIM (EGY)
Ali Abdelwahab Osman BAKHET (SUD)
Ghaith HANNACHI (TUN)
87kg
Bachir SID AZARA (ALG)
Mohamed Moustafa Ahmed Abdall METWALLY (EGY)
Mohamed FAIQ (MAR)
Tochukwu Micheal OKEKE (NGR)
Edward Louwis LESSING (RSA)
Guma Babiker Adam BASHIR (SUD)
Mohamed Skander MISSAOUI (TUN)
97kg
Adem BOUDJEMLINE (ALG)
Noureldin Hany Mohamed Gomaa HASSAN (EGY)
Choucri ATAFI (MAR)
Mohamed Saifeldoula Mohamed MOHAMEDAIN (SUD)
Haikel ACHOURI (TUN)
Amir ALAWAD (UWW)
130kg
Hichem KOUCHIT (ALG)
Hemza HALOUI (ALG)
Abdellatif Mohamed Ahmed MOHAMED (EGY)
Soufiane RAMANI (MAR)
Amine GUENNICHI (TUN)
Please note that entries are subject to change and are not official until 24 hours before the start of competition.