2nd Irie Knocks Off World Champion to Make Japan's World Team; Ota Gains 63kg Spot
Monday, July 22, 2019 - 11:36 By Ken Marantz
TOKYO (July 21) --- For the second time in two weeks, a reigning world champion was knocked off Japan's team to this year's World Championships. And for the second time, the conqueror was a wrestler named Irie.
Nanami IRIE earned a place alongside older sister Yuki on the plane to Kazakhstan when she defeated Haruna OKUNO 3-1 in a playoff for the women's 55kg berth on the Japanese squad.
Irie, a former world junior and cadet champion, scored a takedown off a counter early in the second period and held on to beat Okuno, the 2018 world champion at 53kg who missed out on the world team in that weight class.
Meanwhile, Rio 2016 silver medalist Shinobu OTA showed he could handle the extra weight at Greco 63kg when he crushed national champion Yoshiki YAMADA by 11-0 technical fall as he eyes winning his first senior world medal.
The final round of playoffs were held in Tokyo in the non-Olympic weight classes, in which wrestlers who placed second in the two national qualifying tournaments in Olympic divisions were also eligible to enter.
On July 6, the wrestle-offs were held in the Olympic weight classes, in which Asian champion Yuki IRIE upended two-time world champion Yui SUSAKI at 50kg. That match was somewhat overshadowed by Risako KAWAI's victory over four-time Olympic gold medalist Kaori ICHO at 57kg.
There was added incentive to make the world team in the Olympic weight classes this year because the Japan federation ruled that any wrestler winning a medal in one of those divisions at the Nur-Sultan worlds will automatically clinch a place on the team for the 2020 Tokyo Olympics.
Nanami Irie had attempted to make the team at 53kg, but lost in the final of the All-Japan Championships last December to Mayu MUKAIDA---the 55kg world champion who moved down to the Olympic division and subsequently secured the berth at that weight.
Irie said she never would have tried to make the team at 55kg had sister Yuki not won her showdown with Susaki.
"I thought, I have to fight hard, too," Irie said. "I wanted to win here and go to the world championships with my sister. That's all I thought about."
Both Irie and Okuno defeated the third entry, world junior and U-23 champion Saki IGARASHI, handily before their clash in the round-robin format of the wrestle-offs, which were held on one of the six mats of the spacious wrestling room at the National Training Center. Only teammates, coaches, federation officials and a smattering of press were in attendance.
Irie gained a point in the first period with Okuno on the activity clock, then countered a single-leg takedown and went behind to make it 3-0. Okuno cut the gap to 3-1 with a stepout with :15 left, but Irie was never in real danger as she avenged a loss from the semifinals of the All-Japan Invitational Championships in June.
"In the match the other day, I was too impatient and gave up a bunch of points early," Irie said. "She has a good feint, and I was prepared not to fall for it. I kept in mind keeping my stance and to keep moving. I had an image of her going for a single-leg takedown and how I would stop it."
Okuno, who had beaten Irie in both of their previous meetings, might not have been as mentally sharp as possible. The consolation prize of the 55kg berth was not much incentive for her, and she said she only decided the previous day to even take part in the playoff.
"I had no intention of entering, I didn't want to enter," Okuno said. "Thinking I might want to do it at the last minute, my coach said I should just go ahead and submit the entry form. It was only yesterday that I decided to take part. Once I decided, mentally I was able to turn the switch back on and prepare for the match."
Looking back on the loss, Okuno commented: "She is strong at countering moves. I think she came up with the right strategy against me."
The 24-year-old Irie now has to prepare for handling the extra weight against the best in the world.
"In Japan, there's not such a big difference in terms of body size," Irie said. "Overseas, I feel on the small side even at 53kg. At 55kg, I feel really small. From now, I have to come up with a way to deal with it."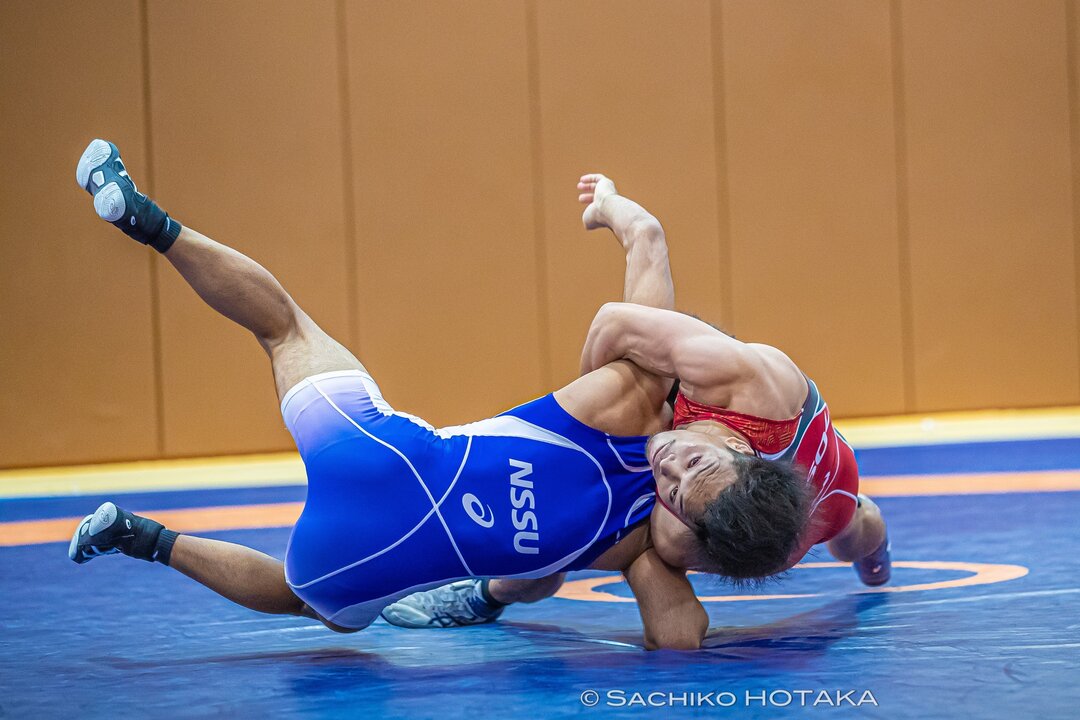 Shinobu OTA showed he could handle the extra weight at Greco 63kg when he crushed national champion Yoshiki YAMADA, 11-0. (Photo: Sachiko Hotaka)
Ota puts on impressive display at heavier weight
Ota's path to the 60kg berth was blocked by 2017 world champion Kenichiro FUMITA, his longtime training partner and rival who defeated him in both of the national tournaments.
That leaves Ota's only hope of making it to Tokyo 2020 being that Fumita fails to make the podium in Nur-Sultan. As long as there is a chance, he is determined to stay ready, and moving up to 63kg for the time being is part of the process.
"I thought it over from many angles," Ota said. "Whatever happens, when it comes to the Olympics, all I can do is wait for a result that's favorable to me. But I can't just wait around. To aim for the world title at 63kg is just staying prepared for what happens in the process for the Tokyo Olympics. I believed this was the best approach."
In his match against Yamada, Ota went ahead with an early takedown. Then when Yamada was put in the par-terre position, Ota put on an awesome display of raw power and technique.
Using a front headlock, he ripped off two rolls to make it 7-0. Then, keeping the same hold, he added the coup de grace with a powerful 4-point throw to end it with a technical fall at 1:58.
"This isn't my weight class, but I was given the chance to compete at the world championships at 63kg," Ota said. "For that purpose, I prepared diligently. Anyway, this year I will aim to become the champion at 63kg."
Ota had some compassion for Yamada, a current star at Ota's alma mater, Nippon Sport Science University, and with whom he has sparred in practice.
"He's someone I've always had a soft spot for, so I felt sorry to put his through this. I have total respect for him, and I had to go all out. I suppose I owe him a dinner."
Ota has already been successful internationally at 63kg, winning the Hungarian Grand Prix and finishing second at the Dan Kolov-Nikola Petrov tournament earlier this year. He will face a major test this week when he heads to Belarus for the Oleg Karavaev Memorial.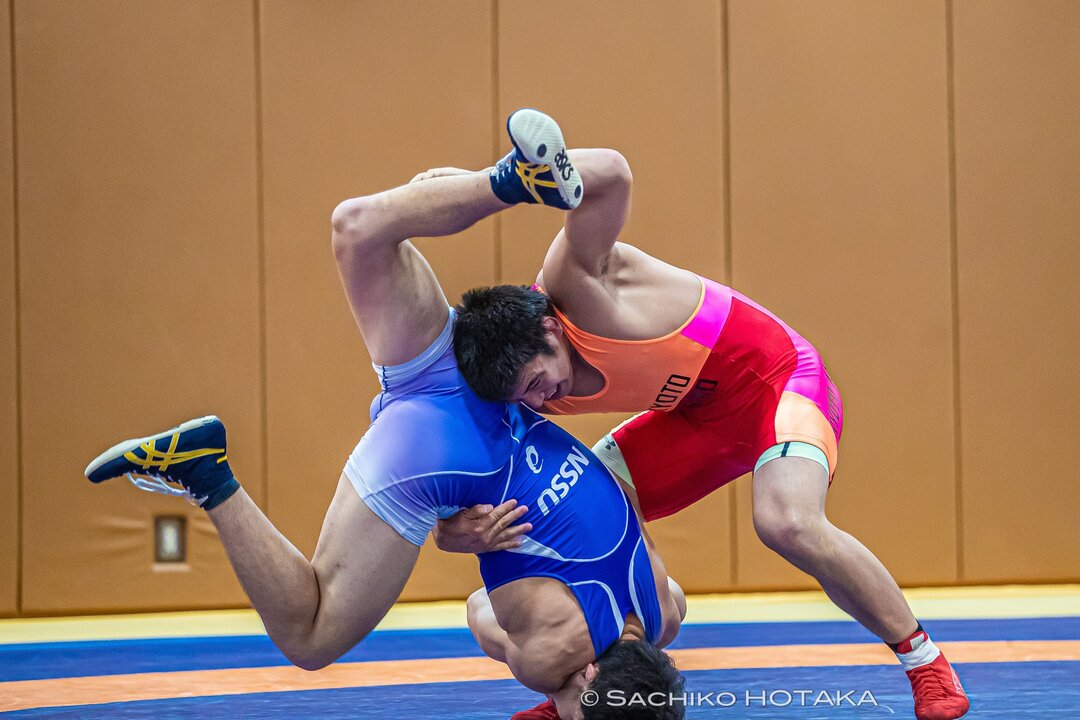 Yudai TAKAHASHI earned the 79kg spot with after a 5-4 win over Yuta ABE. (Photo: Sachiko Hotaka)
In other action, two high schoolers earned trips to the senior worlds with close victories, as Yudai TAKAHASHI held on for a 5-4 victory over Yuta ABE at freestyle 79kg and Yuzuka INAGAKI edged Yumeka TANABE 4-4 for the women's 59kg spot.
"It hasn't really sunk in yet," said Takahashi, who avenged a loss by technical fall to Abe at the All-Japan. "But to be able to compete, I'm very grateful and I will work hard leading up to the world championships."
Takahashi will be keeping busy. He has the national high school championship next week, then the World Junior Championships in August.
While there will two pairs of sisters heading to Nur-Sultan (Yukako KAWAI will join sister Risako along with the two Iries), a brother combination was thwarted when Kojiro SHIGA proved too strong for Daichi TAKATANI at freestyle 70kg.
Asian Games silver medalist Takatani, who failed to unseat world champion Takuto OTOGURO at 65kg, moved up to 70kg in an attempt to join older brother Sosuke, Japan's entry at 86kg, on the world team.
But Shiga, the silver medalist at the Asian Championships in April, was able to shut down Takatani's low single attempts and counter rolls to rally from a 6-4 deficit to win 15-8.
"I could feel that he had changed weight class," Shiga said. "I was cutting 5 kgs myself, so I felt the difference in body size, that I was bigger.
"He preceded me at [Takushoku] University and we had practiced together. So we know each other. I knew he was good at tackles, and I kept alert for that."
In the women's 72kg class, former two-time world junior champion Masako FURUICHI won out in a three-women playoff that saw the late withdrawal of high school phenom Yuka KAGAMI.
Kagami, who will compete at 72kg at the world junior championships, said she preferred to begin making the transition to the Olympic weight of 76kg. Two-time world bronze medalist Hiroe MINAGAWA filled that spot on the Japan team, but a failure to medal at Nur-Sultan would open the competition back up.
Japan National Team

Freestyle
57kg - Yuki TAKAHASHI
61kg -Kaiki YAMAGUCHI
65kg- Takuto OTOGURO
70kg - Kojiro SHIGA
74kg- Mao OKUI
79kg- Yudai TAKAHASHI
86kg- Sosuke TAKATANI
92kg -Tkuma OTSU
97kg -Naoya AKAGUMA
125 kg - Nobuyoshi ARAKIDA
Greco-Roman
55kg - Shota OGAWA
60kg - Kenichiro FUMITA
63kg - Shinobu OTA
67kg -  Shogo TAKAHASHI
72kg - Tomohiro INOUE
77kg - Shohei YABIKU
82kg - Yuya OKAJIMA
87kg - Masato SUMI
97kg - Yuta NARA
130kg - Arata SONODA
Women's Wrestling
50kg - Yuki IRIE
53kg - Mayu MUKAIDA
55kg - Nanami IRIE
57kg - Risako KAWAI
59kg - Yuzuka INAGAKI
62kg - Yukako KAWAI
65kg - Naomi RUIKE
68kg - Sara DOSHO
72kg - Masako FURUICHI
76kg - Hiroe MINAGAWA