16 Reigning Champs Entered into #WrestleWarsaw Euro C'ships
Friday, April 16, 2021 - 12:34 By Eric Olanowski
WARSAW, Poland (April 16) -- The European Championships start next week in Poland with more than half of 2020's champions returning to the mat for wrestling's premier continental event. 
A total of seven champions will return in women's wrestling, joined by five in freestyle and four in Greco-Roman. The 2020 European Championships were held in Rome just prior to the worldwide shutdown of sports in March of that year.
Grace BULLEN (NOR) and Anastasia NICHITA (MDA) won titles at 57kg and 59kg respectively in 2020, but both opting for 59kg in '21. The Norwegian two-time European champion traditionally wrestles at the Olympic weight of 57kg, but she's moving up to conserve energy for the final Olympic Qualification event of the year, the World Olympic Qualifier (May 5-9) in Sofia, Bulgaria.
Two-time world gold medalist and reigning Euro champ Vanesa KALADZINSKAYA (BLR) is the favorite at 53kg, but last year's 55kg top-two finishers, respectively, Olga KHOROSHAVTSEVA (RUS) Mariia VYNNYK (UKR), are looking to take out the Belarusian.
Miglena SELISHKA enters the European Championships fresh off winning the European Olympic Qualifier event, where she punched Bulgaria's ticket to the Olympic Games at 50kg. For her to win a second consecutive European title, Selishka will have to navigate a 50kg bracket that'll feature Mariya STADNIK (AZE), Emilia Alina VUC (ROU) and Ekaterina POLESHCHUK (RUS). Stadnik was the '19 world champion, while Vuc and Poleshchuk finished with silver and bronze, respectively. Other threats include world bronze medalists Evin DEMIRHAN (TUR) and Oksana LIVACH (UKR).
The final pair of women's wrestling '20 champions are the Russian one-two-punch of Khanum VELIEVA (RUS) and Natalia VOROBEVA (RUS).
Velieva, who qualified Russia for the Olympic Games with a second-place finish at the European Olympic Qualifier, is entered at 68kg. She'll share the bracket with European Olympic Qualifier champion and fellow Tokyo Olympian Koumba LARROQUE (FRA).
Vorobeva, the London Olympic champion, replaced defending champion Ekaterina BUKINA (RUS) at 76kg. Other returning medalist entered at 76kg include bronze medalists Aline ROTTER FOCKEN (GER) and Iselin SOLHEIM (NOR).
Freestyle will feature five men with aspirations to defend their European golds.
Reigning three-time heavyweight champion of the world Geno PETRIASHVILI (GEO) highlights the long list of star-studded freestyle entries. The 27-year-old Georgian's likely path to a third European title will go through his long-time rival and seven-time continental champion Taha AKGUL (TUR).
At 74kg, Frank CHAMIZO MARQUEZ (ITA) is looking to win a third straight European title and fifth overall. Standing in the Italian's way will be the man who defeated him in the finals at the Individual World Cup Razambek ZHAMALOV (RUS). Avtandil KENTCHADZE (GEO), the '21 European Olympic Qualifier champion and '18 world runner-up, is also entered at 74kg.
Russia's '19 86kg world bronze medalist Artur NAIFONOV (RUS) will be making his third appearance at the European Championships. He's undefeated in those past two trips and won golds in '18 and '20. Fellow Tokyo Olympians Myles AMINE (SMR), Osman GOCEN (TUR), Stefan REICHMUTH (SUI) and Ali SHABANAU (BLR) will also compete at 86kg.
Magomedmurad GADZHIEV (POL) and Suleyman KARADENIZ (TUR) claimed gold in Rome last year at the none Olympic weights of 70kg and 92kg, respectively. Gadzhiev, who is coming off a 65kg fifth-place finish at the Olympic Qualifier event, will move back up to the non-Olympic weight of 70kg. Karadeniz, who qualified Turkey for the Olympic Games at 97kg, is staying put at the Olympic weight.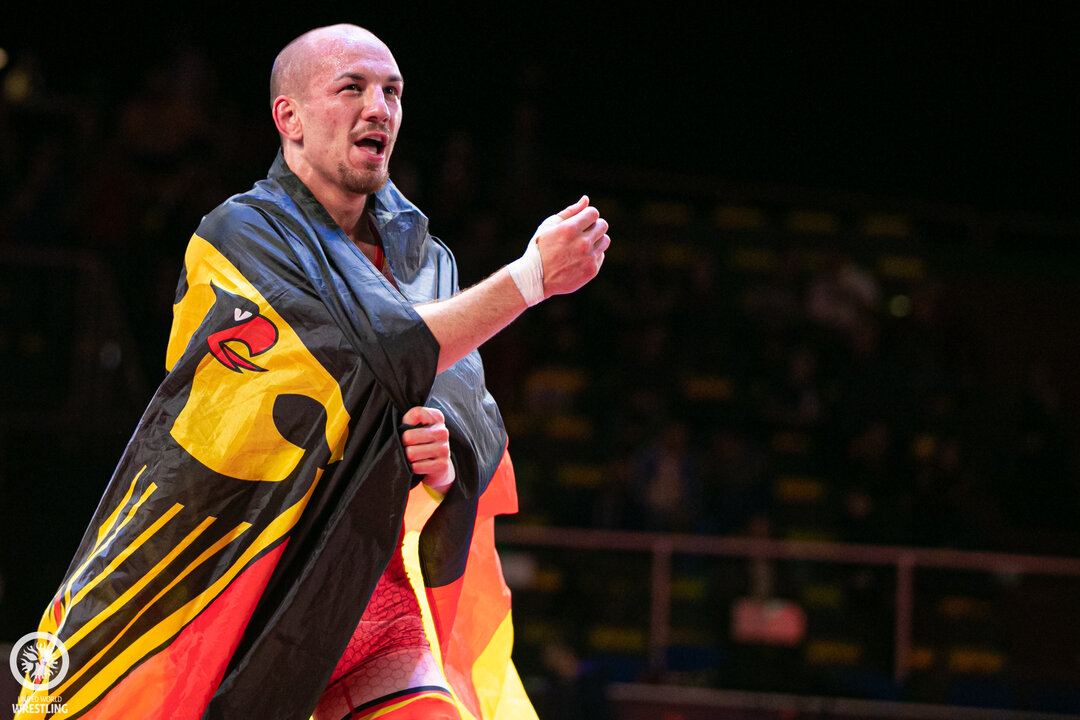 Three-time world champion Frank STAEBLER (GER) is on a quest to win a third European title. He's entered at 72kg. (Photo: Kadir Caliskan)
In Greco-Roman, there will be a quartet of returning champions.
It's no secret that Germany's three-time world champion Frank STAEBLER (GER) struggles to make 67kg. So, for a second year, the "Mele Machine" will try to win European gold at 72kg. If he wins, he'll match his continental gold tally with his world gold total.
But, to win that third continental gold, Staebler will have to get through '20 European bronze medalist Selcuk CAN (TUR) and Individual World Cup finalist Malkhas AMOYAN (ARM).
At 130kg, Alin ALEXUC CIURARIU (ROU) was the first wrestler not named Riza KAYAALP (TUR) to win a 130kg European title since '12. Kayaalp, who fell to an uncharacteristic seventh-place finish last year, is heading into Warsaw with a tenth continental gold on his mind.
Gevorg GHARIBYAN (ARM) and Sanan SULEYMANOV (AZE) are the final pair of returning gold medalists. They'll compete at 60kg and 77kg, respectively.
The European Championships start on April 19-25 in Warsaw, Poland, and can be followed live on www.uww.org.