#WrestleOslo Day Six Preview: GR 55kg, 72kg, 77kg and 82kg
Thursday, September 23, 2021 - 14:52 By Eric Olanowski
CORSIER-SUR-VEVEY, Switzerland (September 23) – After a grueling weight cut down to 77kg for the Tokyo Games, newly-minted Olympic bronze medalist Rafig HUSEYNOV (AZE) has his eyes set on etching his name in the Azeri record books -- and an 82kg world title would do just that.
 
In addition to 82kg, the other three weight classes in action on October 7 will be the Olympic weight of 77kg and the non-Olympic weights of 55kg and 72kg.
Huseynov enters Oslo fresh off winning Olympic bronze at 77kg, but after the taxing weight cut in Tokyo, he'll make the ascent back up to 82kg and try to improve on his runner-up finish from the '19 Nur-Sultan World Championships.
"After the '19 World Championships, I started to think about the Olympic Games; I wanted to wrestle at 87kg in Tokyo, but the Federation suggested that I wrestle at 77kg," said the five-language speaking Azeri.
In preparation to make an Olympic run, Huseynov used the early part of '20 to get his weight under control. In early '20, he steadily stepped on the scale weighing just over 78kg. Then, COVID turned the world upside down, and after the Olympics got postponed, Huseynov started to pack on the kilos.

Rafiq HUSEYNOV (AZE) weight nearly 91kg in '20, but dropped to 77kg and won an Olympic bronze medal. (Photo: Rafiq Huseynov)
"In September '20, I weighed 90.80kg and thought I'd compete at 87kg. Again, our Federation suggested that I wrestle at 77kg." So, thinking back to March '20 when he weighed one kilo over the Olympic weight, Huseynov told himself, "If I can lose it once, I can do it again." He enlisted the help of professional dietitians, dropped the weight the right way, and set his sights on qualifying Azerbaijan for the Olympic Games at 77kg. 
His opening test came in Bulgaria in May '21, where he competed below 80kg for the first time '14.
During that competition, he was arguably the brightest Greco-Roman wrestler of the competition. He was offensive and assertive on his way to punching Azerbaijan's ticket to the Tokyo Olympic Games. He picked up shutout wins over Gurpreet SINGH (IND) and Abd Elkrim OUAKALI (ALG) before locking up his Tokyo spot with a three-point victory over world champion Viktor NEMES (SRB).
Then, Huseynov's success continued into the Olympic Games. The 33-year-old's life forever changed with three victories that ultimately led to an Olympic bronze medal.
"After the Olympics, my life changed a lot. Before Tokyo, two out of ten people knew me, now five or six out of ten people know me. In addition, Mr. President Ilham Aliyev presented me with a large sum of money and awarded me a state medal."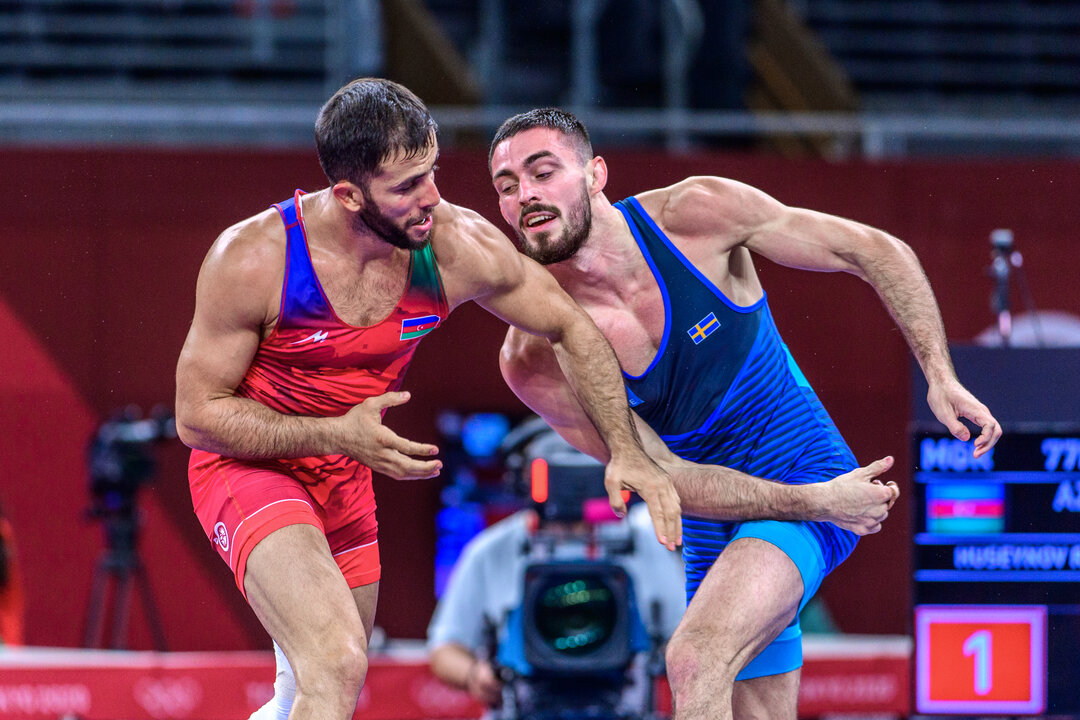 Rafig HUSEYNOV (AZE) and Alex KESSIDIS (SWE) battle in the first round of the Tokyo Olympic Games. They'll both compete at 82kg at the World Championships. (Photo: Tony Rotundo)
If Huseynov wins a world title in Oslo, he'll etch his name in his nation's history books. The list of Azerbaijani wrestlers who've won both world and European titles is extremely short – three wrestlers to be exact -- but Huseynov knows that upgrading his Nur-Sultan '19 world silver would put in him a rarified heir.
"If I become a world champion, I will be the fourth person in the history of Azerbaijan to be both a world and European champion," said Huseynov. "I always say that the silver and bronze medals are for myself, but the gold medal remains in history. This time, I want to go down in history."
But Huseyov knew to get that long-awaited world title, he'd have to cut the Olympic celebration short. He took ten days off before he readjusted his goals to winning a world title. "I know that Alex KESSIDIS (SWE) and Adlan AKIEV (RWF) prepare well, so I started training ten days after arriving home from the Olympics. But now, I have additional motivation -- an Olympic medal."
One of the two guys that Huseynov mentioned as a top threat to block his history-making hopes was Sweden's Alex Kessidis.
Kessidis is on a quest to one-up his Nur-Sultan run, where he scored wins over Daniel CATARAGA (MDA), Mohammadali GERAEI (IRI) and Karapet CHALYAN (ARM), and reached the '19 world finals.
"I'm still young and very motivated to achieve my goals which are to become European, world and Olympic champ,' said Kessidis. "I have wrestled and dreamt about becoming a world champion my whole life, and it would be great for Sweden since we have not won a world title since 2003."
Coincidentally, Kessidis and Huseyov have a history against each other, and you only have to go back to the opening round of the Tokyo Olympic Games for the meeting.
Kessidis dropped that match, 1-1, but has his sights on getting revenge at the World Championships.
"Rafiq is, of course, a threat since I lost last time, but this won't happen again. Hopefully, I'm better prepared this time, and now I have the experience with me from the previous world championship final."
Also of note at 82kg, two-time Olympian Bozo STARCEVIC is moving up from 77kg to 82kg, and Daniel CARTARAGA (MDA), a two-time U23 world champion, was expected to compete in Oslo but was late-scratched due to a back injury.
At 77kg, Tokyo Olympians Mohammadali GERAEI (IRI) and Aik MNATSAKANIAN (BUL) headline the long list of 36-entries. The two-time world bronze medalists are the favorites to get over the hump and compete for world supremacy.
Mnatsakanian won back-to-back world bronze medals in '18 and '19, while Geraei, known worldwide as 'The Falcon,' claimed his world bronze medalist in '17 and '19. Geraei was unable to be reached, but Mnatsakanian said, "I was dissatisfied with the results at the Olympic Games, but my goal in Oslo is to become a world champion."
As the entries sit now, the Russian Wrestling Federation entered Abuiazid MANTSIGOV (RWF) at 77kg. But don't be surprised to see a last-minute adjustment. Mantsigov, a Nur-Sultan world champion, dropped his early-September gold-medal match at the Ljubomir Ivanovic Gedza International against two-time Olympic champion Roman VLASOV (RWF), so their entry is still up in the air.
National Federations have until three days prior to the start of the Greco-Roman portion of the competition to make updates to their entries.
At 55kg, Russian Wrestling Federation youngster Emin SEFERSHAEV (RWF) is the front runner to win world gold. Earlier this year, he reached the top of the 55kg podium at the European Championships in a bracket that featured world champions Eldaniz AZIZLI (AZE) and Nugzari TSURTSUMIA (GEO), and Ekrem OZTURK (TUR). 
All four guys will compete at 55kg for the World Championships.
Sefershaev won four matches in Warsaw – including wins over Azizli and Ozturk – en route to claiming his first European gold medal. The 23-year-old's win over Azizli was his second victory over the '18 world champion in a four-month span. He also thumped Azizli, 9-1, in the quarterfinals of December's Individual World Cup on his way to winning gold.
Turkey's '18 world bronze medalist Ozturk ended his European campaign with a silver medal, while Azizli won the battle against fellow world champ Tsurtsumia on his way to finishing in third place.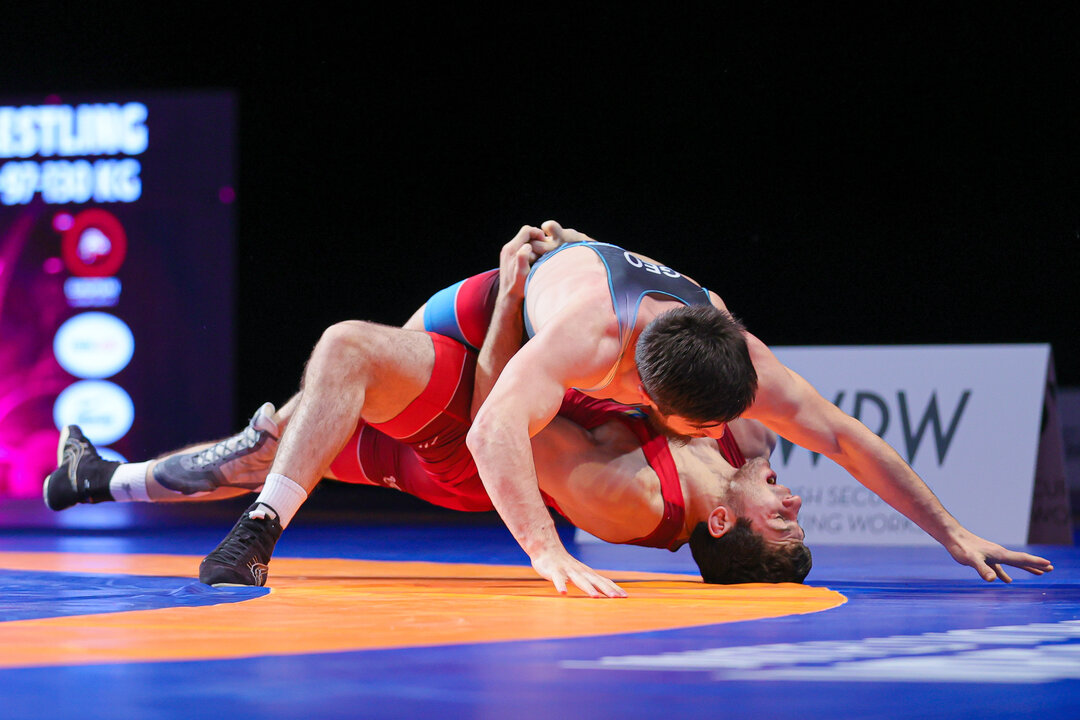 Shmagi BOLKVADZE (GEO) defeated Malkhas AMOYAN (ARM), 4-1, in the gold-medal match at the '21 European Championships. (Photo: Kadir Caliskan)
The last weight class that'll be contested on Day Six will be 72kg.
Continental finals foes Shmagi BOLKVADZE (GEO) and Malkhas AMOYAN (ARM) top the entries, but two others to pay attention to are '14 world champion Chingiz LABAZANOV (RWF)  and Kyrgyzstan's six-time Asian medalist Ruslan TSAREV (KGZ).
The Day Six action in Oslo kicks off on October 7 at 10:30 (local time) and will be streamed live on www.uww.org.