Tokyo 2020 Qualifiers Bajrang, Kaisanov, Micic Improve Freestyle Rank in January
Wednesday, January 29, 2020 - 08:11 By Eric Olanowski
CORSIER-SUR-VEVEY, Switzerland (January 28) -- Bajrang PUNIA (IND), Stevan MICIC (SRB), and Daniyar KAISANOV (KAZ) moved one step closer to sealing up seeds for the 2020 Olympic Games in Tokyo after the trio medaled at this month's Matteo Pellicone Ranking Series tournament in Rome. 
Ranking Series points are important to Olympic-qualified wrestlers because the top four competitors in each Olympic weight category (from qualified nations) will earn a seed in their bracket, thereby delaying matchups with other top wrestlers until the semifinals and finals. The top three point-earners in each style are also awarded prize money at the end of the season.
Indian superstar Bajrang had the most successful outing in Rome -- earning gold and taking home 16 points -- while Kaisanov and Micic each earned 12 points for taking bronze. In the 65kg finals, Bajrang upended Jordan OLIVER (USA) 4-3 to catapult himself from No. 4 to No. 2 in the rankings. He now trails  No. 1 Gadzhimurad RASHIDOV (RUS) by 19 points and sits ahead of No. 3 Daulet NIYAZBEKOV (KAZ) by one point. All three are expected to compete in their respective continental championships this February and can earn up to an additional 22 points.  Selahattin KILICSALLAYAN (TUR) jumped to No. 5 at 65kg where he now trails No. 4 Iszmail MUSZUKAJEV (HUN) by a single point.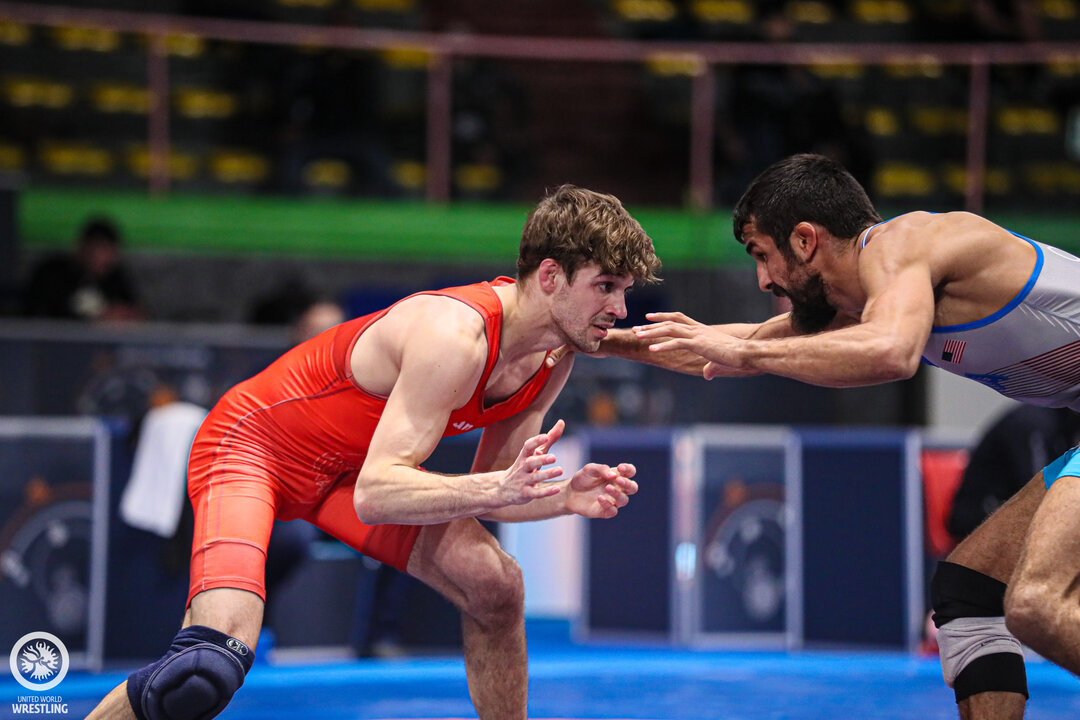 Stevan MICIC (SRB) moved up to No. 3 after getting a bronze at Matteo Pellicone Ranking Series tournament (Photo: Kadir Caliskan)

Micic, a surprise place-winner at the 2019 World Championships at 57kg, took bronze at the Ranking Series tournament and pushed himself into a No. 3 ranking, dropping Kumar RAVI (IND) to No. 4 and Nurislam SANAYEV (KAZ) to No. 5. 
 
Kaisanov jumped to No. 3 with his  bronze-medal finish at 74kg. Kaisanov's medal dropped Zelimkhan KHADJIEV (FRA) and Jordan BURROUGH (USA) to No. 4 and No. 5 respectively. 

Two-time defending 79kg world champion Kyle DAKE (USA) debuted at No. 9 in the 74kg rankings after defeating Soener DEMIRTAS (TUR) 10-0 to win gold and collect 16 points. The United States has qualified the weight for the Olympic Games with Burroughs' bronze medal finish at the 2019 World Championships in Nur-Sultan, Kazakhstan.
  
Two-time world champion and 2016 Olympic champion Kyle SNYDER (USA) held onto his No. 3 ranking at 97kg. The American wrestler took bronze worth 15 Ranking Series points and now trails No. 2 Sharif SHARIFOV (AZE) by one point. Iran's Mohammad MOHAMMADIAN, who upset Snyder in the quarterfinals, took gold at 97kg and earned 18 points to enter the rankings at No. 8. 
Iran did not earn an Olympic license at 97kg during the world championships and will seek to qualify during the Asian Qualification tournament in March. 
 
Aliaksandr HUSHTYN (BLR) finished in second at 97kg and debuted at No. 10 with 16 points.
 
James DOWNEY (USA) took bronze at 86kg, nabbing 12 points and climbing six spots to No. 3. The American, who has yet to qualify his weight category for Tokyo 2020, leads Artur NAIFONOV (25 points) by one point and trails Hassan YAZDANICHARATI (60 points) and India's Deepak PUNIA (40 points).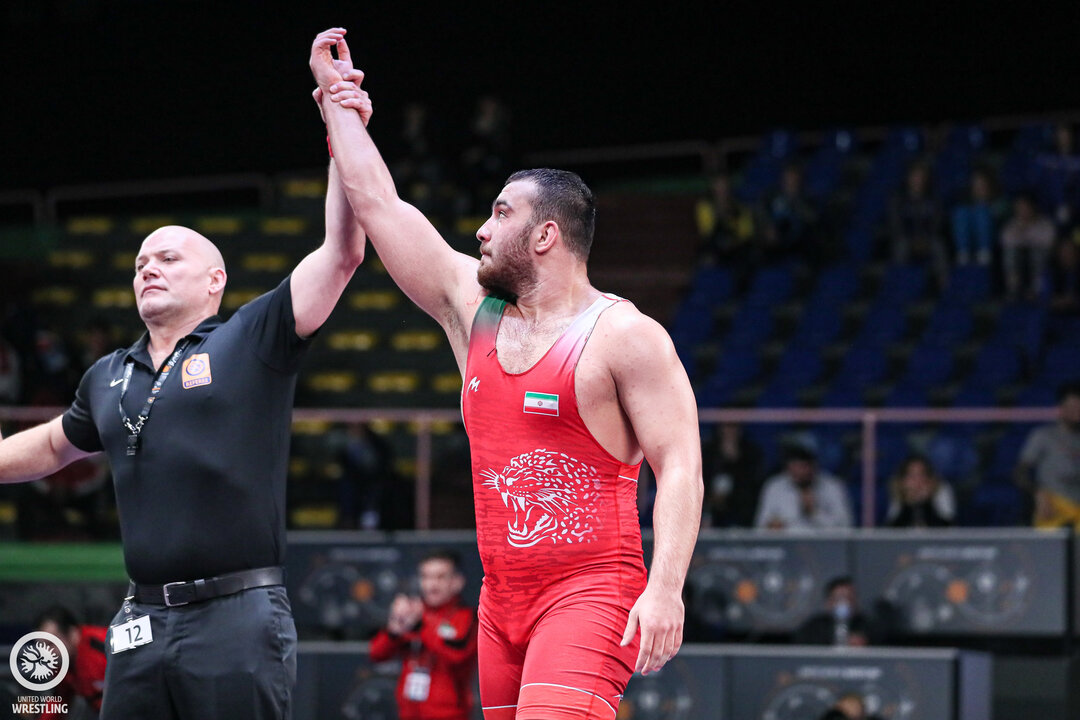 Amir ZARE (IRI) gets his hand raised after winning gold at the Matteo Pellicone (Photo/Kadir Caliskan)
At 125kg, Amir ZARE (IRI) was the lone change in the top-ten of the rankings. The Iranian youngster defeated Bilial MAKHOV (RUS) for the gold medal at the Matteo Pellicone and entered this month's rankings at No. 9 with his 16 points.
The next Ranking Series tournaments will be the continental championships held in February and early March. Gold medal winners are eligible for 12 points plus a bonus based on the number of entries in their weight category. Please go to UnitedWorldWrestling.org for the updated competition calendar and guidelines for accumulating points during the Ranking Series. 
 
Top-Ten Freestyle Rankings

57kg
1. Zavur UGUEV (RUS) - 60
2. Suleyman ATLI (TUR) -  40
3. Stevan Andria MICIC (SRB) - 32
4. Kumar RAVI (IND) -  25
5. Nurislam SANAYEV (KAZ)- 25
6. Reza ATRINAGHARCHI (IRI) - 20
7. Bekhbayar ERDENEBAT (MGL) - 18
8. Givi DAVIDOVI (ITA) - 16
9. Thomas Patrick GILMAN (USA) - 16
10. Oscar Eduardo TIGREROS URBANO (COL) - 14
61kg
1. Beka LOMTADZE (GEO) - 60
2. Magomedrasul IDRISOV (RUS) - 40
3. Rahul AWARE (IND) - 25
4. Behnam EHSANPOOR (IRI) - 25
5. Tyler Lee GRAFF  (USA) - 20
6. Abbos RAKHMONOV (UZB) - 20
7. Rassul KALIYEV (KAZ) - 18
8. Kerim HOJAKOV (TKM) - 16
9. Almaz SMANBEKOV (KGZ) -14
10. Kumar RAVI (IND) - 14
65kg 
1. Gadzhimurad RASHIDOV (RUS) - 60
2. Bajrang PUNIA (IND) - 41
3. Daulet NIYAZBEKOV (KAZ) - 40
4. Iszmail MUSZUKAJEV  (HUN) - 25
5. Selahattin KILICSALLAYAN (TUR) - 24
6. Tulga TUMUR OCHIR (MGL) - 20
7.  Takuto OTOGURO (JPN) - 20
8.  Haji ALI (BRN)  - 18
9.  Alexander SEMISOROW (GER) - 16
10. Jong Chol SON (PRK) - 14
70kg 
1. David BAEV (RUS) - 60
2. Nurkozha KAIPANOV (KAZ) - 40
3. Yones Aliakbar EMAMICHOGHAEI (IRI) - 25
4. Magomedmurad GADZHIEV (POL) - 25
5. Nicolae COJOCARU (GBR) - 20
6. Zurabi IAKOBISHVILI (GEO) - 20
7. Kojiro SHIGA (JPN) - 18
8.  Ikhtiyor NAVRUZOV (UZB) - 16
9. Ali Pasha Ruslanovich UMARPASHAEV (BUL) - 14
10. Elaman DOGDURBEK UULU (KGZ) - 12
74kg 
1. Zaurbek SIDAKOV (RUS) -  60
2. Frank CHAMIZO MARQUEZ (ITA) -  40
3. Daniyar KAISANOV (KAZ) - 32
4. Zelimkhan KHADJIEV (FRA) - 25
5.  Jordan BURROUGHS  (USA) - 25
6. Mao OKUI (JPN) - 20
7. Kamil RYBICKI (POL) -  18
8. Khadzhimurad GADZHIYEV (AZE) - 16
9. Kyle DAKE (USA) - 16
10. Murad KURAMAGOMEDOV (HUN) - 14
79kg
1. Kyle Douglas DAKE (USA) - 60
2. Jabrayil HASANOV (AZE) - 40
3. Taimuraz SALKAZANOV (SVK) - 25
4. Gadzhi NABIEV (RUS ) - 25
5. Rashid KURBANOV (UZB) - 20
6. Galymzhan USSERBAYEV (KAZ) - 20
7. Grigor GRIGORYAN (ARM) - 18
8. Jitender JITENDER (IND) - 16
9. Gombodorj DORJVANCHIG (MGL) - 14
10. Vasyl MYKHAILOV (UKR) - 14
86kg
1. Hassan YAZDANICHARATI  (IRI) - 60
2. Deepak PUNIA (IND) - 40
3. James DOWNEY III  (USA) -  26
4. Artur NAIFONOV (RUS) - 25
5.  Stefan REICHMUTH ( SUI) - 25
6. Myles Nazem AMINE  (SMR) - 20
7. Carlos IZQUIERDO MENDEZ (COL) - 20
8. Ahmed DUDAROV (GER) - 18
9. Taimuraz FRIEV NASKIDAEVA (ESP) - 16
10. Zahid VALENCIA (USA) - 16
92kg
1. J'Den COX (USA) - 58
2. Alireza KARIMIMACHIANI  (IRI) - 38
3. Irakli MTSITURI  (GEO) - 23
4. Alikhan ZHABRAILOV (RUS) -  23
5. Georgii RUBAEV (MDA) - 18
6. Nurgali NURGAIPULY  (KAZ) - 18
7. Parveen PARVEEN (IND) - 16
8. Suleyman KARADENIZ (TUR) - 14
9. Liubomyr SAGALIUK (UKR) - 12
10. Takuma OTSU (JPN) - 10
97kg
1. Abdulrashid SADULAEV (RUS) - 60
2. Sharif SHARIFOV (AZE) - 40
3. Kyle SNYDER (USA) - 39
4. Magomedgadji NUROV (MKD) - 25
5. Alisher YERGALI (KAZ) - 20
6. Elizbar ODIKADZE (GEO) - 20
7. Magomed IBRAGIMOV (UZB) - 18
8. Mohammadhossein MOHAMMADIAN (IRI) - 18
9. Nicolai CEBAN (MDA) - 16
10. Aliaksandr HUSHTYN (BLR) - 16

125kg
1. Geno PETRIASHVILI (GEO) - 60
2. Taha AKGUL (TUR) - 40
3. Oleksandr KHOTSIANIVSKYI (UKR) - 25
4. Khasanboy RAKHIMOV (UZB) - 25
5. Badzha KHUTABA (SYR) - 20
6. Zhiwei DENG (CHN) - 20
7. Egzon SHALA (KOS) - 18
8. Yadollah MOHEBI (IRI) - 16
9. Amir ZARE (IRI) - 16
10. Jamaladdin MAGOMEDOV (AZE) - 14