Takatani Survives Scares to Take Meiji Cup Gold, Earn Ticket to Budapest
Friday, June 15, 2018 - 13:57 By Ken Marantz
TOKYO, Japan (June 15) - Former world medalist Sosuke TAKATANI survived not one but two scares in winning the 79kg gold in freestyle at the All-Japan Invitational Championships to secure his place on Japan's team to this year's world championships.
That's just the kind of experience he says will help him in Budapest, where he hopes to add to the bronze medal he won at 74kg at the 2014 world championships in Tashkent.
"Overall, it was a tournament which brought to light issues I need to deal with," Takatani said. "This often happens at international tournaments, but this time it was at a domestic one that I had such tough matches. The young wrestlers are getting stronger and it provides good motivation. It was a good experience."
The 29-year-old Takatani captured his second straight title and fifth overall in the tournament, known as the Meiji Cup, with an 8-3 victory over collegian Yajuro YAMASAKI in the final, but that score hardly tells of the drama by which the match ended.
Takatani was trailing 3-1 when he cut the cap to one point with a stepout with a minute to go. Desperately tried to break through Yamasaki's defenses, all seemed lost when he charged in for one last try and scored a takedown with :06 on the clock. A counter of a desperation throw by Yamasaki in the final seconds tagged on an additional four points.
"Honestly speaking, each and every time, it's always in my head that I might lose," he said. "In that situation, I didn't panic and was able to make an attack at the end, which was good."
Sosuke TAKATANI survived not one but two scares in winning the 79kg gold. (Photo by Sachiko Hotaka) 
That match followed a nail-biter in the semifinals, in which Takatani trailed 4-0 early on against recent high school graduate Hayato ISHIGURO, only to come back and score a takedown in the second period that tied the match at 4-4, but gave him the lead on criteria. He then held on for the win.
Takatani revealed that he was suffering from dehydration during the match, a problem stemming from his weight control--enough so that he had even considered defaulting the final. Takatani has been bulking up with the aim of wrestling at the Tokyo 2020 Olympics at 86kg, but needs to cut weight to compete at his current weight of 79kg.
"Against Ishiguro, I became dehydrated and couldn't feel my arms or legs," Takatani said, adding he felt nauseous after the match. He later revealed that he forced himself to vomit, which made him "recover to 60 percent" for the final.
"It was a good experience, and shows I will be able to respond if I have a problem at the world championships," Takatani said.
Takatani's victory on the second day of the four-day tournament at Tokyo's Komazawa Gym, coupled with his title run at the All-Japan Championship (Emperor's Cup) in December, clinched his place on the team to Budapest.
Winners of both tournaments automatically make the world team; in weight classes where the champions are different, playoffs will be held on July 7. On Friday, five of the eight divisions were decided.
Takatani is hoping to be joined in Budapest by younger brother Daichi, the Emperor's Cup champion at 65kg freestyle who will be in action on the final day Sunday.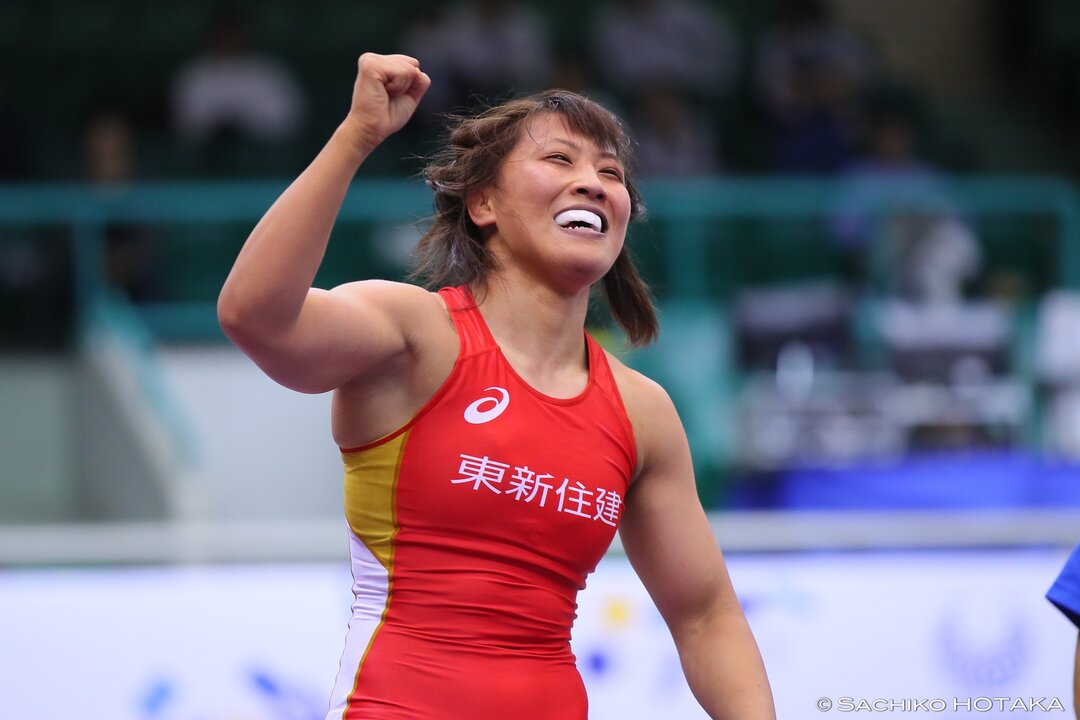 Ayaka ITO and strikes gold at 65kg. (Photo by Sachiko Hotaka) 
Ito returns to strike gold at women's 65kg
For Ayaka ITO, a trip to the world championships would come one year and one surgery later than planned.  
Ito made last year's team to Paris at 63kg, but three weeks before the tournament, she suffered a torn left Achilles tendon that knocked her out of the competition and required surgery.
Competing in her first tournament since last year's Meiji Cup, she moved a step closer to gaining that elusive ticket to the worlds by beating Emperor's Cup and world U-23 champion Ayana GEMPEI 3-1 in the semifinals, then forging an 8-4 victory in the final over Kiwa SAKAE. 
"I had prepared for the world championships with the aim of winning the gold, so it was very depressing when I couldn't take part," Ito said. "I could only think what would have happened if I had been able to go. I wouldn't say it's revenge, but I want to smash that memory." 
Ito will now face Gempei in the world team playoff. Gempei recently won a three-woman playoff to fill the 68kg spot at the upcoming Asian Games that was left vacant by the withdrawal of injured world and Olympic champion Sara DOSHO.
Ito said she did not start all-out practice until the beginning of March, and even then had to limit her running and tailor her practice because of lingering pain.
"It was my first matches in a year, so I was really nervous," Ito said. "My opponents in both the semifinal and finals were wrestlers that I always practice with, so they know me, and I know them. It's like an extension of practice, but you never know what will happen in a real match. But I never let my guard down."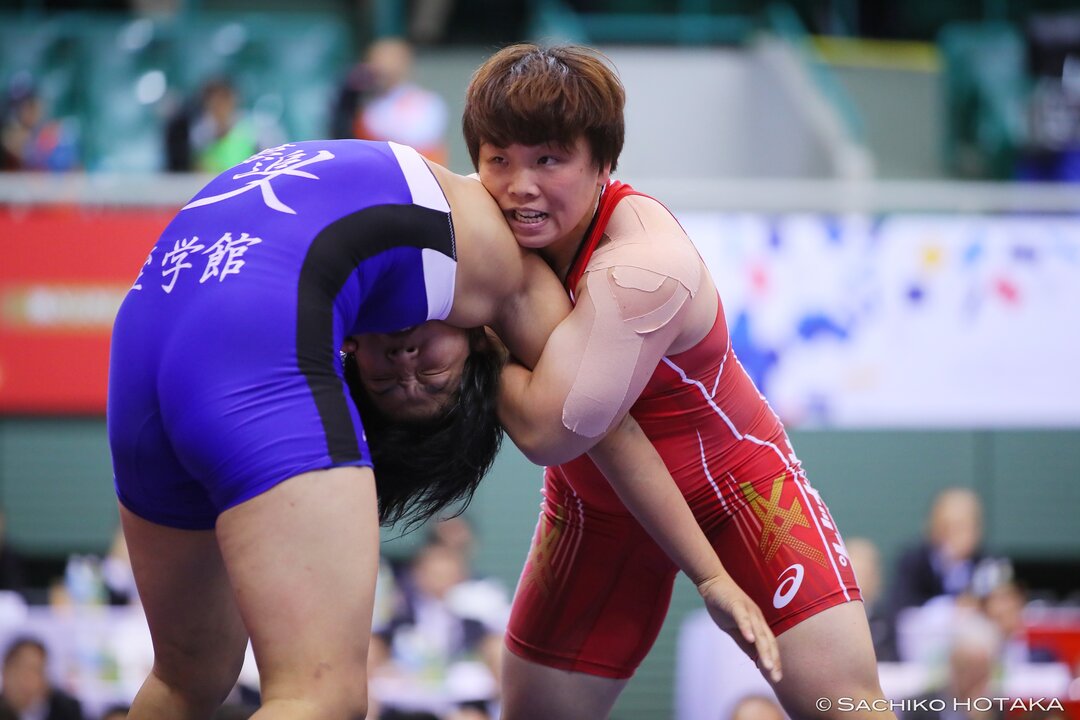 Hiroe MINAGAWA edged Yasuha MATSUYUKI 3-2 and captured the 76kg gold medal. (Photo by Sachiko Hotaka)
In the other women's title up for grabs on Friday, Paris 2017 world bronze medalist Hiroe MINAGAWA earned another shot at a world gold by edging young rival Yasuha MATSUYUKI 3-2 in the 76kg final. 
Matsuyuki, who lost 2-0 to Minagawa in the Emperor's Cup final, had been hoping to join twin sister Naruha, winner at 72kg the previous day, on the team to Budapest.
"We had a tough match at the Emperor's Cup, and I really cut it close this time, but I'm glad I was able to win the title," said Minagawa, who previously competed under her maiden name of SUZUKI. 
In other men's freestyle action, Taiki YAMAMOTO reversed the outcome of the Emperor's Cup final at 125kg, overwhelming Nobuyoshi ARAKIDA 13-6 to regain the title he won in 2016 and ensure the two will return to mat for the world team playoff.
At 86kg, Shota SHIRAI, a world cadet bronze medalist in 2012, earned his first ticket to a senior world championships by defeating Masao MATSUSAKA 5-2 in the final, a repeat of the Emperor's Cup final in December.
In Greco-Roman, Takahiro INOUE (72kg) and Yuta NARA (97kg) both secured berths on the team to Budapest.
Inoue, a member of the Rio 2016 Olympic team and a bronze medalist at the Asian Championships, followed up on his Emperor's Cup victory by posting a solid 8-1 win over Muuto SAWADA. Sawada had made the final by manhandling Kazuhiro HANAYAMA, the runner-up to Inoue at the Emperor's Cup, by technical fall in the semifinals. 
Nara repeated his win in the final at the Emperor's Cup at 97kg over Masaaki SHIKIYA, this time winning 3-1 for his third straight Meiji Cup title.
The other weight class in action, 82kg, was thrown into disarray when the two Emperor's Cup finalists, former world team member Yuya MAETA and Yuya OKAJIMA, both lost their opening matches--and then their conquerors both fell in the semifinals. 
When the dust settled, Takahiro TSURUDA came away with his first major title by beating Tatsuya FUJII 4-1 in the final, earning a place in the world team playoff with Maeta.
Day 2 results
Freestyle
79kg (9 entries)
Gold – Sosuke TAKATANI df. Yajuro YAMASAKI, 8-3
Bronze – Hayato ISHIGURO and Yuta ABE
Semifinal – Sosuke TAKATANI df. Hayato ISHIGURO, 4x-4
Semifinal – Yajuro YAMASAKI df. Yuta ABE by TF, 12-1, 5:21
86kg (9 entries)
Gold – Shota SHIRAI df. Masao MATSUSAKA, 5-2
Bronze – Taisei MATSUYUKI and Takahiro MURAYAMA
Semifinal – Shota SHIRAI df. Taisei MATSUYUKI by Def.
Semifinal – Masao MATSUSAKA df. Takahiro MURAYAMA, 5-4
125kg (10 entries)
Gold – Taiki YAMAMOTO df. Nobuyoshi ARAKIDA, 13-6 
Bronze – Katsutoshi NAKAZAWA and Tetsuya TANAKA
Semifinal – Nobuyoshi ARAKIDA df. Katsutoshi NAKAZAWA, 3-2
Semifinal – Taiki YAMAMOTO df. Tetsuya TANAKA by TF, 12-2, 4:38
Greco-Roman
72kg (12 entries)
Gold – Takahiro INOUE df. Muuto SAWADA, 8-1
Bronze – Takahiro YAMAMOTO and Kazuhiro HANAYAMA
Semifinal – Takahiro INOUE df. Takahiro YAMAMOTO, 12-5
Semifinal – Muuto SAWADA df. Kazuhiro HANAYAMA by TF, 11-0, 4:43
82kg (12 entries)
Gold – Takahiro TSURUDA df. Tatsuya FUJII, 4-1
Bronze – Yoji KAWAMURA and Kohei KITAMURA
Semifinal – Takahiro TSURUDA df. Yoji KAWAMURA, 5-4
Semifinal – Tatsuya FUJII df. Kohei KITAMURA by TF, 8-0, 1:48
97kg (11 entries)
Gold – Yuta NARA df. Masaaki SHIKIYA, 3-1
Bronze – Naoki MATSUMOTO and Masayuki AMANO
Semifinal – Yuta NARA df. Naoki MATSUMOTO by Fall, :28 (4-0)
Semifinal – Masaaki SHIKIYA df. Masayuki AMANO, 11-5 
Women's Wrestling
65kg (7 entries)|
Gold – Ayaka ITO df. Kiwa SAKAE, 8-4
Bronze – Ayana GEMPEI and Misuzu ENOMOTO 
Semifinal – Ayaka ITO df. Ayana GEMPEI, 3-1
Semifinal – Kiwa SAKAE df. Misuzu ENOMOTO, 4-0
76kg (6 entries)
Gold – Hiroe MINAGAWA df. Yasuha MATSUYUKI, 3-2
Bronze – Rino ABE and Miku SAITO 
Semifinal – Hiroe MINAGAWA df. Rino ABE, 6-2
Semifinal – Yasuha MATSUYUKI df. Miku SAITO by TF, 10-0, 3:18