Susaki Pulls Off Last-Second Win over Irie, to Face Tosaka in 50kg Final; Icho-Kawai Clash on Tap
Saturday, June 15, 2019 - 17:40 By Ken Marantz
TOKYO (June 15)---As the seconds ticked down, Yui SUSAKI could see everything she had dreamed of achieving being lost. There would be no trip back to the World Championships and, by extension, she could kiss her Olympic aspirations goodbye.
Willing herself to snatch a victory from a certain defeat, Susaki launched a desperate attack, and in one of those lightning-quick turn of events that seem to defy reality, Susaki went from hopeless to hopeful in a span of seconds.
Susaki scored a 4-point takedown with 2 seconds remaining in her opening match to grab a stunning 6-2 victory over rival Yuki IRIE, then went on to make the women's 50kg final on the third day of the four-day All-Japan Invitational Championships in Tokyo.
Having cleared the first hurdle with such drama, Susaki faces an equally high one when she takes on 2016 Rio Olympic gold medalist Eri TOSAKA in the final on Sunday, which will be the first-ever official match between the lightweight titans.
That's one of several high-profile finals on tap as the top wrestlers funneled into the Olympic weight classes for the tournament, setting up clashes between stars with hefty collections of global medals. 
At 57kg, Rio 2016 champions Kaori ICHO and Risako KAWAI will clash in a rematch of their meetings at last December's All-Japan Championships (Emperor's Cup), in which Icho beat Kawai for the title after losing to her in a preliminary group match.
And the 53kg final will see a battle between reigning world champions, as 55kg gold medalist Mayu MUKAIDA, who moved down to the Olympic weight, will take on Haruna OKUNO, winner of the 53kg world title at Budapest 2018.  
The victor between Susaki and Tosaka will face Irie in a playoff on July 6 for a place on Japan's team to the World Championships in Kazakhstan in September. Capturing a medal at the worlds---certainly a likelihood in the 50kg class that Japan dominates---would in turn earn an automatic place at the 2020 Tokyo Olympics. 
That's the incentive that is driving Susaki and the other top wrestlers at the tournament, also referred to as the Meiji Cup, at Tokyo's Komazawa Gym. 
"I'm strongly determined to definitely win the title, win the playoff, then win my third straight world championship and get to the Tokyo Olympics," said the straight-talking Susaki. 
A victory at the Meiji Cup, combined with a title at the Emperor's Cup, earns a place on the team to Nur-Sultan 2019. If the winners are different, the berth will be decided in a playoff. 
The latter is now the case at women's 50kg, as Irie had won the Emperor's Cup, where she defeated Tosaka in the semifinals. Susaki had skipped the tournament due to an elbow injury. 
It caused quite a buzz when Irie and Susaki were drawn to face each in their opening match, which was in the quarterfinal round. The last time the two met, Susaki came out on a top in the playoff for Budapest 2018, where she won a second straight world gold.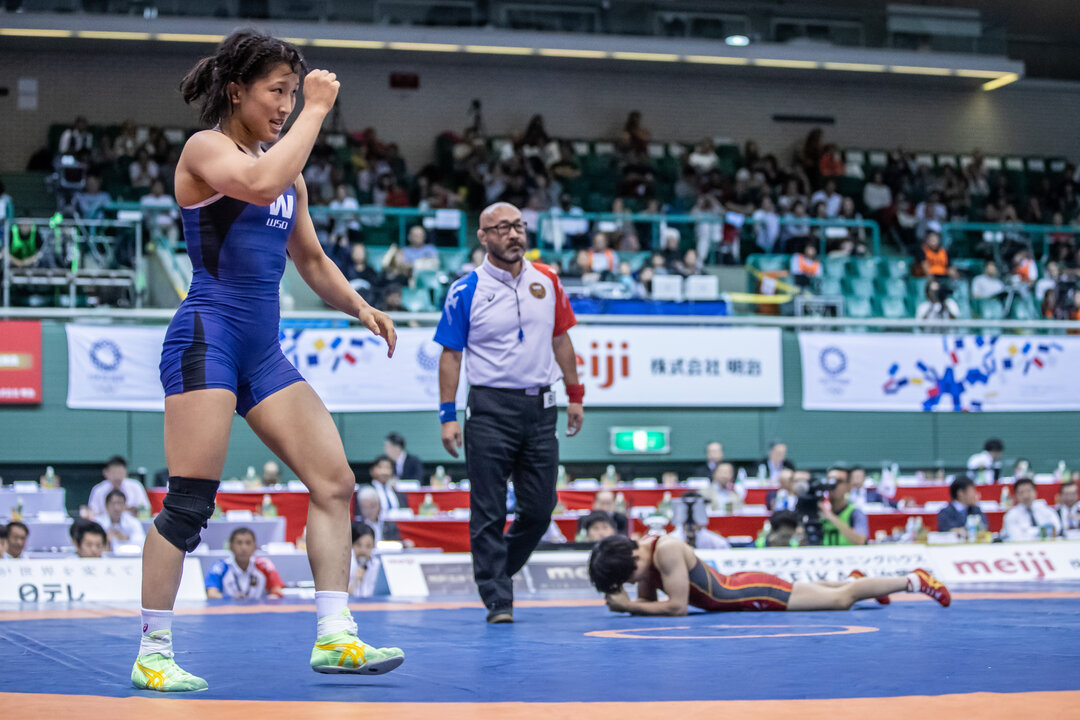 Yui SUSAKI, the reigning two-time world champion, faces 2016 Rio Olympic gold medalist Eri TOSAKA in the final on Sunday. (Photo: Sachiko Hotaka)
"At the World Championships, I also had to face the top seed right away," Susaki said. "So I looked at that as a plus for me going into today's match. You have to do what you have to do. To be the champion, you have to be able to beat everyone."
Susaki got the upper hand with a double leg takedown in the first period, but Irie grabbed the lead on last-point criteria with a takedown a minute into the second. Irie then went into defensive mode, keeping Susaki at arm's distance as the clocked ticked away.
With 5 seconds left, Susaki blasted straight in for a high double leg, then brought her left arm up to Irie's neck while pulling in the leg with the right. As the clock hit :02, Irie tumbled backward to the mat with a splat. 
"In the last, what two seconds, I was able to reverse the score," Susaki said. "Today, I couldn't cut the distance between us, and couldn't get inside. But I didn't panic, and I thought I couldn't give up on the Olympics. That feeling was so strong, so I just went for it. I went with my strength, a direct tackle from the front, and it worked."
Susaki, who will turn 20 later this month, had a less-dramatic but not-much-easier match in the semifinals, scoring with a duck-under to clinch a 5-2 victory over two-time world U23 champion Miho IGARASHI.
Tosaka advanced with a 9-2 win over Kika KAGATA in the other semifinal.
"Recently, I've been losing in the semifinals, so I'm glad I was able to make it to the final," said Tosaka, who underwent foot surgery after her victory in Rio and has not wrestled internationally since. "I went through hard times after Rio, but having gone through that experience, I want to win tomorrow."
Tosaka, who said she has been encouraged by a group of about 50 supporters from her Toyama Prefecture hometown who made the long trip to Tokyo by bus to cheer her on, knows what she is in for in her first meeting with Susaki, her successor as world champion in the lightest weight class.
"She's strong mentally, and has speed and power," the 25-year-old Tosaka said. "It's not just youthful energy, she's an athlete with remarkable talent. I'm sure it will be a tough match. But however the match plays out, even if it looks bad, the only thing that matters is winning."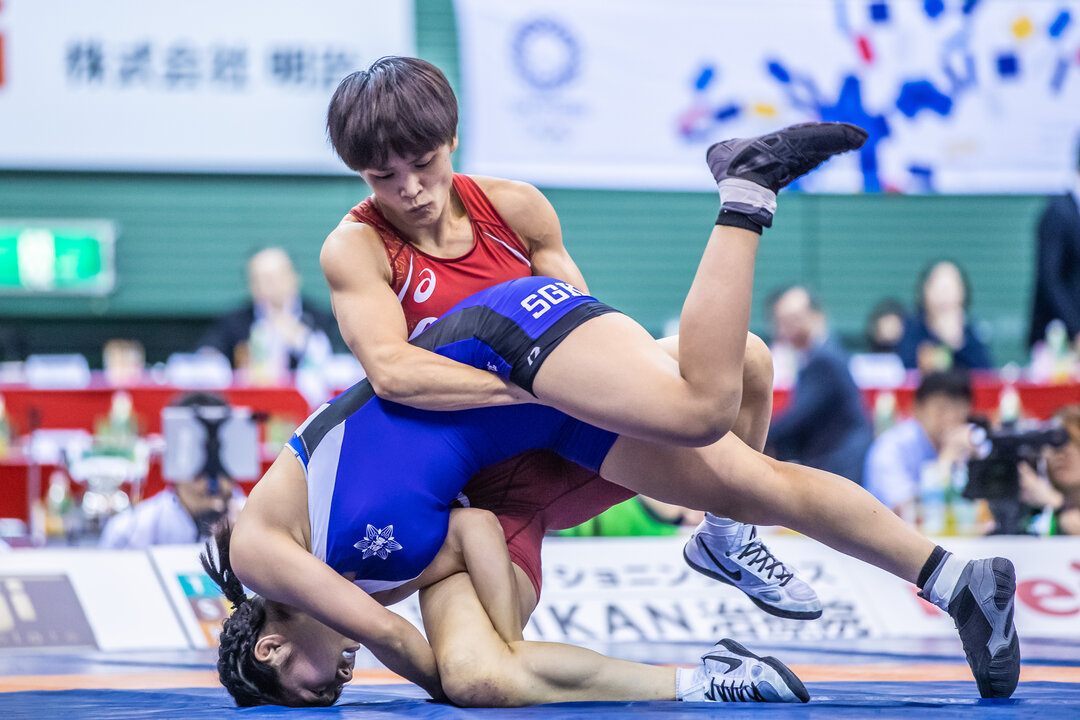 At 57kg, Rio 2016 champions Kaori ICHO and Risako KAWAI will clash in a rematch of their meetings at last December's All-Japan Championships (Emperor's Cup), in which Icho beat Kawai for the title. (Photo: Sachiko Hotaka)
Icho survives scare herself

Like Susaki, Icho also had to survive a scare as she aims for her first Meiji Cup title since 2015. Icho had not competed since her triumph in Rio until launching a comeback in September last year. 
Icho, after winning her two preliminary group matches quite handily, had her hands full with world junior silver medalist Sae NANJO in the semifinals. Nanjo was leading 1-1 on criteria in the second period when she got in on a tackle that Icho countered with a lift. 
Nanjo was awarded 2 points and, upon further review by the referees, Icho also received 2 for tilting Nanjo, giving her a 3-3 advantage. Icho then held off a last-ditch single-leg attempt for the victory. 
"I'm not sure [why it happened]," Icho said of the close match. "If I have the courage to attack, that would lead to points. The thing is whether I can get that courage."
Icho, who had to settle for a bronze medal after losing in the semifinals at the Asian Championships in April, said she now goes into competition with a different perspective from when she was such a dominant force. 
"Nothing I've done up to now can be used for reference," she said. "Now, I'm the challenger. I'm not the world champion, I'm not even the Asian champion. I think the best way is to face high-level wrestlers as a challenger."
Kawai needed three wins to top her group, including a 12-4 win over Nanjo, before chalking up a mundane 2-1 win in the semifinals over Akie HANAI, with all of the points coming on the activity clock. 
Mukaida, coming off a disappointing second-place finish at the Asian Championships, overwhelmed Ibuki TAMURA with an 11-0 technical fall in the semifinals, while Okuno ousted Nanami IRIE, 5-2. Mukaida has won all eight of her previous encounters with Okuno. 
At 68kg, Rio 2016 champion Sara DOSHO, who missed a chance to defend her world title last year after undergoing shoulder surgery, advanced to the final, where she will face former three-time world junior champion Masako FURUICHI.
In freestyle, world champion Takuto OTOGURO showed little sign of the knee problem that has recently plagued him in cruising into the 65kg final. He will take on Rei HIGUCHI, the Rio 2016 silver medalist at 57kg. 
Not to be outdone, 2017 world champion Kenichiro FUMITA and Rio 2016 silver medalist Shinobu OTA will go at it again for the Greco-Roman 60kg title. Fumita won their last clash, in the Emperor's Cup final, to take a 5-4 lead in career meetings.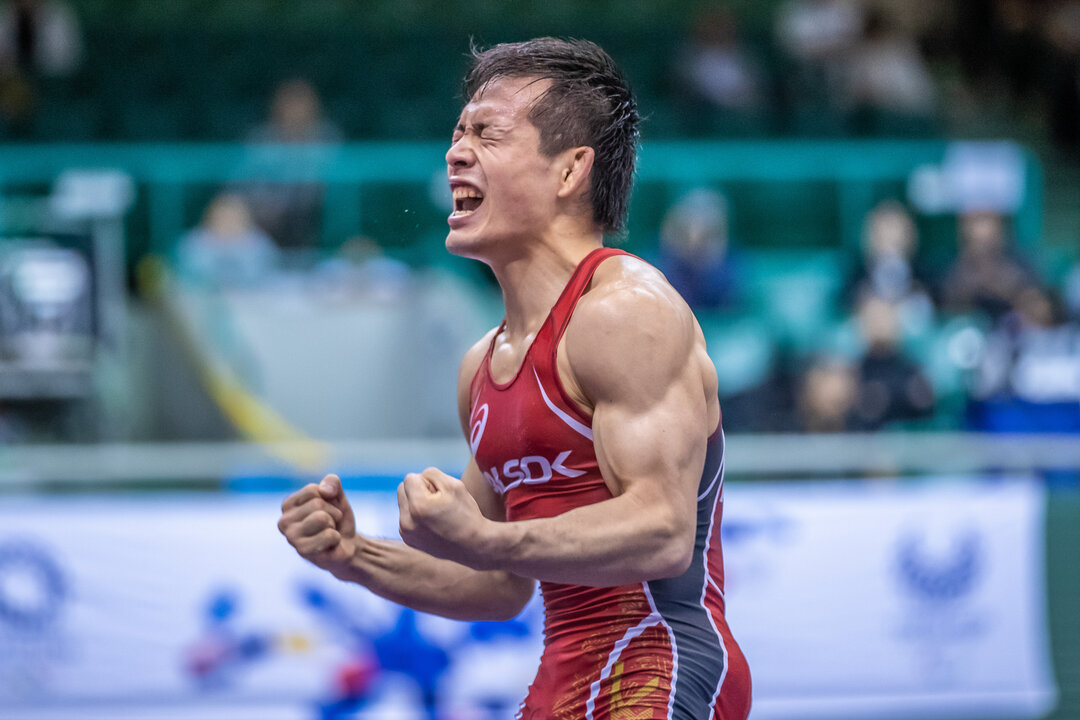 Yuki TAKAHASHI clinched his ticket Nur-Sultan with a 6-3 victory over Kaiki YAMAGUCHI. (Photo: Sachiko Hotaka)
Takahashi earns chance to regain world title

Overshadowed somewhat by the big names going through the qualifying rounds, 2017 world champion Yuki TAKAHASHI clinched his ticket Nur-Sultan with a 6-3 victory over Kaiki YAMAGUCHI in the freestyle 57kg final.
Takahashi, who won bronze medals at last year's World Championships and at this year's Asian Championships, was elated to move closer to his dream of making the Olympics. The sting of failing to qualify for Rio 2016 still lingers. 
"Four years ago, I missed out on the Rio Olympics. I felt disappointment, I felt regret. Put all together, it's a harsh memory. I knew that to get to the World Championships, I had to win here."
Takahashi scored two takedowns in the second period to clinch the win over the 20-year-old Yamaguchi in a near repeat of the Emperor's Cup final, which he won 6-4.   
"When I saw the draw sheet, I thought it would be Yamaguchi in the final," Takahashi said. "The level in the lightweight classes in Japan has steadily been rising, but I was confident I could win out."
Meanwhile, world silver medalist Yukako KAWAI, Risako's younger sister, also secured a ticket back to the World Championships in the women's 62kg division with a 3-1 victory over Asian 59kg champion Yuzuka INAGAKI.
Kawai was on the activity clock with the score tied 1-1 when she scored the decisive takedown with 53 seconds left, then fought off a late tackle attempt from the high schooler, a world cadet champion in 2017. 
Day 3 Results
Freestyle
57kg (12 entries)
Final - Yuki TAKAHASHI df. Kaiki YAMAGUCHI, 6-3
3rd Place - Toshihiro HASEGAWA df. Shotaro SUWAMA, 6-0
3rd Place - Rikuto ARAI df. Daiki ARAKI, 8-2
61kg (11 entries)
Final - Yo NAKATA df. Ken KIKUCHI by TF, 12-2, 5:09 
3rd Place - Ryutaro HAYAMA df. Keita SHIMIZU by Def. 
3rd Place - Kodai OGAWA df. Wataru TADANO by TF, 14-4, 5:05 
65kg (11 entries)
Semifinals
Takuto OTOGURO df. Yujiro UENO by TF, 10-0, 2:38
Rei HIGUCHI df. Takuma TANIYAMA, 9-0
70kg (8 entries)
Semifinals
Kojiro SHIGA df. Jin HARAGUCHI, 5-2
Haruki SENO df. Shinnosuke SUWAMA, 2-1 
74kg (12 entries)
Final - Mao OKUI df. Jintaro MOTOYAMA, 6-2 
3rd Place - Yuto MIWA df. Yuhi FUJINAMI by Def. 
3rd Place - Ryuki YOSHIDA df. Ken HOSAKA, 6-4 
92kg (5 entries)
Round-robin, Final Standings
1. Takuma OTSU (4-0)
2. Takumi TANIZAKI (3-1)
3. Koji YAMANE (2-2)
Key match: Takuma OTSU df. Takumi TANIZAKI, 2-1 in 2nd round
Greco-Roman
55kg (8 entries)
Final - Shota OGAWA df. Hirokazu ONO by TF,10-0, 1:05
3rd Place - Kenta KOSAKA df. Hiromu KATAGIRI by Def. 
3rd Place - Kota OTANI df. Kazuto KATO by TF, 9-0, 1:59 
60kg (12 entries)
Semifinals
Kenichiro FUMITA df. Hayanobu SHIMIZU by TF, 9-1, 4:15
Shinobu OTA df. Ayata SUZUKI by TF, 9-0, 3:19
67kg (12 entries)
Final - Shogo TAKAHASHI df. Tsuchika SHIMOYAMADA, 2-1
3rd Place - Katsuaki ENDO df. Katsuyoshi KAWASE by Def.
3rd Place - Yusuke KITAOKA df. Yamato UI, 5-3 
72kg (12 entries)
Semifinals
Tomohiro INOUE df. Keisei SHIMABUKURO, 4-0
Nao KUSAKA df. Ryoma HOJO, 12-7 
82kg (9 entries)
Semifinals
Yuya OKAJIMA df. Masao TANAKA by TF, 8-0, 2:38
Satoki MUKAI df. Tatsuya FUJII, 3-1 
130kg (8 entries)
Final - Arata SONODA df. Keita BANCHI by TF, 8-0, 1:15 
3rd Place - Shoma SUZUKI df. Satoshi KAIZUKA, 3-1
3rd Place - Sota OKUMURA df. Ryota KONO, 3-2
Women's Wrestling 
50kg (12 entries)
Semifinals
Yui SUSAKI df. Miho IGARASHI, 5-2
Eri TOSAKA df. Kika KAGATA, 9-2
53kg (11 entries)
Semifinals
Mayu MUKAIDA df. Ibuki TAMURA by TF, 11-0, 4:48
Haruna OKUNO df. Nanami IRIE, 5-2
57kg (7 entries)
Semifinals
Risako KAWAI df. Akie HANAI, 2-1 
Kaori ICHO df. Sae NANJO, 3-3
62kg (12 entries)
Final - Yukako KAWAI df. Yuzuka INAGAKI, 3-1 
3rd Place - Yui SAKANO df. Kiwa SAKAE by Fall, 3:09 (6-0) 
3rd Place - Miwa MORIKAWA df. Kumi IRIE, 4-2
68kg (6 entries)
Semifinals
Sara DOSHO df. Chiaki SEKI, 8-0
Masako FURUICHI df. Rio WATARI, 9-4 
72kg (4 entries)
Round-Robin, Final Standings
1. Mei SHINDO (3-0)
2. Mai HAYAKAWA (2-1)
3. Kanon KOBAYASHI (1-2)
Key Match: Mei SHINDO df. Mai HAYAKAWA, 2-1 in 3rd round