Six Must Watch World Cup Pool Match-Ups
Wednesday, April 4, 2018 - 16:29 By Eric Olanowski
Taking an in-depth look at six of the best World Cup pool match-ups. These are potential matches-ups and are subject to change as different nations have more than one wrestler per weight class. 
1. Yuki TAKAHASHI (JPN) v. Thomas GILMAN (USA) (57kg) 
The United States and Japan will meet in session two of the World Cup and the dual will be kick-started by a rematch of the 57kg 2017 World Championships gold medal bout between Yuki TAKAHASHI (JPN) and Thomas GILMAN (USA).

In the world finals, Takahashi captured his first world title by using three two-point moves to win the bout, 6-0. If Gilman expects a different result, he's going to have to do two things. First, close the distance on his shots. Takahashi used the distance of Gilman shot selection to pick up all of his takedowns in that finals bout.
Second, Gilman needs to eliminate emotion but also use the hometown crowd in his favor. The former Hawkeye wrestled for the University of Iowa and will be making his return to Carver-Hawkeye Arena for the first time since competing for the black and gold.
2. No.1 GANZORIG Mandakhnaran (MGL) v. No.5 Daniyar KAISANOV (KAZ) (74kg) 
This session one match-up is a rematch of the 74kg Asian Championships semifinals. In that match, Ganzorig bolted out to a 4-0 lead but began to fade near the two-minute mark. Kaisanov, who'd been unsuccessful in getting to his left side swing single finally picked up his first takedown as the clock neared the one-minute mark. After an immediate low-level gut on the right side, Kaisanov tied the match, 4-4.
With 45 second left, Ganzorig established position with an underhook on the ride side and pulled the Kazak into a double leg, driving him to his back to take the 8-4 lead. This would be the match determining takedown as Ganzorig defeated Kaisanov, 8-6.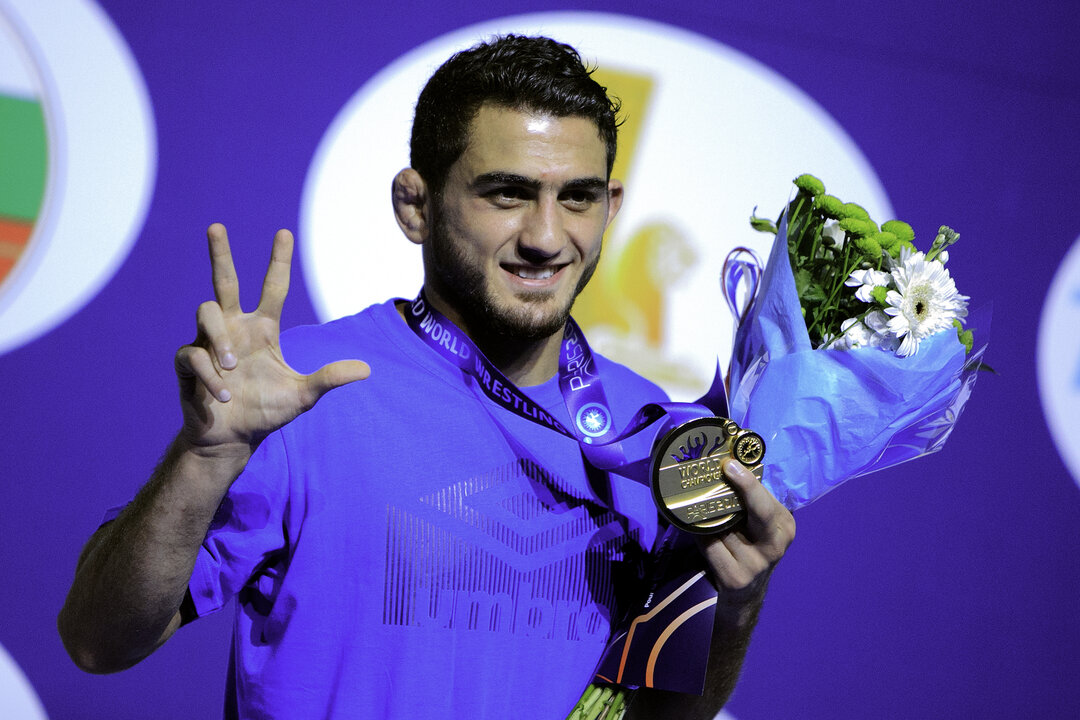 Photo: Three-time world champion, Haji ALIYEV (AZE). 

3. Haji ALIYEV (AZE) v. Alejandro Enrique VALDES TOBIER (CUB) (65kg)
Alejandro Enrique Valdes Tobier will be welcomed to his third World Cup by three-time world champion and Olympic bronze medalist, Haji Aliyev.
Aliyev, who is known for being one of the most technically sound wrestlers in the world will have to be comfortable wrestling in close quarters as most of Vales Tobier's comes from an underhook. If Aliyev happens to give up a takedown, he has to be aware that Vales Tobier will be looking to get to his high gut on the left side.
The key for Vales Tobier to come out on top of this match is to eliminate hesitation. His dominant position is his over/under and can not hesitate when he established his position.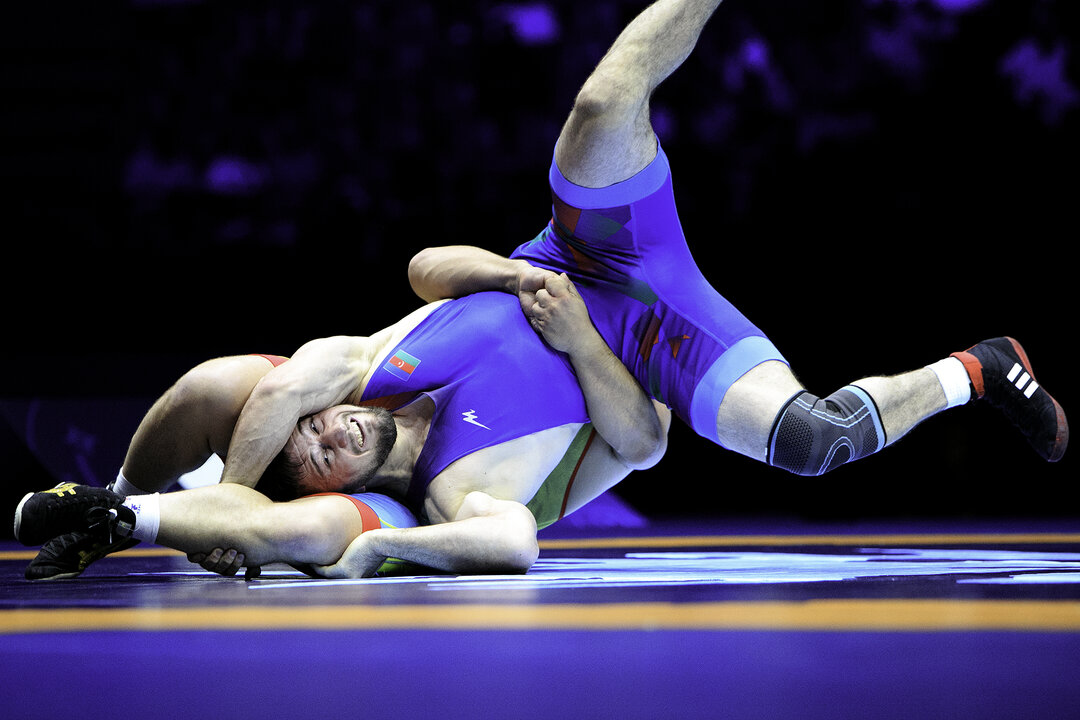 Photo: World bronze medalist, Aslanbek ALBOROV (AZE). 
4. No.1 LUVSANDORJ Turtogtokh (MGL) v. Aslanbek ALBOROV (AZE) (92kg)
In his sixth World Cup appearance, world bronze medalist Aslanbek Alborov will have the opportunity to wrestle current world No. 1, Luvsandorj Turtogtokh (MGL). 
The biggest question for the Mongolian is how is he going to adjust to Alborov's unconventional left side head outside single?
The reason Alborov's single gives his opponents issues is that he uses his right hand as a decoy to roll his head outside for his single leg. For Mongolia to pick up a win here, it's going to take two things. Luvsandorj will have to place high importance on controlling the left hand, and he'll have to keep the Azeris head on the inside of his right hip. Alborov strives when his head slips to the outside where he's able to come to his feet and double off.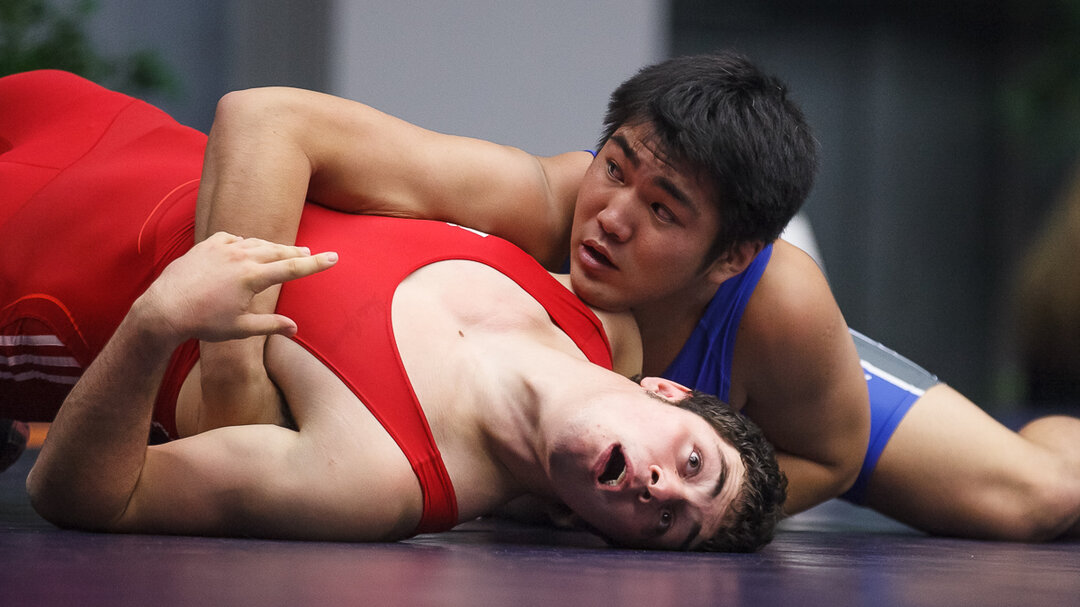 Photo: No.11 Takashi ISHIGURO (JPN). 
5. No.11 Takashi ISHIGURO (JPN) v. J'den COX (USA) (92kg)
This match could go a few ways as both guys are incredibly light on their feet, but both also slow down immensely when they fall into tie-ups.
For Cox to knock off the No.11 ranked wrestler in the world, he has to finish his shots with urgency. Historically, Ishiguro has struggled with quick finishers. 
Cox finds closure in dictating the pace of his matches. He's most comfortable in relying on his defense in close matches, and Ishiguro cannot allow that to happen if he wants to beat the world and Olympic bronze medalist.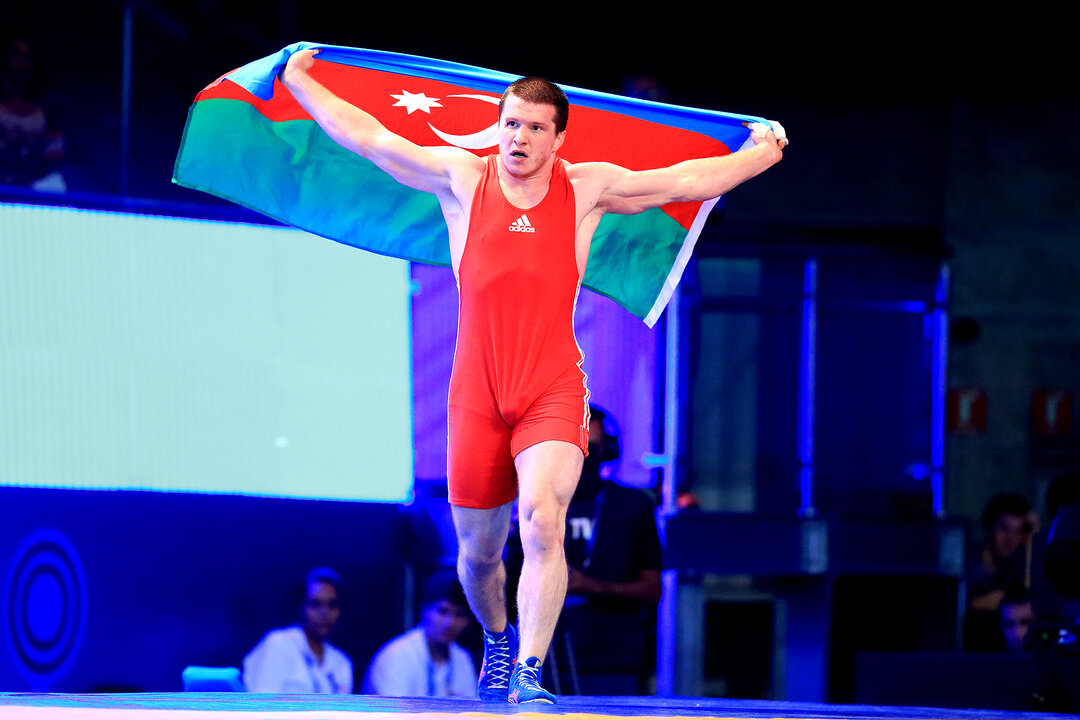 Photo: Junior world champion Nurmagomed GADZHIYEV (AZE). 
6. Nurmagomed GADZHIYEV (AZE) v. Reineris SALAS PEREZ (CUB) (97kg)
If I'm on the Cuban coaching staff, I'm tying Reineris Salas Perez' elbows to his hip before he wrestles Nurmagomed Gadzhiyev. The junior world champions right side ear-to-ear set up for his arm-drag is something that has to be addressed before the explosive Cuban steps on the mat! 
Salas Perez, known for his patient, laid back and calculated style of wrestling must roll his head to get left ear-to-ear to negate that arm-drag of Gadzhiyev.
To beat the Cuban Olympian, Gadshiyev is going to have to compete six total minutes. For the Azeri, it's important to understand that Salas can put points on the board in a heartbeat, so no lead is safe.