Russia Nabs 2 Golds to Close Wrestling at YOG
Monday, October 15, 2018 - 00:04 By Tim Foley
BUENOS AIRES (October 14) -- Russia, the most titled men's freestyle nation in the world, seems well-stocked for golden runs in 2024 and 2028 after Akhmedkhan TEMBOTOV (80kg) and Sergei KOZYREV (110kg) capped the competition with back-to-back gold medals in men's freestyle.
Tembetov wasted little time in disposing of Fateh BENFERDJALLAH (ALG) in the 80kg final, wrapping up the 10-0 technical fall inside the first period.
Zozyrev faced a tougher finals opponent, needing every second to work past Amir Hossein Abbas ZARE (IRI), 6-5. The Iranian had spent the morning rounds dominating the center of the mat, but Zozyrev matched Zare's gamesmanship and plodded his way to Youth Olympic gold.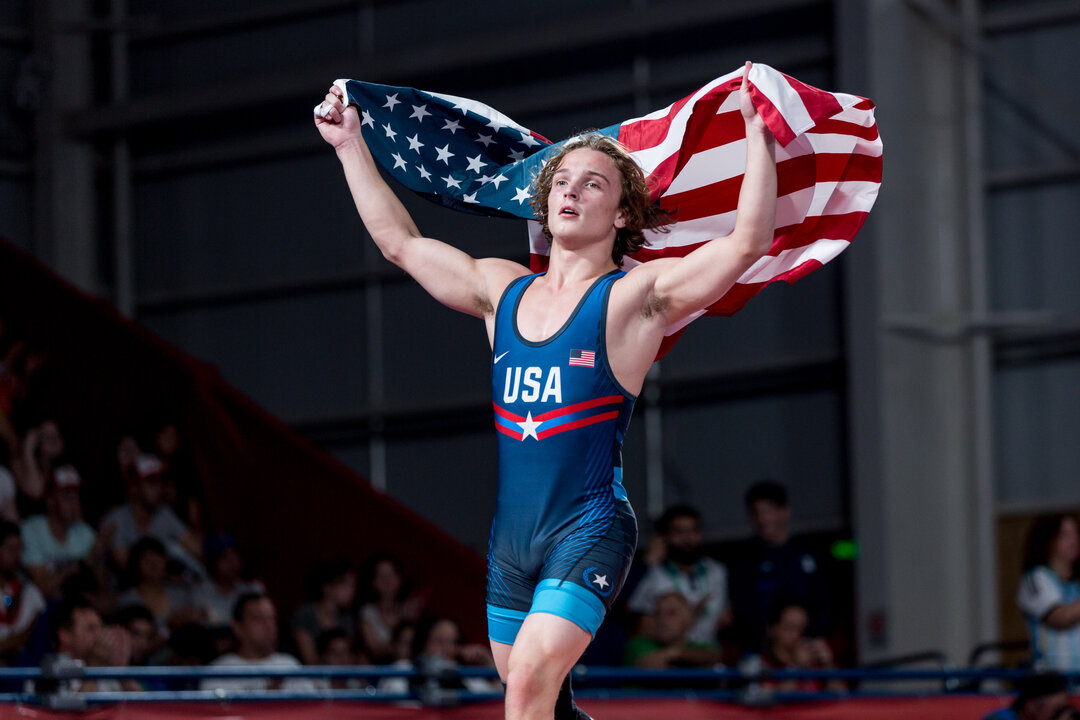 Robert HOWARD (USA) celebrates after winning a gold medal (Photo: Max Rose-Fyne)

The United States' Robert HOWARD (55kg) became his country's first male wrestler to win a Youth Olympic gold, outpacing hometown favorite Hernan ALMENDRA (ARG) by TF, 17-6. Heading into the second period it seemed Howard had the matched handled, but a four-point move by Almendra drew the Argentinian closer to an upset. Howard stayed calm and fought his way for the technical superiority victory.
At 65kg Turan BAYRAMOV (AZE) made sure that Iran traveled home with only silver medals, besting Mohammad KARIMISEIFABAD (IRI), 6-1.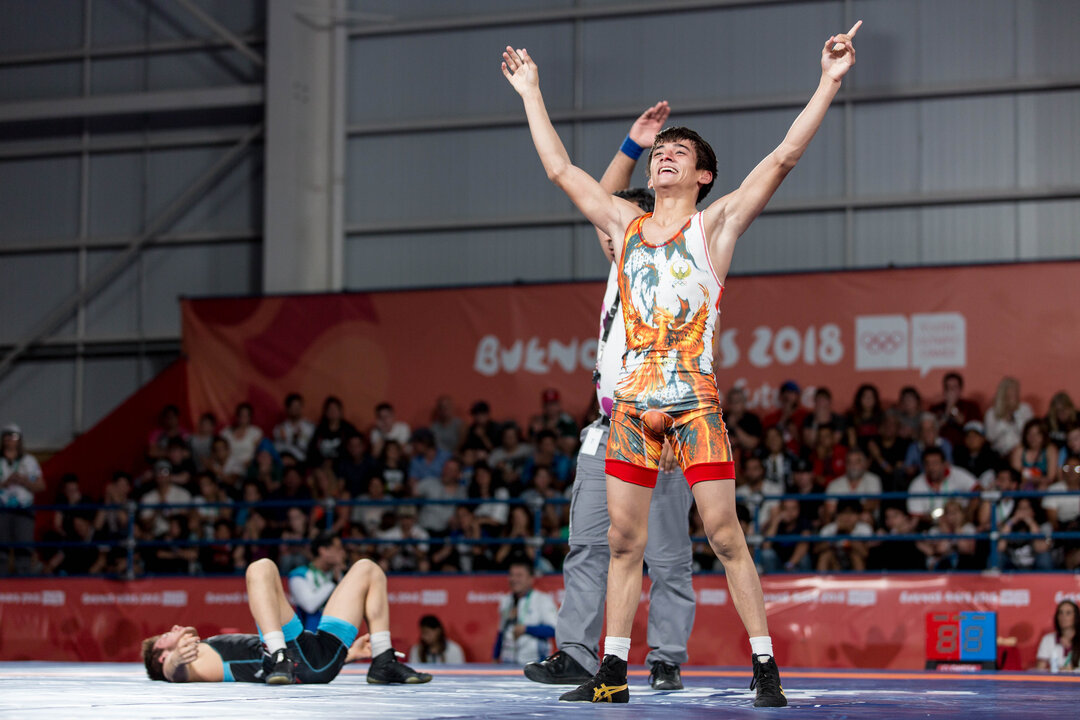 Umidjon JALOLOV (UZB) claimed the gold medal at 48kg (Photo: Max Rose-Fyne)
Umidjon JALOLOV (UZB) took home the night's first gold medal, taking out Giorgi GEGELASHVILI (GEO), 8-2.
The 2018 Senior Wrestling World Championships start Oct. 20 in Budapest. Be sure to check out all the action at www.UnitedWorldWrestling.org.
Men's Freestyle, 48kg
GOLD: Umidjon JALOLOV (UZB) df. Giorgi GEGELASHVILI (GEO), 8-2
BRONZE: Halil GOKDENIZ (TUR) df. Diego Armando ZULUAGA CUEVAS (COL) by FALL
FIFTH: Fernando BOOYSEN (RSA) df. Daiziel DETUDAMO (NRU) by TF, 10-0
Men's Freestyle, 55kg
GOLD: Robert Kelly HOWARD (USA) df. Hernan David ALMENDRA (ARG) by TF, 17-6
BRONZE: Vladyslav OSTAPENKO (UKR) df. Oussama LARIBI (ALG) by TF, 10-0
FIFTH: Hayato FUJITA (JPN) df. Gavin Stefan Sablan WHITT (GUM) by TF, 10-0
Men's Freestyle, 65kg
GOLD: Turan BAYRAMOV (AZE) df. Mohammad Baghi KARIMISEIFABAD (IRI), 6-1
BRONZE: Inayat ULLAH (PAK) df. Carson Taylor MANVILLE (USA), 6-2
FIFTH: Fathi Tarek A. ISMAIL (EGY) df. Westerly Pehi Tahi AINSLEY (NZL), 7-0
Men's Freestyle, 80kg
GOLD: Akhmedkhan TEMBOTOV (RUS) df. Fateh BENFERDJALLAH (ALG) by TF, 10-0
BRONZE: Mukhammadrasul RAKHIMOV (UZB) df. Carson Barry LEE (CAN) by TF, 10-0
FIFTH: Ryan Devon MARSHALL (NZL) df. Valentine YAIREGPIE (FSM) by FALL
Men's Freestyle, 110kg
GOLD: Sergei KOZYREV (RUS) v. Amir Hossein Abbas ZARE (IRI), 6-5
BRONZE: Ahmed Mahmoud Elsayed M. KHALIL (EGY) v. Luis Rodrigo OROZCO CORTEZ (MEX) 
FIFTH: Thomas John Mcglinchey BARNS (AUS) df. Dragan VELINOV (MKD), 10-0