Russia Closes Out European C'ships with Third Team Title
Sunday, June 9, 2019 - 18:17 By Eric Olanowski
PONTEVEDRA, Spain (June 9) – Russia's freestyle squad medaled in all ten weights classes and closed out the final day of wrestling in Spain with the Junior European team title. Russia (205 points), who also won the Greco-Roman and women's wrestling team titles, entered the final day of wrestling with 100 points, scored an additional 105 points on Day 7, and captured the team title 89 points ahead of second place Moldova (116 points). 
Russia inserted seven wrestlers into the finals and had four wrestlers win continental golds. They had a solo champion on Day 6 and three champions on Day 7. Dmitrii Alekseevitch KUPRIN, Aslanbek SOTIEV, and Saipudin MAGOMEDOV are the three Russian's who joined fellow countrymen Nachyn MONGUSH as freestyle European champions. 
Dmitrii Kuprin handed Russia their first Day 7 title. Kurpin continued to dominate the 74kg competition, ending the gold-medal bout in 72 seconds with an 11-0 victory over Turkey's Abdulvasi BALTA (TUR). Kurpin outscored his four European opponents 41-2. Aslanbek Sotiev was the second Russian of the day who scored an 11-0 shutout win in the finals to capture a European title. Sotiev did so against Askhab HAMZATOV (AZE) in the 92kg finals. Their third champion was Saipudin Magomedov, who scored a pair of takedowns after trailing 2-0 to defeat Yurii IDZINSKYI (UKR), 4-2.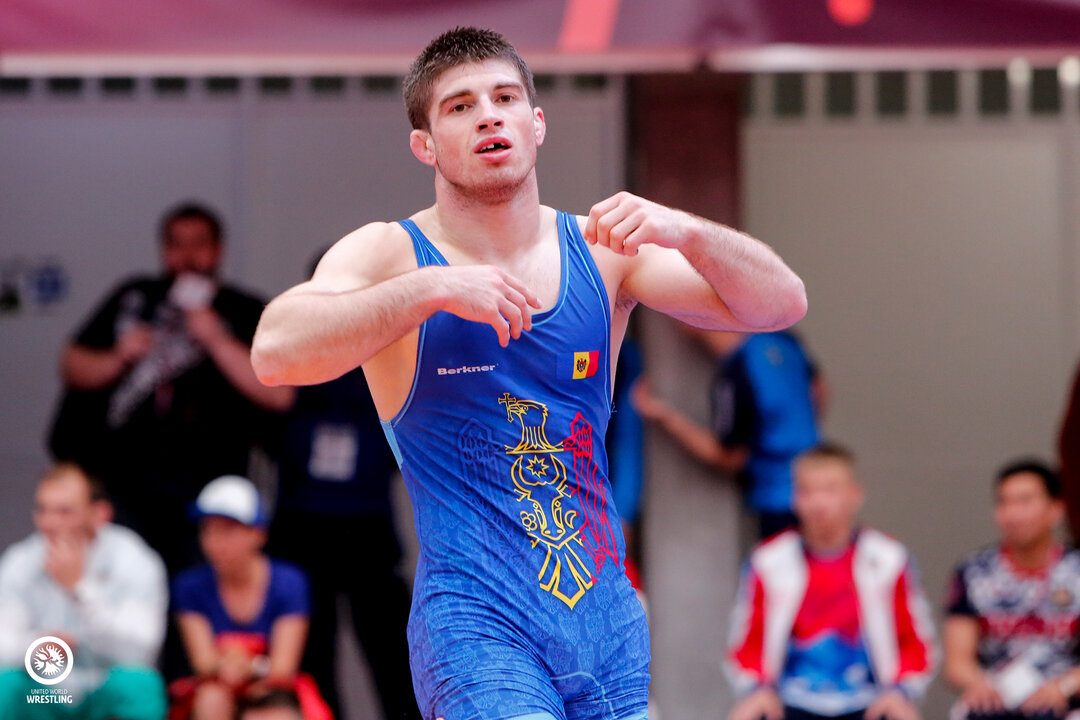 Vasile DIACON's (MDA) won the 70kg gold medal on Day 6 and helped Moldova finish in second place. (Photo: Gabor Martin) 
Moldova, led by Vasile DIACON's (MDA) Day 6 70kg gold-medal, finished in second place with 116 points. Moldova also had a silver medalist and three bronze-medal finishers. 
Azerbaijan (115 points), who finished one point behind Moldova, had two freestyle wrestlers win European titles. Their pair of champions were Turan BAYRAMOV (AZE) and Abubakr ABAKAROV (AZE), who reached the top of the podium at 65kg and 79kg, respectively. 
Turkey (110) and Ukraine (107) rounded out the top five finishers in the freestyle team race. 
61kg 
GOLD - Hrachya MARGARYAN (ARM) df. Oleksandr YEVSIEIENKO (UKR), 11-0 
BRONZE - Gamzatgadzhi KHALIDOV (HUN) df. Leomid COLESNIC (MDA), 13-3 
BRONZE - Aleksandr SABANOV (RUS) df. Hamza ALACA (TUR), 11-6
74kg 
GOLD - Dmitrii Alekseevitch KUPRIN (RUS) df. Abdulvasi BALTA (TUR), 11-0 
BRONZE - Goga MAMIAURI (GEO) df. Nasib ISAYEV (AZE), 10-0 
BRONZE - Valentin BORZIN (MDA) df. Alex PEREZ CIMARRA (ESP), 6-0 
86kg 
GOLD - Miriani MAISURADZE (GEO) df. Mher MARKOSYAN (ARM), 3-2 
BRONZE - Slavik NANIEV (RUS) df. Mohammad TIMORI (SWE), 10-0
BRONZE - Demid KARACHENKO (UKR) df. Ivan NEDEALCO (MDA), 3-1
92kg 
GOLD - Aslanbek SOTIEV (RUS) df. Askhab HAMZATOV (AZE), 11-0
BRONZE - Ertugrul AGCA (GER) df. Aliaksei PARKHOMENKA (BLR), 6-3 
BRONZE - Bozhidar Mateev TODOROV (BUL) df. Matous VONDAL (CZE),4-4
125kg
GOLD - Saipudin MAGOMEDOV (RUS) df. Yurii IDZINSKYI (UKR), 4-2 
BRONZE - Vasil KHVISTANI (GEO) df. Mikita HORHUN (BLR), via fall 
BRONZE - Pasa Ekrem KARABULUT (TUR) df. Islam Aslangereyvic ABUEV (AZE), 4-2