Punia Wins India's First Junior Gold in 18 Years; Russia Reels in Freestyle Team Title
Wednesday, August 14, 2019 - 19:06 By Eric Olanowski
TALLINN, Estonia (August 14) – India's Deepak PUNIA won his nation's first junior world title in 18 years, while Russia reeled in the freestyle team title 48 points ahead of second-place United States. 
In the 86kg finals, Punia traded takedowns with his Russian opponent Alik SHEBZUKHOV, but it was the Indian wrestlers low-level attack to a takedown in the second period that assisted India in winning their first junior world title since Ramesh KUMAR and Palwinder CHEEMA's title-winning efforts at 69kg and 130kg, respectively at the 2001 Tashkent Junior World Championships. "It feels very good to win India's first junior world title in 18 years," said Punia. His win on Wednesday night is an improvement on his silver-medal finish from last year's Junior World Championships. 
Punia, who is ranked fifth in the world at 86kg on the senior circuit, is expected to represent India at September's Nur-Sultan World Championships. "Next up is the big (senior) World Championships where I hope to become world champion again," said Punia.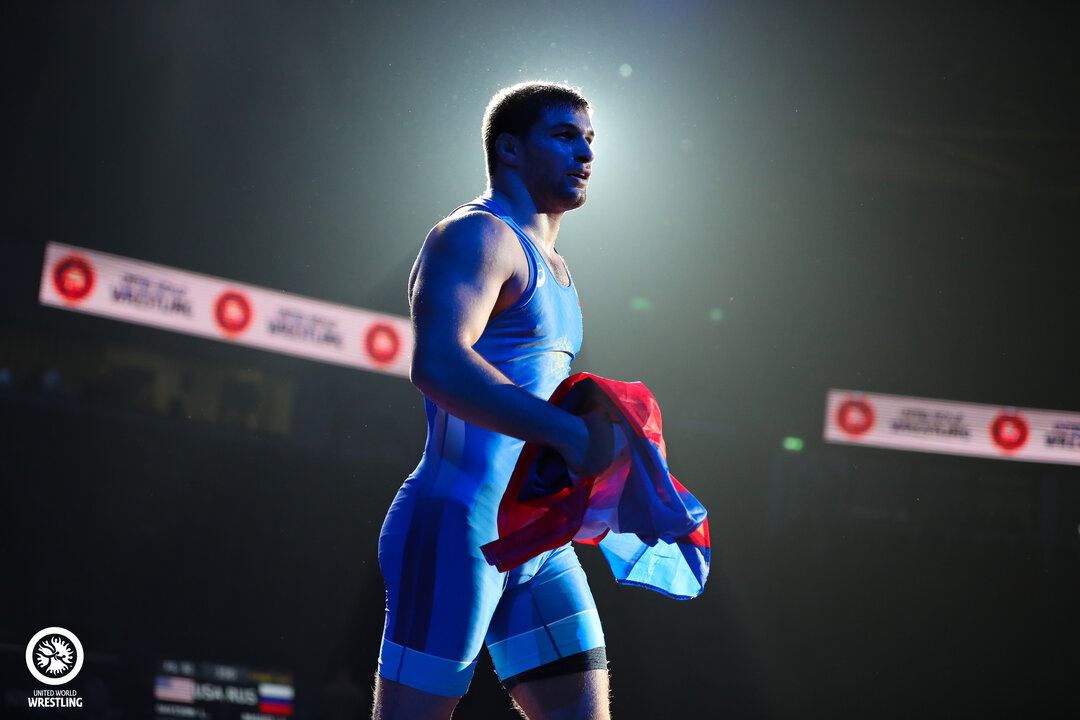 Alan BAGAEV's (RUS) defeated Lucas DAVISON (USA) 5-4 -- handing Russia their second freestyle gold medalist of the 2019 Junior World Championships. (Photo: Kadir Caliskan)
Meanwhile, the Russian Federation closed out the freestyle team race on the back of Alan BAGAEV's (RUS) run to a junior world title at 92kg. Though Russia ended with eight freestyle medals, Bagaev joined Amkhad TASHUKHADZHIEV as Russia's only gold-medal winners. Tashukhadzhiev won the 79kg title yesterday with a 7-1 win over Bagrati GAGNIDZE (GEO). 
In his finals match, Bagaev edged Lucas DAVISON (USA), 5-4 after he scored the go-ahead takedown with 12 seconds left in the second period. Prior to picking up the match-deciding takedown, Bagaev gave up three step-outs and an inactivity point and fell behind 4-3. His clutch takedown with under 15 seconds left put an exclamation point on the team title for the Russian Federation, who finished 48 points ahead of the second-place United States and 49 points ahead of third-place Iran. 
David CARR (USA) survived a 4-4 battle against Jintaro MOTOYAMA (JPN) to win the 74kg gold medal. (Photo: Kadir Caliskan)
United States Storms to Second-Place Finish 
The United States stormed to a second-place finish after medaling in all five weights – extenuated by David CARR (USA) and Mason PARRIS' (USA) gold-medal runs at 74kg and 125kg, respectively. 
David Carr snuck past Jintaro MOTOYAMA (JPN), 4-4 and became the 74kg junior world champion. After the match, when Carr was asked about becoming a world champion, he said, "I've been telling myself all summer. I've dreamed about; I write it down in my goals every day." 
Carr scored a low-level attack in the first period, then bulldozed his Japanese opponent over in the second period -- gaining the criteria advantage after he surrendered a takedown and two one-point step-outs.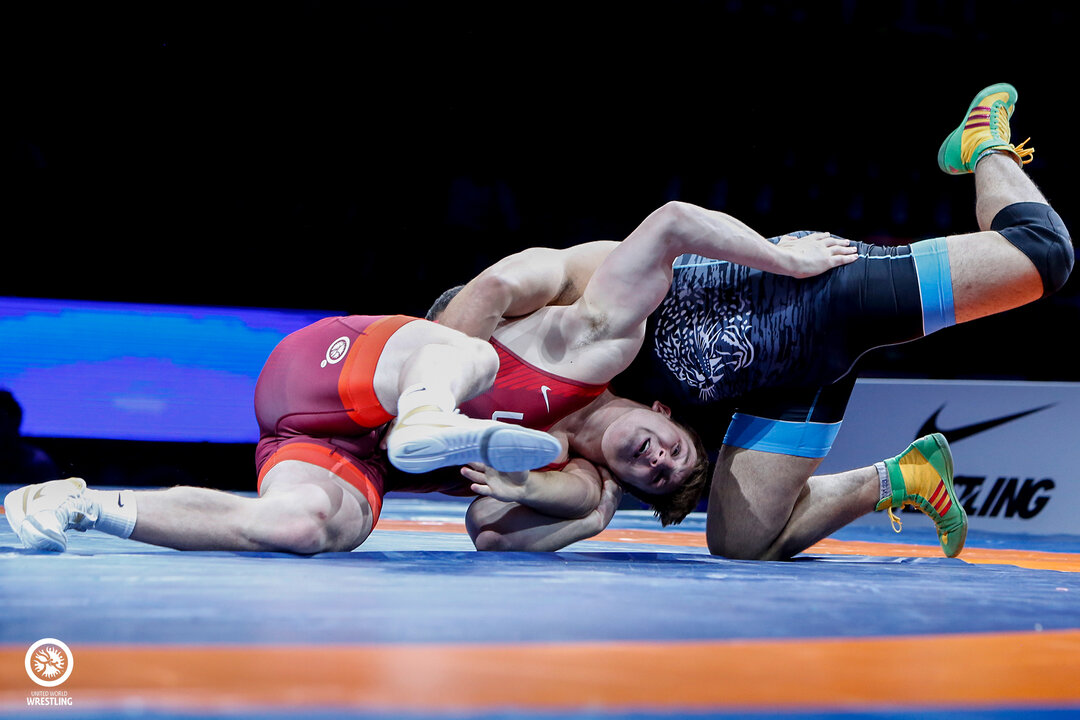 Mason PARRIS' (USA) stuck reigning cadet world champion Amir ZARE (IRI) in 80 seconds in the 125kg finals. (Photo: Kadir Caliskan) 
Mason Parris was the second American to win a world title on Wednesday. Parris only needed 80 seconds to get to his fireman's carry and pick up the fall against the reigning cadet world champion Amir ZARE (IRI). "I hit my fireman's carry that I've been hitting since I was five years old and I got him with it. It was awesome," said Parris while draping the American flag over his shoulders. 
The United States also had an additional trio of medalists on Day 3. Lucas John Davison (92kg) fell in the finals, while Gabriel TAGG (61kg) and Trent HIDLAY (86kg) each won bronze medals – which helped the United State get past third place Iran by one point.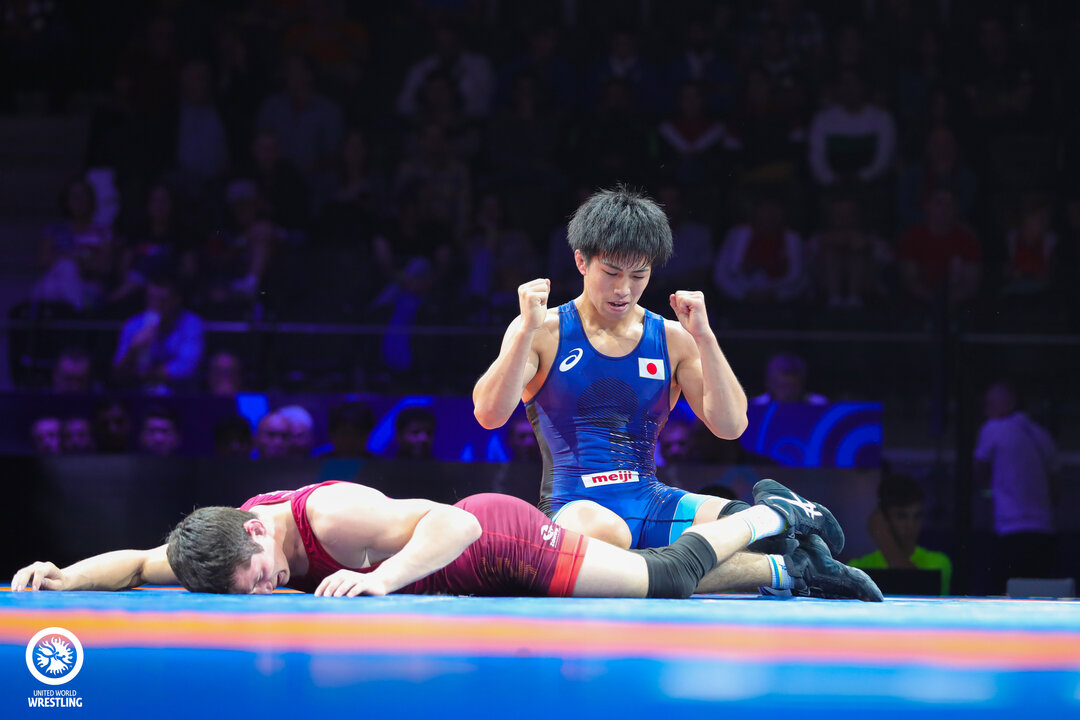 Kaiki YAMAGUCHI (JPN) scored 12 unanswered points in the second period of the 61kg to defeat Andrii DZHELEP (UKR), 13-2. (Photo: Kadir Caliskan)
Japan's Yamaguchi Joins Abe as Junior World Champion 
Kaiki YAMAGUCHI (JPN) trailed by one point after the opening period of the 61kg finals, but scored 12 unanswered second-period points against Andrii DZHELEP (UKR) and joined teammate Toshiya ABE (JPN) in the junior world winners circle.
Yamaguchi scored an inactivity point with one minute left in the first period, but quickly surrendered a takedown and trailed 2-1. Before the first period ended, Yamaguchi ducked behind Dzhelep but couldn't get his Ukrainian opponents' knee down and headed into the final period down by one point. 
Whatever the message was from the Japanese corner during the break clearly hit home with Yamaguchi as he flipped on his offensive switch and scored 12 straight points to close out the match.
His first lead of the second period came when he strung together a high crotch and a leg to regain the lead, 5-2. Soon after, Yamaguchi ended the match when he transitioned from a single leg to a trio of leg laces to win his first international medal -- which just happened to be a world gold. 
Wrestling resumes on Thursday at 10:30 (local time) and will be broadcasted live on www.unitedworldwrestling.org.
Final Freestyle Team Scores 
GOLD - Russia  (168 points)
SILVER - United States (120 points)
BRONZE - Iran (119 points)
Fourth - Japan (84 points)
Fifth - India (80 points)

61kg
GOLD - Kaiki YAMAGUCHI (JPN) df. Andrii DZHELEP (UKR), 13-2 
BRONZE - Gabriel Robert TAGG (USA) df. Goderdzi DZEBISASHVILI (GEO), 15-4 
BRONZE - Alik KHADARTSEV (RUS) df. Asgar MAMMADALIYEV (AZE), 6-0 
74kg
GOLD - David CARR (USA) df. Jintaro MOTOYAMA (JPN), 4-4 
BRONZE - Abdulvasi BALTA (TUR) df. Bat-Erdene BYAMBASUREN (MGL), via fall 
BRONZE - Khadzhimurad GADZHIYEV (AZE) df. Devid BETANOV (RUS), 7-0
86kg 
GOLD - Deepak PUNIA (IND) df. Alik SHEBZUKHOV (RUS), 2-2 
BRONZE - Trent Niemond HIDLAY (USA) df.  Ivars SAMUSONOKS (LAT), 9-0
BRONZE - Hunter Jeffery LEE (CAN) vs. Miriani MAISURADZE (GEO), 4-2 
92kg
GOLD - Alan BAGAEV (RUS) df. Lucas DAVISON (USA), 5-4 
BRONZE - Ertugrul AGCA (GER) df. Ali ABDOLLAHI (IRI), 8-6
BRONZE - Viky VIKY (IND) df. Batmagnai ENKHTUVSHIN (MGL), 4-3 
125kg
GOLD - Mason PARRIS (USA) df. Amir ZARE (IRI)
BRONZE - Alen KHUBULOV (RUS) df. Hovhannes MAGHAKYAN (ARM), 14-3
BRONZE - Pasa Ekrem KARABULUT (TUR) df. Vasil KHVISTANI (GEO), 4-1