Japanese Women Jab Competition, Win Three Golds at Asian Junior C'ships
Thursday, July 19, 2018 - 16:43 By Eric Olanowski
NEW DELHI, India (July 19) – Per usual, Japanese women displayed their supremacy, flexing on the competition to the tune of three gold medals on the third day of competition at the Asian Junior Championships in New Delhi, India. 
Japan inserted three world-class women into the finals and enjoyed listening to their national anthem a trio of times. Each of the day three champions were age-level world finalists, as Miyu NAKAMURA (JPN) and Yuzuru KUMANO's (JPN) resumes both included junior world titles, while Sena NAGAMOTO (JPN) finished last year's Cadet World Championships with a silver medal. 
In their three finals bouts, Japanese wrestlers outscored their opponents 32-4, ending two of the three gold medal bout via technical superiority.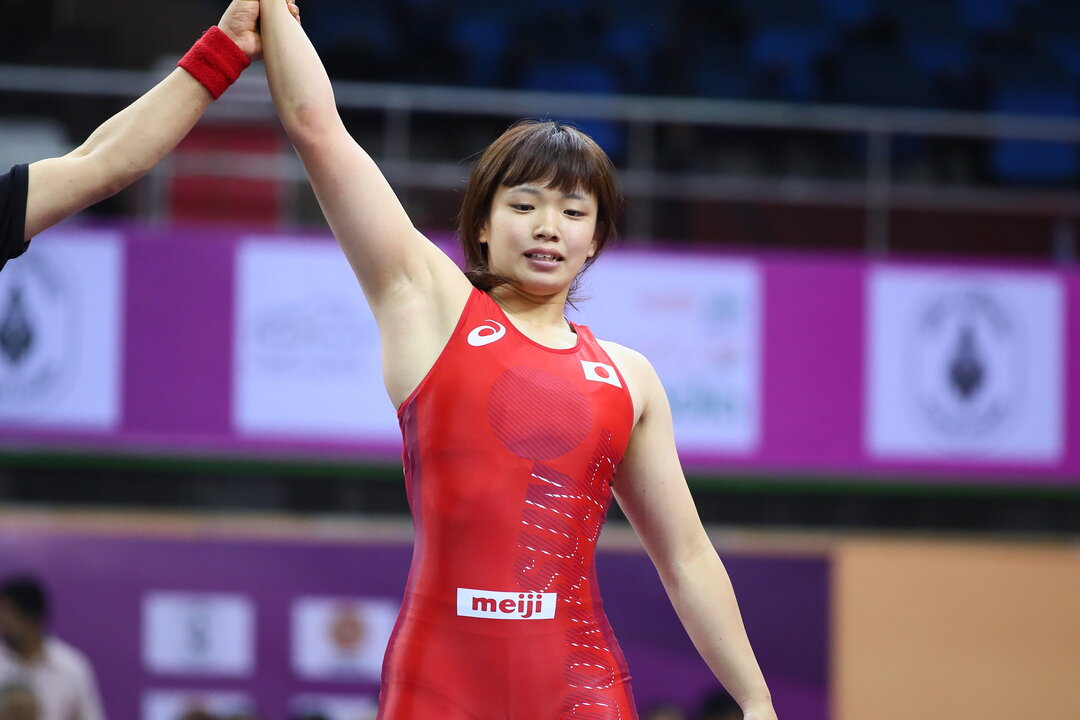 Yuzuru KUMANO (JPN) scored ten unanswered points on her way to winning the Asian Junior gold medal. (Photo by Sachiko Hotaka)
Yuzuru Kumano, the two-time junior world champion surrendered the only four offensive points but rebounded to outscore Nabira ESENBAEVA (UZB) 10-0, winning the 59kg gold medal 10-4. 
Kumano, the 2016 cadet Asian champion bailed out, giving up two early first-period takedowns and trailed 4-0. She remained composed and finished the match with five unanswered takedowns and claimed her second age-level continental championship.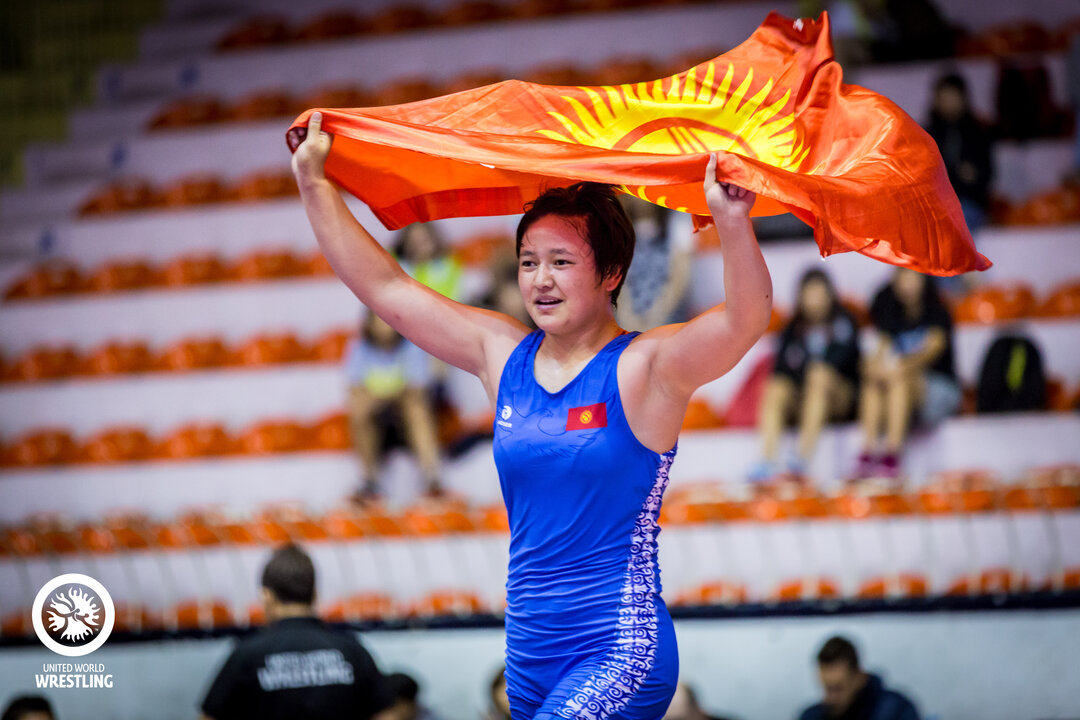 Meerim ZHUMANAZAROVA (KGZ) technical superiority victory in the finals helps Kyrgyzstan sit in third place after the first day of women's wrestling. (Photo by Max Rose-Fyne) 
China sits in second place with 90 points after three runner-up finishes and two bronze medals, while Kyrgyzstan holds the third place spot with 70 points. 
Last year's junior world champion Aiperi MEDET KYZY (KGZ) and two-time age-level world bronze medalist Meerim ZHUMANAZAROVA (KGZ) bullied the competition, outscoring their eight opponents 83-3 on their way to snagging the remaining two gold medals. 
RESULTS 
50kg
GOLD -  Miyu NAKAMURA (JPN) df. Yumei ZHONG (CHN), 12-0  
BRONZE - Anudari NANDINTSETSEG (MGL) df. Fatimah Hussein Sabeeh SABEEH (IRQ ) , via forfeit 
BRONZE -  Marina ZAKSHEVSKAYA (KAZ) df. Shivani PAWAR (IND)  , 3-2 
55kg
GOLD -  Sena NAGAMOTO (JPN) df. Jiajing HOU (CHN), 10-0 
BRONZE - Khaliunaa BAYARAA (MGL) df. Aibike ARTYKALI KYZY (KGZ), 9-7 
BRONZE -  Reena REENA (IND) df. Khodicha NAJIMOVA (UZB), 8-2 
59kg
GOLD -  Yuzuru KUMANO (JPN) df. Nabira ESENBAEVA (UZB), 10-4 
BRONZE - Purevsuren ULZIISAIKHAN (MGL) df. Yu Han CHENG (TPE), 10-0 
BRONZE - Juanjuan SHI (CHN) df. Sangeeta SANGEETA (IND), 10-5 
68kg
GOLD - Meerim ZHUMANAZAROVA (KGZ) df. Divya KAKRAN (IND), 11-0 
BRONZE -  Man ZHANG (CHN) df. Purevtsetseg GANBAATAR (MGL) via forfeit 
BRONZE -  Hyeonyeong PARK (KOR) df. Valeriya GONCHAROVA (KAZ), 10-4 
76kg (Single bronze) 
GOLD - Aiperi MEDET KYZY (KGZ) df. Yuzhen DING (CHN), 11-0 
BRONZE -  Karuna KARUNA (IND) df. Oyunbagana BATCHULUU (MGL), 10-0