Gray Defeats Adar to Reclaim Top Spot
Sunday, February 18, 2018 - 16:22 By Eric Olanowski
The stars aligned for wrestling fans Sunday afternoon in Klippan, Sweden as an anticipated bout between three-time world champion Adeline GRAY (USA) and defending world champions Yasemin ADAR (TUR) delivered on the hype as the two 76kg wrestlers combined for a whopping 15 points in the finals of the Klippan Ladies Open.
Gray picked up an early 2-0 lead after scoring the first takedown of the match. "I was expecting a defensive match, but when I got in so deep and knew I could get to her legs, I adjusted the game plan," said Gray.

Adar returned fire late in the first after hitting Gray with a beautiful four-point arm spin to take the 4-2 lead. When asked about the arm-spin, Gray said "We practiced it in the warm-up. We knew she had a great arm-spin, so kudos to her for hitting it when it mattered."

Gray picked up the pace in the second, outscoring Adar 7-2 to win the match 9-6 and reclaim her No. 1 spot in the United World Wrestling world rankings.

"I knew I always deserved to be there," said Gray. "It was just a matter of earning it and proving it when it counted."
Team Japan kicked off the day's finals winning back-to-back titles at 50kg and 53kg.

Yui SUSAKI (JPN) captured the 50kg title by defeating Mariya STADNIK (AZE), the two-time world and Olympic silver medalist, 2-1.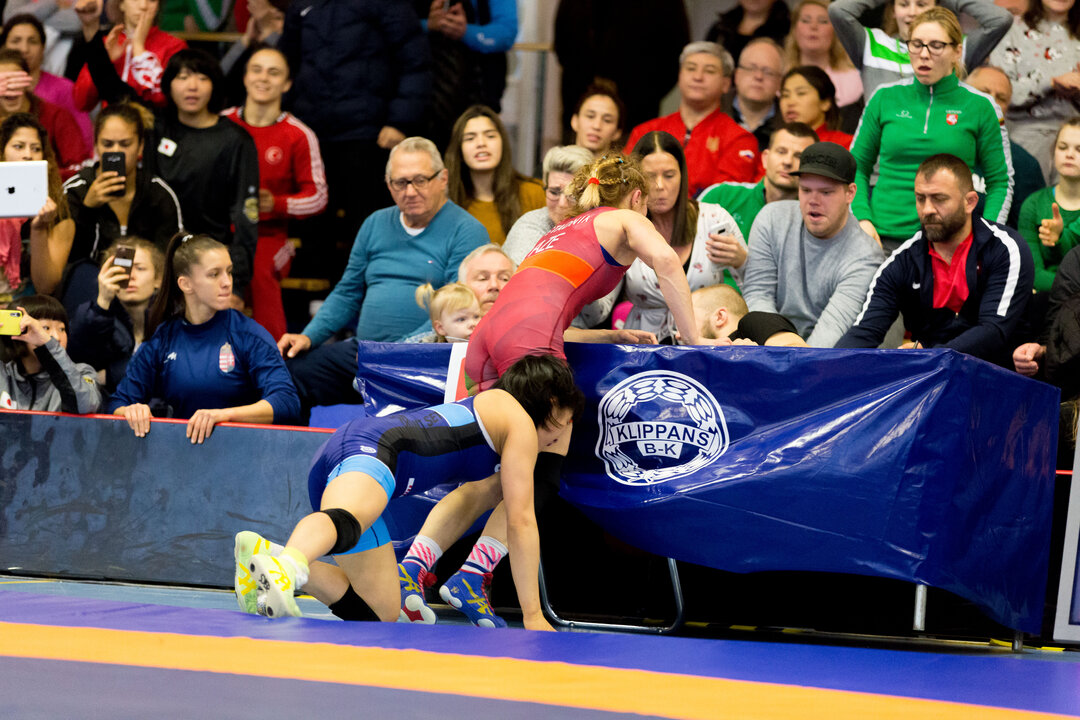 Trailing on criteria with less than 30-seconds remaining, Susaki shot a high crotch but ran out of mat space before finishing. The wrestlers barreled into the official's table with Stadnik stepping out first, giving Susaki the 2-1 lead and ultimately the win.

"I was so excited after the match because it was my first win after my December loss," said Susaki. "I knew this would be a one exchange match and I capitalized on that one exchange!"
Junior world champion Nanami IRIE (JPN)used a pair of takedowns to win the Japan-on-Japan 53kg final against Umi IMAI (JPN), 4-2.
In the 55kg finals, Stalvira ORSHUSH (RUS) stole the gold medal from Bediha GUN (TUR) after picking up a push out with one-second left. After a failed challenge from Gun, Orshush walked away with the 3-2 victory.
At 57kg, defending junior world champion Sae NANJO (JPN) scored four unanswered points to win a tightly contested battle with 2016 world silver medalist and 2017 European champion, Tetyana KIT (UKR), 2-2.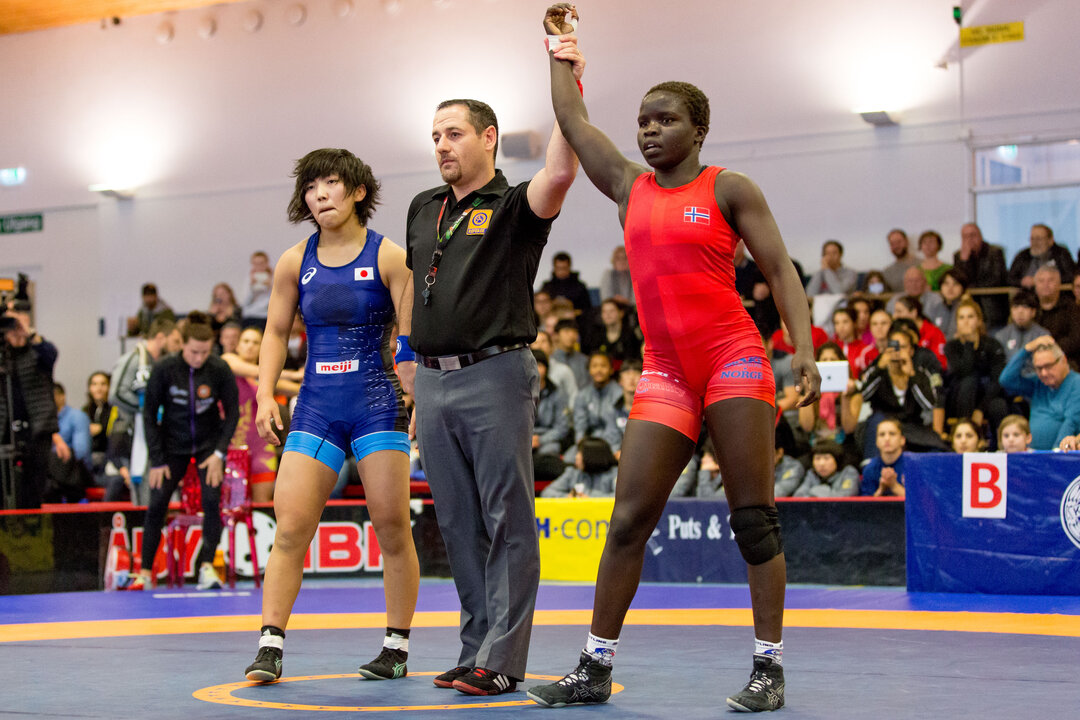 After claiming silver and bronze medals, Grace BULLEN (NOR), the 2017 European champion captured her first Klippan Lady Open title by beating Asian Indoor Games bronze medalist Akie HANAI (JPN), 3-2.
When asked about what she was looking for in the 59kg finals, Bullen said "I've wanted a Klippan Lady Open title for a long time. Everyone here is wrestling at their highest level." 
Dave Schultz Memorial champion Kayla MIRACLE (USA) earned Team USA's second gold medal of the tournament after challenging a four-point call in favor of 2014 world champion Yulia TKACH (UKR). Miracle
captured the 62kg title, 3-2.
In the 65kg finals,2015 world silver medalist Petra OLLI (FIN) defeated Japan's Miwa MORIKAWA (JPN), 5-4. 

In the all-Olympian final at 68kg, Danielle LAPPAGE (CAN) remained unbeaten as she bested Alla CHERKASOVA (UKR) in dominant fashion, 9-4. Lappage wrapped up the tournament by outscoring her opponents 24-6. 

Sweden's lone champion was Jenny FRANSSON (SWE). The 2016 Olympic bronze medalist brought the crowd to their feet by scoring a 10-0 technical superiority victory over Russian runner-up, Tatiana KOLESNIKOVA MOROZOVA (RUS) in the finals at 72kg. 
RESULTS: http://uww.io/j9cru
MEDAL MATCHES
50kg 
GOLD - Yui SUSAKI (JPN) df. Mariya STADNIK (AZE), 3-2
BRONZE - Anzhelika VETOSHKINA (RUS) df. Patricia alejandra BERMUDEZ (ARG), 15-4
BRONZE - Emilia alina VUC (ROU) df. Amy ann FEARNSIDE (USA), 11-8
53kg
GOLD - Nanami IRIE (JPN) df. Umi IMAI (JPN), 4-2 
BRONZE - Natalia MALYSHEVA (RUS) df. Jade mariah PARSONS (CAN), 11-3
BRONZE - Sarah ann HILDEBRANDT (USA) df. Aysun ERGE (TUR), 10-0 
55kg
GOLD -  Stalvira ORSHUSH (RUS) df. Bediha GUN (TUR), 3-2 
BRONZE -  Nina MENKENOVA (RUS) df. Jacarra gwenisha WINCHESTER (USA), 5-4
BRONZE - Ramona GALAMBOS (HUN) df. Sena NAGAMOTO (JPN), 2-1

57kg
GOLD -Sae NANJO (JPN) df. Tetyana KIT (UKR), 2-2

BRONZE - Alexandra ANDREEVA (RUS) df. Laura MERTENS (GER), 10-0 
BRONZE - Irina OLOGONOVA (RUS) df. Simona PRICOB (ROU), 0-0 
59kg
GOLD - Grace jacob BULLEN (NOR) df. Akie HANAI (JPN), 3-2
BRONZE - Elif jale YESILIRMAK (TUR) df. Uliana TUKURENOVA (RUS), 6-3
BRONZE - Lauren nora LOUIVE (USA) df. Kateryna ZHYDACHEVSKA (ROU), 8-2
62kg
GOLD - Kayla colleen kiyoko MIRACLE (USA) df. Yuliia TKACH OSTAPCHUK (UKR), 3-2

BRONZE - Olivia louise HENNINGSSON (SWE) df. Luzie MANZKE (GER), 10-5
BRONZE - Luisa helga gerda NIEMESCH (GER) df. Naomi RUIKE (JPN), 6-0
65kg
GOLD - Petra maarit OLLI (FIN) df. Miwa MORIKAWA (JPN), 5-4

BRONZE -  Henna katarina JOHANSSON (SWE) df. Braxton rei STONE (CAN), 10-9
BRONZE - Yulia PRONTSEVITCH (RUS) df. Forrest ann MOLINARI (USA), 2-1
68kg
GOLD - Danielle suzanne LAPPAGE (CAN) df. Alla CHERKASOVA (UKR), 9-4

BRONZE - Olivia grace DI BACCO (CAN) df. Maria SELMAIER (GER), 10-0
BRONZE -  Tamyra mariama MENSAH (USA) df. Laura SKUJINA (LAT), 0-0
72kg
GOLD -  Anna jenny eva maria FRANSSON (SWE) df. Tatiana KOLESNIKOVA MOROZOVA (RUS), 10-0

BRONZE - Victoria christine FRANCIS (USA) df. Alexandra nicoleta ANGHEL (ROU)  , 4-0
BRONZE -  Rachel ann WATTERS (USA) df. Burcu UGDULER ORSKAYA (TUR), 9-3
76kg
GOLD -  Adeline maria GRAY (USA) df. Yasemin ADAR (TUR), 9-6

BRONZE - Epp MAE (EST) df. Denise sabina MAKOTA STROEM STRÖM (SWE), 7-4
BRONZE -  Erica elizabeth WIEBE (CAN) df. Francy RAEDELT (GER), 10-1