Diatta Snags Eighth African Crown
Saturday, February 10, 2018 - 20:52 By Eric Olanowski
PORT HARCOURT, Nigeria (February 10) - Adama DIATTA (SEN) ventured to Port Harcourt with aspirations of capturing his eighth African title. The two-time Olympian outscored his opponents 21-3 on his way to his ninth finals.
In the 61kg finals, Diatta controlled Chedli METHLOUTHI (TUN) for the entire match, sealing his 5-2 victory late in the second period with an underhook throw by to a single leg.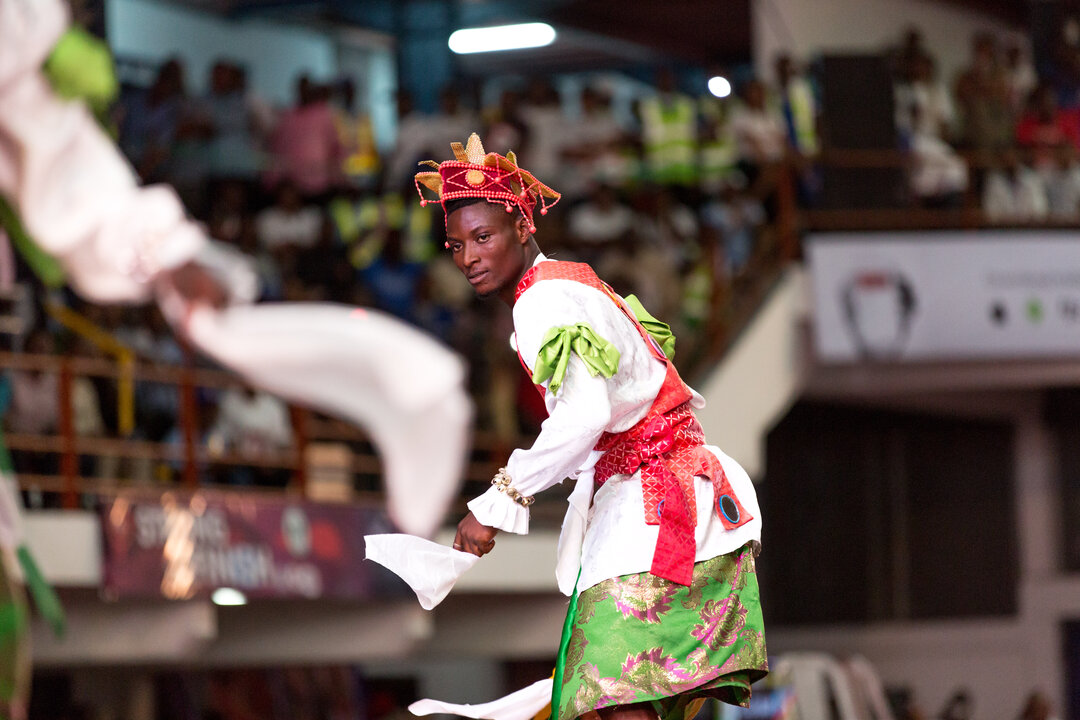 At 57kg, three of the top-four placers from a year ago returned to this year's African Championships. Ebikewenimo WELSON (NGR), the fourth-place finisher from a year ago and Jan Louwrens COMBRINCK (RSA) stopped Chakir ANSARI (MAR) and Abdelhak KHERBACHE (ALG) from making back-to-back finals.
In the finals, Combrinck found himself down 4-0 after giving up two early takedowns. He narrowed Welson's lead to 4-2 after picking up a takedown of his own. Shortly after his first takedown, Combrinck picked up a throw and eventually stuck Welson late in the first period.
Amas DANIEL (NGR), Nigeria's world team representative in 2010 snagged the 7-2 win over Haithem DAKHLAOUI (TUN), the 2017 African Championships fifth-place finisher after securing three takedowns and a point for a lost challenge in the 65kg finals. 
Reigning 70kg champion Ogbonna Emmanuel JOHN (NGR) thought his hopes for back-to-back titles were derailed after six minutes of wrestling. The scoreboard showed Amr HUSSEN's (EGY) named underlined after a 2-2 battle, but that was incorrect. John scored a two-point move, and Hussen scored two one-point moves, which gave John the lead on criteria and his second African gold medal.
Ayoub BARRAJ (TUN), the African junior champion from a year ago picked up two one-point scores on the way to defeating Sami Hamdi AMINE (EGY) for the 74kg title. 
Moving to 79kg, Ekerekeme AGIOMOR (NGR) dominated the match from the first whistle. He took a 7-0 lead into the second period before picking up a pair of takedowns to defeat Fredylan George MARAIS (RSA), 11-0.
Melvin BIBO (NGR) improved on his 2017 African Championships third-place finish by not only making it to the finals but by picking up a 10-0 technical superiority victory over Hein Jakobus JANSE VAN RENSBURG (RSA) in the 86kg gold medal bout. 
Hosam Mohamed Mostafa MERGHANY (EGY) picked up the 3-0 win over Robert DAUFA's (NGR) in the 92kg finals by snagging a shot clock point and picking up a takedown late in the second period.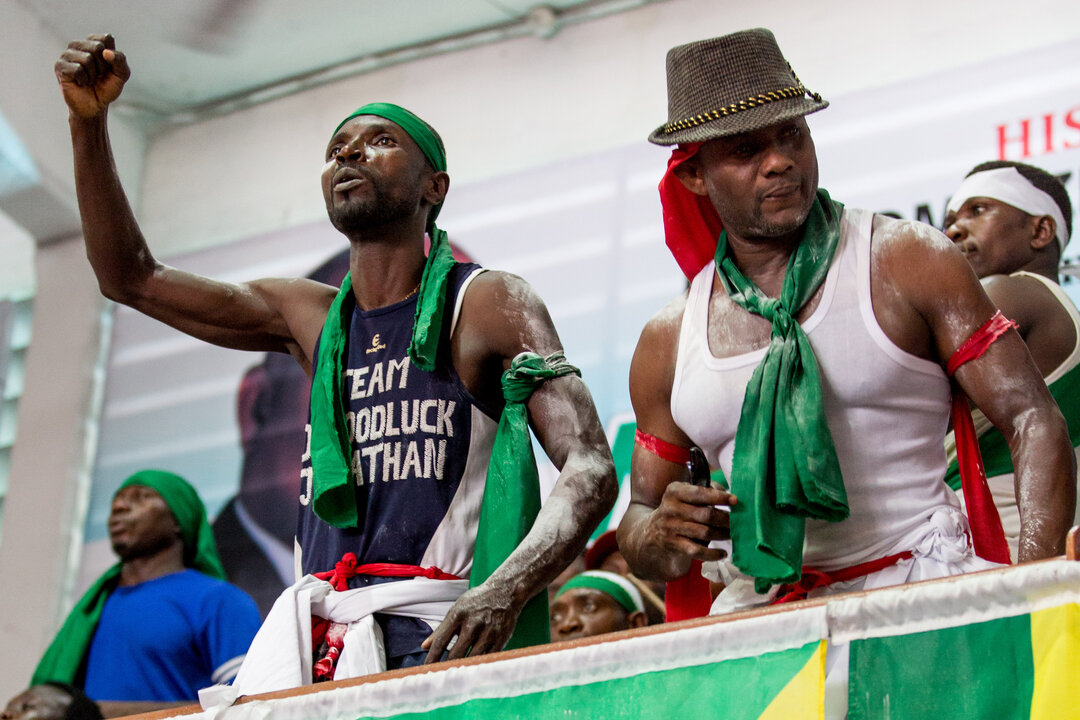 Martin ERASMUS (RSA) did something that not a lot of people expected. He defeated the man who had ownership over the 97kg weight class for the last several years, Soso TAMARAU (NGR). In winning his first African gold medal, Erasmus denied the reigning champion from winning his third African championship. 
Concluding with 125kg, Khaled ABDALLA (EGY), African junior champion from a year ago held off two late flurries from Olympian and three-time African Champion, Sinivie BOLTIC (NGR) to win 2-1.

FINAL RESULTS

Men's Freestyle 
57kg
GOLD -  Jan Louwrens COMBRINCK (RSA) df. Ebikewenimo WELSON (NGR), via fall
BRONZE - Gamal Abdelnaser Hanafy MOHAMED (EGY) df. Chakir ANSARI (MAR) via dsq
BRONZE - Abdelhak KHERBACHE (ALG) df. Omar FAYE (SEN), 11-9

61kg
GOLD - Adama DIATTA (SEN) df. Chedli METHLOUTHI (TUN), 5-2
BRONZE - Firstman VICTOR (NGR) df. Gert Cornelius Johannes COETZEE (RSA), 7-5
 
65kg
GOLD - Amas DANIEL (NGR) df. Haithem DAKHLAOUI (TUN), 7-2
BRONZE - Reynhardt LOUW (RSA) df. Mbunde CUMBA MBALI (GBS), 12-10
BRONZE - Fares LAKEL (ALG) df. Sofiane EL KHAMER (MAR), vin
 
70kg
GOLD - Ogbonna Emmanuel JOHN (NGR) df. Amr Reda Ramadan HUSSEN (EGY), 2-2
BRONZE - Jean Bernard Diadia DIATTA (SEN) df. Tchani BAKI (BEN), 6-0
BRONZE - Chems Eddine BOUCHAIB (ALG) df. John Mburu KARIUKI (KEN), 10-0
 
74kg
GOLD - Ayoub BARRAJ (TUN) df. Sami Hamdi AMINE (EGY), 2-0
BRONZE - ALI Mustafa (SUD) df.. Chakir MOHAMED (MAR), 14-2

79kg
GOLD - Ekerekeme AGIOMOR (NGR) df. Fredylan George MARAIS (RSA), 11-0.
BRONZE - Francisco de Deus KADIMA (ANG) df. Augustine P Flomo (LBR), 10-0
BRONZE - Oussema RIGANI (MAR) df. Mark Omumasaba INGUYESI (KEN), 12-1

86kg
GOLD - Melvin BIBO (NGR) df. Hein Jakobus JANSE VAN RENSBURG (RSA), 10-0  
BRONZE - Imed KADDIDI (TUN) df. Assanti FRIDOUSSE (BEN), 10-0
BRONZE - BASHER Guma (SUD) df. Abdou LOUALI (NIG), vfo

92kg
GOLD - Hosam Mohamed Mostafa MERGHANY (EGY) df. Robert DAUFA (NGR), 3-0
BRONZE - John Odhiambo OMONDI (KEN) df. Eric W BORKUAH (LBR), 15-4
 
97kg
GOLD - Martin ERASMUS (RSA) df. Soso TAMARAU (NGR), 1-1.
BRONZE - Yvan Cedric NYAMSI TCHOUGA (CMR) df. Mohammed FARDJ (ALG), 1-1

125kg
GOLD - Khaled Omr Zaki Mohamed ABDALLA (EGY) df. Sinivie BOLTIC (NGR), 2-1
BRONZE - Clauds KOUAMEN MBIANGA (CMR) df. Adama TANGARA (CIV), 9-2