Azerbaijan Leads Russia By Five Points Heading into Day Three
Tuesday, April 9, 2019 - 20:17 By Eric Olanowski
BUCHAREST, Romania (April 9)  -  Haji ALIYEV (AZE) and Jabrayil HASANOV (AZE) reached the top of the European podium for the third time in their careers and helped Azerbaijan carry a five-point lead over the Russian Federation into the final day of freestyle wrestling at the European Championships.
Returning European champion Haji Aliyev pitched a shutout against Turkey's Selahattin KILICSALLAYAN in the 65kg finals and brought his overall continental title total to three. Aliyev now has as many European titles as he does world titles.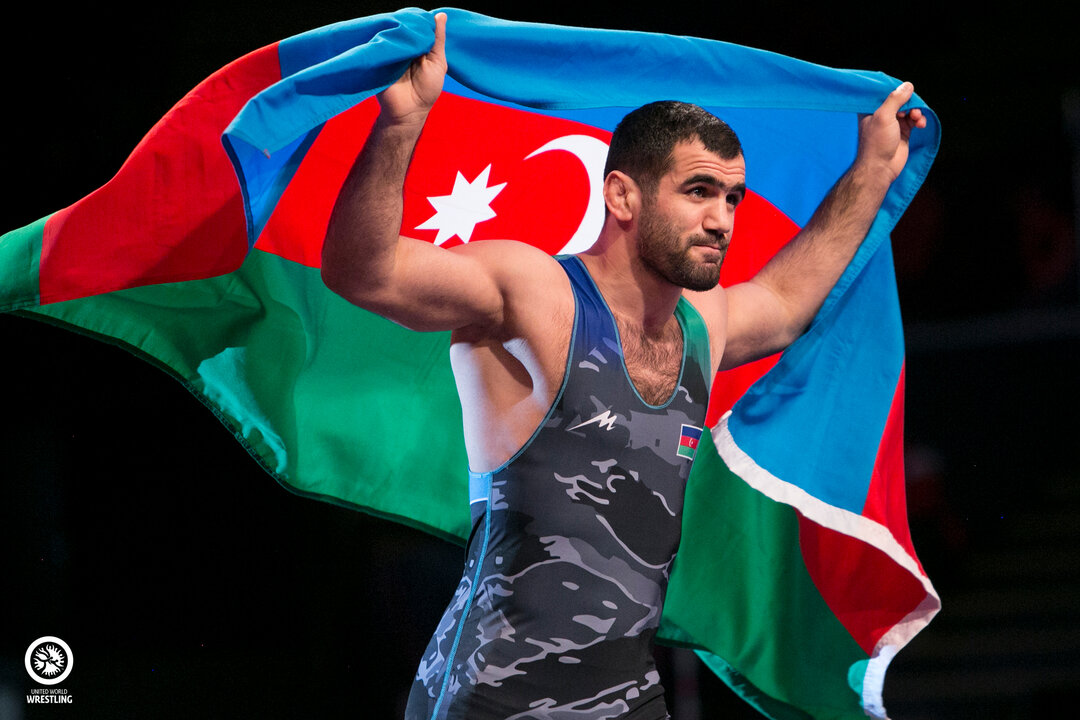 Jabrayil HASANOV (AZE) won his third European title after receiving an injury defeat in the 79kg finals. (Photo: Gabor Martin)
Jabrayil Hasanov was the second Azeri who won a European title on the second day of wrestling at Bucharest's Pollyvalent Hall. Though it wasn't the way he wanted to win, the reigning world runner-up won his third European championship with an injury default win over Akhmed GADZHIMAGOMEDOV (RUS) who was unable to compete after injuring his right knee on Monday night in the semifinals.
Azerbaijan also picked up points from Aghahuseyn MUSTAFAYEV'S 70kg second-place finish, and bronze medal finishes from Mahir AMIRASLANOV and Nurmagomed GADZHIYEV at 57kg and 92kg respectively. 
The Russian Federation, thanks to Abdulrashid SADULAEV's gold-medal performance at 97kg, along with four other medals, head into the last day of freestyle wrestling in second place with 95 points. 
In the 97kg gold-medal bout, Sadulaev scored an opening period stepout, then put his agility and athleticism on display when he nearly jumped over Belarus' Aliaksandr HUSHTYN, scoring the match-deciding takedown. 
Sadualev's 3-1 win on Tuesday night gave him back-to-back European titles and brought his overall continental total to four. He also won a European title in 2014 and 2015.
In addition to Sadualev's 25 points gold-medal finish, Russia grabbed 40 points from two runner-up finishes and 30 points from a pair of bronze medal finishes.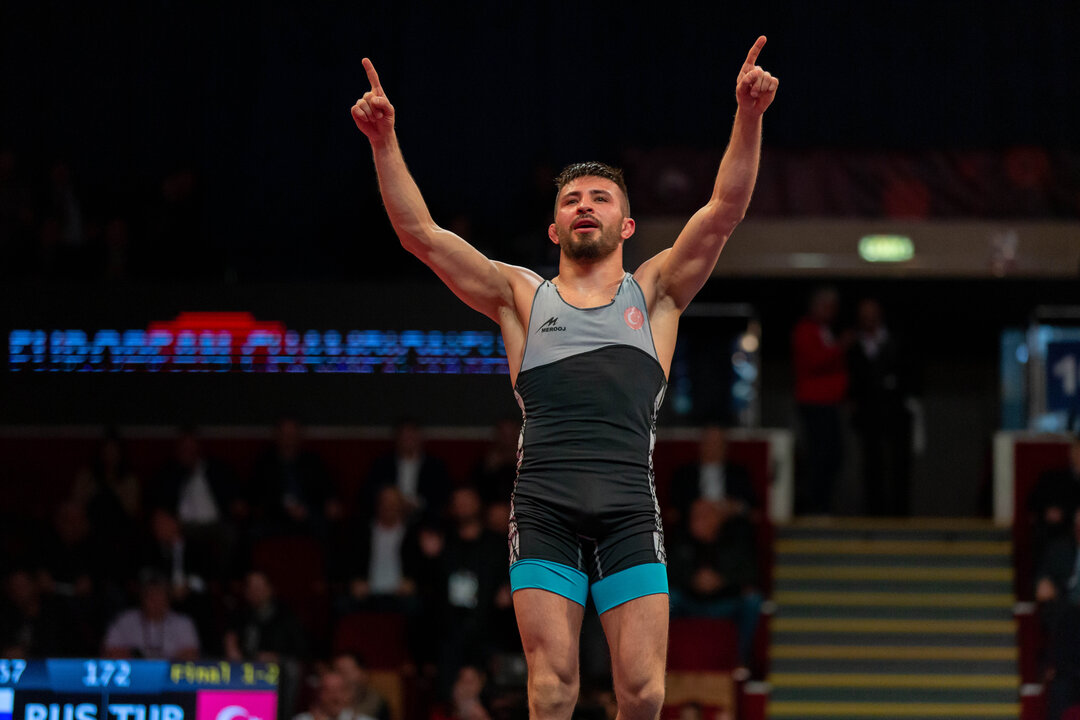 Suleyman ATLI (TUR) became the No. 1 ranked wrestler in the world with his 57kg win on Tuesday night. (Photo: Max Rose-Fyne) 
Turkey, who matched Azerbaijan's pair of gold medals, sits in a close third place with 87 points. Their two champions were Suleyman ATLI (TUR) and Mustafa KAYA (TUR). 
Atli picked up where he left off after the 2018 World Championships, adding a European title to his resume with an impressive 8-3 showing against Russia's reigning Ivan Yariguin champion Muslim SADULAEV (RUS). 
The turning point in the 57kg gold-medal bout came when Alti, the 2018 world bronze medalist, scored a takedown and transitioned into a pair of gut wrenches. With that six-point exchange, Alti led 6-1, and never looked back. The Turkish wrestler added another takedown to his total and won the match, 8-3. 
With his win on Tuesday night, Atli moves ahead of reigning world champion Zaur UGUEV (RUS) for the top spot in the world at 57kg with 61 Ranking Series points.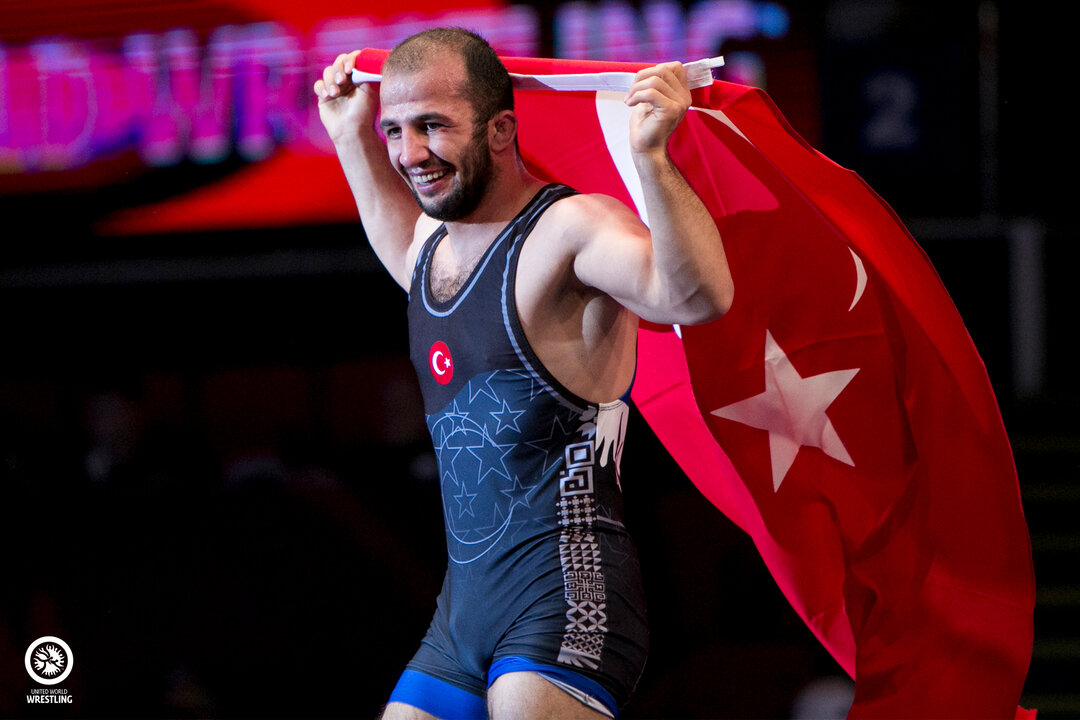 Mustafa KAYA (TUR) outscored Aghahuseyn MUSTAFAYEV (AZE) 6-0 in the second period and won his first European title. (Photo: Gabor Martin) 
Turkey's second champion of the day Mustafa Kaya emerged as the victor at 70kg when he outscored Aghahuseyn MUSTAFAYEV (AZE), 6-0, in the second period after giving up an opening period takedown.
Turkey also collected 20 points from Selahattin KILICSALLAYAN's second-place finish at 65kg and 15 points from Muhammet KOTANOGLU's bronze-medal finish at 79kg. 
Wrestling resumes on Wednesday morning at 11:30 with women's wrestling, followed by the final five freestyle weight class medal matches at 18:00.
SCHEDULE
Wednesday (April 10) 
9:30 - Weigh-in FS – 61-74-86-92-125kg
9:45 - Medical examination & Weigh-in WW – 50-55-59-68-76kg
11:30 - Qualification rounds WW – 50-55-59-68-76kg
11:30 - Repechage FS – 61-74-86-92-125kg
14:00 - Draw WW – 53-57-62-65-72kg 
17:15 - Semi Final WW – 50-55-59-68-76kg 
18: 00 - Finals FS – 61-74-86-92-125kg / Award ceremonies
Thursday (April 11) 
9:30 - Weigh-in WW – 50-55-59-68-76kg
9:45 - Medical examination & Weigh-in WW – 53-57-62-65-72kg 
11:30 - Qualification rounds WW – 53-57-62-65-72kg 

14:00 - Repechage WW – 50-55-59-68-76kg 
14:00 - Draw GR – 55-63-77-87-130kg 
17:15 - Semi Final WW – 53-57-62-65-72kg 
18:00 - Finals WW – 50-55-59-68-76kg / Award ceremonies 
Friday (April 12) 
9:30 - Weigh-in WW – 53-57-62-65-72kg
9:45 - Medical examination & Weigh-in GR – 55-63-77-87-130kg 
11:30 - Qualification rounds GR – 55-63-77-87-130kg 
11:30 - Repechage WW – 53-57-62-65-72kg 
15:40 - Draw GR – 60-67-72-82-97kg
17:15 - Semi Final GR – 55-63-77-87-130kg 
18:00 - Finals WW – 53-57-62-65-72kg / Award ceremonies
Saturday (April 13) 
9:30 - Weigh-in GR – 55-63-77-87-130kg
9:45 - Medical examination & Weigh-in GR – 60-67-72-82-97kg 
11:30 - Qualification rounds GR – 60-67-72-82-97kg 
11:30 - Repechage GR – 55-63-77-87-130kg 
17:15 - Semi Final GR – 60-67-72-82-97kg 
18:00 - Finals GR – 55-63-77-87-130kg / Award ceremonies
Sunday (April 14) 
9:30 - Weigh-in GR – 60-67-72-82-97kg 
16:00 - Repechage GR – 60-67-72-82-97kg 
18:00 - Finals GR – 60-67-72-82-97kg / Award ceremonies
Team Scores
GOLD - Azerbaijan (100 points)
SILVER - Russia (95 points)
BRONZE - Turkey (87 points)
Fourth - Ukraine (43 points)
Fifth - Belarus (38 points)
57kg 
GOLD - Suleyman ATLI (TUR) vs. Muslim SADULAEV (RUS), 8-3 
BRONZE - Mahir AMIRASLANOV (AZE) df. Georgi VANGELOV (BUL), 8-4 
BRONZE - Vladimir EGOROV (MKD) df. Andrei DUKOV (ROU), 7-4
65kg
GOLD - Haji ALIYEV (AZE) df. Selahattin KILICSALLAYAN (TUR), 7-0 
BRONZE - Nachyn KUULAR (RUS) df. Maxim SACULTAN (MDA), 5-0 
BRONZE - Vasyl SHUPTAR (UKR) df. Krzysztof BIENKOWSKI (POL), via fall 
70kg
GOLD - Mustafa KAYA (TUR) df. Aghahuseyn MUSTAFAYEV (AZE), 6-2 
BRONZE - Magomedmurad GADZHIEV (POL) df. Semen RADULOV (UKR), 6-0 
BRONZE - Magomedrasul GAZIMAGOMEDOV (RUS) df. Nicolae COJOCARU (GBR), 11-0 
79kg
GOLD - Jabrayil HASANOV (AZE) vs. Akhmed GADZHIMAGOMEDOV (RUS)
BRONZE - Nika KENTCHADZE (GEO) df. Andrei KARPACH (BLR), 7-1
BRONZE - Muhammet KOTANOGLU (TUR) df. Oleksii DOMANYTSKYI (UKR), 5-1 
97kg
GOLD - Abdulrashid SADULAEV (RUS) df. Aliaksandr HUSHTYN (BLR), 3-1 
BRONZE - Elizbar ODIKADZE (GEO) df. Nicolai CEBAN (MDA), 3-0
BRONZE - Nurmagomed GADZHIYEV (AZE) df. Magomedgadji NUROV (MKD), 5-0