Kaur Gives India Historic 1st Asian Title
Friday, March 2, 2018 - 18:56 By Ken Marantz
While back home, India is currently celebrating the Festival of Colors, Navjot KAUR (IND) ended nearly two decades of futility for the women's wrestling team by securing the medal of the most important color.
Kaur became the first Indian woman in history to win a gold medal at the Asian Championships when she captured the 65kg crown with a 9-1 victory in the final over Miyu IMAI (JPN) at the Kozhomkul Sports Palace.
"This is the best day of my life since I started wrestling," said a jubilant Kaur, who was carried for a victory lap around the mat by two coaches while hoisting the Indian flag.
In other finals, the Chinese added two more golds to the four they won the previous day with victories by Budapest 2016 world champion PEI Xingru (57kg) and Paris 2017 world bronze medalist HAN Yue (72kg).
But Paris 2017 world champion Orkhon PUREVDORJ (MGL) prevented the Chinese from going 7-for-7 in finals when she overcame a 4-1 deficit to storm past LUO Xiaojuan (CHN) 12-4 for the 62kg crown.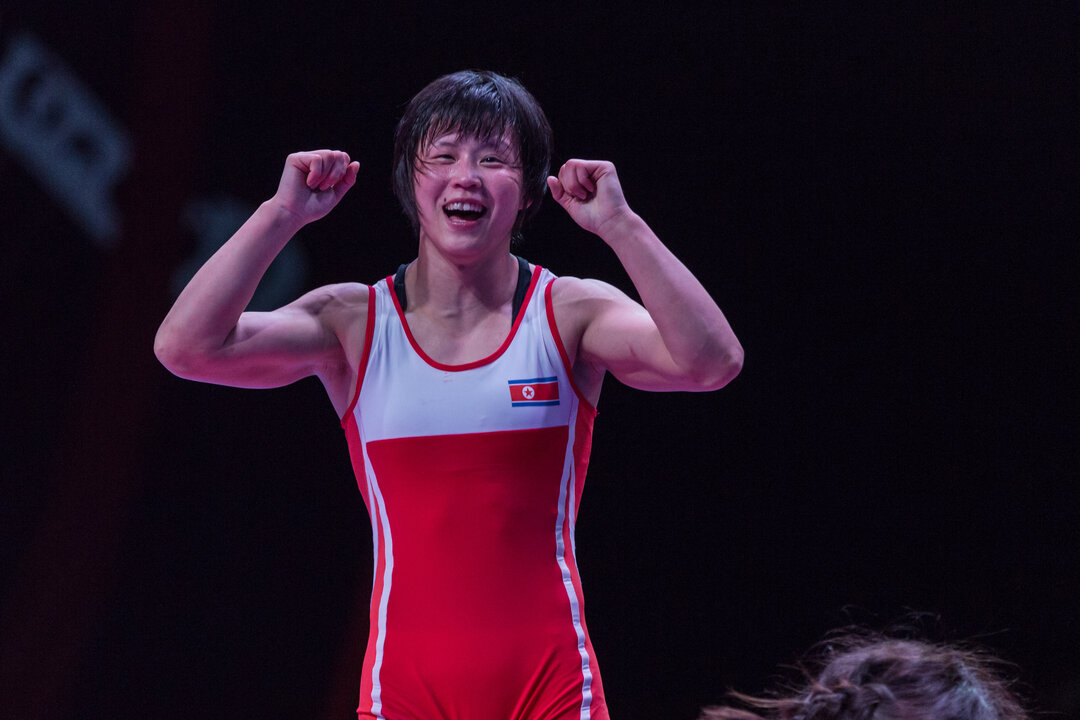 PAK Yongmi (PRK) raises her hands in excitement after winning the 53kg gold medal. Photo by Max Rose-Fyne.
North Korea came away with its first gold medal of the tournament when PAK Yongmi put on a takedown clinic in the 53kg final and handily defeated Sumiya ERDENECHIMEG (MGL) 11-5.
China, despite not having entries in two weight classes because of injury withdrawals, easily captured the team title with 185 points. Mongolia, which had medalists in eight of the 10 divisions, finished second with 167, six points ahead of third-place Japan, which had sent a young, generally inexperienced squad and won just one gold.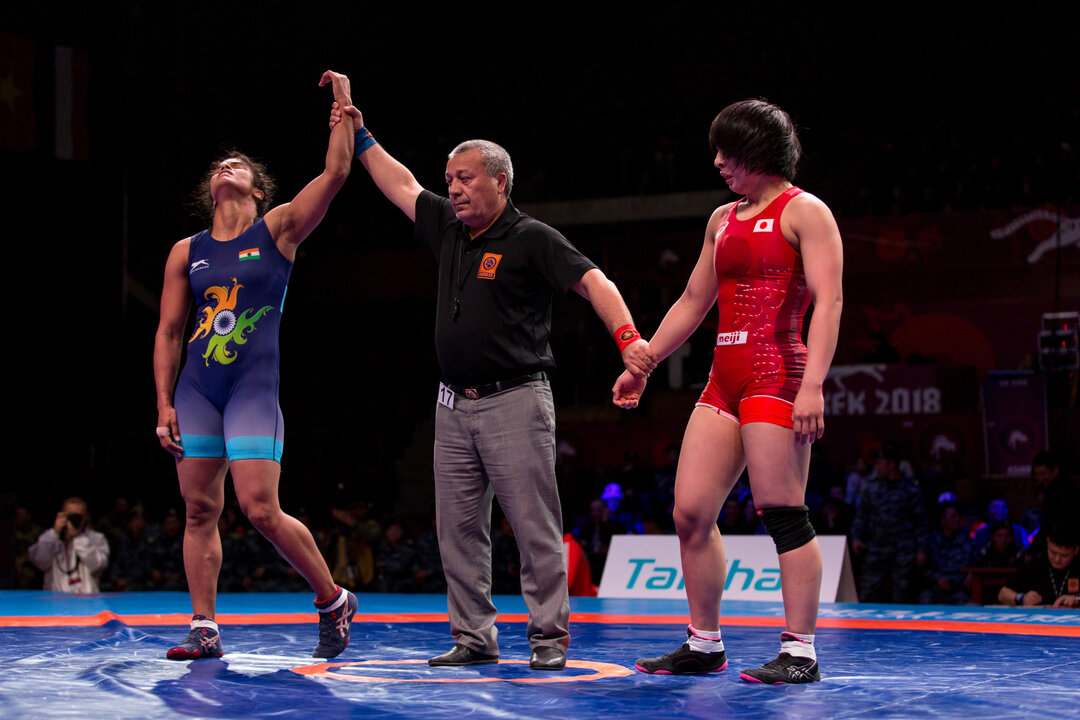 Navjot KAUR (IND) wins India's first ever Asian championship. Photo by Max Rose-Fyne.
Since Indian women starting participating in the Asian Championships in 2001, 13 wrestlers had previously made the finals without a single one coming away with a victory. Kaur herself was among that group, having finished runner-up at the 2013 tournament in New Delhi. 
"This pressure was something that every athlete was having at the Asian Championships," Kaur said. "But this time, I decided, No, I will compete without pressure. I have just one chance to prove myself, so I was prepared. I won't feel any pressure, let me go and play my natural game.
"Now I have won and I'm proud to become the first woman from India to win a gold at the Asian Championships."
She achieved that feat by twice scoring 4-point throws on counters to single-leg takedown attempts by Imai, who had earlier beaten the Indian 4x-4 on criteria during the round-robin group stage used because the weight class had only six entries.
Imai, a third-place finisher at the Japan championships in December with scarce international experience, was hurt by a questionable challenge initiated by her coach. After Kaur threw Imai onto her side in the first period for 2 points, the Japanese side challenged the decision--only to see it changed to a 4-point move. The additional point for the unsuccessful challenge put Imai into a 5-0 hole.
In the second period, Imai stepped up the pressure and gained a point on a step-out. But the next time she had a grasp of Kaur's leg, she was suddenly sent whirling onto her back for another 4-pointer that clinched the match.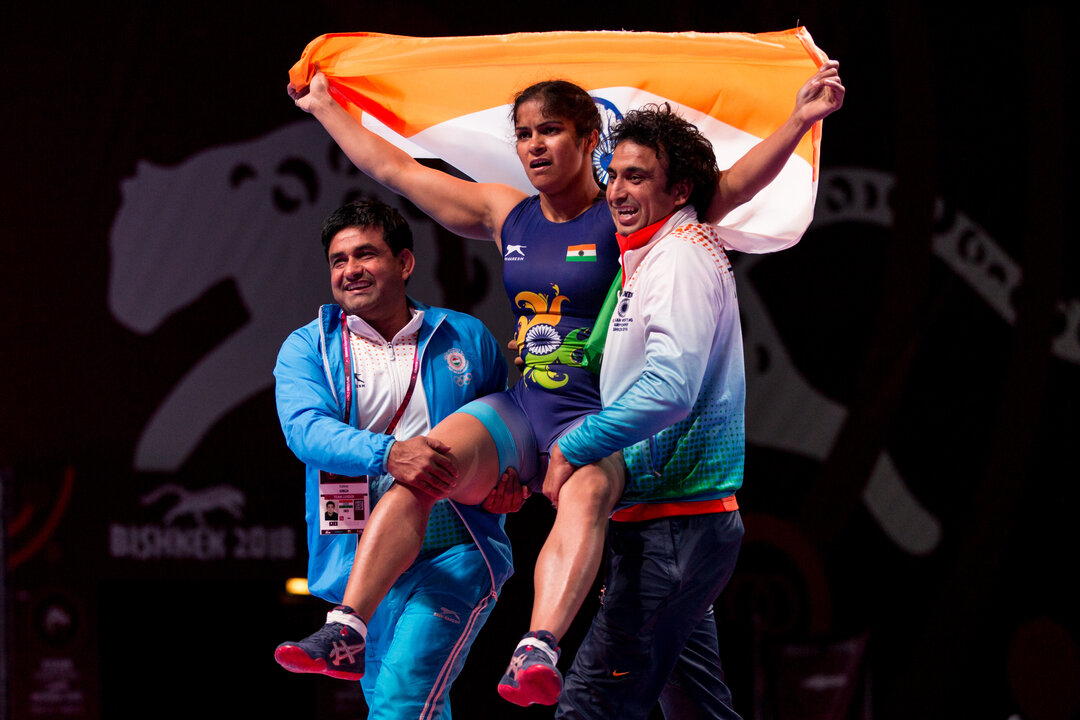 India's coaches Navjot KAUR (IND) celebrates India's first ever Asian championship. Photo by Max Rose-Fyne.
The 27-year-old Kaur acknowledged she was nervous, but also confident.
"I have been preparing for this and waiting for this for very long," she said. "At the national camp, I was supported and motivated by the whole team, including the coaches and the medical staff.
"I was a bit nervous, being on this platform and you have a lot of load on your shoulders. But I was confident. I was being boosted, 'No, you can do it, you can beat Japan, it's not something that you can't achieve.'"
Kaur considers it fortuitous that her victory coincides with the important Hindi Festival of Colors, called Holi. "I believe I got a blessing from the whole of India, and I dedicate the medal to the whole country. That is how I will celebrate, a gift of Holi to the country."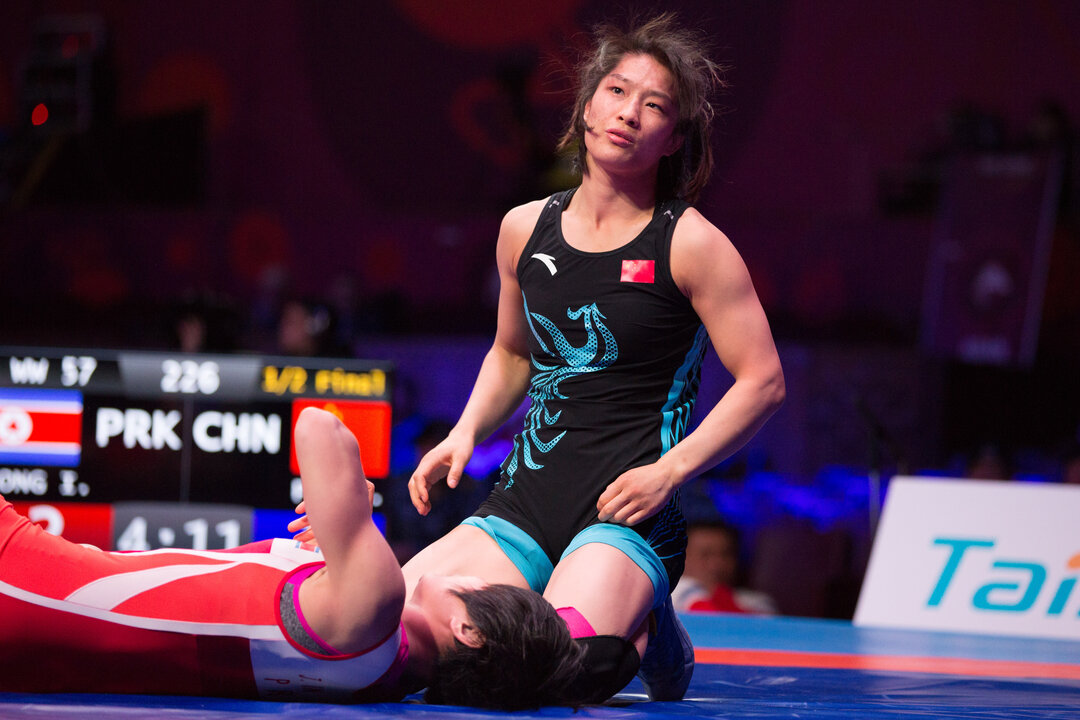 Photo of PEI Xingru (CHN) by Max Rose-Fyne 
China's Pei had her hands surprisingly full with unheralded high schooler Sara NATAMI (JPN), who was making her international senior debut. Pei broke a 1-1 tie, with both points scored on the activity clock, with a snapdown-and-drag takedown in the final minute for a 3-1 victory.
"I wasn't in 100 percent condition, so I was a little nervous," Pei said. "I should have wrestled much better."
For the 17-year-old Natami, the future is bright, but only time will tell if she can break into the Japanese elite.
"I didn't get in on even one tackle, so that was disappointing," Natami said. "This result will give me confidence. But now it's over, and I have to work hard for the next one."
Yue HAN (CHN) gets her hand raise after picking up the 11-0 technical superiority victory over Nasanburmaa OCHIRBAT (MGL). Photo by Max Rose-Fyne.
In the 72kg final, Han had no trouble handling Nasanburmaa OCHIRBAT (MGL), building up a 7-0 lead after the first period before ending the match with a takedown and roll combination for an 11-0 win with 1:34 remaining.
The highlight of the bronze-medal matches came at 65kg, in which LEE Hanbit (KOR) overcame a 6-0 deficit with less than a minute to go to win 6x-6 on criteria. It was one of two bronzes captured by South Korea on the night.
Japan added three bronze medals to its tally from Yu MIYAHARA (53kg), Yurika ITO (62kg) and Masako FURUICHI (72kg).  Miyahara and Ito both won by fall after leading 6-0, while Furuichi posted a 10-0 technical fall.
The remaining bronze medals went to Kazakhstan, Mongolia and India. As with the 65kg class, 72kg only had six entries, so there was only one bronze-medal match in each of those divisions.
The fifth day of competition on Saturday marks the start of men's freestyle with action in five weight classes.
Women's Wrestling
53kg (10 entries)
Gold - PAK Yongmi (PRK) df. Sumiya ERDENECHIMEG (MGL), 11-5
Bronze –  Yu Miyahara (JPN) df. Thi Hang VU (VIE) by Fall, 3:34 (6-0)
Bronze – Zhuldyz Eshimova (KAZ) df. CHIU Hsin Ju (TPE), 5-0
57kg (10 entries)
Gold - PEI Xingru (CHN) df. Sara NATAMI (JPN), 3-1
Bronze –  KIM Yeseul (KOR) df. Thi Huong DAO (VIE), 4-3
Bronze – Baltsetseg ALTANTSETSEG (MGL) df. JONG In Sun (PRK), 7-4
62kg (10 entries)
Gold - Orkhon PUREVDORJ (MGL) df. LUO Xiaojuan (CHN), 12-4
Bronze –  Yurika ITO (JPN) df. Khalbazar NARBAEVA (UZB) by Fall, 4:02 (6-0)
Bronze – Sakshi MALIK (IND) df. Ayaulym KASSYMOVA (KAZ), 10-7
65kg (6 entries)
Gold - Navjot KAUR (IND) df. Miya IMAI (JPN), 9-1
Bronze –  LEE Hanbit (KOR) df. Tsevegmed ENKHBAYAR (MGL), 6x-6
72kg (6 entries)
Gold - HAN Yue (CHN) df. Nasanburmaa OCHIRBAT (MGL) by TF, 11-0, 1:34
Bronze –  Masako FURUICHI (JPN) df. Zhamila BAKBERGENOVA (KAZ) by TF, 10-0, 0:35